"In a world full of bay warmbloods, be a pinto Friesian."
Adiah HP doesn't have an official slogan, but that would sure be a fitting one. The mare just danced her way to victory in the open Grand Prix freestyle at the U.S. Dressage Finals in Lexington, Ky., with Jim Koford in the irons.
"She came sashaying into my life during a clinic I was giving, and I was like, 'Oh my God, look at this horse, I love her,' " Koford said. "She just struts in and makes you go, 'Wow.' "
When the trainer who had been competing the 10-year-old, ¾ Friesian-¼ Dutch Warmblood mare (Nico—Marije Ant) left the stable, Adiah's breeder and owner, Sherry Koella, found a new jockey for the mare in Koford.
Koford has competed the mare since 2016, starting at Prix St. Georges and debuting at the Grand Prix level in the spring of 2017. Koford and Adiah won the open Grand Prix freestyle and placed sixth in the open Grand Prix championship at this year's U.S. Dressage Finals.
"She is so happy all the time. That's one of the funny things about competing her—she's having such a blast the whole time. It gives me chill bumps to ride," Koford said. "We still need to work on the technical proficiency, but she's so fun to compete, and she's having fun."
We went behind the stall door with Adiah at Koford's Lexington, Ky., farm to find out all about this spotted diva:
•  Koford has compared Adiah to Lady Gaga, and he has one particular track in mind for the mare's anthem.
"I was flipping stations on the way to Lamplight, and Lady Gaga came on, and she was singing Born This Way. Don't make me quote Lady Gaga," Koford laughed, "But there is a line like, 'My mama told me we're all born to be superstars,' and there was another line like, 'Nothing wrong with loving who you are,' and that's so her. She totally wants to be famous."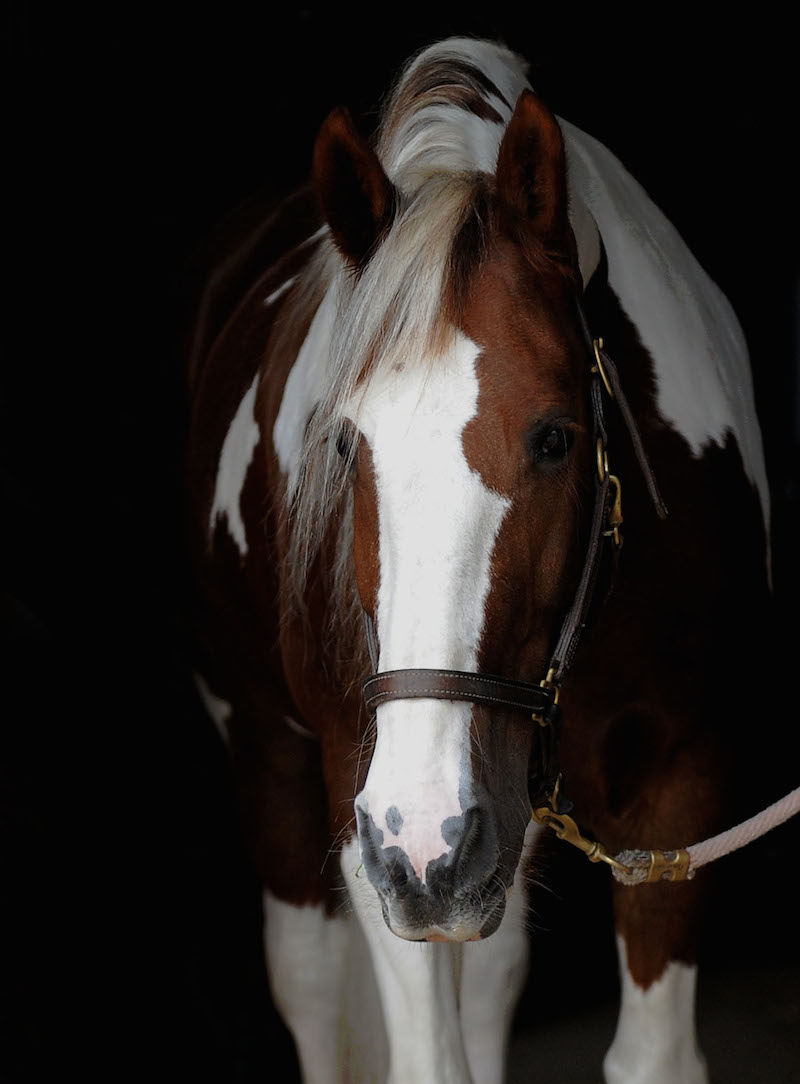 •  Adiah has, shall we say, unconventional conformation. Along with being perpetually pigeon-toed, the mare has a large-scale situation perched atop her shoulders. "I told the owners you were coming, and they said, 'Don't let them take a head shot,' " Koford joked. "It's about as long as her back."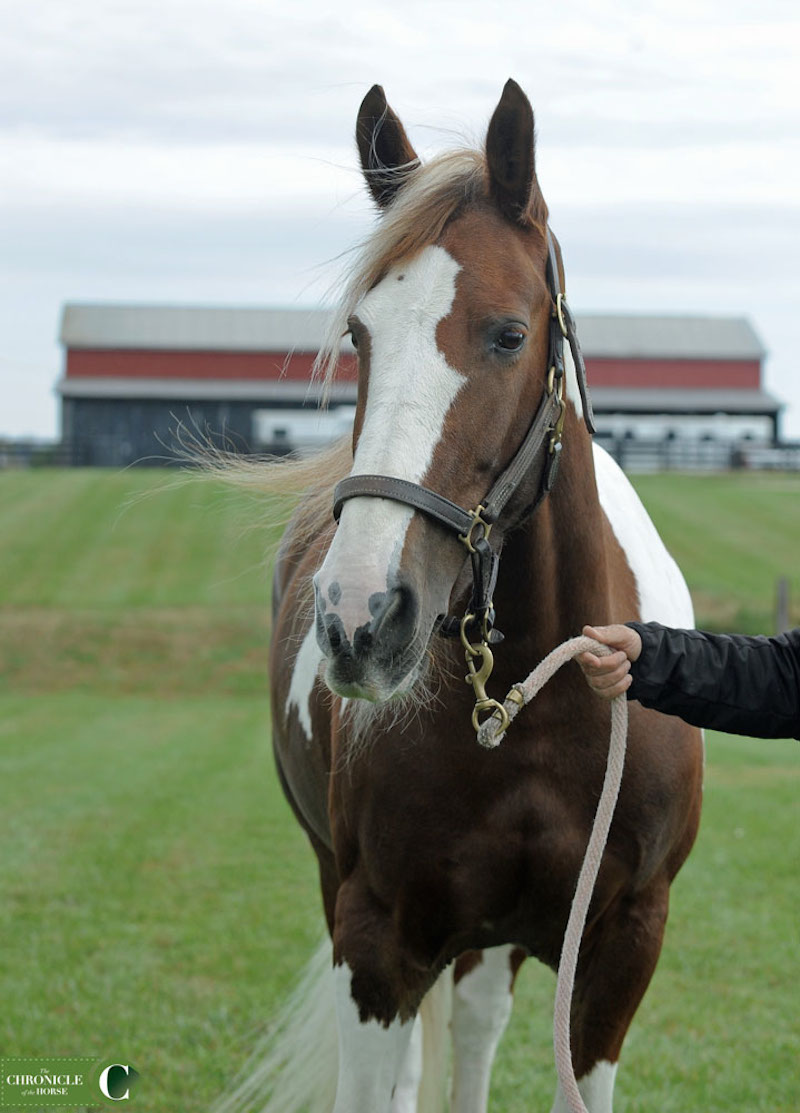 •  Adiah has no time to be told she's not a conventional beauty—you can just talk to the pigeon-toe. "There is no one that has this degree of self-confidence," Koford said. "She's like that girl who spends all day getting her nails done and her hair done, so she can go out clubbing, and she gets there, and she's the bootylicious girl with big hair owning it on the dance floor."
•  Koford's primary concern when it comes to Adiah competing is her fitness because Friesians are particularly intolerant of heat.
"Physically she's low maintenance, but competing a Friesian in 90-degree weather in the summer can be a challenge," Koford said. "The big thing is to make sure she's fit enough to compete because the heat and humidity are tough on her."
•  Adiah is pretty neat and tidy in her stall, but she doesn't want to spend all that much time in it.
"She loves to run out the door," said Julie Fromhold, Koford's barn manager. "We'll tack her up with the door open, and she just runs out."
As if on cue, Adiah started to sneak out her open stall door in the middle of her photo shoot.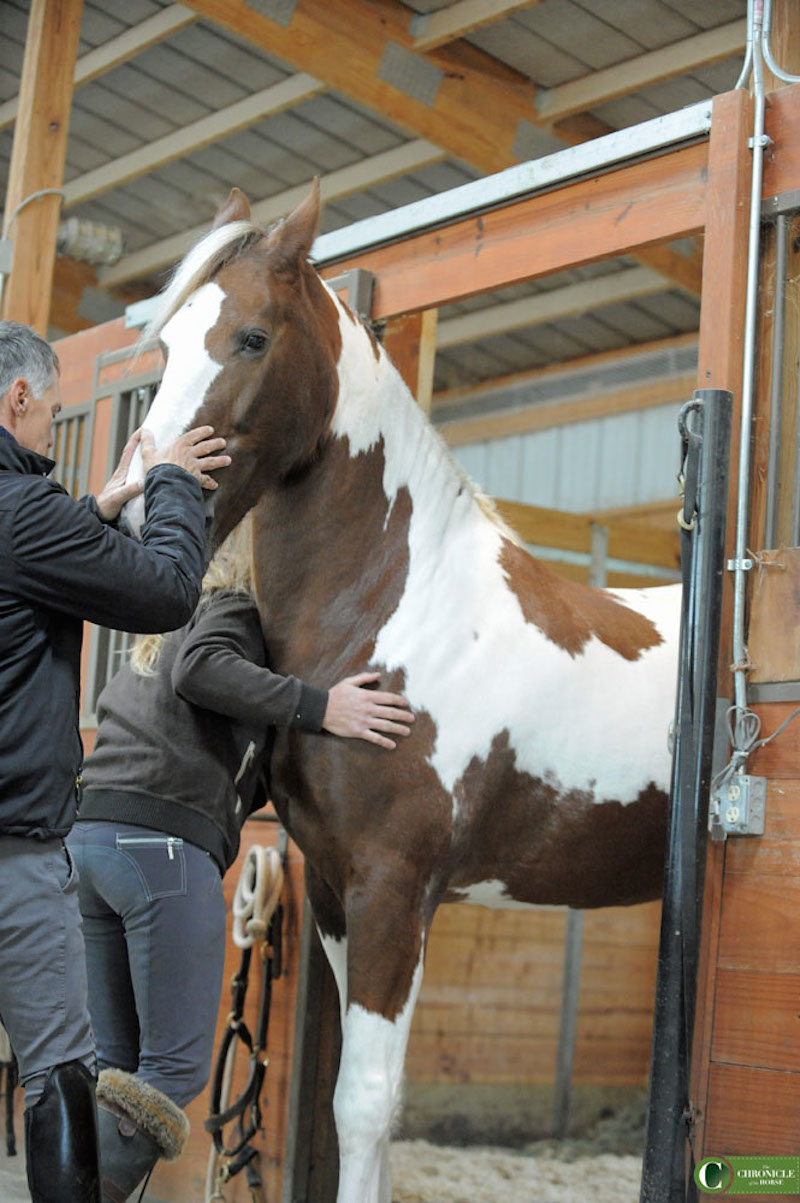 "That's not really behind the stall door, Adiah!" Fromhold admonished. "She wants to be out here in the center of attention; she loves attention. She loves when it's all about her."
"You hate to put her in the trailer because you know she just wants to be in the front seat with you," Koford joked.
•  Adiah doesn't need a whole lot of help maintaining her full white and chestnut spotted figure.
"She never met a treat she didn't like," Koford said. "At the shows we call her red, white and boom."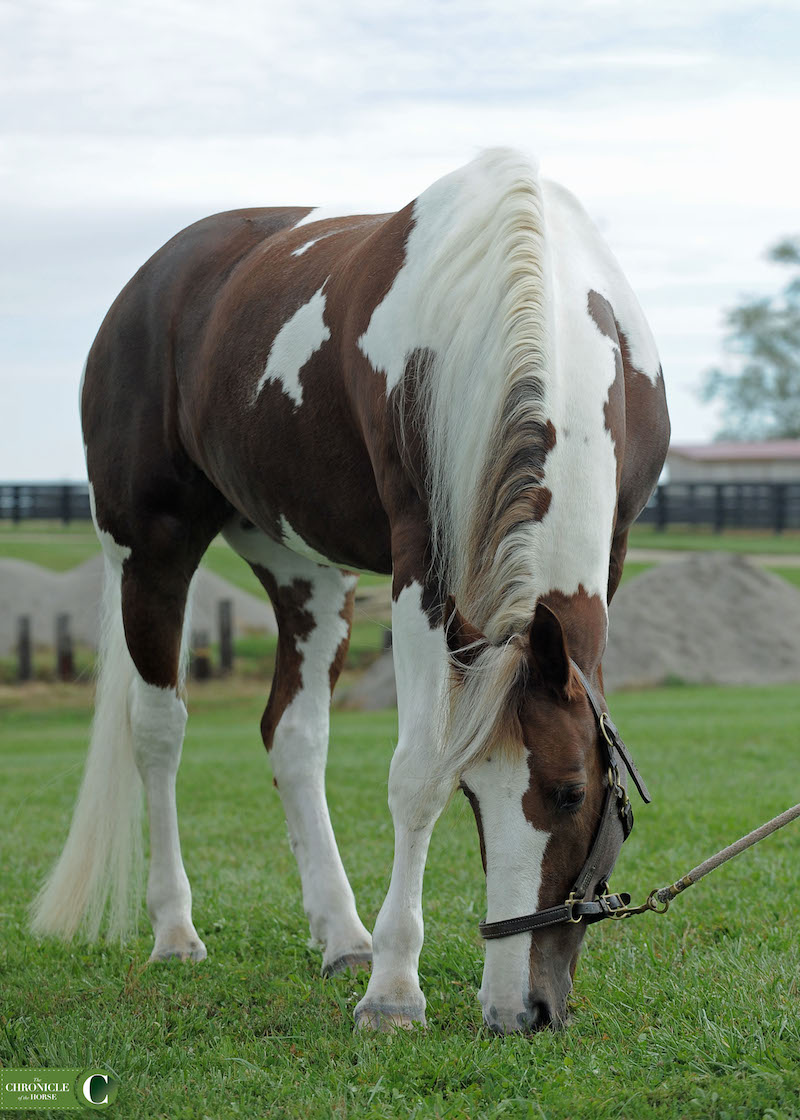 •  Adiah is a social butterfly, and no gate is going to keep her from going out at night.
"In Wellington [Fla.] in the winter we put her out in the paddock at night, and then we'll find her in another paddock in the morning. She just opens the gates and goes in someone else's paddock," Koford said. "She'll go visit her girlfriends and just hang out. She loves other horses."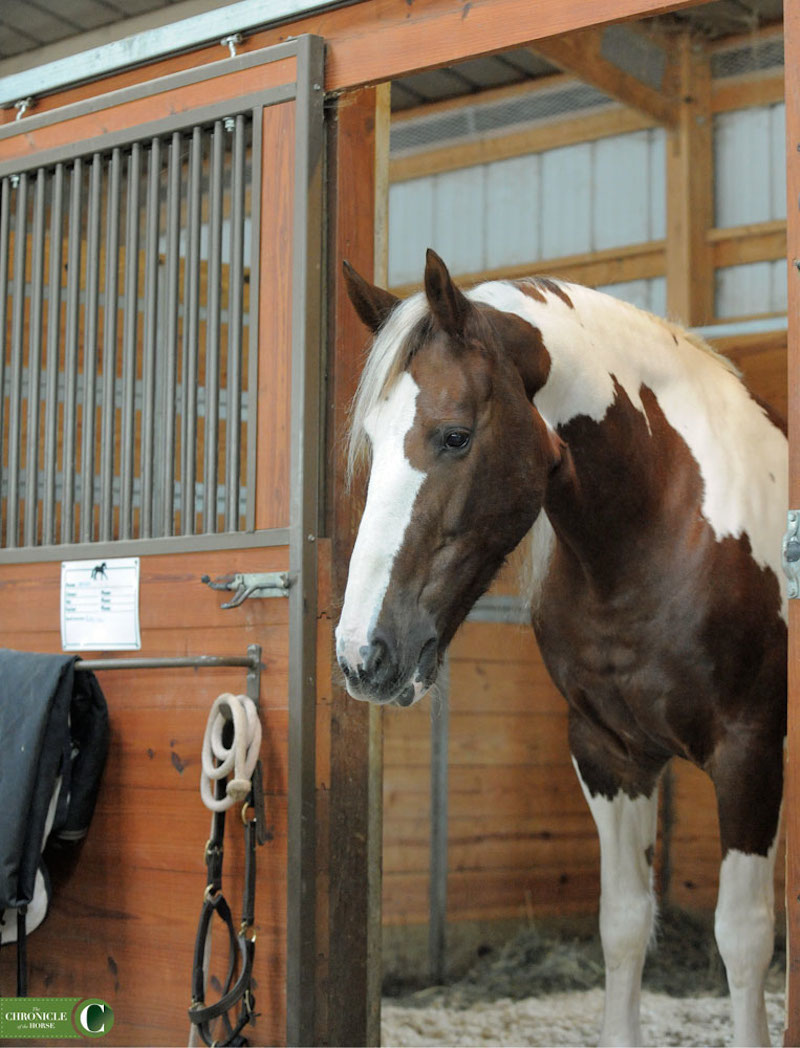 •  What's next for this painted rockstar? The plan is there is no plan—Koford and Adiah will just keep dancing their way around the Grand Prix ring.
"It's fun because I didn't start riding her because I thought, 'Oh, the judges are going to love her,' or I had great ambitions for her. I don't have any agenda," Koford said. "I feel like it's her path, her plan, and I'm along for the ride."