Though Maddie Tosh is the only child of Hunt and Mandy Tosh, she wouldn't consider herself the "golden child." In the Tosh household, that distinction belongs to Cold Harbor.
"He's basically the golden child of the family," Maddie joked. "They love him more than me, which I'm fine with."
"Larson" has held such a singularity ever since he and Hunt exploded onto the scene in the winter of 2011, sweeping up all the blue ribbons in the green conformation hunters at the Ocala Winter Classic (Florida). In their years together, the pair earned a total of four championships at Devon (Pennsylvania), two championships and three reserve championships at the Pennsylvania National and a pair of championships and reserves at the National Horse Show (Kentucky).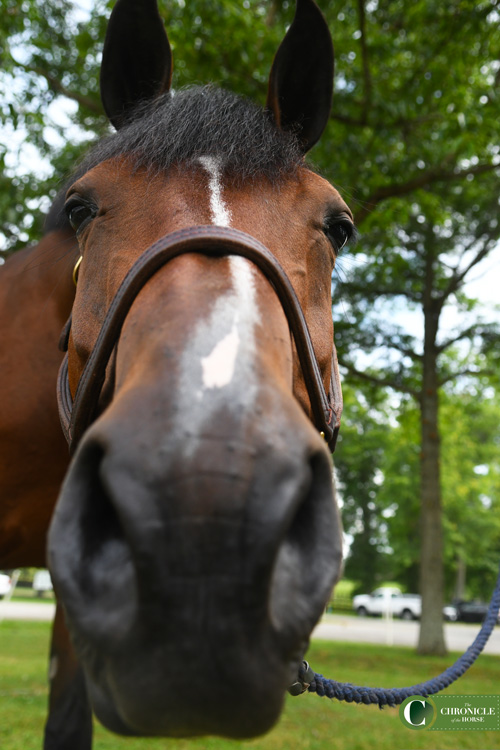 Then, after three years away from the spotlight with only a handful of show appearances, Betsee Parker's 17-year-old Holsteiner gelding by Lordanos returned in 2019 to the children's hunter ring with Maddie. There he helped to show her the way from the 3' to the 3'6" large juniors—winning the Pennsylvania National championship in the 3'3" large junior hunters in 2019.
"It was my first big win on a horse and for it to be on him," said Maddie. "He's the very best horse in the whole wide world."
Cross the threshold and come behind the stall door with the horse that all the Toshes emphatically gush about and call their horse of a lifetime.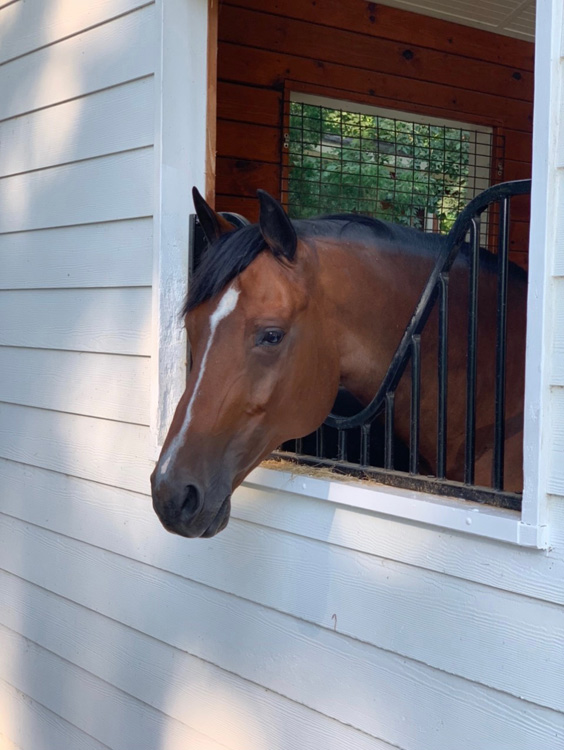 • Parker encouraged Maddie to take the reins on Larson. With the gelding being a big, strong and careful horse, Mandy and Hunt weren't initially confident that it would be a match—worried more about him than anything else. But they followed Parker's wisdom of pairing horses and riders and gave it a shot when Maddie's stirrups got long enough.
"We were done doing him in the regular conformation; we wanted him to retire [from that] when he was winning," Mandy said. "So, she said, 'Well, why don't we wait a couple years and see if Maddie can ride him.' I thought, there's no way Maddie can ride this horse. She was tiny, and he's way too much. He was so careful—it was like no way. And sure enough, it was a match made in heaven. He just adored her from the beginning."
In their first show together, despite vibrating nerves from all parties except Larson, the pair earned a championship tricolor.
"I was so nervous because it's him," Maddie said.
The partnership would work out just as Parker predicted.
"Honestly the first time she showed him—I literally could not watch it," Mandy said. "The first time she showed him, it was just instantly fine."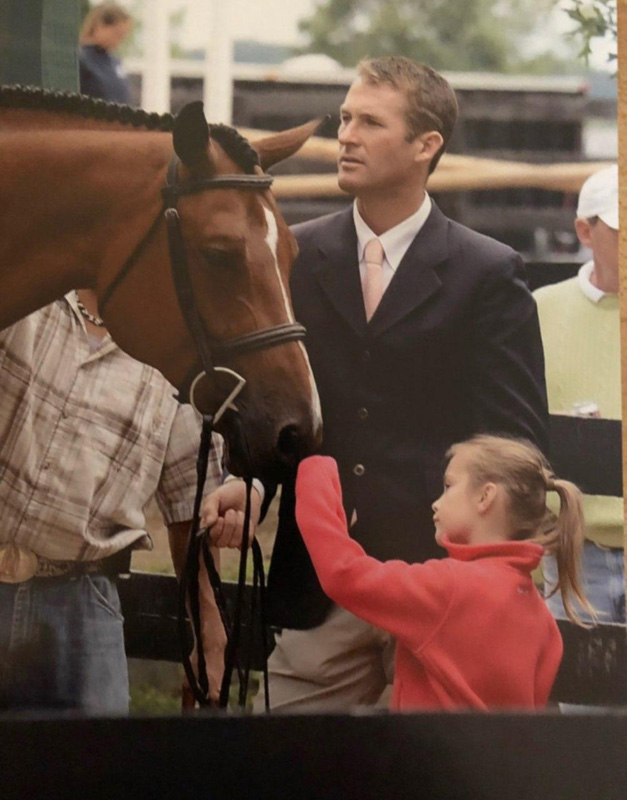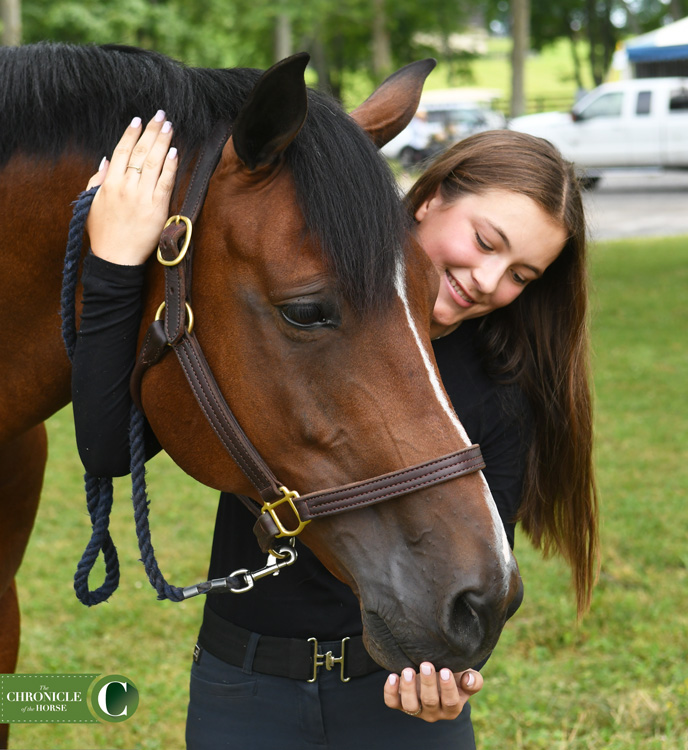 • Since Maddie was a toddler, her heart has belonged to Larson. Why him specifically? She couldn't really tell you, but out of all her father's fancy horses, he was the one.
"Since I was 5 years old, it was my dream to show this horse," Maddie said.
She would sit on him bareback in the stall or lead him to and fro.
"I really think honestly it is because, since he was 5, [he was] so sweet and so kind and so slow," Mandy said. "We never worried about her."
"He was really the only one [we trusted]," Mandy added. "Even with her ponies, we worried."
"You could put a newborn on him," Maddie said.
• Larson's personality couldn't be more different than his barnmate Lucador. While Parker's "Luc" can be a bit vocal about his opinions, Larson only wants to please.
"Luc is so cocky, and he's the most humble horse," Maddie said. "He tries to do no wrong. All he wants is to be good."
"I could turn him loose right here," she added, "and he wouldn't move a muscle."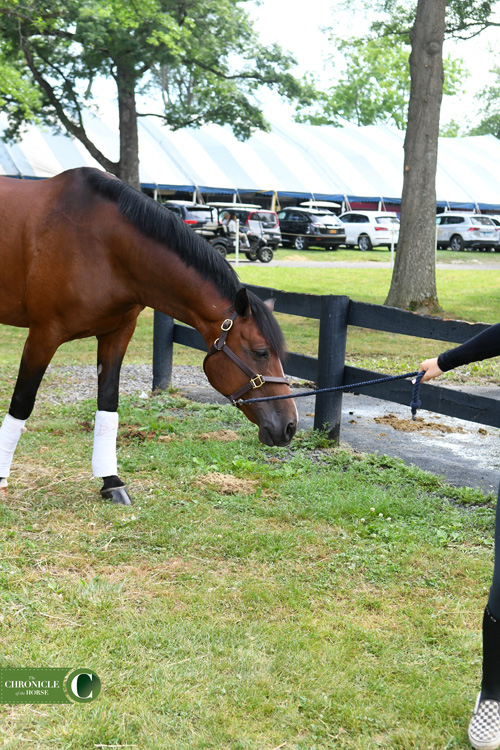 • Larson is never unhappy. Nor is he ever in a rush. Perhaps he's onto something.
"He's in slow motion all the time," Mandy said. "He never pins his ears."
• He can be a bit strong and root the reins out of your hands—but that's just his way of going, and the Toshes aren't about to change him.
• He firmly believes in the power of a good nap, and always takes advantage of any opportunity to have a little shut-eye.
"He'll ship here to the horse show then he'll lay down and take a nap," Mandy said. "Nothing fazes him."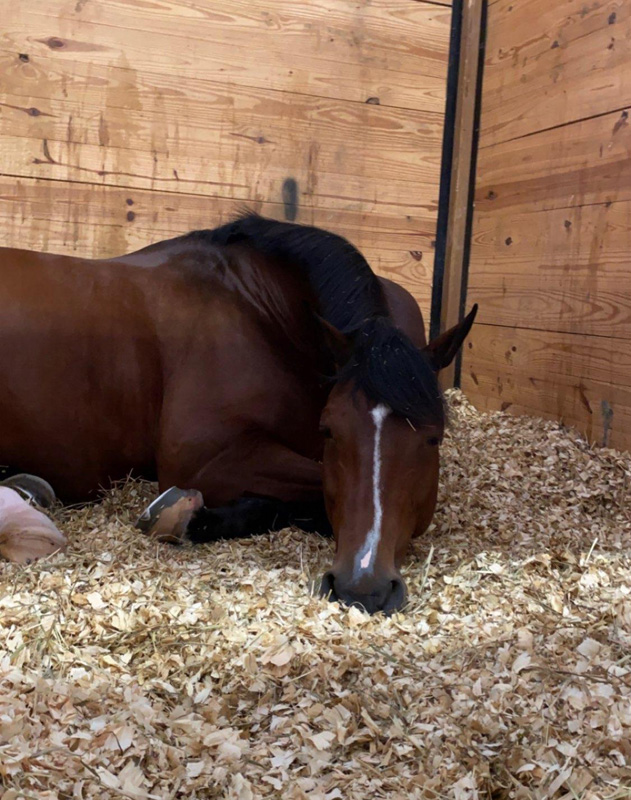 • At home, Maddie and Larson take advantage of the 100-plus acres of a golf course turned nature preserve that abuts their Alpharetta, Georgia, farm. And at the shows, he's just as relaxed. His only prep is Hunt swinging his leg over him in the morning pre-show to give him a little flat.
"He's an easy keeper," Maddie said. "He just tries to be a good boy."
• Maddie gets stuffed animals for all of her charges to hang up at the horse shows—if they don't eat them. And each animal speaks to a personality—for example, Parker's large pony Storyteller has a wise owl. Larson's companion is a teddy bear—because that's just what he is. The equine body is just a disguise.
"He's a teddy bear," said Maddie. "If he's laying down, you can go in his stall and play with him. He's just that perfect."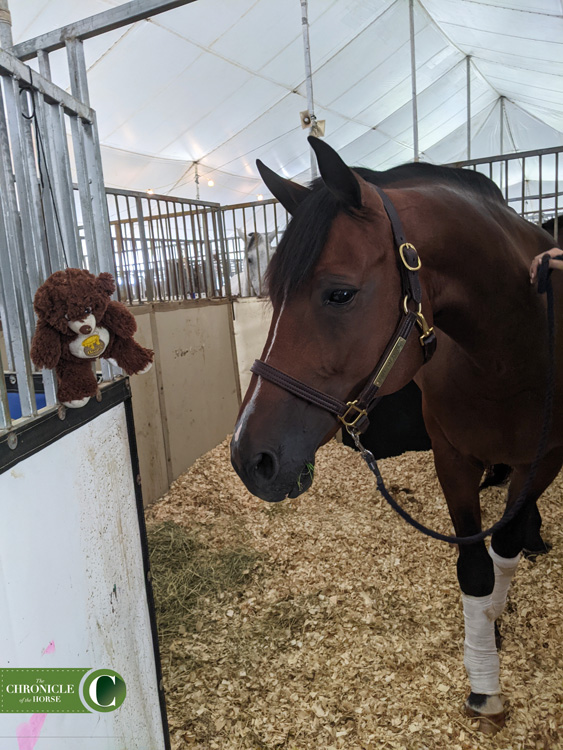 • After having him in the barn for over 10 years, the Toshes consider him a part of the family and can tell what those dark eyes are thinking.
"It's nice that we know everything about him at this point," Maddie said.
"Like, we can look at him, and be like eh, something's bothering him today or—" said Mandy.
Maddie picked up: "He feels good today."