Wellington, Fla.—Feb. 2
When Adrienne Sternlicht saw this picture of herself and Cristalline a solid foot above the first fence of the $30,000 CP Welcome Stake, held Feb. 1 at the Palm Beach Masters in Wellington, Florida, taken by Ashley Neuhof, she was shocked.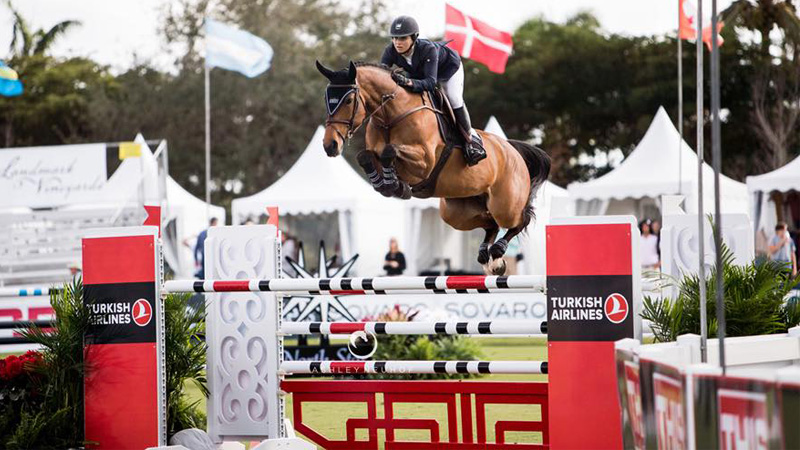 The 10-year-old Bavarian Warmblood (Cristallo I—Mona Lisa, Caretello B) regularly put in spectacular efforts over the fences, but this was even impressive more than normal.
"When she's fresh, like she was yesterday, she tends to jump extra high," said Sternlicht, 24. "Yesterday was her first class of the show, and she was feeling so good. It definitely shows!
"She loves this venue, and it's a great change of pace from jumping in the sand rings," she continued. "She has the most natural ability of any horse I've ever jumped. It's a pretty cool feeling."
Sternlicht, who lives in New York City and works for a non-profit, trains with McLain Ward and Linda Langmeier.
"I don't have trouble staying with her at the fences, but I do have to work on my recovery," said Sternlicht. "And I'm trying to work on the smoothness around the course and the evenness of her canter.
"Normally when a horse hangs up that high in the air your first instinct as a rider is to think across," she continues. "With her, she jumps that high from pure enjoyment of her ride."
In yesterday's Welcome Stakes she retired mid-round, as she was using the class as a warm up for today's $35,000 Sovaro Palm Beach Masters World Cup Qualifier and, more importantly, Sunday's $220,000 Longines FEI World Cup Jumping of Wellington. Last year she and Cristalline finished fourth in the class.
The horse already has an impressive resume, having competed at the 2016 Longines FEI World Cup Final (Sweden) with Australian show jumper Chris Chugg (they finished 10th). Sternlicht's hoping to continue a great showing in the World Cup series and earn an invitation to this year's championship in Paris.