When Madison Penfound left the start box on QEH Ocean Voyage (Out of Touch—Delta Cruise, Cruising) at his first advanced horse trials, she wanted to focus on giving the precocious 9-year-old Irish Sport Horse a positive and straightforward experience.
But "Turtle" had other ideas. After his bold jump into element B at the first water complex on the course at Aston le Walls Horse Trials (England), Penfield was left hanging off her horse's side. The strapping 18-hand bay gelding took charge, locking on to the C element of the intermediate course—despite the fact that show photographer Tracey Wilkinson was seated right in front of it.
"I had had a stop at a similar fence at Barbury [England], our competition prior, and so I was sitting back to element A," said 24-year-old Penfound, a Canadian who is based in Bristol, England. "It was a one-stride to this massive drop, and he just launched off it like it was Badminton [England]. I was ready for a stop, not this massive leap. He lost his balance on the landing and saved himself, but I was swinging off his side."
They were supposed to turn right to the advanced element C, but Turtle was aiming straight head for the intermediate option. Penfound managed to pull herself back up into the saddle in time to realize they were half a stride away from jumping a human being.
"He just thinks he runs the show, and he kind of does," says Penfound. "I wasn't expecting it, that's for sure!"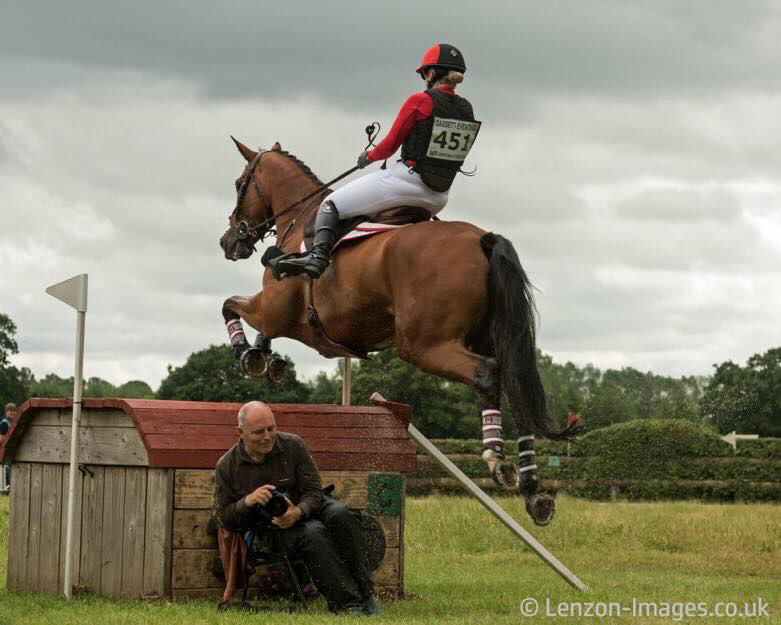 Penfound, who had lost her stirrups, says all she really remembers of the moment was hearing the excitement in the announcer's voice in the background and being determined to not fall off. On landing, she immediately pulled up, saw that Wilkinson was OK and laughing, and asked the fence judges if she had been eliminated.  When they said no, they helped her reattach her stirrups, and she finished the course without further incident.
"I picked up 20 penalties for missing the element C, and some time," says Penfound. "I just really slowed him down and had a really good rest of my run."
Wilkinson reached out to Penfound via Facebook and said that after the pair's fumble into the water, he just kept shooting because he assumed the horse would turn right or left.
"When he realized he wasn't going to, he decided to duck!" says Penfound. "Luckily my horse is very scopey."
This isn't the first time that Turtle has jumped something he wasn't supposed to.
"He is quite a character and jumps out of the field at home," says Penfound, who has owned Turtle for four years. "We've tried everything, including electric wire, but he jumps that too. He jumps in with the ponies that live next door. Once we put him in the outdoor, and he angled the corner and jumped out of that."
Despite his exuberance and flair for doing things his own way, Penfound is proud of Turtle's effort in his first advanced, and that's why she decided to share the whole series of photos on her Madison Penfound Eventing Facebook page.
"He is a really cool horse," says Penfound. "I hope he'll jump around Badminton someday. I put the photo up just to show how cool my horse is. It has gone a little bit viral!"