After Great Britain's Natasha Baker finished her team test at the Tokyo Paralympic Games—a test that helped her win her sixth Paralympic gold medal—she flashed an unusually marked glove to the camera.
The drawing on Baker's glove—a purple 15% pie piece—is the logo of #WeThe15, a human rights campaign launched at the Tokyo Paralympic Games to improve awareness, inclusion and accessibility for the 15 percent of the world's population who have disabilities.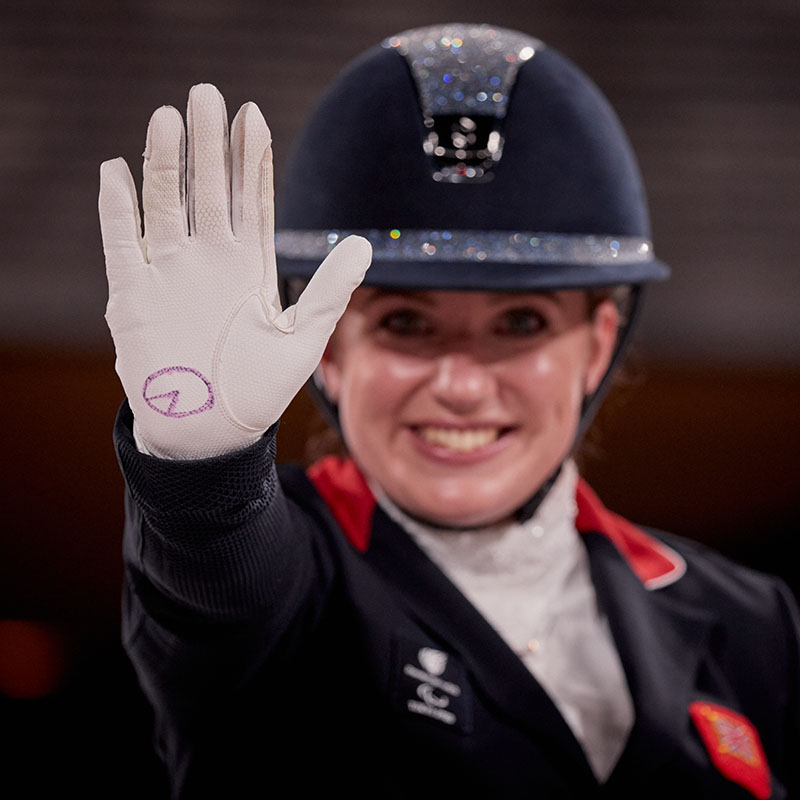 Baker's team test aboard Keystone Dawn Chorus, owned by the rider, her family, Joanna Jensen and Christian Landolt, helped Britain to team gold, while her other two Tokyo rides with "Lottie" earned silver medals in the individual and freestyle competitions. Baker, 31, a veteran para-equestrian who already has multiple gold medals from the London and Rio Paralympics, competes in the Grade III classification. She contracted transverse myelitis when she was 14 months old, leaving her with permanent nerve damage and severe weakness in her legs.
On Aug. 28, she chose to use her glove to give the #WeThe15 movement a literal helping hand in its Tokyo launch.
"Did you know 15% of the world's population is disabled? That's 1.2 BILLION people!" Baker posted on social media. "Yet we still face huge amounts of inequality, lack of representation, visibility and awareness. There are still shops/toilets I can't access, I dread having to use public transport, I get 'pitied' regularly and stared at wherever I go and this is just the start …
"Ableism is something disabled people face on a daily basis … all people are extraordinary, everybody has strengths and things they struggle with whether they have a disability or not.
"Disabled people are tough and resilient but we've kept quiet for so long! Now it's our turn to speak up about the inequalities we face and show the world that we are human beings just like the rest of the population, but with different abilities and deserve to be treated in the same way!"
WeThe15 is being spearheaded by organizations including the International Paralympic Committee, the United Nations Human Rights Office and the International Disability Alliance and has partnered with other sports organizations including the Special Olympics, the Invictus Games Foundation and the International Committee of Sports for the Deaf. Its goal is to initiate change over the next decade by building an international coalition of human rights, sports, policy, communications, business and arts and entertainment organizations.
"WeThe15 is bringing together a unique group of partners—disability-specific sports organisations, the disability rights movement, people from the private sector, researchers and the United Nations—to work together to change the narrative on disability, and to make human rights-based development a reality for persons with disabilities," Michelle Bachelet, UN High Commissioner for Human Rights, said in a press release. "We plan to build on the multiple Paralympic Games in Beijing, Paris, Milan and Los Angeles, particularly in the local communities, to make it clear that upholding and advancing the human rights of persons with disabilities is relevant, doable and necessary—for everyone's benefit."
Athletes across the range of Tokyo Paralympic sports used the #wethe15 hashtag with their social media posts during the Games to help draw awareness to the effort. To learn more, go to www.wethe15.org.