As soon as Conor Swail landed off the last fence in the Credit Suisse Challenge 1.55-meter speed class Dec. 10 at CHI Geneva (Switzerland), he urged his partner Vital Chance De La Roque to race across the timers by giving a final kick and pushing his hands forward. The clock stopped at a competitive 65.58 seconds with all rails still in the cups.
What happened next, though, left mouths agape in the stands.
It's not out of character for "Vinny" to cross the finish line with a flamboyant buck—he gives spectators all the flair and drama they want—and he did just that in the big indoor at the Palexpo Geneva. Maybe the 13-year-old Selle Français (Diamant De Semilly—Image Du Chateau II, Rivage Du Poncel) knew he was one of a handful of clears that evening amongst a field of 41 entries.
"Obviously, this time was a bit more unusual," Swail said, chuckling. "He always bucks when we go through the finish—he's quite extravagant in how he finishes his round with his huge, big bucks. Three or four times already I've nearly fallen off him when he does this big extravagant buck and he un-seats me, but I've always been able to recover sort of comfortably I suppose."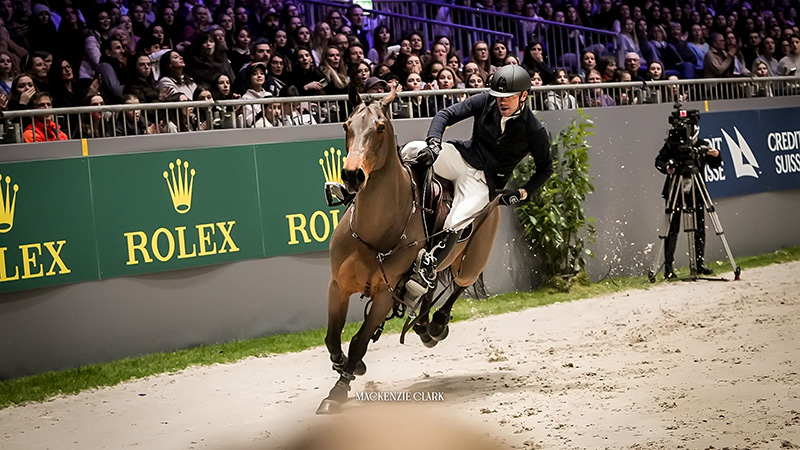 This time though, Mannon Farm's exuberant gelding managed to fully dislodge Swail, giving the global heavyweight—currently No. 5 in the Longines FEI Jumping rankings—one more gallop around the ring. Without a bridle.
"He jumped amazingly well, as he always does," Swail said. "I went through the finish line, and of course always as a rider when you do that, you're sort of leaning forward up the neck. And then he bucked and unseated me out of the saddle. I was trying to recover and his head was coming up, so I was just trying to push myself back on the saddle. But I basically just pushed the bridle straight off the top of his head. So, obviously, he wasn't happy with that and it startled him a bit."
Watch their round here, including their unplanned bridle-less tour of the arena, in the Credit Suisse Challenge at CHI Geneva:
The pair was lucky to be jumping into the natural curve of the ring, Swail said. Their trajectory allowed Swail to push himself back into the tack using Vinny's body as he turned, mitigating a full tumble.
"I was confident enough that it wouldn't turn into anything too dangerous, you know? He ran around a wee bit, but he wasn't running too hard or anything like that," the Irish rider said. "He just went from a canter to trot to a walk and just walked out of the ring as if we were just going on a little hack."
Vinny's post-round antics are usually short-lived, Swail says. He saves them for the crowds.
"He's very relaxed and nearly a bit lazy [schooling], but when he goes in the ring he's actually quite difficult to ride," Swail said. "He's very feisty, but that's the reason why he is such a good horse. He's very little, but he's such a fighter."
"It's a funny thing to have to happen on a big stage like that. It makes it quite amusing," he said.
Last weekend was far from the first time Vinny has celebrated a good round with a big buck:
Toronto-based equestrian photographer Mackenzie Clark was one of a few photographers who captured the episode as it unfolded. Photographers at the CHI Geneva are given closer access to horses and riders than at most other shows—they're actually inside the ring, nestled in a corner or in an "alley" beneath the VIP seating, behind a fake wall.
But fake walls make for piddly barriers between photographers and loose and spooked five-star horses.
"In that instance it was terrifying," Clark said of her first thoughts while snapping images. "For a brief moment it looked like he was coming right for our group of photographers."
"As much as he wasn't in control of the situation, Conor actually seemed to be in control," she said. "He was able to keep a hold of the bridle in one hand, and hold on to the horse with the other hand. At some point he somehow slowed the horse down and sort of guided it to a halt. I don't know many riders who could have kept their cool to do that."
"We were all in the press center afterwards and we all said, 'That was the most exciting class I've ever photographed!' " she said. "It just ended up being something to laugh and smile about, because everyone was OK and no one got hurt. In a situation like that, it's scary for the horse and rider. But for [Swail] to have the horsemanship to pull that off, and walk out the ring with a smile and be able to laugh about it, was really unique I think."
Vinny is no worse for his unplanned victory gallop—in fact, as they stayed on and crossed the timers, they finished fourth and later came back, fully tacked, for the awards presentation—and he next will compete in The London International Horse Show (England), in the "Christmas Pudding Speed Stakes" and then again in Dec. 19's Turkish Airlines London Grand Prix.
"He does that all the time, so I can say it's not the first time I've nearly been unseated from him," Swail admitted with a laugh. "I'll have to get a bit smarter."