This past weekend was the start of the 2022 horse show season, and it's hard to imagine that anyone got a better picture to commemorate their 2022 debut than amateur jumper rider Christina Kemper Athens.
Athens and her 10-year-old Holsteiner Colimbo LS La Silla have been showing together since August in the low amateur jumpers, and she was excited to start the new season with him at the World Equestrian Center—Ocala's Fall Show. Walking their course in advance of Sunday's $5,000 1.25-meter Low Junior/Amateur Classic, she felt good.
"It was a fantastic course that was set that asked technical questions of the horse and rider," she said.
One of those questions was an oxer to in-and-out set on a seven-stride line heading away from the gate. On course, the pair jumped well over the oxer, but the double came up more quickly than Athens expected, and they got there on a half-stride. When "Colimbo" added a quick extra step, Athens got popped out of the tack and landed—on the ground, not the horse—between the in and out elements.
"The amazing and talented horse that he is, he jumped out of the B element thinking I was going with him. He jumped out clear and with amazing form all on his own.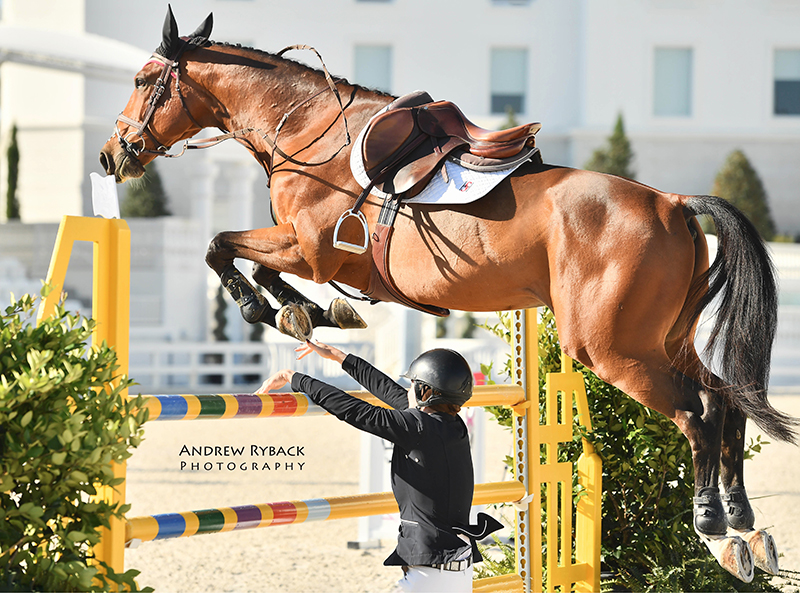 "As we know, things happen very quickly in the show ring, and it all happened in the blink of an eye," added Athens, who trains with Shannon Hicks in St. Louis, Missouri. "I knew things were not going as planned, and I just did my best to make sure my horse was safe, and I stayed out of his way to ensure I did not accidentally get in his way. And he needed no assistance completing the combination."
In an image of the moment captured by Andrew Ryback Photography, Athens appears to be standing in the combination, waving or throwing her horse over the fence from the ground. Alas, she said, she did not actually land on her feet, which made the image all the better of a captured moment.
After losing his jockey and clearing the combination, Colimbo knew something was not quite right.
"Colimbo is such an amazing horse; he did a small victory lap RIGHT TO THE GATE where Shannon was waiting with a peppermint. He gets a peppermint every time he comes out of the show ring, so he knew where to go," she said. "We walked back to the barn together and discussed what happened, and Colimbo got his ice boots on and then finished the day in a grassy paddock while I finished up in the next class on [her second horse] No Kidding BC."
Athens, who runs a small, family-owned oil and gas company in Tulsa, said both horse and rider are no worse for the experience and are looking forward to the season ahead.
"This is certainly not how I predicted to end the first show week of the year, but, wow, what a story and what a picture," she said. "And most importantly, horse and rider are happy and healthy and ready to keep showing and growing together!"