Just as Jakilly sat back to power over the first fence of the $200,000 Major League Show Jumping Team Event CSI5* (Ontario) on Aug. 27, Taylor St. Jacques caught the glint of the mare's shoe flying through the air ahead of them. As they landed from the jump, she heard the clatter of the triple bar's back rail crashing to the ground.
"It sounded like we snapped the rail in half, honestly," St. Jacques said. "It made the biggest sound. And I was like, 'Well shoot, I had the very first rail. This sucks.' "
With a missing front shoe, St. Jacques took a more conservative track and accrued 2 time faults in the round, which marked the five-star debut for rider and horse alike. But when a song reserved for clear rounds played over the Ottawa Equestrian Tournaments' loudspeakers, St. Jacques was truly confused. That feeling was compounded when supporters came up to congratulate her on jumping clear.
"I'm thinking, 'What are these people talking about? I had the first rail down, clear as day,' " she said. "I don't know how someone from 100 miles away couldn't have heard that thing come down."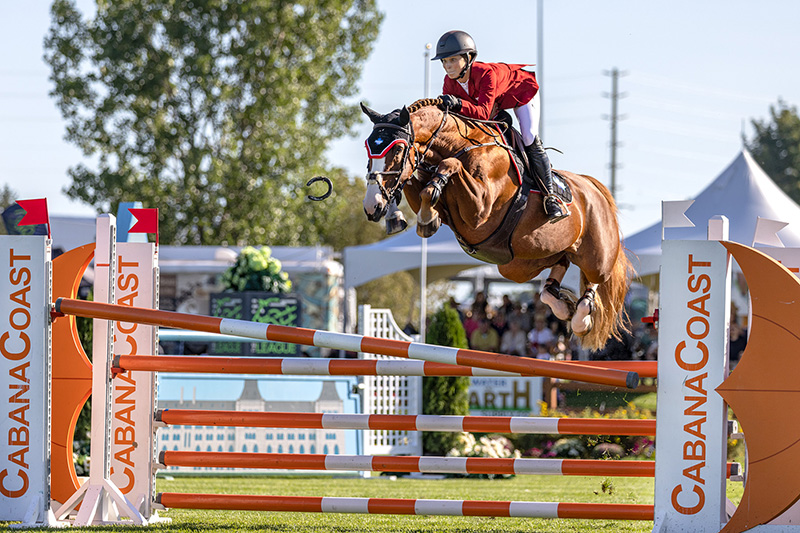 What St. Jacques didn't know at the time was that the ground jury, comprised of Cathy Harper, Phillip Rozon, Gerald Kuh and Gay-Ellen Dennis, had ruled that the shoe—not Jakilly—had caused the rail to fall and therefore did not penalize it.
"I was convinced that they'd kind of messed up, and I had the rail, and they were blaming the shoe," St. Jacques admitted. "I'll take it. Luckiest four faults of my life."
But later St. Jacques watched video replay in real time and slow-mo and realized that "Lilly" had, in fact, cleared the fence with room to spare, and that the wayward shoe dislodged the rail before bouncing back into the air.
Three-star FEI judge Rozon posted about the incident on Facebook, stating, "We didn't penalize her the four penalty points. Because a shoe flying through the air to knock down a jump is no longer part of the horse. Fortunately this jump was located right in front of our Jury Box which made it an easy call."
"Definitely the craziest moment of my career, I will say," St. Jacques, 23, said.
St. Jacques was thrilled with how the 8-year-old mare handled the incident.
"You look at all the photos, and [the shoe is] in front of her. It's hitting the rail. When we were landing, it's directly in front of her face. I think it surprised her that the rail was falling underneath her. She was like, 'Oh my gosh! What is happening underneath me?' She took it like a champ. Jumped right around, jumped a really brilliant round."
St. Jacques, who rides for Canada and is based in Lexington, Kentucky, and Wellington, Florida, has been riding Lilly, a Dutch Warmblood (Harley VDL—Zakilly, Odermus R), since December. Belgium-based Israeli rider Tal Milstein previously rode her to the one-star level and sent her to the United States for St. Jacques to develop and sell.
"I told him, 'Don't rush me with this one. Let me take my time, and I promise you she's going to be something special,' " she said. "She really is coming into herself, and she's really turned out to be a very, very special horse. I'm glad I stuck to my gut, and I took my time with her, kind of bringing her up. Look at her now: She just moved up to the 1.45-meter and the FEI classes; she's jumped clear round after clear round."
Neither of them had competed in a five-star before, and it was St. Jacques' first time competing for the Northern Lights team at Major League Show Jumping. They posted the best score for the team, with teammates Darrin Dlin (Odiel VDM) and Sam Walker (Evita) earning 13 and 4 faults, respectively.
"I was really proud of her—and how well she took that, especially—and how well she jumped all week," she said.  "Really a special week in general. It was my first time competing for the team. And then just to top it off this happened. I'm just hoping I make it through the timers and don't let my team down, but this has turned into a whole different thing."
Watch St. Jacques and Jakilly's round on MLSJ by clicking the photo below: