Roanoke may look like a superhero as he canters around the World Equestrian Center (Ohio) with a mask and green "goggles," but his headgear isn't protecting a secret identity. It's solving a problem.
"He's a very talented jumper, but he seemed to be bothered by bright contrasts," said owner and breeder Suellen Myers. "He would act as if something really scared him. It's not his personality to be contrary, and it never happened if he was outside on an overcast day."
Myers and Roanoke's trainer, Ann DeMichele, called vets out to examine Roanoke for anything to explain his bouts of spooking, but even an ophthalmologist could find no physical fault in the gelding. DeMichele, who has been working with Roanoke since he was 4, drew on her background in steeplechasing for an inventive solution.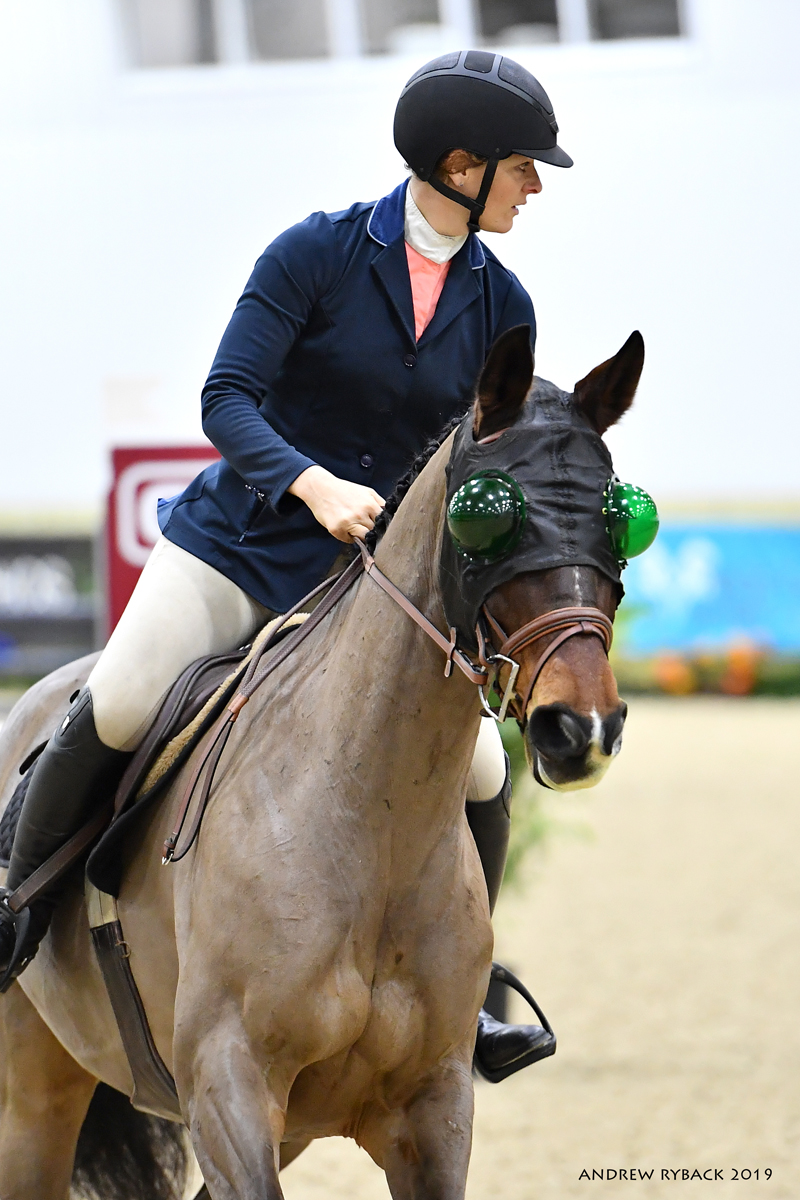 "I was talking to my mom and thought, 'You know what, maybe we could try a pair of blinkers on him,' " DeMichele said. "So I put a pair of blinkers on and things started going a lot better. He got a lot more focused. Then I noticed the problems we were having happened more in bright light, so I thought, maybe he sees the shadows a lot more than the other horses. Some horses [at the race track] wear shaded goggles. So I thought, 'Well, this is going to look really weird, but let's try it.' "
DeMichele purchased the mask and goggles, and Roanoke wore them like he'd been doing it all his life. In indoor or overcast situations DeMichele sometimes switches back to the blinkers. It all depends on how Roanoke feels.
"I've never used them before, and I probably won't again because it's just such an unusual thing," she said. "But it makes him peaceful and happy, and he jumps around the 1.30-meter classes no problem. He's so careful and fast and handy; he's a lot of fun to ride."
Myers has been breeding Oldenburgs since the 1980s out of the West Virginia-based Willow Spring Farm. She mainly directs them toward dressage, but Roanoke, a 10-year-old Oldenburg (Reno—Wyndale), is one of four horses Myers has sent to DeMichele for jump training instead.

"My late husband and I started this," Myers said. "That long ago there weren't that many warmblood breeders in the U.S., so we went to the Oldenburg auction in Vechta, Germany, and bought a few fillies and waited for them to grow up. That was the only way we could do it; we couldn't afford mares ready to be bred. I'm one of those people that never got over loving horses as a kid, so I'll keep breeding as long as it's fun. I love the babies, and I love doing the research and planning and figuring out the matches."
Roanoke is for sale now.
"The mask comes included!" DeMichele joked. "It's very important for us, especially since we've been working with him for so long, that we find someone who really wants him."