Mimi Gochman fumbled for her left stirrup for several strides, but after a few failed attempts to slide her boot home, she focused on the oxer-vertical one-stride in front of her. Celina BH flew over the combination, and when they landed Gochman had six strides before the liverpool to decide: keep going or drop the other?
On the third stride she quietly dropped her right stirrup, sitting deep in the saddle as she zeroed in on the next jump. She tackled the final three fences without stirrups in the jump-off for the $10,000 Show Jumping Hall Of Fame High Junior Jumper Classic during Week 3 of the Winter Equestrian Festival in Wellington, Florida.
"While I was going I couldn't pick up the stirrup that I'd lost. I kept trying, and I just couldn't do it," Gochman said. "After the in-and-out in that line, I was like, might as well drop the other one; it'll be more even because jumping with one stirrup and not the other is almost harder than just jumping without them. So I decided to drop the other stirrup and just finish the last few jumps without stirrups. It was a little bit of a rash decision, but it worked out."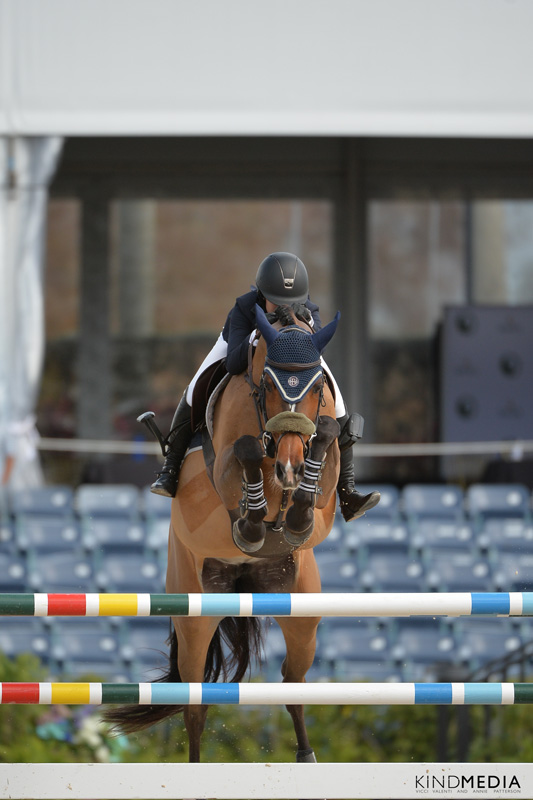 The stirrup mishap occurred following the first line of the short course. Gochman left out a stride and thought she could pull off an inside turn immediately afterward. Instead, the 11-year-old Holsteiner mare (Canstakko—Carrera, Carthago Z) put on the brakes when she came too close to the fence Gochman was attempting to turn in front of. The mistake only cost Gochman, 16, a few seconds, so she continued on, just sans stirrup.
The miscommunication may have cost her the win, but the pair was still speedy enough for a second-placed finish in the 10-horse jump-off.
"It's nice to know that if something were to go wrong that I can continue jumping without them," Gochman said.
Watch the stirrup-less version of Gochman's round, courtesy of WEF:
As a regular in the equitation classes, Gochman is no stranger to no-stirrup work, and dropping stirrups is one of her jumper trainer Ken Berkley's go-to exercises.
"It's so good for strength, and it actually makes you ride a lot better because you have to be so deep in your seat," Gochman said. "He's proven it time and time again. If you're not doing it right the first time he'll be like, 'Drop your stirrups!' and then you'll do it immediately right. It's kind of annoying because you're like, 'Shoot! It really does work!'
"It's one of his exercises to get our eyes working and all of us connected with our hands and our leg," she continued. "Sometimes we also school at the show before going in the ring without stirrups just because it makes you feel stronger than you need to be. You have to be so tight without them that once you pick them up everything seems so much easier because you were already so much tighter from jumping without stirrups."
Gochman, Wellington, has partnered with Celina since early 2019, and they were WEF circuit champions in the high juniors last winter. Along with Gigi's Girl BH, Celina helped Gochman get a leg up to the grand prix ring last summer.
"We [have] a very close partnership," she said. "We got to do some grand prixes in Saugerties [New York] together and get some ribbons, which was really cool. She's an amazing horse. She's scopey; she's got stride, and she loves to do what she's doing. She's super cool. I love her a lot."