What would you do if you lost your stirrup while approaching a 1.40-meter oxer? If you're Maddy Darst, you keep right on kicking!
A photographer captured this shot of Darst competing in the high amateur-owner jumpers aboard Quester De Virton during the Country Heir horse shows in June in Lexington, Ky. "That was actually the first jump—he tripped and I lost my stirrup when he tripped, and I kind of just kept going," Darst, 20, said with a laugh. "I think it was after the third jump I got it back."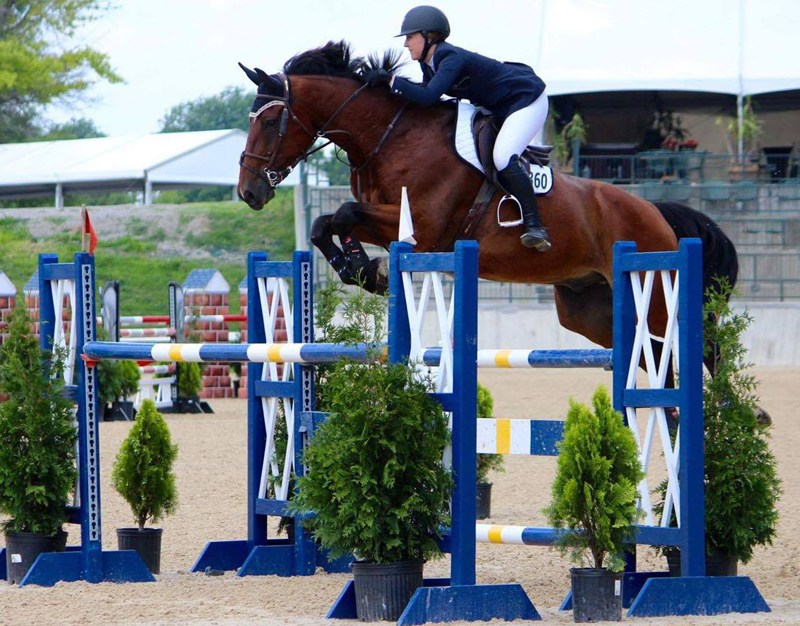 Darst placed fourth individually in the Young Rider division with "Queso" at the North American Junior and Young Rider Championships in 2015 in the very same ring, but it had been almost a year since she had ridden the gelding when she saddled up for this amateur class. Darst just finished up her freshman year at the University of Georgia, where she has been competing on the school's NCEA equestrian team.
As a junior, Darst trained for the big equitation classes with Stacia Madden of Beacon Hill (N.J.), and in 2013 Darst won the Washington International Equitation Classic Final (D.C.). No-stirrup work was a part of her regular regimen with Madden, including jumping small fences without stirrups.
"I don't think I've ever jumped higher than 3'6" without stirrups, not intentionally," Darst said with a laugh. "I definitely practice picking up and dropping my stirrups, but I guess I need more practice since it took three jumps to get it back in that class."
Darst can remember the very first no-stirrup lesson she did with Madden as a junior.
"It was a flat lesson, and I swear the entire thing was without stirrups. I'm pretty sure I started crying," Darst said. "I couldn't say anything, I was so shy, and after that I kind of vowed to practice without stirrups more so I could keep up in the lessons."
Madden says she uses no-stirrup work to keep her students honest in their position.
"You can't cheat; it really makes you find the balance it makes you be centered," Madden said. "It really makes you ride with correct angles in your leg to be able to keep the balance, so it's a very humbling but great strengthening exercise, especially if someone tends to be a little bit one-sided."
Madden's advice for riders practicing without stirrups? Leave them where you drop them.
"I think probably one of my favorite exercises to do is to work without your stirrups and leave them down instead of crossing them, and then to try and pick them back up at different gaits when you're moving," Madden said. "Pick them back up at the trot, pick them back up at the canter, because I think everyone's tendency is when they're riding without stirrups is to ride with their legs longer than they are when they have their irons, so they've got to be a little bit comfortable with the idea if they lose their iron they have to shorten their leg to fish that stirrup. If they've practiced that enough on the flat, then they would be able to maybe get it back on course so you don't have to do too many fences without them."
In Darst's case with the class in Kentucky, she is actually only missing one stirrup, which is something Madden will actually occasionally have riders do intentionally.
"I tend to do most of my work without both stirrups and trying to get them back just because I feel like it helps keep riders centered, but if I have a rider who is leaning off to one side or is ducking I definitely will make those adjustments and either make them ride with one stirrup really short or without one stirrup," Madden said.
While Madden no longer trains Darst regularly, hearing about her recovery from the incident in Kentucky was not a shock.
"Maddy always spent so much time in the saddle; she rode so much and was naturally a very strong rider, so it doesn't surprise me that it was easy for her to get her stirrup back," Madden said. "She's basically probably spent more time on a horse's back then she's spent on the ground in her life time, so that was a skill that probably came very naturally to her."
Nowadays Darst is focused less on the rated show scene and more on collegiate accomplishments, both in the classroom and as a member of the NCEA equestrian team. A rising sophomore, Darst is not yet sure whether she will consider a career as a professional rider or use her degree to enter the marketing field—she's just thoroughly enjoying her time as a Georgia Bulldog.
"Honestly I love the NCEA a lot more than I expected to," Darst said. "The team honestly is just incredible. I never used to get nervous when I did equitation and I get so nervous now because I just want to do my best for the team and everything, so it's exciting. I really like it."