Vintage Vinnie made waves on April 30 when he not only won the 125th Maryland Hunt Cup, but did so by breaking the course record set by, well, himself, just last year in his eye-popping 112 ½-length (not a typo) 2021 victory.
While trainer Joe Davies and assistant Ashton Williams get much of the credit for training Armata Stables' winner (Vinnie Roe—Bobby's Jet, Bob's Return)—it was, after all, the sixth consecutive Maryland Hunt Cup victory for the team who also prepped Derwins Prospector for his 2017 win and the legendary Senior Senator for his three—there's an unofficial assistant trainer who's been right beside "Vinnie" and his predecessors all along: Fernando the mini donkey.
"He's been here for all six Hunt Cups," Davies said. "So, the common refrain is that Fernando trained the last six real Hunt Cup winners, which is really true. We have very little to do with it."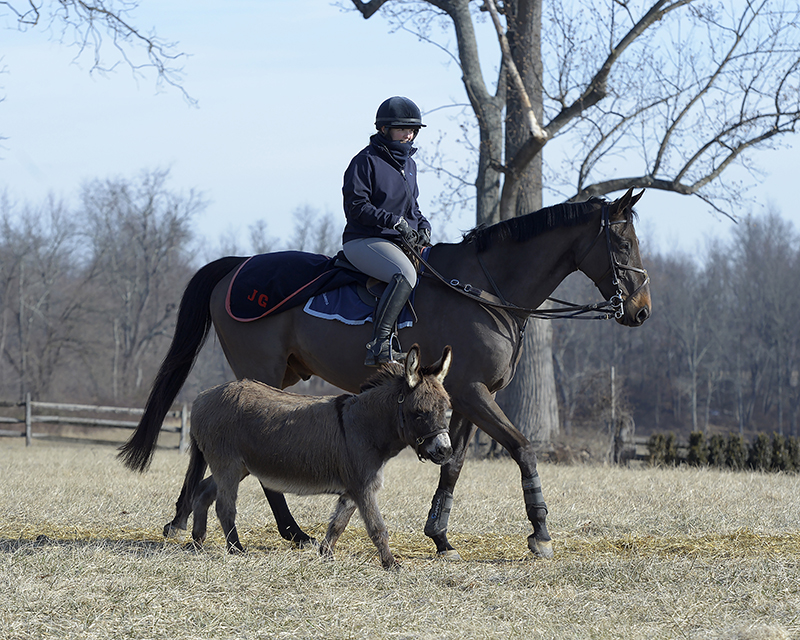 Sure, Fernando barely comes up to Vinnie's belly, and his short legs, big belly and furry coat make it hard for him to keep up on fitness sets, but the mini donkey is often there. (And he frequently gets a trace clip to help him stay cool with the physical exertions involved in training race horses.)
Davies trains his charges on a mile-long gallop with a hill, and Fernando often tags along with them, from the farm out to the gallop, despite being not as quite as tall or as quick as the horses.
This photo of Vinnie with assistant trainers Williams (mounted) and Fernando (decidedly grounded) was taken Feb. 1 by racing photographer Lydia Williams during a visit to their home base in Monkton, Maryland.
"What I really enjoy is going to the farms and following the Hunt Cup horses and their training," Lydia wrote. "It's laidback, and it's always different enough to make it interesting. I prefer that to the actual races, actually."
She was at Davies' farm that day to photograph yearlings and foals, she recalled, when she spotted Vinnie and Fernando returning from their set.
"I just happened to catch him walking with Vinnie and Ashton as they were heading back to the barn."
Fernando has been going out on sets for years now, back at least to Senior Senator's training days.
"He trains with us," Davies said. "He'll go out on sets with Vinnie and gallop up the hill, [but] he can't keep up going up the hill. When you pull up and walk down the hill, then Fernando will come swoop you down the hill. He's quite disconcerting, if you're on a fresh horse."
Check out Fernando's form over fences.
Yet Fernando has been a calming influence for some of the most talented and notoriously quirky horses in Davies' care. Senior Senator, called "the craziest horse that's ever looked through a bridle" in his flat racing days, was one of Fernando's first charges. The two trained and traveled together until the horse's colic death in 2020.
"We bought Fernando from Maryland horsewoman Taffy Litz as a Christmas morning surprise for our children," Davies told the Chronicle in 2018, after Senior Senator captured the second of his three Hunt Cup wins. "Right away he learned to shimmy under the fence in our pony paddock, and he just started to follow us on our sets. He has a great calming influence, especially on Senior Senator. It's almost as if he provides them comic relief. How can any horse take themselves or their training too seriously when there is the little feisty donkey galloping alongside them and occasionally farting in front of everyone and trying to slow the whole set down?"
Now, Fernando shares a stall with Vinnie and works much of the same magic on his new charge. He traveled with Vinnie to the Hunt Cup and kept their stall warm while Vinnie was out breaking his own record with Teddy Davies, Joe's son, in the irons.
Under Fernando's diligent tutelage—possibly aided by the Davieses and Williams—Vinnie managed to improve upon his record-setting 2021 time of 8 minutes, 22 3/5 seconds, over the four-mile Maryland Hunt Cup course in Glyndon, Maryland, covering the distance in a new record time of 8:15 on April 30 with Teddy up.
"Fernando's definitely been a big help to Vinnie," Teddy said. "I mean, it's just good for horses to be able to not take themselves so seriously all the time, because it's hard to really think you're that tough when there's a little miniature donkey sitting right next to you that's acting just as serious as you are."