Seeing horses featured prominently in mainstream media is one of those things that makes equestrian hearts flutter. And even if life on a fictional Montana ranch may be far away from your personal brand of riding, it's easy to appreciate Kevin Costner or Tim McGraw loping through picturesque mountain landscapes atop a dreamy cowhorse in Taylor Sheridan's hit show "Yellowstone" and its spinoff "1883."
The Western setting means Quarter Horses abound in the two Paramount Network series—in which creator and horseman Sheridan goes wild in crafting dramatic plots but has said he keeps the horse details realistic as a point of pride—but more typically English breeds are absent. Until now.
A 4-year-old Dutch Warmblood named Nureyev ISF, bred by Iron Spring Farm in Pennsylvania, could be the first dressage horse to appear on "Yellowstone" after he was filmed by the show's crew last week.
The young gelding (Sir Sinclair—Ballerina Ceroon, Oscar) is named after famed 20th century ballerina Rudolf Nureyev, so perhaps a career on stage was a foregone conclusion for the horse better known as "Junior."
"He's so friendly and curious; he really likes being engaged with people," said his owner Riley Cyran, a resident of Thousand Oaks, California, not far from Hollywood. She stables Junior at El Campeon Farms, a picturesque Thousand Oaks farm that has been featured in numerous films and commercials.
The "Yellowstone" crew needed additional footage and hopped over to El Campeon recently seeking a camera-ready horse, she said.
"They asked the head groom if he had a horse that looked nice, could stay by the cameras without any prompting, and wouldn't get scared of the equipment," Cyran said. "He said, 'Absolutely: Junior.' "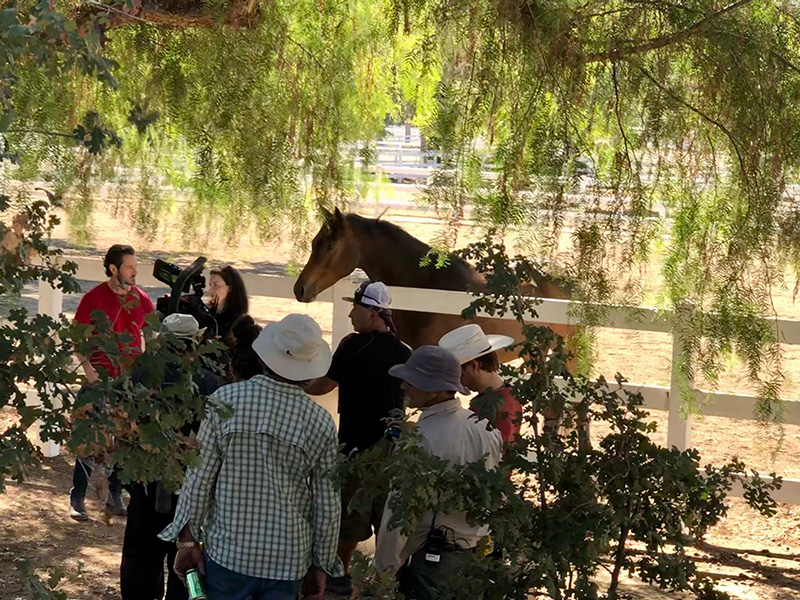 Cyran, 46, who is a Ph.D-holding professional dressage rider and trainer who formerly taught high school chemistry, purchased Junior as a yearling on a whim while tagging along with a horse-hunting friend to Iron Spring Farm.
"He was huge but very elegant," she said. "I was just so taken with him; he had this presence about him. Just a little twinkle in his eyes, like he knew he you were looking at him. They put him in the indoor, and he pranced around and took my breath away. He ran up and stuck his head in my arms, and that was it."
While Junior enjoys attention and performing for the camera, he's equally known for his gentle friendliness. He's already got a show record too, having competed three years in the breeding classes at Dressage At Devon (Pennsylvania), including taking second in the foal championship in 2018.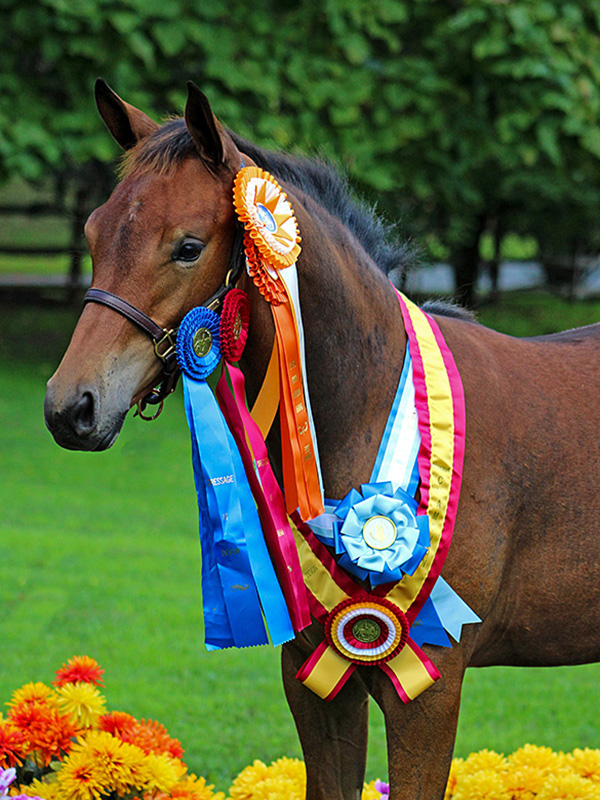 It's not clear when or where Junior might show up on screen—in an episode, a trailer or elsewhere—Cyran said. But as a fan of "Yellowstone" herself, she was thrilled to have her horse used for the show.
"I've watched every episode," she said with a laugh.
Junior joins an esteemed roster of real-world competition horses that have been cast on "Yellowstone," though he's likely the first warmblood or dressage horse used.
The majority of working horses cast are reining or cutting horses—two sports Sheridan competes in himself—and many are owned or bred by Sheridan. Past equine celebrity cameos have included champion reining and cutting horse and National Reined Cow Horse Association all-time leading sire Metallic Cat; Custom Made Gun, a member of the gold-medal U.S. reining team at the 2018 FEI World Equestrian Games (North Carolina); and Lil Joe Cash, an American Quarter Horse Association reining world champion and National Reining Horse Association Futurity champion.
Just as "Yellowstone" attracts equine celebrity talent, Cyran said that El Campeon Farms attracts filmmakers and photographers in need of horses for their projects so often that a section of its website is dedicated to location shoots. The farm also is home to two other horses who are particularly sought-after by photographers for their good looks and cool heads, Cyran added. One is a colored cob (who Cyran confirmed looks very "magical"), and the other is a chestnut who's been featured in a Skechers advertisement with Friesian-enthusiast and domestic empress Martha Stewart.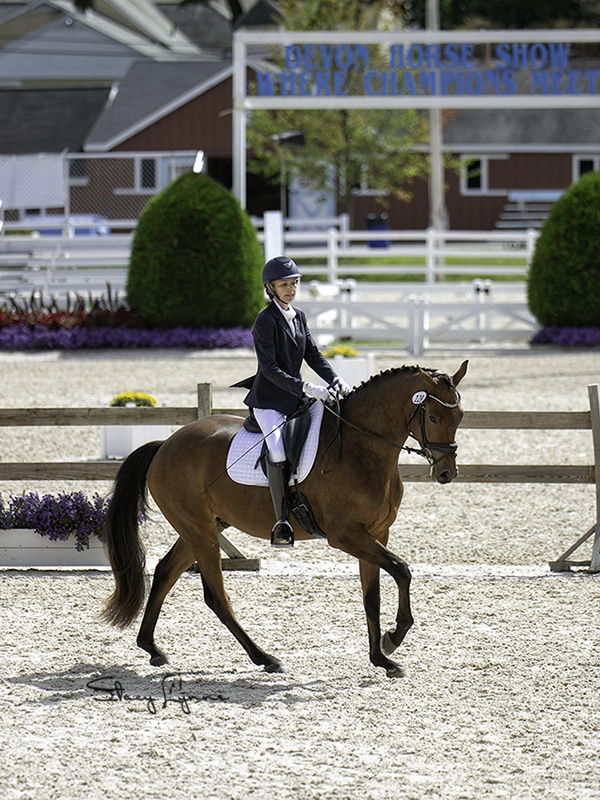 "You can have all kinds of people around them who don't know how to be around horses, and these few just happen to be super relaxed, and then they'll just naturally perk up for the camera," she said.
As to whether or not Junior will appear on TV in the future, Cyran said it's possible.
"I think he'll probably get used again because they do so much filming here [at El Campeon Farms]," she said. "You can see him literally smile for the camera. And he knows that if you pull out a camera, he knows you're taking his picture."