Everyone who watched Brielle Thomas and Midnite over the last three years knew they were the perfect couple. Thomas, 14, had ridden ponies before Midnite, and the off-track Thoroughbred gelding was the perfect transition to a full-sized mount.
Midnite, 19, raced 17 times under the name Midnight Echo (Trapp Mountain—Electra Tex, Fuego Seguro). After earning $10,615 on the track, he found a second career in the jumper ring.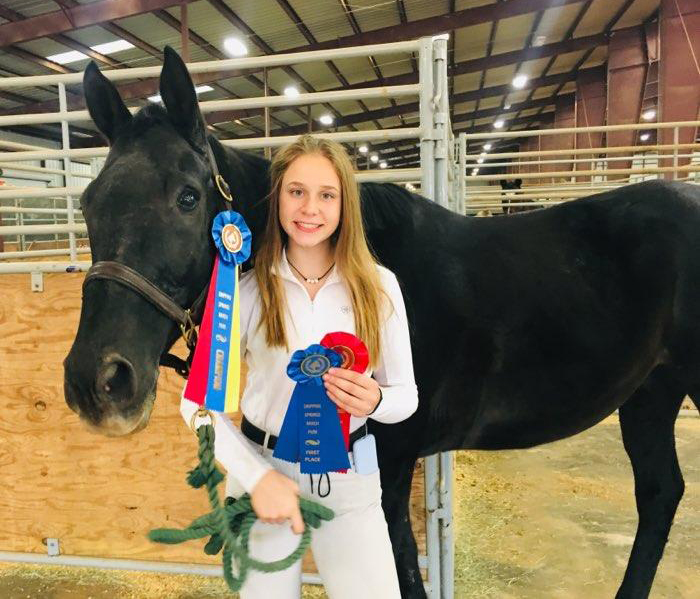 "I was looking for a horse that would be a babysitter," said Thomas, Spring Branch, Texas. "He's a been-there, done-that show horse. He's a perfect little guy to learn the ropes on for bigger showing. I've shown in the jumpers with him. He can really turn; he's fast. He doesn't act his age."
But 1 1/2 years ago Thomas got some bad news: Midnite had developed uveitis. As the disease progressed, the vision in his left eye worsened, disappearing completely in February of 2020. Soon after, his right eye started deteriorating quickly, until he became completely blind.
Thomas continued riding Midnite on the flat, and she learned to be extra alert in order to guide him around objects a sighted horse would naturally avoid.
"Ironically we've had a blind horse before," said Thomas' mother, Amy Young Thomas. "That was an Appaloosa who was really just a yard art pony. This is a different scenario with him. She's been much more resilient than I have through all this, and of course, he's been more resilient than both of us."
One of Brielle's barnmates at Black Copper Farm in Boerne, Texas, Kathi Darrow, empathized with her situation and gave her a photo session with Leigh Fields, a budding equine photographer who also boards with them. They recruited Jess Lynn of Equine Services And Clips By Jess to braid Midnite to get him looking his best, and Fields, eager to do something special for Brielle, got creative.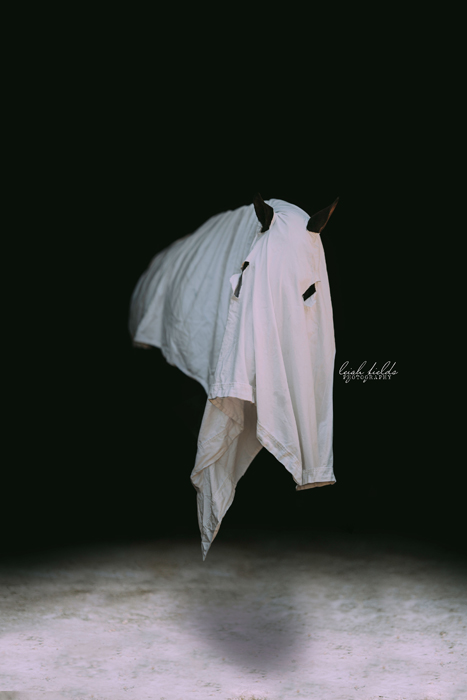 "My friends kept sending me pictures of dogs with sheets over them," said Fields. "Being a designer full time I'm nifty with Photoshop, so I thought we could make him float. It turned out so much better than I expected."
Brielle said Midnight was very patient with being dressed up in the sheet.
"He was really good for the photos," she said. "He took it like a pro. Someone should have gotten it on video. He was so good."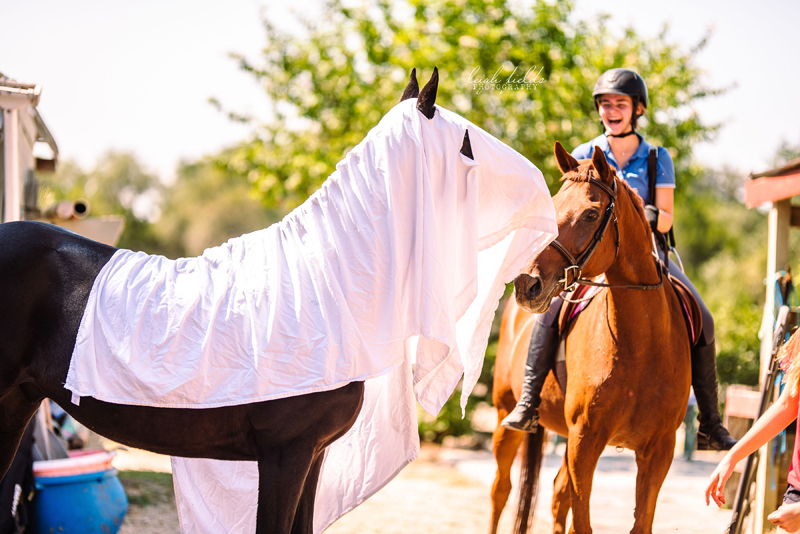 Brielle will continue riding Midnite on the flat under the tutelage of trainer Jessica Parsons. Parsons built a private paddock for Midnite that's attached to his stall, so he can wander in and out at will without having to worry about other horses picking on him.
"They're just a special, special pair. Great kid, great horse. It was a pleasure to capture him!" said Fields. "When I have ideas I want to try out, like new ways of shooting or a ghost horse picture, I usually pick someone special like Bri to try them with."