For a guy who nearly got sat on by a horse on April 21, Jack Doyle was exceedingly cheerful as he recounted his experience at this year's Middleburg Spring Races (Virginia).
The 28-year-old native of Tipperary, Ireland, is currently leading the National Steeplechase Association races and money won standings with seven wins after five weeks on the spring circuit, and he had three winners and two seconds from seven rides at the Glenwood Park meet. Doyle won the headline Grade 3 $75,000 Temple Gwathmey Hurdle Handicap aboard lightweight Lyonell for his main supplier Elizabeth Voss, then won the maiden claiming hurdle with pickup ride Really Ready for Hall of Famer Jonathan Sheppard, and he was narrowly second on another pickup—Le Chevalier for Julie Gomena in the $30,000 Middleburg Hunt Cup.
But it was the last race of the day that Doyle will remember best. A single stride—and a split-second, game-time decision—were all that stood between him and total disaster in the $20,000 Alfred M. Hunt Steeplechase.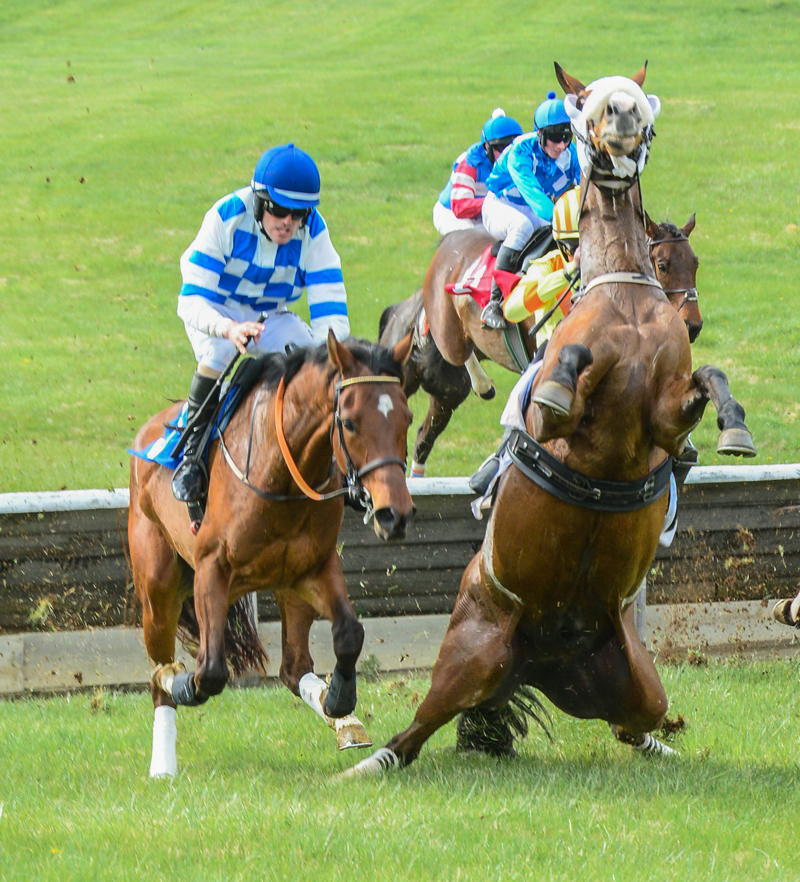 Doyle partnered Andi'amu, owned by the Ballybristol stable of Chicago owners Tom and Roxanne Collins, to tackle the testing and varied steeplethon course in the program closer. It was the first timber test for the French-bred Andi'amu after a stakes-placed career over hurdles.
Doyle had won with the 8-year-old (Walk In The Park—Sainte Parfaite, Septieme Ciel) over hurdles at Monmouth (New Jersey), but he'd never personally schooled the horse over the timber, natural hedges or the varied, solid obstacles he'd find on the steeplethon course.
"But he's a nice horse, a good jumper," said Doyle. "[Trainer Leslie Young] said he'd schooled well over some cross-country fences, so I liked our chances."
Andi'amu jumped well over the first six fences—a hurdle, a big natural hedge, a timber fence and another hedge. "My horse flew the big timber fence by the finishing post," said Doyle. "I remember thinking to myself, 'We might just win this.' "
The field looped left, circling the infield pond back to the water jump heading toward the hillside box seating. "It's not a very big jump," Doyle explained. "It's a downhill [approach], and you land a little downhill. I think my horse read the landing as we took off, and he pulled all four feet up in sort of a bunny-hop."
It was near disaster.
Andi'amu landed back feet first, over-correcting, and he had to nearly rear to regain his balance. "It happened so fast. Until I saw the photo, I didn't realize how bad it was," Doyle said. "I wasn't scared. Mostly I was pissed that we'd just lost our winning chance."
Doyle credited having a finger in the neckstrap of his breastplate for keeping him in the saddle when the horse went up.
He nursed Andi'amu over the next couple, helping him recover rhythm. "But he winged the third last, got to the lead over the second-last, and was on the bridle into the last," Doyle said. "He landed running up the inner. Cognashene [ridden by Michael Mitchell] came to us up the outside in the stretch, and that was just enough to press my horse to the wire."
Doyle, who now calls Monkton, Maryland, home, said the jumping division "takes a clever horse, one that thinks quick and is good on his feet, with a bit of self-preservation."
"Eventing stood me in good stead," he said with a laugh. He spent his early years in Pony Club, foxhunting and show jumping, as well as eventing as a teen before taking up racing at 16.
"These cross-country races look a bit like an event course, but they don't ride like it," Doyle joked. "There's a big difference going out by yourself and going out with 10 others."
Young said Andi'amu seemed fine immediately after the race, but she decided on the drive home to her Pennsylvania barn to drop the gelding off at equine therapist Bruce Jackson's rehab facility at the Fair Hill Training Center (Maryland).
"He'll get a few days at the spa," said Young. "Bruce has a hyperbaric oxygen chamber, Magna Wave [PEMF], one of those vibrating floors. Everything under the sun. 'Andi' deserves it."
She expects the horse to be back in action for the steeplethon at the Virginia Gold Cup on May 5. "The horse will tell us if he's feeling right," she said.