Lindsey Partridge knows how to make a statement—her intricate freestyle performances involving all kinds of innovative props and tarps at the Retired Racehorse Project Thoroughbred Makeover in Lexington, Ky., the past two years have made her a crowd favorite and helped her to multiple wins. In 2015, she and Soar captured the overall Most Wanted Thoroughbred title after winning the competitive trail class, while last year she won the competitive trail and freestyle divisions with Trivia Time.
But if you thought Partridge couldn't possibly outdo herself at this year's makeover, think again—Partridge hadn't even arrived at the Kentucky Horse Park from her home base in Ontario, Canada, before she was already doing crazy things with her mare, Here Comes Adri, for this year's makeover.
Partridge left Ontario at 3 a.m. on Oct. 4, and as she got close to the Kentucky Horse Park, she passed by the town of Georgetown, where she'd booked a hotel room for the week. "We thought, 'Oh we should stop and unpack our luggage,' " Partridge said. So she stopped, with Here Comes Adri in the trailer in the parking lot.
"When we were checking in, and they started talking about the pet policy I jokingly said, 'Oh my horses are here, will they be allowed in?' " Partridge continued.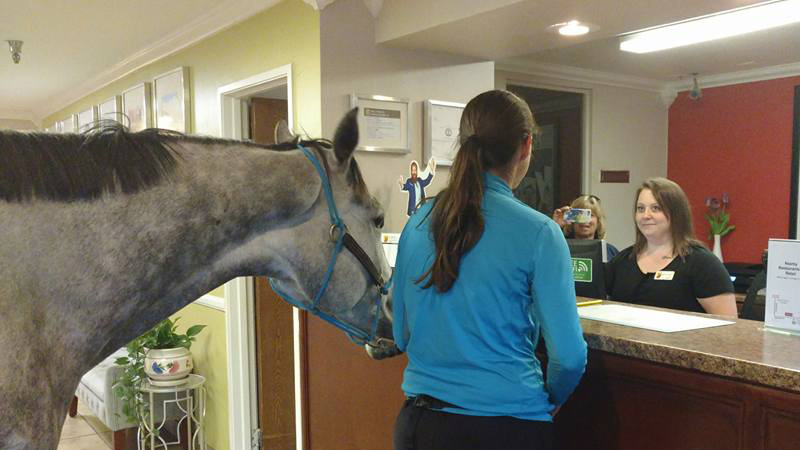 "And the lady was really laidback and said, 'I don't care,' and we said really? So I got my horse off the trailer!"
Hilarity ensues, resulting in this video:
"I was like let's just check in with the horse, and we did our video and then my room happened to be on the first floor, so we took her into the hotel room to watch a little TV," Partridge said.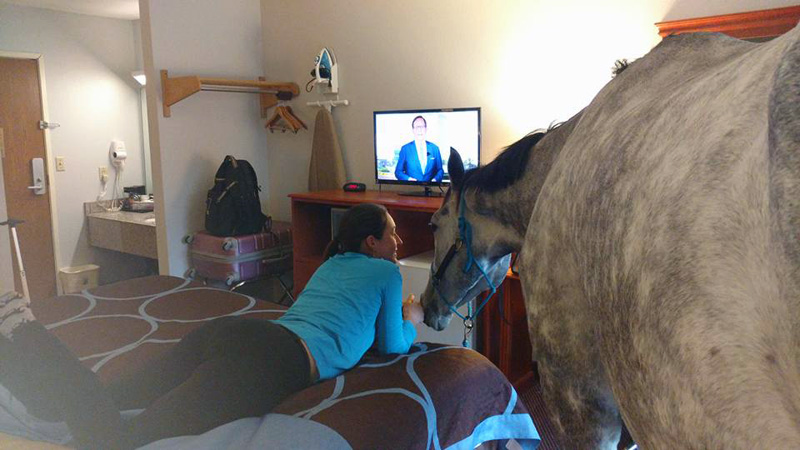 "Blizz" didn't spend the night in the hotel—after getting the photos and video, Partridge loaded her back on the trailer and took her to the Horse Park, where Blizz settled into some conventional equine housing for the duration of the Makeover.
Partridge and Blizz will be competing in the field hunter competition and the competitive trail classes at the makeover, but we're pretty sure the mare has already won the "How To Make An Entrance" competition.
"I use Harmony Horsemanship to train all my horses, and for me it's all about that calm connection," Partridge said. "If you have that calm connection, you can take your horse anywhere."
IMPORTANT RRP MAKEOVER LINKS: RRP website  |  full RRP Makeover schedule  |  finale live streaming on Oct. 7  |  live results  |  all the COTH coverage of the RRP Makeover