Will Coleman doesn't like to pick favorite horses, but as he grabbed a carrot from the tack stall at the Plantation Field International he admitted that if he did pick them, Tight Lines would be at the top of the list.
"He really wants it—you just kind of have to show him how," he said.
Coleman bought the 9-year-old French Thoroughbred gelding (Pur Sang—Turgeon, Merindole, Tel Quel) with the help of The Conair Syndicate two years ago.
He'd started life as a steeplechaser, then French rider Paul Gatien started him in eventing and competed to the CCI* level.
"Phish" won the Dutta Corp. Fair Hill International CCI** (Md.) last fall and just made the move up to advanced in July at the Land Rover Great Meadow International CICO*** (Va.) after sitting out part of the spring season due to a minor trauma and inflammation on a front leg.
In his second advanced start, he took home the win from the Richland Park CIC*** (Mich.) in late August and finished 11th in the CIC*** at Plantation Field this weekend.
I caught up with Coleman back at the barns to meet the beautiful dappled gray/fleabitten gelding:
He won't turn his nose up at much. "He'll eat pretty much anything—he doesn't discriminate. Got to keep it healthy—fruits and vegetables! He goes nuts for a banana," said Coleman.
Phish is a cribber but a cribbing strap keeps the habit at bay. He gets a muck tub for water so he won't tip it if he tries to crib, and because he likes to dunk his hay.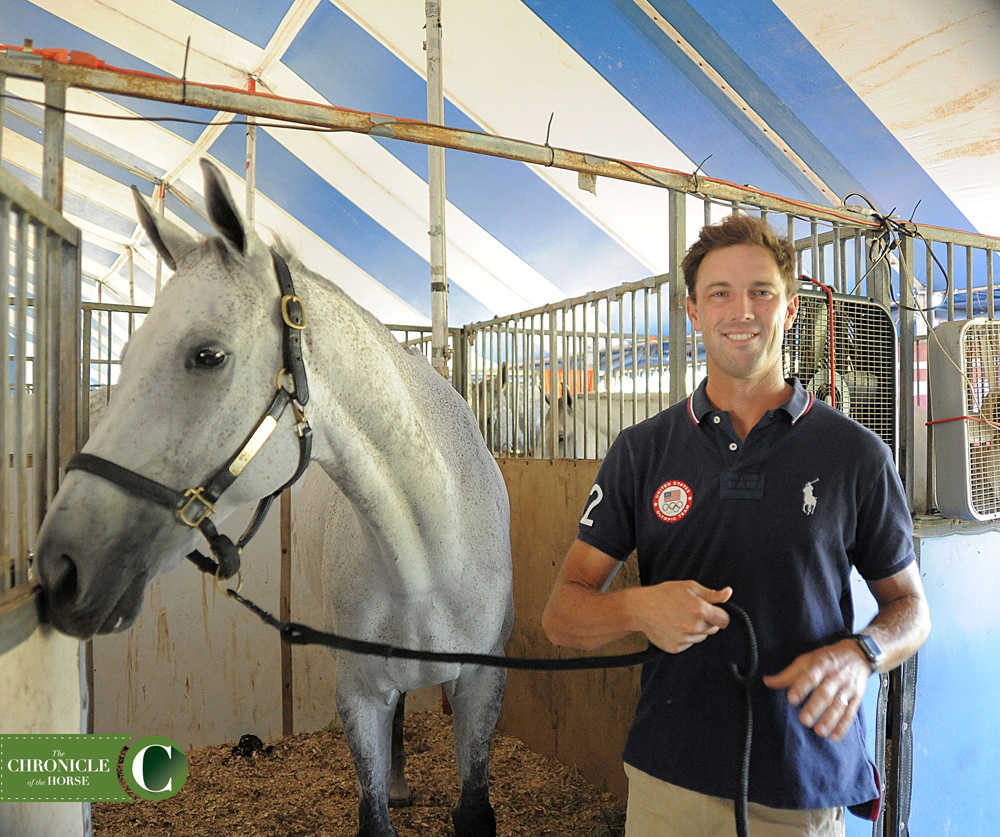 Will Coleman and Tight Lines.
Coleman and his wife Katie are very involved in all of their horses' care, and head groom Sarah Rupert is also a big part of Phish's daily routine.

"Between the three of us we're pretty involved with all the horses," said Will. "Phish has a normal event horse life—he goes on the walker first thing in the morning after he eats breakfast, then he goes out in his paddock for a few hours, then he gets worked, then he might go out again or go on the walker again. He likes to be out of his stall—we try to keep them out as much as we can."

Phish likes his routine. "He likes everything to run the same way everyday, so he eats and gets worked as close as we can to the same routine," said Will.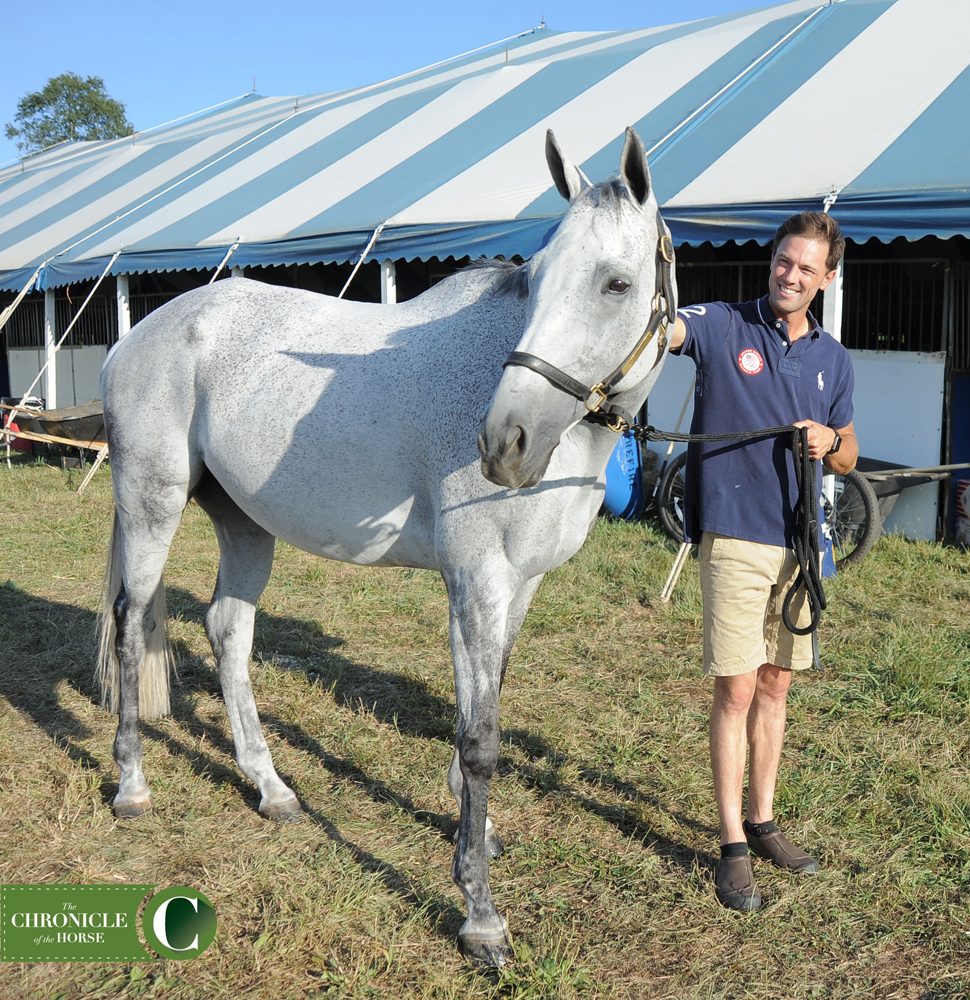 Phish is a loner and likes it that way. "He and OBOS [O'Reilly, Will's four-star horse] used to go out together, but he doesn't get along with too many other horses. Out in the paddock he's a bit of an alpha, so he goes out by himself. He's very independent. He'd much rather be out by himself doing his thing."
He's a typical gray who loves to get green and brown.

"He's disgusting! His whole head was covered in green manure this morning," Will joked. "We have way too many grays, and I think Sarah and Katie are a bit over it. But I think they make exceptions when the horses are good. Katie's the most particular about it. She likes them white."

Will has no less than five gray horses in his barn currently.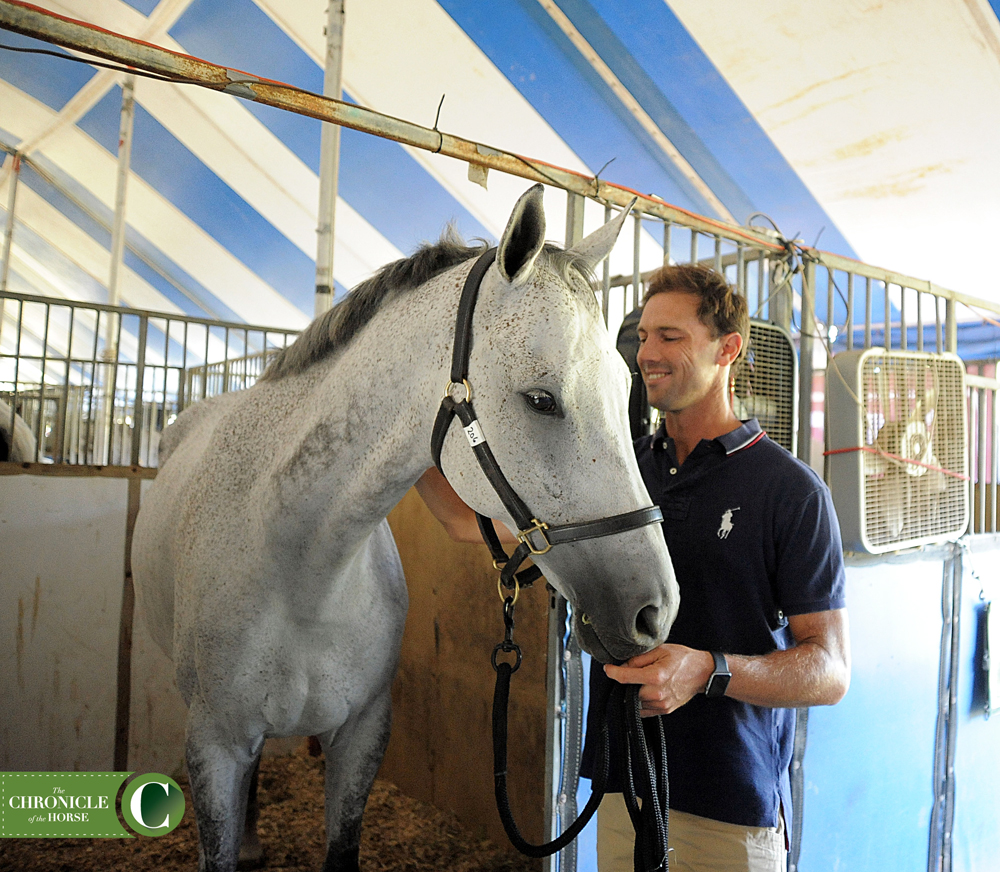 His favorite therapies are his Sport Innovations magnetic blanket, which he wears before his dressage, and functional electrical stimulation, or FES.

"He gets that regularly. That's been a really big thing for him. I think it's an amazing therapy. We use it almost every day," said Will. "We try to get more and more people to at least look into it. It can make such a difference. This horse, like a lot of Thoroughbreds, has a bad back, but when you look at him he has a beautifully muscled back. A lot of that I think is a good program, but FES also helped him build a lot of core strength."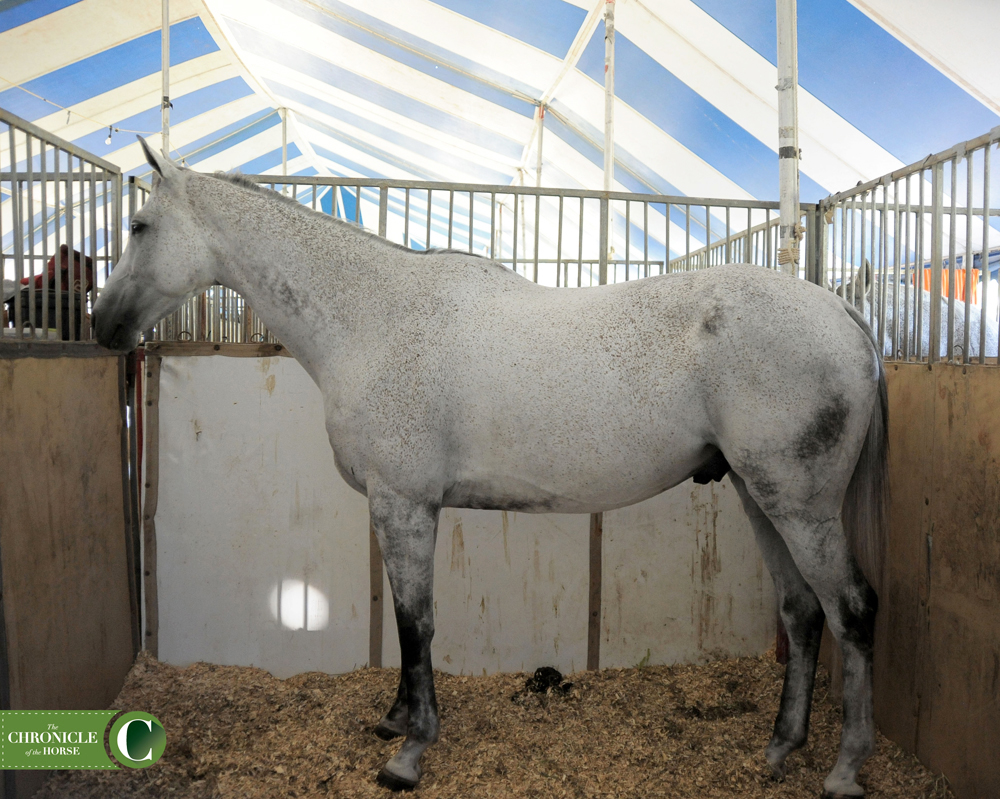 His barn name comes from one of Will's favorite bands in college, Phish. In addition to being a "cool and mellow" guy, the gelding was quite skinny when he came to Will's barn and resembled a fish. "Tight Lines" is also a fishing reference.

"I liked the horse the moment I laid eyes on him. He's got a great face. When he came to us he looked like a fish with no muscle, and he had this great big belly. He looked like a blowfish," he said. "He just doesn't seem to have a care in the world. He's easygoing. He'd be like the kind of guy you might meet at the front row of a Phish concert. Just a guy floating through life enjoying every minute of it."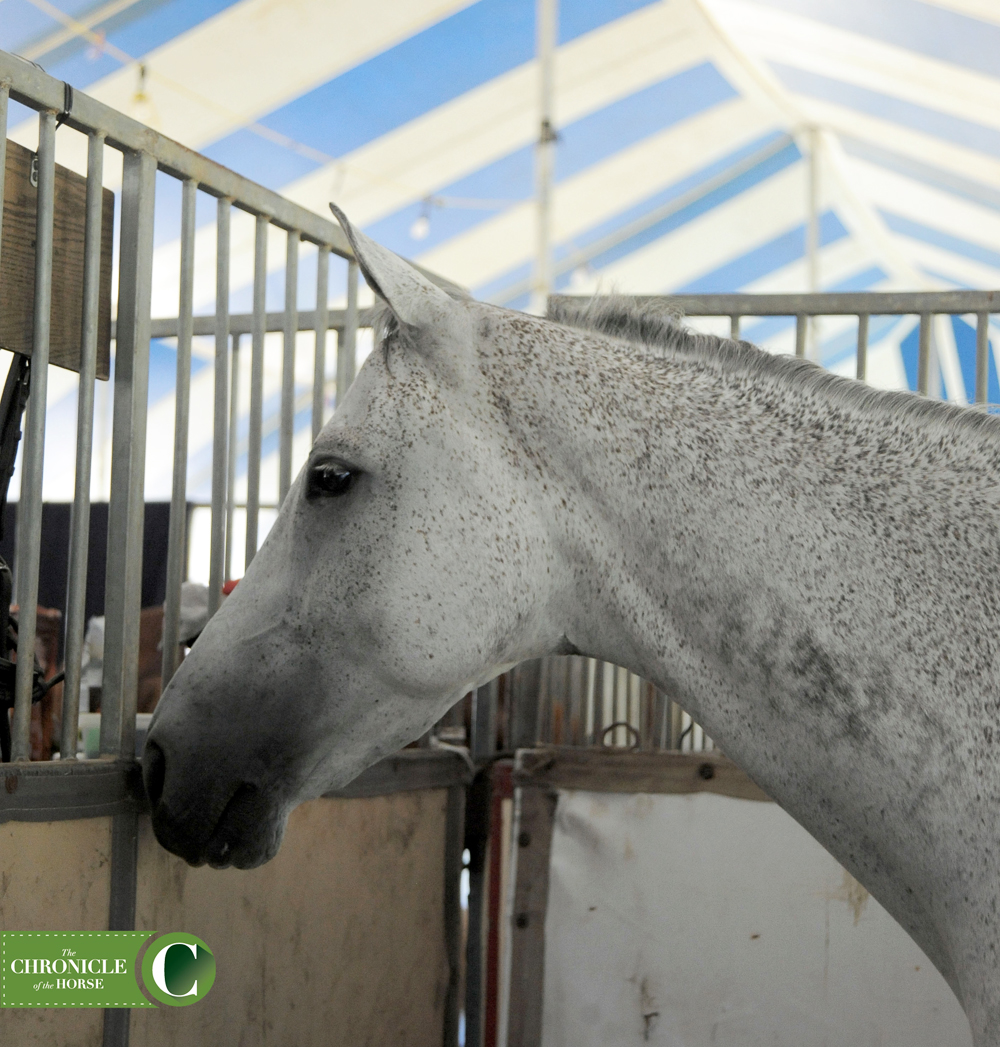 Phish could care less about grooming or pampering. "I think he'd rather be left to be as a big of a pig as he can be," he said. "I don't think he loves being groomed. We try to make it fun for them. Sarah stretches them with a carrot while she's grooming them. I think Phish would just love to be as dirty as possible all the time. He's not a princess by any stretch. He cleans up nicely thankfully."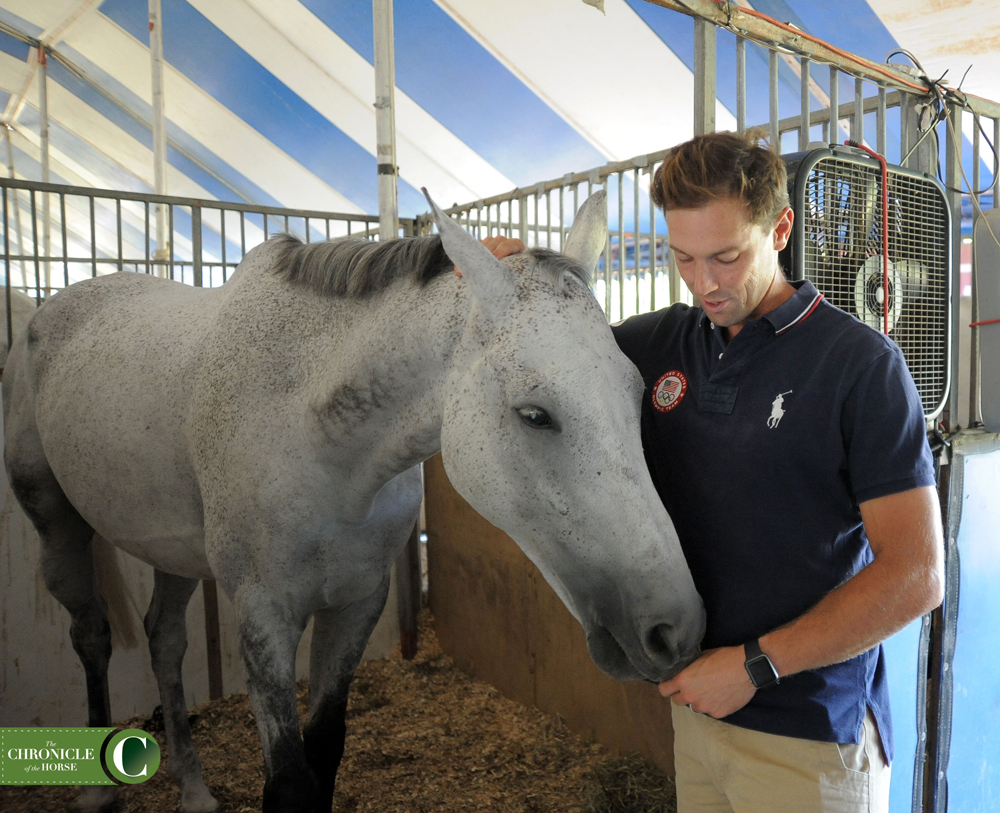 Will makes sure not to drill him at a show. "I think he enjoys the showing. I think he genuinely wants to do well. I think for him it's just about keeping him mellow and not tying himself into knots by trying too hard," he said. "He's still a work in progress, but his attitude is great. We hope to just keep making things better and more consistent. If we do, he'll be a good horse."
Will is the one to ride Phish 90 percent of the time. He goes in CWD saddle, a simple snaffle for dressage, a rubber gag on cross-country and a snaffle in show jumping with a plain noseband.