He looks like he could jump the moon. When Royce canters into the ring, "power" is the word that comes to mind.
With Margie Engle, the 11-year-old Oldenburg stallion has been remarkably consistent in the grand prix ring. During Week 8 of the Winter Equestrian Festival (Fla.), Engle and Elm Rock Partners' Royce (Cafe au Lait–Petula) contributed to a winning effort for Team USA in the $100,000 Nations Cup, jumping flawlessly in the first round and adding just 4 faults in the second to help the team earn the gold medal.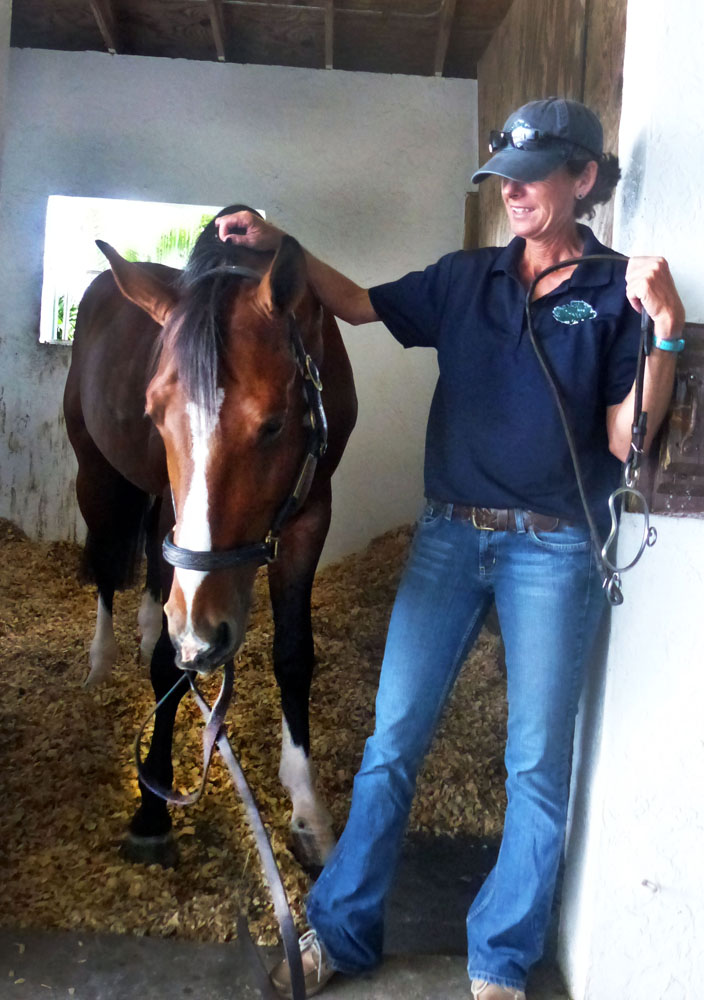 Royce helping Bernie hold his lead shank
A week later, the duo returned to finish sixth in the $372,000 FEI World Cup Qualifying 5* Grand Prix, a class that saw just three clear rounds from 44 entries. With the Great American $1 Million Grand Prix in Ocala, Fla., and the $500,000 Rolex Grand Prix CSI 5* in Wellington both on the horizon, it appears as if Engle and Royce are just hitting their best stride.
But things aren't always too serious at Engle's Gladewinds Farm in Wellington, Fla. When doing the job comes so easily to a horse like Royce, everything outside of work becomes fun and games.
Here's what you may not have known about Royce:
• If he had opposable thumbs, he might not need a groom. Royce will grab onto just about anything you bring close to him. He'll take a cell phone right out of your pocket, attempt to take his own photograph with your camera, and even hold his own lead shank.
"Everything goes in his mouth, just everything," Bernie, Engle's groom and barn manager said. "Even when Margie gets off, he takes the stick off of her, the lead rope, anything that's around him. He picks up the sweat scraper and carries it around, the hose, the towel, anything. He's putting me out of a job!"
• His favorite game is tug-of-war, and Engle happily obliges and participates in the game.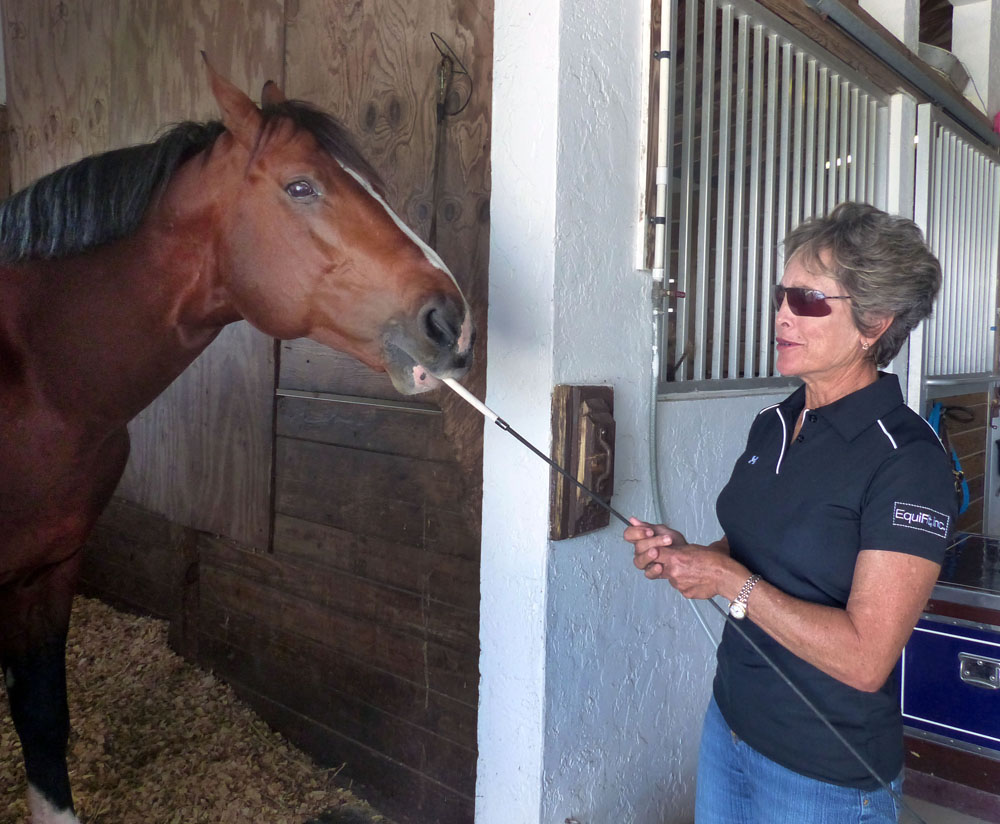 Engle and Royce playing tug-o-war
"You can almost lead him around with whatever he's got in his mouth," Engle said. "Puppies do this, but I've never had horses play like this. But if you ignore him and drop it, after a while he'll get kind of upset, and then he'll just drop it. He wants you to play with him with it. He needs that interaction."
• He could make a career out of napping.
"He loves to take his naps," Engle said. "He sleeps in the daytime, he sleeps at night, he has his afternoon naps. He's sleeping whenever he gets a chance. And he lays down—he goes flat out."
"When we get to a show, he goes in his new stall, checks it out, eats something, and then takes a nap," Bernie added. "He totally saves his energy for the ring. He walks to the ring in slow motion. He likes his sleep."
• He doesn't know his own strength. When he's led anywhere, he has to be equipped with a chifney bit with his halter. Otherwise, he might unintentionally lift someone off the ground.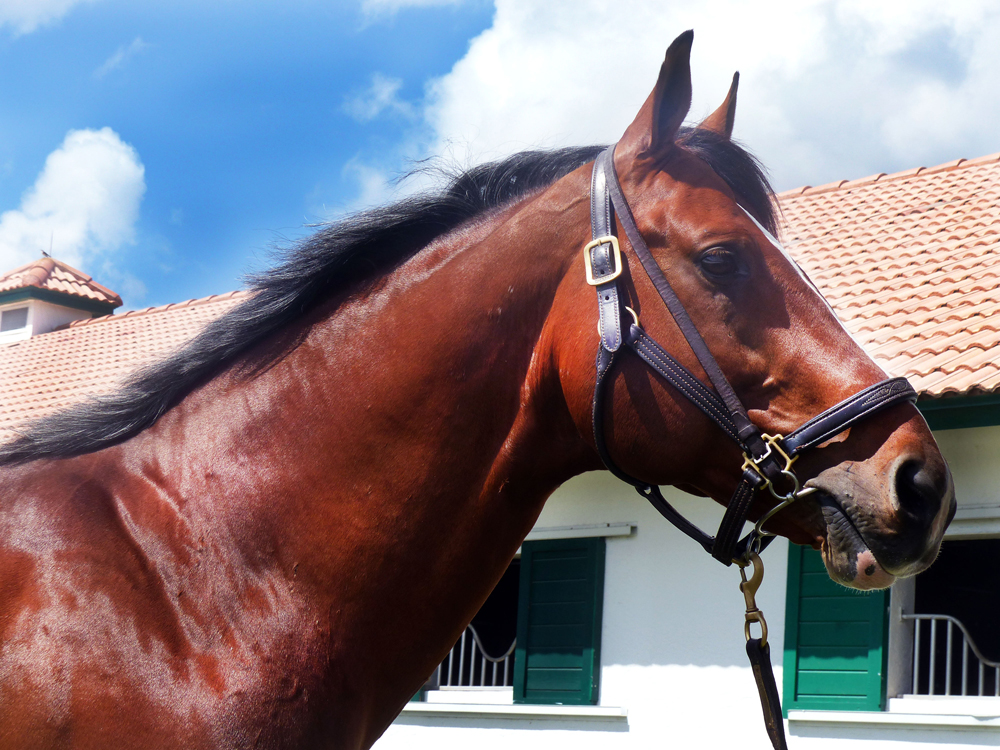 Royce wearing his chifney bit
"Wherever he goes, he goes with a chifney—not that he would do anything bad. He's just so strong," Bernie said. "If he wants to go over there and smell the roses, he'll just take you. He has a very strong jaw, too. He yawned once, and his halter exploded off his head. When he opened his mouth, the halter got a little tight and it just came right off!"
"He has the neck of a wrestler," Engle said. "He could be a fullback."
• He's an over-achiever. Engle first noticed the stallion as a 7-year-old at a grand prix where he jumped a two-stride combination in one stride—and almost cleared it.
"He has so much ability, more than almost any horse I've ever ridden," Engle said. "He just does it all so easy. Even when he's jumping, it's like it's just fun for him."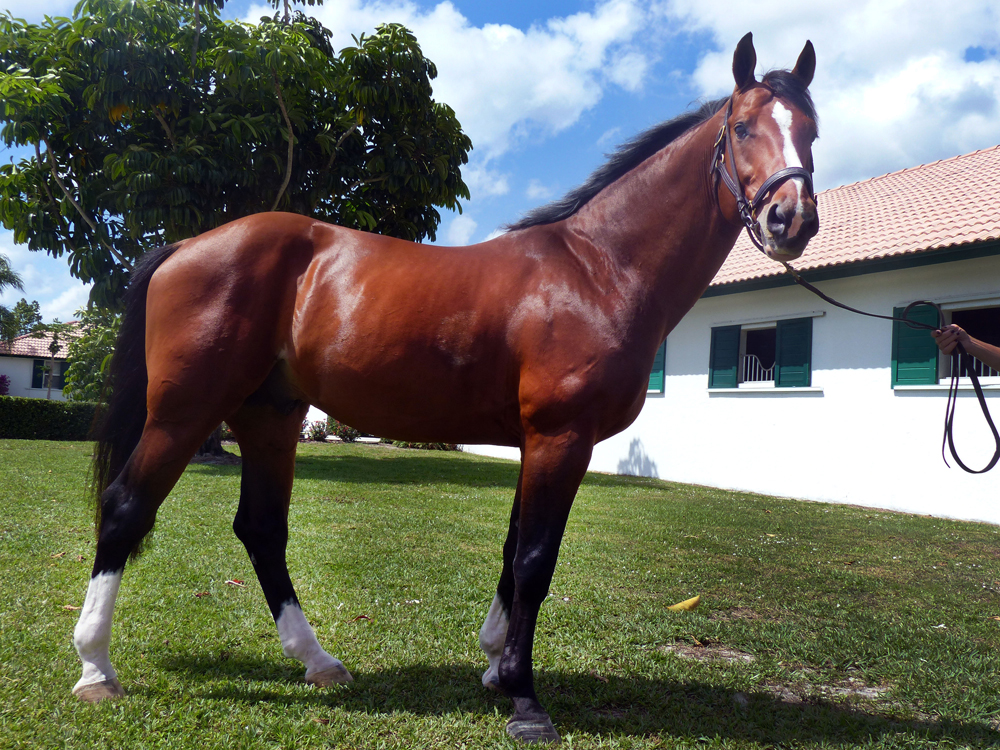 Royce oozes confidence
• He doesn't like the limelight. You won't see him in an awards presentation after a big class.
"I think the only thing that bothers him at the horse show is that he's not too good with the prize ceremonies and all the noise," Engle said. "I don't use him for that. He gets very worried about all the other horses, and he's afraid of other horses coming at him. He'll throw himself to get out of the way."
• He keeps good company. His next-door neighbor and companion of choice is Indigo, another of Engle's top grand prix mounts.
"He's really laid back and he's not stallion-y," Engle said. "The only horse he talks to, because he's like his best friend, is Indigo. It's not in a stallion way; it's just to say hello."
• He's cooler than the other side of a pillow.
"He's very laid back," Bernie said. "He's as sweet as can be. He really is a pleasure to deal with."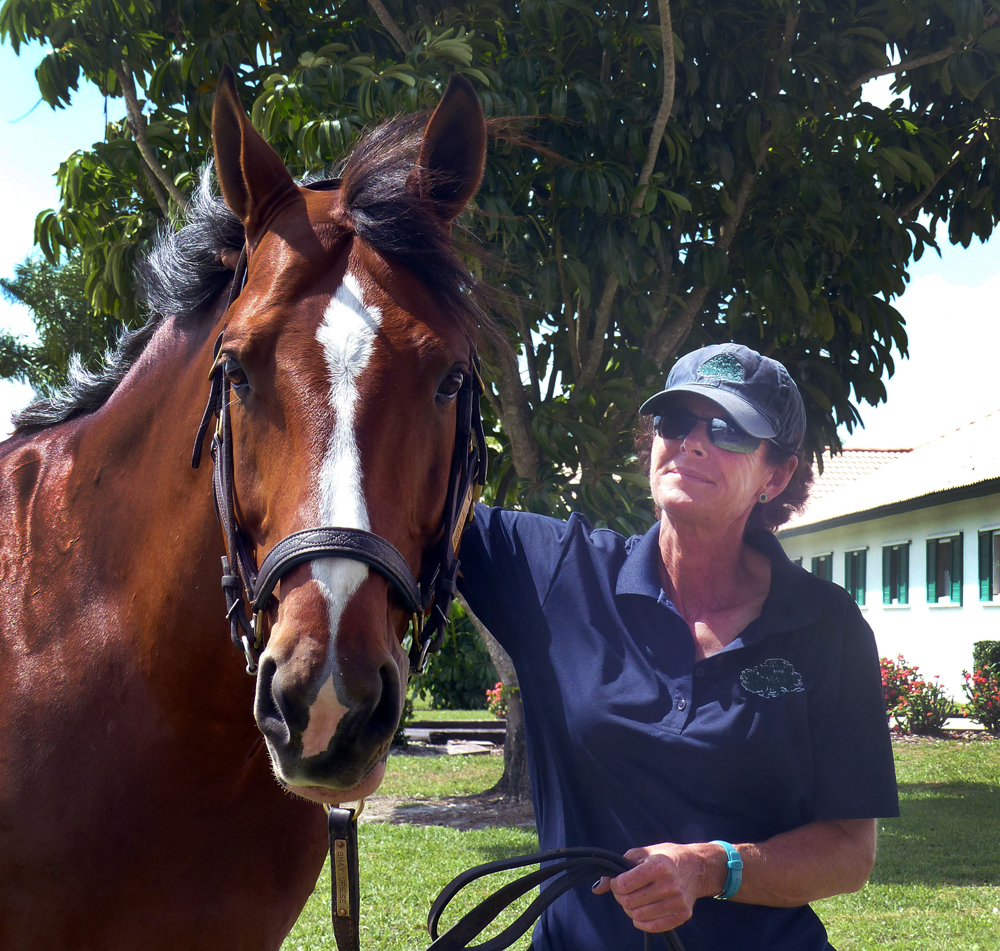 Royce and Bernie