During Week 4 of the Winter Equestrian Festival, French rider Marie Hecart and her longtime partner Myself de Breve (Quidam de Revel x Arpege de Coudre) leapt to victory in the $372,000 FEI World Cup CSI***** Grand Prix, topping a field of 40 of the world's top-ranked horse and rider combos.
Myself de Breve, standing at just over 15 hands, may be small, but what she lacks in size, she more than makes up for in athleticism, heart, fearlessness, and attitude. Appropriately nicknamed "Minnie," Myself de Breve did not have a single rail in the first round of five of six FEI classes at WEF last year and, after winning her first major class under the lights, is on her way to another stellar record in Wellington in 2015.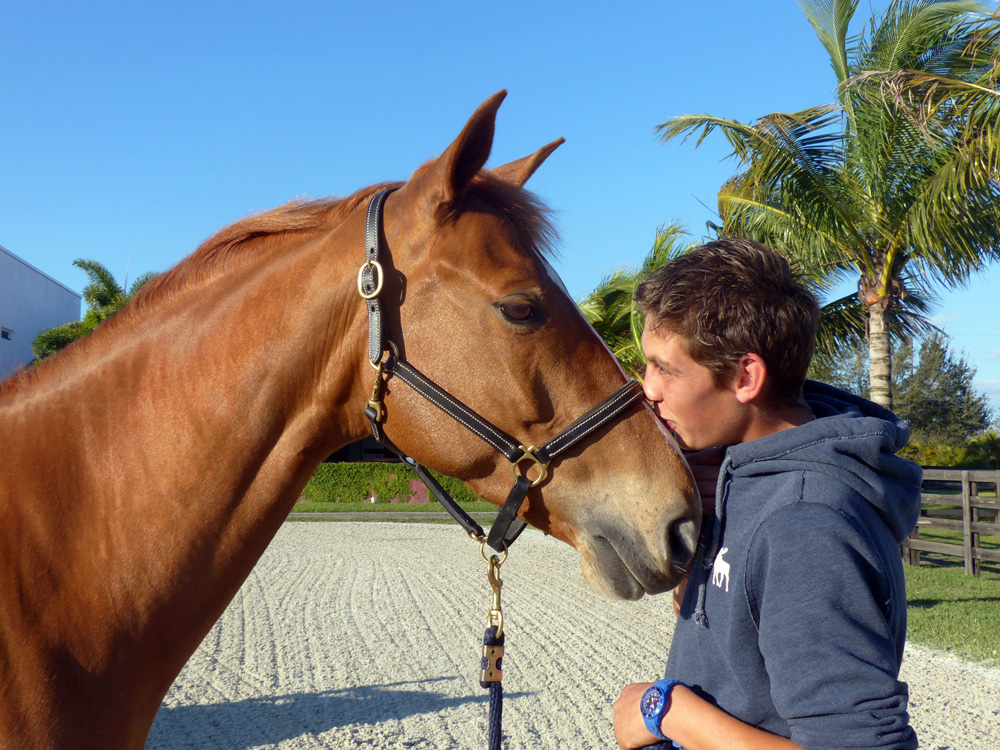 Myself de Breve and Benoit Lecomte
The 15-year-old is cared for by Benoit Lecomte, who admits he cried that night Minnie took home her most prestigious blue ribbon. Lecomte had many fun stories to share about Minnie's many quirks:
• "Myself de Breve" means, "Brief me," in French, and you should be brief with her, because she won't stand still for long. She has ants in her pants and is quick to dive for a treat or inquisitively migrate over to the nearest visitor when given the chance.
But Lecomte noted one exception: "After she won the big class, she paused and just stood there," he said. "It was like she knew she had won and wanted everyone to come stand with her. She was saying, 'Take my picture!'"
• She's the ideal spokeswoman for the petites section. Size-wise, her shoes pale in comparison to that of her stablemate, choice companion and a polar opposite, Quatour de b'Neville. "Her shoes are a size double-0," Lecomte explained. "Quatour's are a size 5!"
Her stall is outfitted with wood paneling so that her small feet don't get caught between the metal bars on her stall door when she clamors for food or attention. She also wears a cob-sized halter, a Christmas gift from Lecomte. "Her wins are her gifts to us," he said.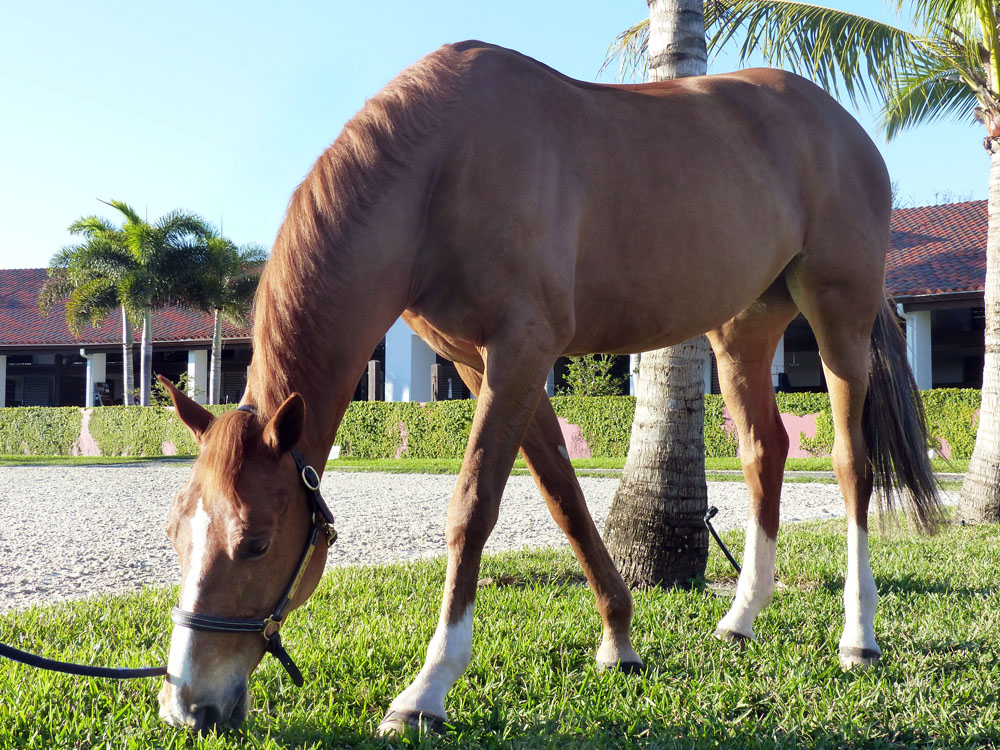 • She's trilingual, which comes in handy with her world travels. While staying in Wellington, she shares a barn with Colombians Daniel and Mark Bluman. "She's really intelligent," Lecomte said. "She can understand English, French, and Spanish, no problem."
• Yes, she has been mistaken for a pony, and she was offended. Lecomte recalled a time where he brought Minnie for an inspection and the veterinarian told him it was not time for pony measurements. He was speechless!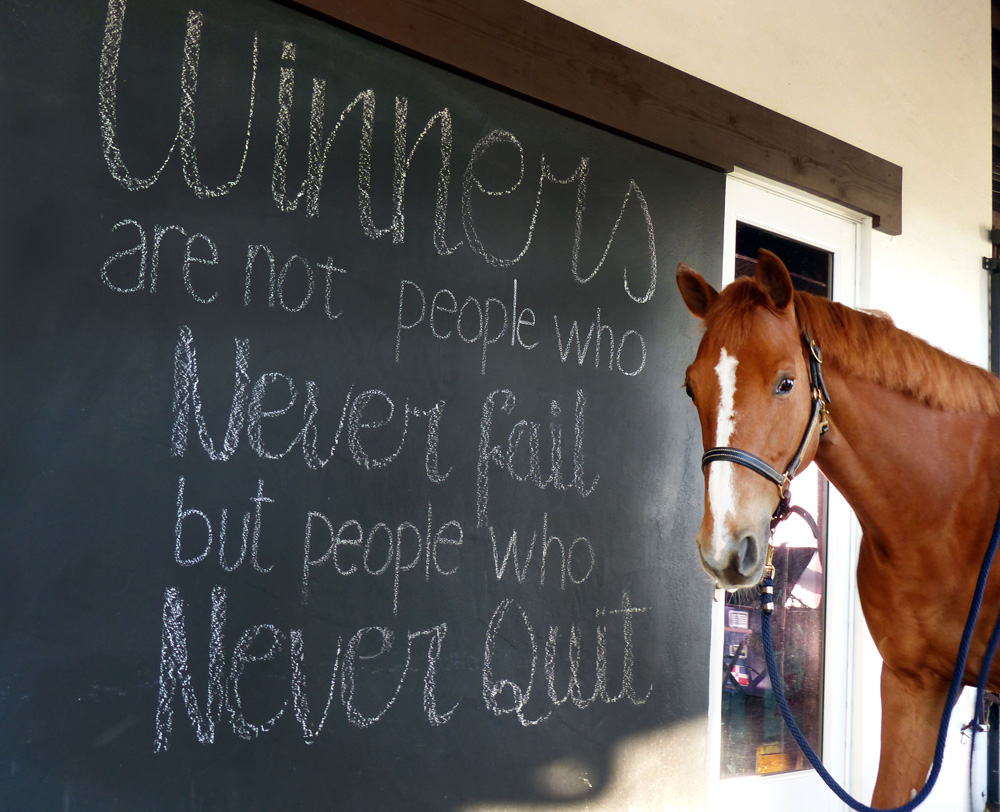 • Naturally, as a chestnut mare, she can get moody. Her ultimate pick-me-up? "Carrots!" Lecomte said, without hesitation. A bag is always nearby.
• She has no concept of height and doesn't seem to mind that the 1.60-meter fences she jumps typically meet her at eye-level. "She doesn't know how big she is," Lecomte said. "She thinks she's just as big as everybody else. She doesn't know, and she doesn't care."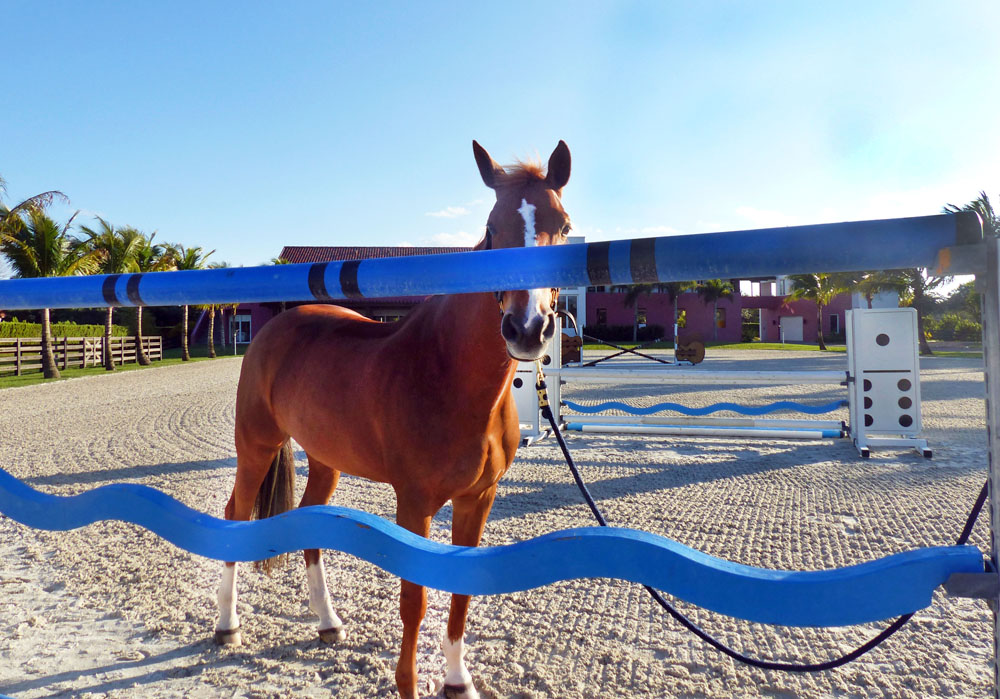 Minnie standing next to a 1.60-meter jump.
• She enjoys being around other horses, but she's also quite particular about her company. A former horse of Hecart's used to agitate her, especially when the two were placed together on the hot-walker. That horse, Simba de la Roque, had since been sold.
Coincidence? Minnie, the queen of the barn, begs to differ. "She would act like a stallion when he came by," Lecomte recalled, laughing. "She did not like him!"
• It's Minnie's world, and we're all just living in it. She oozes self-confidence. "She's really special, because she knows she's the best," Lecomte said. "I've been taking care of her for almost five years now, and she knows that everywhere she goes, she's the best. She does whatever she wants, when she wants. She is incredible."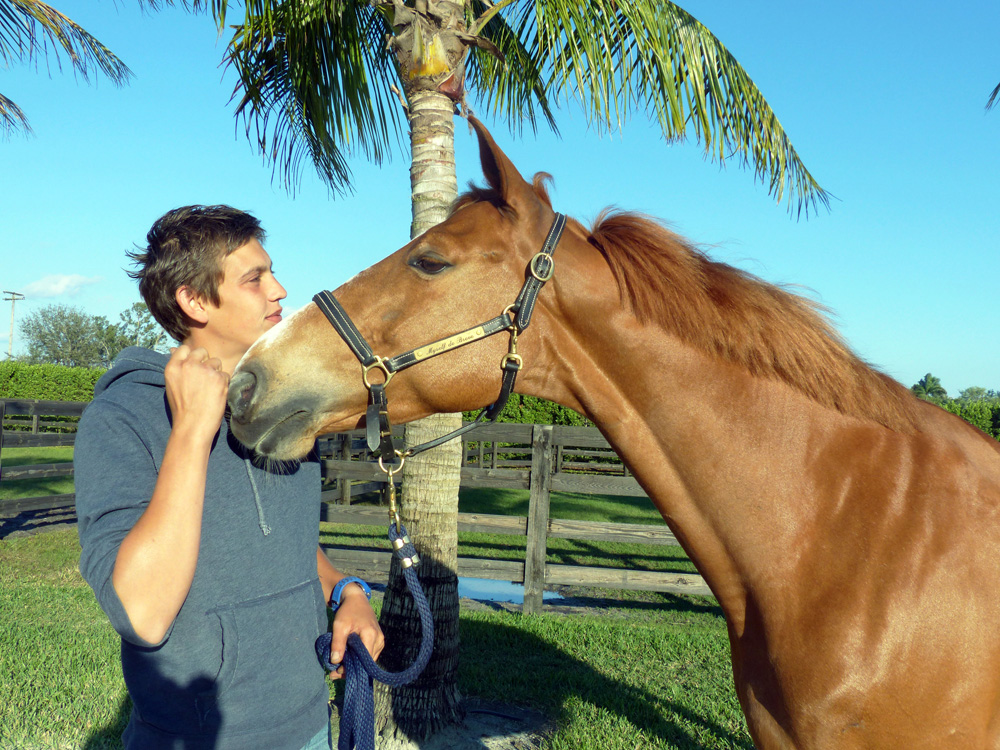 Myself de Breve and Benoit Lecomte