"People always ask me what he's like and I tell them he's the quarterback of the barn," Emma Ford said about Mr. Medicott. "He's the big, handsome dude that's good at his job and everyone loves him."
Mr. Medicott, or "Cave," has competed in two Olympic Games and one World Equestrian Games. He's finished in the top 10 in each of the four four-stars he's competed, with three different riders.
With German Frank Ostholt, he was third and 10th in the 2008 and '11 Pau CCI**** (France) and jumped in the 2008 Olympic Games in Hong Kong and the 2010 Alltech FEI World Equestrian Games (Ky.). Then Karen O'Connor got the ride and placed fourth at the 2012 Rolex Kentucky CCI**** and rode for the U.S. team at the London Olympic Games the same year, where they were individually ninth. Then he went to Phillip Dutton's barn, and in 2013 they took fourth in the Pau CCI****.
In 2014, "Cave" injured a tendon on cross-country at Rolex Kentucky and wasn't presented before show jumping. He came back into competition in early 2015, but suffered another injury, so he's still on the rebound from that.
Dutton and groom Emma Ford are still hoping to get Cave, now 17, back on course, though. "He loves life, wants to work," Ford said. "We're taking it day by day. he's not ready to quit and were not ready to quit on him."
Here's what you might not know about Cave:
"When he's fit and competitive, he's little boisterous," Ford said. Cave is always trying to nip a little bit during grooming. "He's made contact with quite a few of us, if you ask Evie [Dutton] or [vet] Kevin Keeane they all have the marks to prove it. We all know so it's not like we can get mad at him or anything."
No one's really quite sure where the nickname "Cave" came from. He came with it from Germany.
Because of his nippy ways, girthing up Cave always requires extra hands.
He's a cribber. "His stall is as crib-free as we can make it," Ford said.
He's got a pretty well developed beast mode. "When you take him out at a competition he's like WRAARRR, that's the only way I can describe it," Ford said. "He's like, 'let me at it!'"
There's one sure way to his heart when grooming. "He's got this one sweet spot he likes," Ford said. "I could spend all day just grooming this one spot and he'd absolutely love it."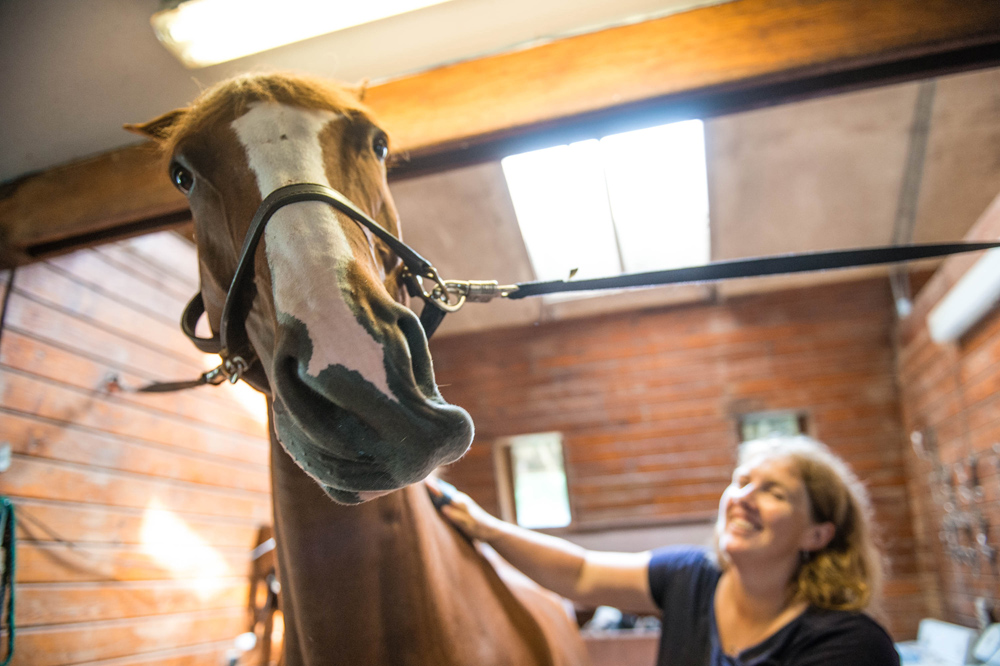 There's the spot! Cave shows Emma Ford just where it itches.
Because of his enthusiasm, Cave requires an escort into the cross-country start box. "Richard Pickens always puts him into the box at the big events because he's like a lion!" Ford said. "Phillip will go warm up and they have a very good plan of how to get him in—Richard will hold the rein and have him walking in circles until he gets to walk in because he's a handful."
Timing is everything with Cave. "You have to be careful going up to show jumping warm-up. You have to time so he's not going up there to stand outside the ring for long, because he'll get bug-eyed about it," Ford said.
It's all worth it though, to watch him in his element on cross-country. "When's he's doing his job, he's phenomenal. Cross-country is his favorite‑he's a mean machine. It's pretty neat to watch him go," Ford said.
Cave might be a lion on cross-country day, but he's a lover at heart. "He does like to cuddle," Ford said. "He's just interested in life. He'd rather be out there doing stuff."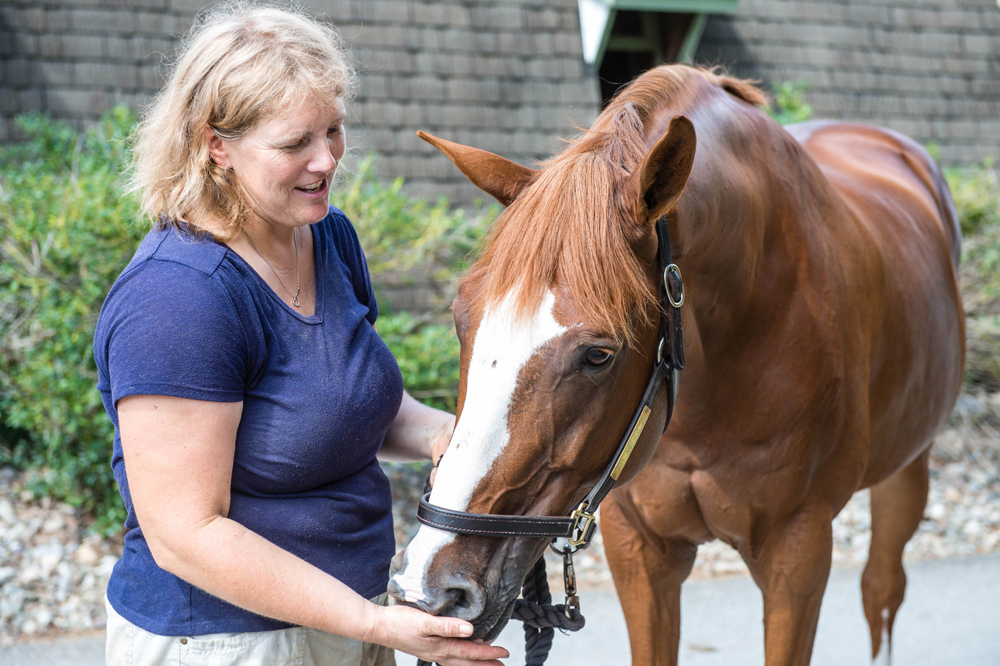 Cave might be a beast on cross-country, but he's a lover back at the barn.
"He has been such a sweetheart [in rehab]. He's not allowed any turnout apart from than the round pen and I haven't had to use any drugs," Ford said. "As long as he can hand graze and keep on his routine he's been really good. He goes for a hand graze in the morning, goes out in the round pen for four hours, comes in and then in the afternoon goes on the walker. He loves his regimen and walks you to the walker—he wants to go on it."
Keeping Cave's surroundings calm is key to his happiness. "You want everything to be quiet around him," Ford said. "If you're rushing around him, he feeds off of that." Ford appreciates grooming time with Cave, even if he nibbles a bit, because it's a time she can spend focusing on him.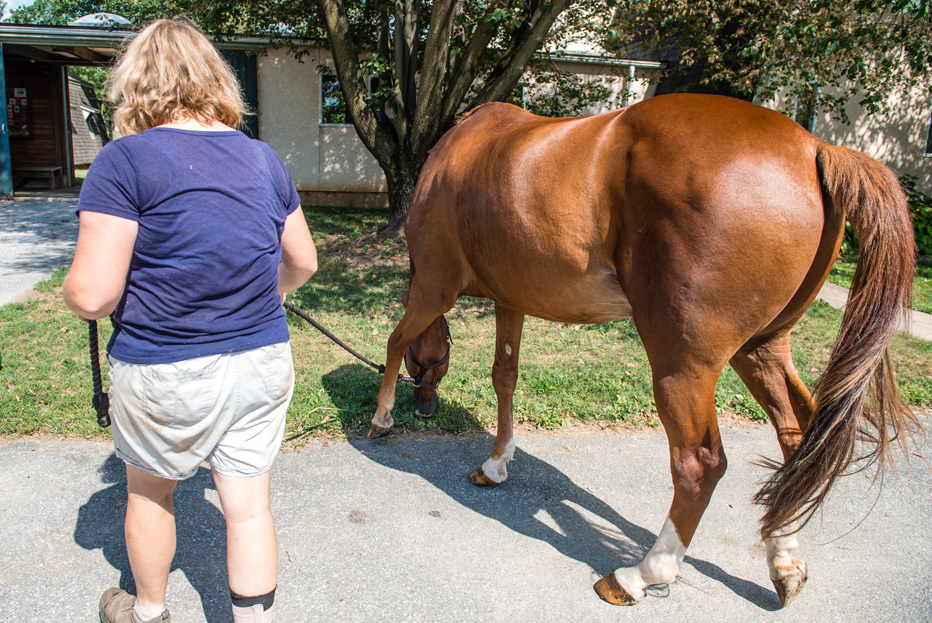 Cave out for an afternoon hand-graze.