Is it possible to NOT love a little red roan pony? Miss Australia doesn't think so.
Now 23, the mare's past show record has elevated her to legendary status in the small pony hunter ring. Her USEF record reads like a who's who of pony riders: Sophia Calamari, Olivia Esse, Taylor St. Jaques, Daisy Farish, Shawn Casady, Kara Chad, Miranda and Sophia Gali, Ashley Foster, Parker Wright, Stella Styslinger, Madeline Berry, Eliza Fauntleroy, Reilly Gogul and many, many more. They've all since moved on to bigger horses, bigger classes, bigger fences, but they all got their start in the ponies, and they all rode Miss Australia.
Miss Australia got her name and start in the hunter game with her first owner, Lauren Hogan, who owned her for most of her lifetime.
"We purchased Miss Australia around 2000," Hogan said in an email about her pony. "She had just arrived from Australia when I tried her, and back in Australia, she did eventing and used to jump picnic tables!"
With the help of trainers Bill Schaub and Molly Sewell at Over The Hill Farm (Hogan said when Molly was acting "more green than usual" Sewell would swing a leg over her!), Hogan took Molly from green eventing pony to a tricolor collector in the small pony hunter ring.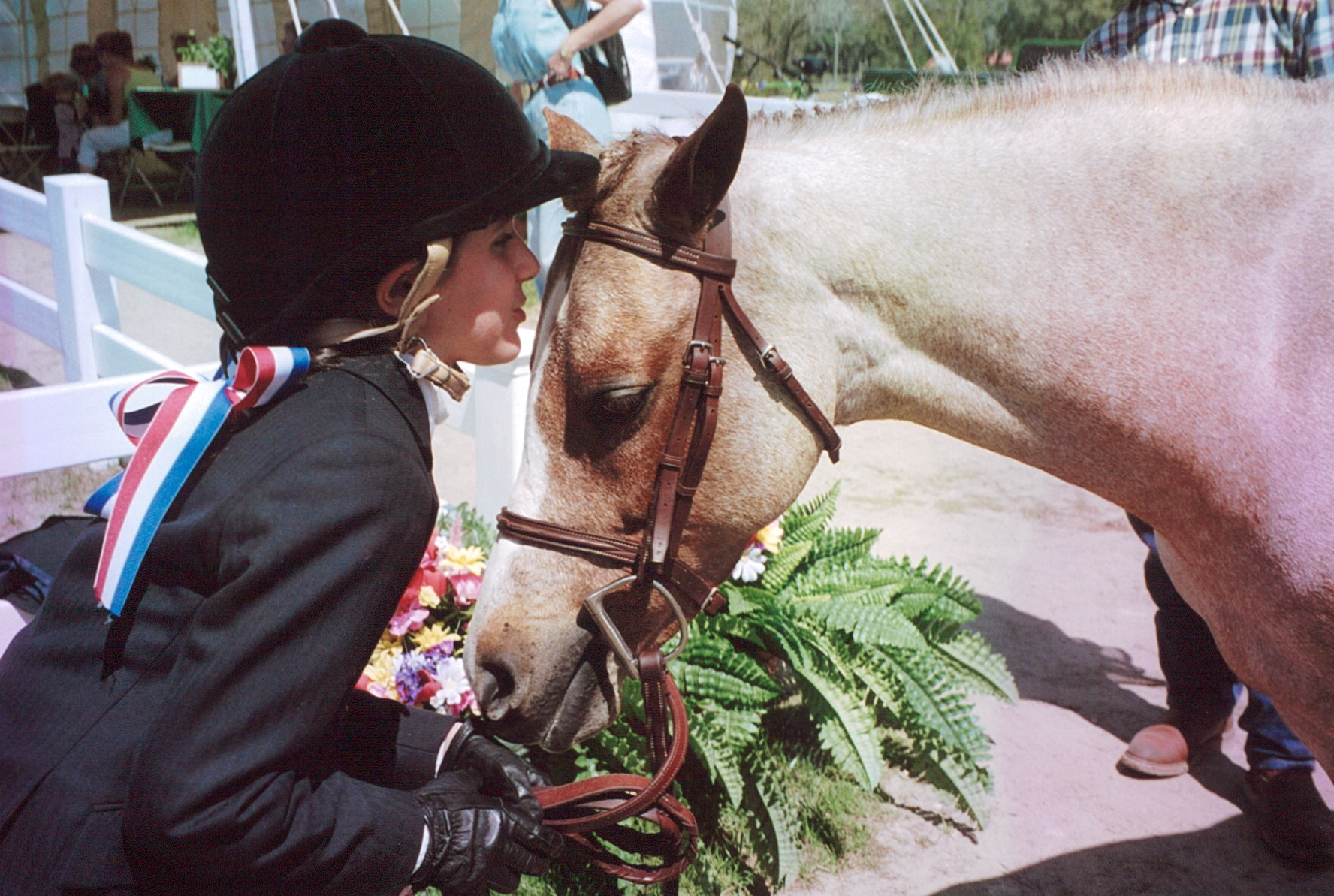 Lauren Hogan and Miss Australia in 2003. Photo courtesy of Lauren Hogan
"One of my favorite memories with Molly was being grand champion at [USEF Pony Finals]," Hogan said (they were grand green pony hunter champions at the finals in 2002). "It was the moment when everything came together and all of our hard work paid off—it's not always smooth sailing when you have a young green pony!"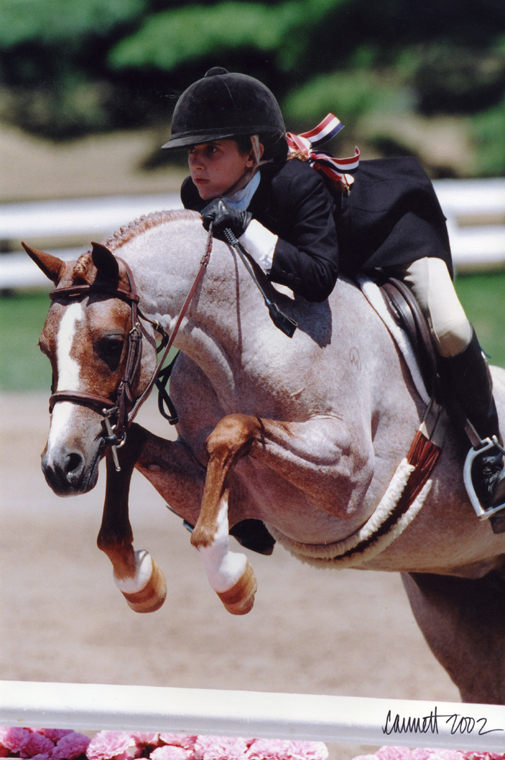 Lauren Hogan and Miss Australia in 2002. Photo by Cathrin Cammett
After Hogan and her sister outgrew Molly, it was time for the little roan pony to carry all those other children to some of their first tricolor wins.
"My sister and I were taught that having a pony was a privilege, and we should share the privilege with the next young rider," Hogan said. "I remember after Miss Australia was champion at a big show, I saw a little girl trying my pony.
"I told my Mom winning isn't always as great as it seems, as that was the last time I got to ride Molly," Hogan continued. "The new rider and her family were so sweet though, as I was in tears, they asked me to please come ride Molly in California whenever I wanted."
Nowadays, Miss Australia is enjoying her golden years with owner Stephanie Mazer and Forget Me Not Farm, carrying the next generation of pony riders through the walk-trot division, and still picking up tricolors left and right. Mazer leased "Molly" out during the Winter Equestrian Festival to Agatha Lignelli, who took the championship in the walk-trot with Molly during Week 9 and took the reserve championship week 8.
We caught up with Molly while she was with Lignelli in the Sunshine State at Back Country Farm to get the scoop on what this rock star pony does with her days outside the show ring:
Work, work, work, work, work. Molly might be the inspiration behind Rihanna's new song, because this pony needs to have a job.

"She loves to work—she'll go out three times a day, she'll get a lesson at pony island, she'll get one here, or she'll go on a trail ride," Sydney Shulman, daughter of Jill Shulman who owns Back Country Farm, said. "She's extremely fit, like more fit than half the jumpers, honestly. She works like crazy and she loves it."

Miss Australia, looking fit as a fiddle at age 23. Photo by Ann Glavan
She's sweet, not sassy. She may be a little red pony mare, but she doesn't act like it when she's babysitting her various kiddos.

"She's so sweet, the kids tack her up, the kids lead her out to the ring every day. She follows them around and she won't go down for grass when they're riding," Shulman said. "She'll lick you for like 20 minutes; she's the sweetest thing ever."

Indeed, when 5-year-old Lignelli went to lead Molly out to a nice patch of grass for pictures, Molly followed quietly behind, stopping and waiting patiently when Lignelli made a wrong turn and changed direction mid-walk, and never trying to go down for grass until Lignelli stopped her and patted her neck, giving her the go-ahead.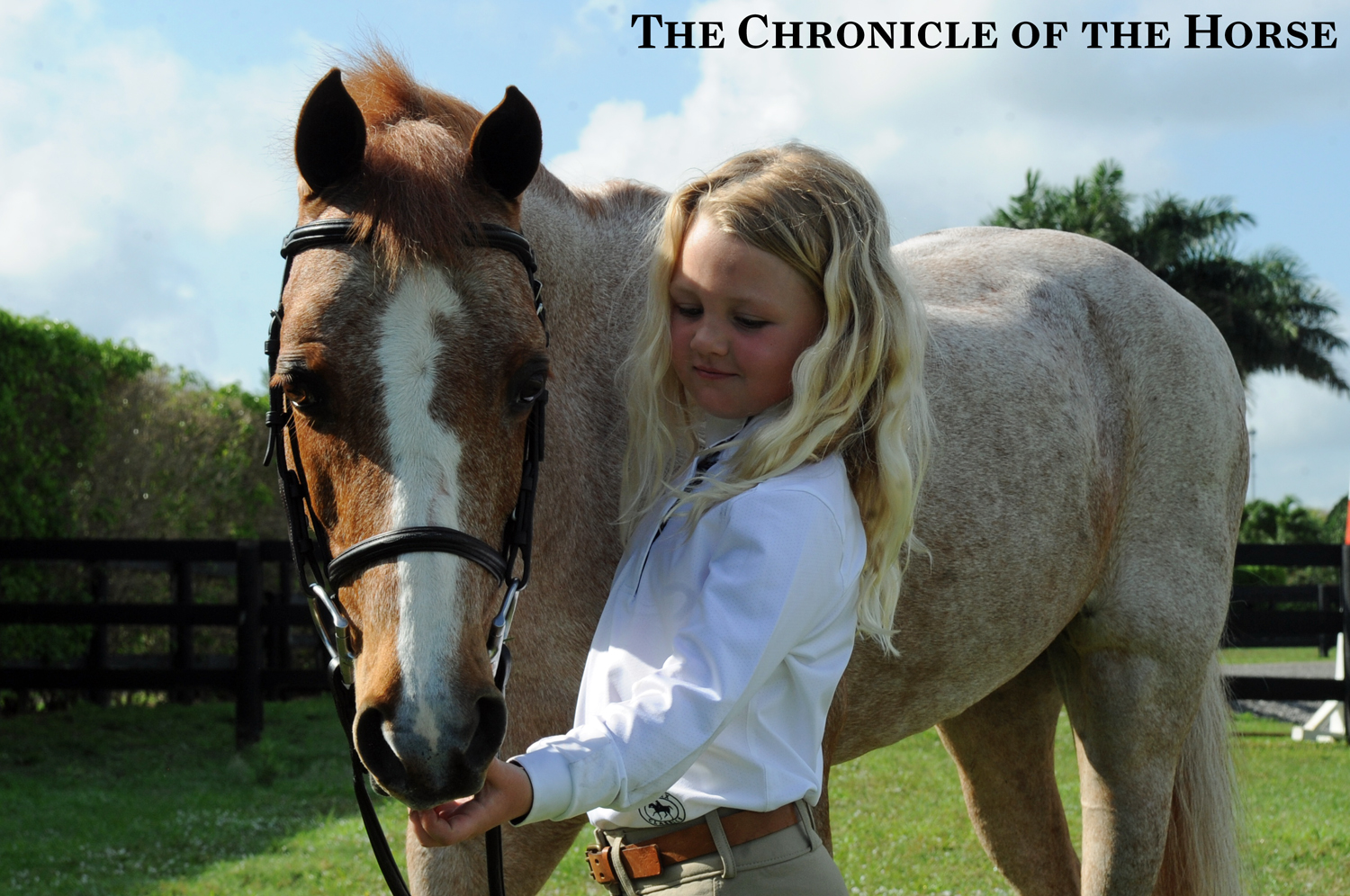 Miss Australia and Agatha Lignelli. Photo by Ann Glavan
Nom nom nom. Being a small pony of a certain age, Molly has to watch what she eats, but when she indulges herself, its on the best of the best.

"She loves the pony cannolis from this treat company, its called Snaks 5th Avenchew," Lignelli's mother, Catherine, said.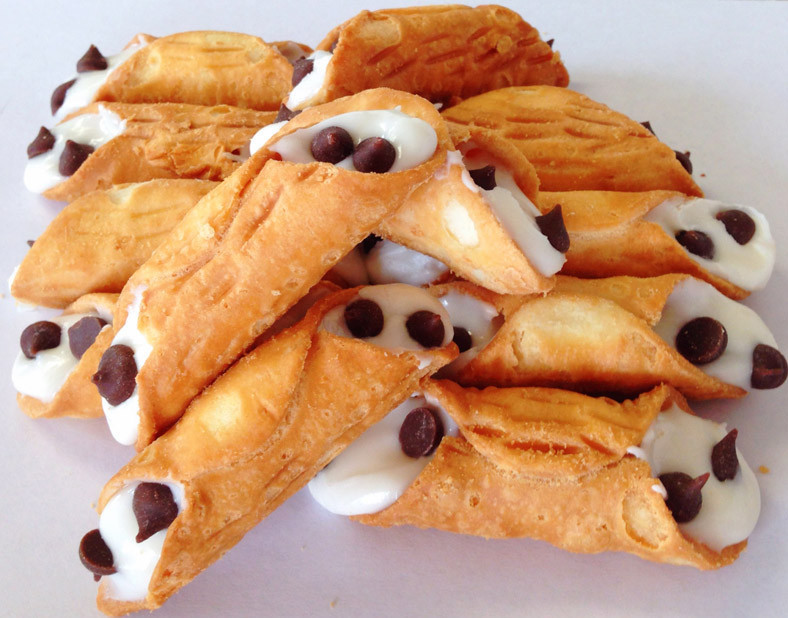 The pony cannolis.
Molly also has a special treat ball called a Nose It!—the idea being horses have to nudge the ball around their stall to get treats to fall out of small holes. Catherine lets all of her horses and ponies play with it from time to time, but Molly is by far the most aggressive.

"She attacks it, all the other horses just gently move it around but she destroys it," Catherine said with a laugh.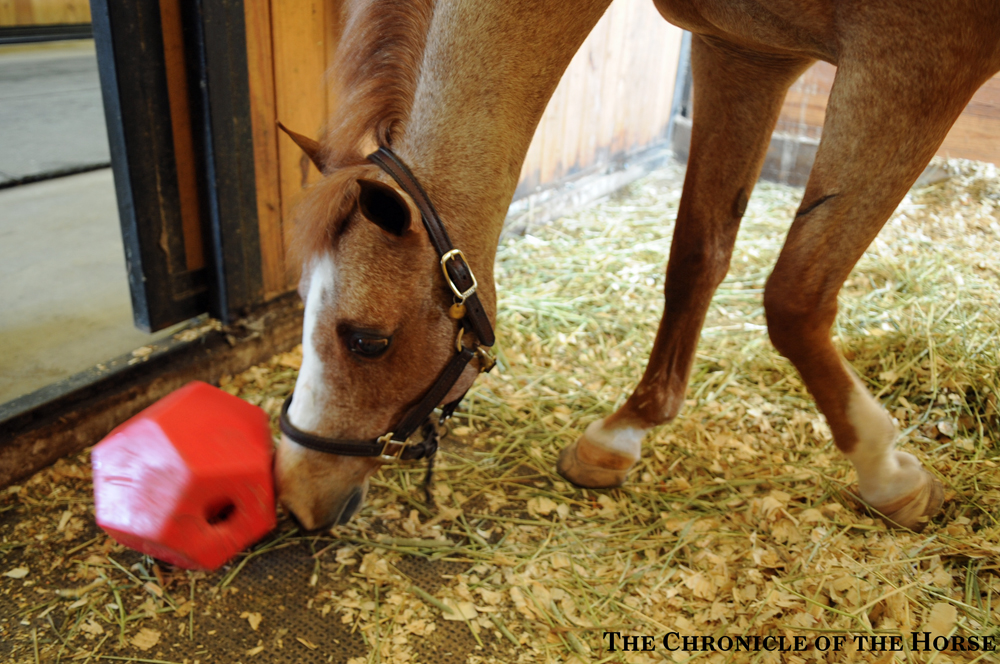 Miss Australia and Her Nose It. Photo by Ann Glavan
– She's loves to bask in the glow. Along with her busy riding schedule, Molly also gets dressed in a fly sheet and mask to go outside in her paddock, which—when combined with the south Florida sunshine—becomes her own personal tanning bed.

"She tans. She lays out fully, like totally passes out, and wiggles her ears and her lips, that's all. That's how you know she's alive," Shulman said. "It's hilarious."

All eyes one me, please. Molly is all for attention in any form.

"She loves baths, she loves anything you do with her, and any time you say her name she'll be across the property and she swings her head around," Shulman said. "The second you tack her up and bring her out of her stall she's like 'Yes!'"
Molly is registered with USEF as an Australian pony cross, with no recorded sire or dam. She bears a little "M"-shaped freeze brand on her left shoulder.

"We never could find out what the M signified, so we just say it stands for Molly!" Hogan said.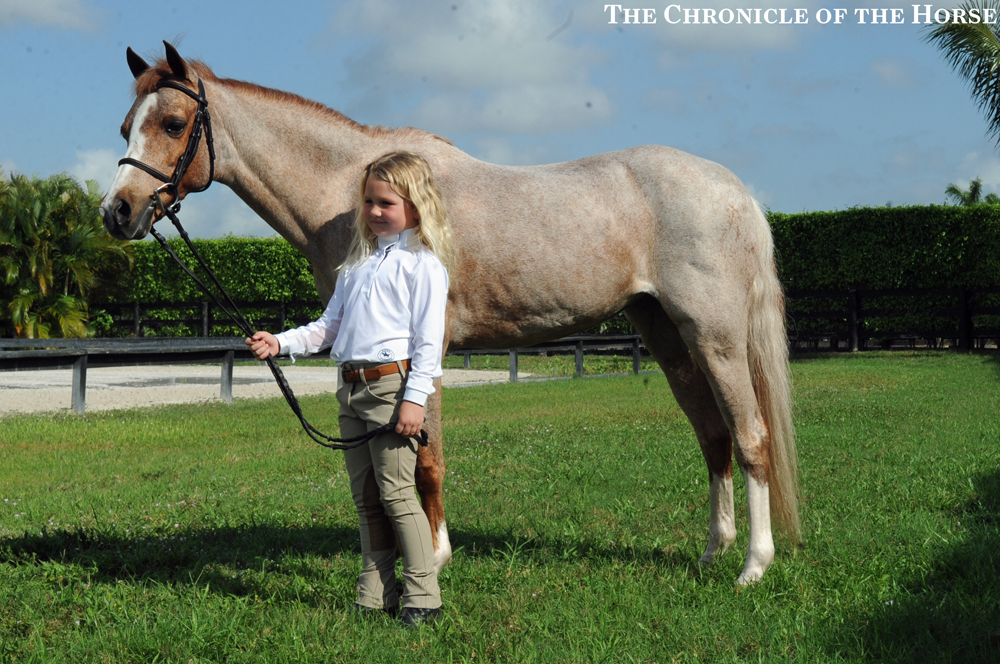 Miss Australia and Agatha Lignelli. Photo by Ann Glavan