"It's the running joke now—it's too late to train him, so we just go with this knowing full well it's Tate's world, and we live in it," joked Sinead Halpin as she introduced me to her longtime partner Manoir de Carneville.
Halpin first met "Tate" while working for William Fox-Pitt in 2008, and they've been a force on the U.S. Eventing High Performance squad ever since. They were members of the U.S. team at the 2014 Alltech FEI World Equestrian Games (France), and they've completed the Land Rover Burghley Horse Trials CCI**** (England) twice, including placing second in 2012. They've also completed the Rolex Kentucky CCI**** twice, finishing fourth last year and third in 2011.
Known around the barn as "The French Princess," the 16-year-old Selle Français gelding (Gaub—Carneville, Matador du Bois) seems simple from the outside, but he's got a long list of particulars that Halpin and her head groom Lynn Garvin make sure to abide by.
He loves going to events.

"In his older age, he's getting the whole horse show scene and really likes it," said Halpin. "At home, he's super lazy and super quiet, but as soon as we got him off the trailer [at the Carolina International,] I put him in a rope halter and went to take him for a walk, and he was on his hind legs. The funny thing is, he doesn't try to go anywhere, there's totally slack in the line. He just wants to stand with me and jump up in the air. He just gets really excited. I always trot him up in a full bridle for the jog, [even if it's informal!]"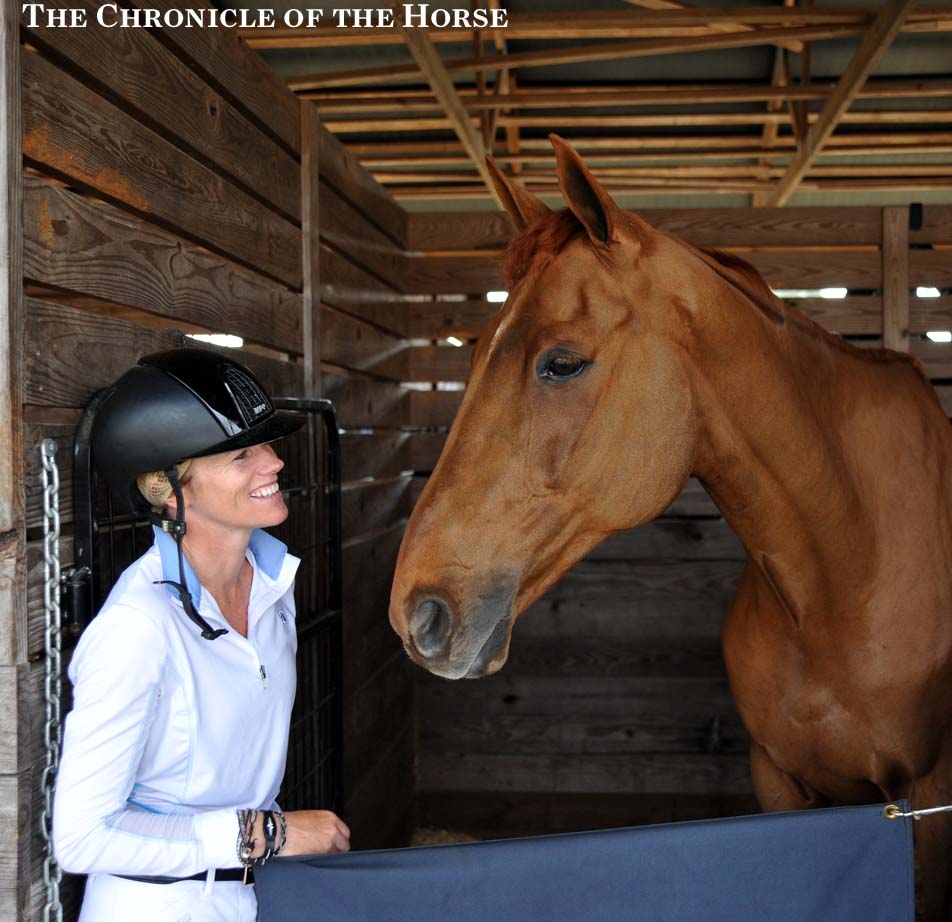 Halpin and "Tate." Photo by Lindsay Berreth
He's a fan of being the center of attention.

"He's probably the most showman of a horse I've ever been around," said Halpin. "He loves people, he loves crowds. He likes having neighbors—if you take one away he's very aware of that. He likes his people."

Attention is on his terms. "He doesn't like being petted, per se. You can touch the air around him, and that's about good," she said.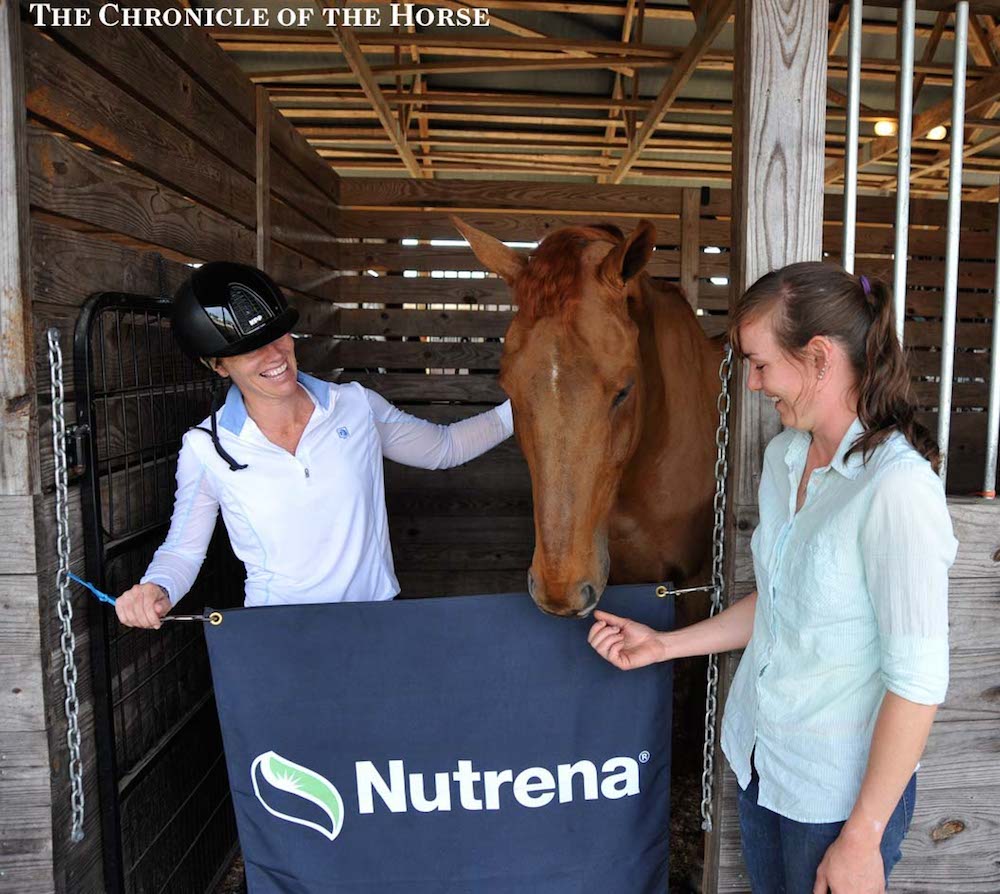 Tate hanging out with Halpin and groom Lynn Garvin. Photo by Lindsay Berreth
He's a dainty eater.

"Even when you feed him an apple or a carrot, he takes little baby bites and takes his time. He wants you to feed him properly," Halpin explained.

He appreciates his therapies. "He loves his Back On Track, massage and acupuncture. He loves the Theraplate," said Halpin.
He has allergies.
"He loves his nebulizer. He gets nebulized about 10 times a day. He used to be embarrassed by it, but now he understands it as a fact of life," said Halpin. "He has allergies, so when it's hot or humid or there's a lot of dust in the air, it helps him breathe a little better. We use a hay steamer and Guardian has great dust-free bedding.

"He's one that's made me really aware of how important respiratory health is for these high performance horses," she continued. "He uses his Flair strip even in every-day galloping and during his show jumping, and we make sure to keep his bedding really fresh, especially when he's traveling."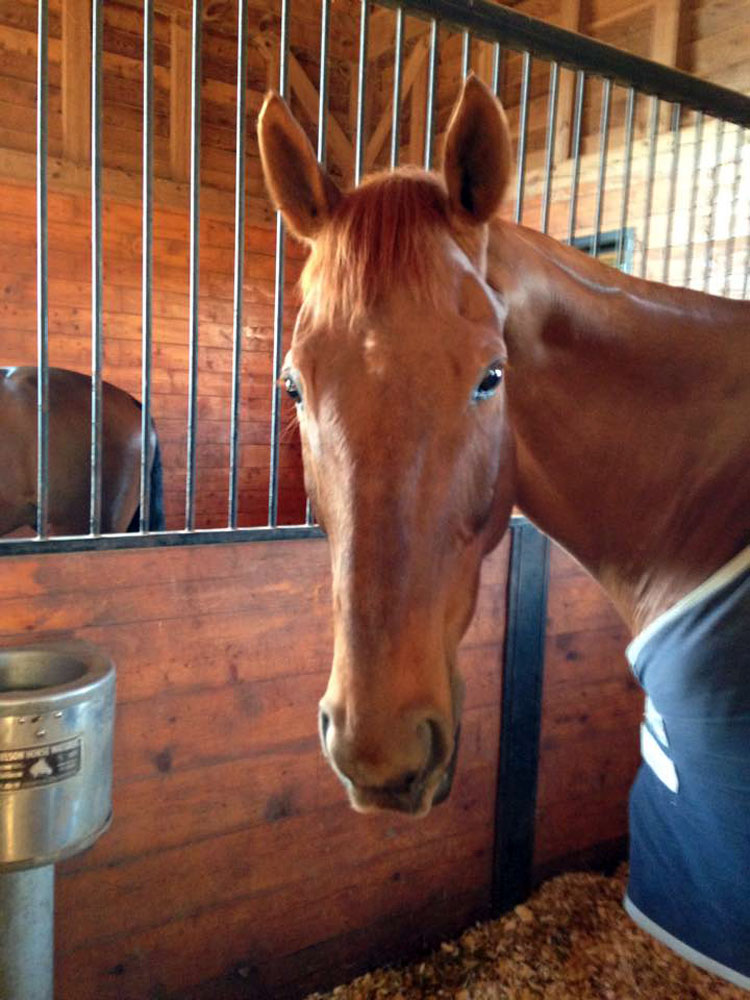 Because of his allergies, Tate's environment needs to be as dust-free as possible. Photo courtesy of Meg Kepferle
He's just as happy in turnout as he is in the barn.

"He goes out by himself. He's really sweet in turnout, but he's just as happy out as he is in. He goes out all day either next to a Thoroughbred mare or an older gelding," said Halpin.

"He's so happy to be in a system and with his people all the time. In the barn, we try to look at every horse and see what makes them happy, and this is not a horse that likes to go out and roll in the mud and play with his friends. He likes to be treated like the princess that he is, so he goes out for a little while, then he's with his people. He likes to know what's going on."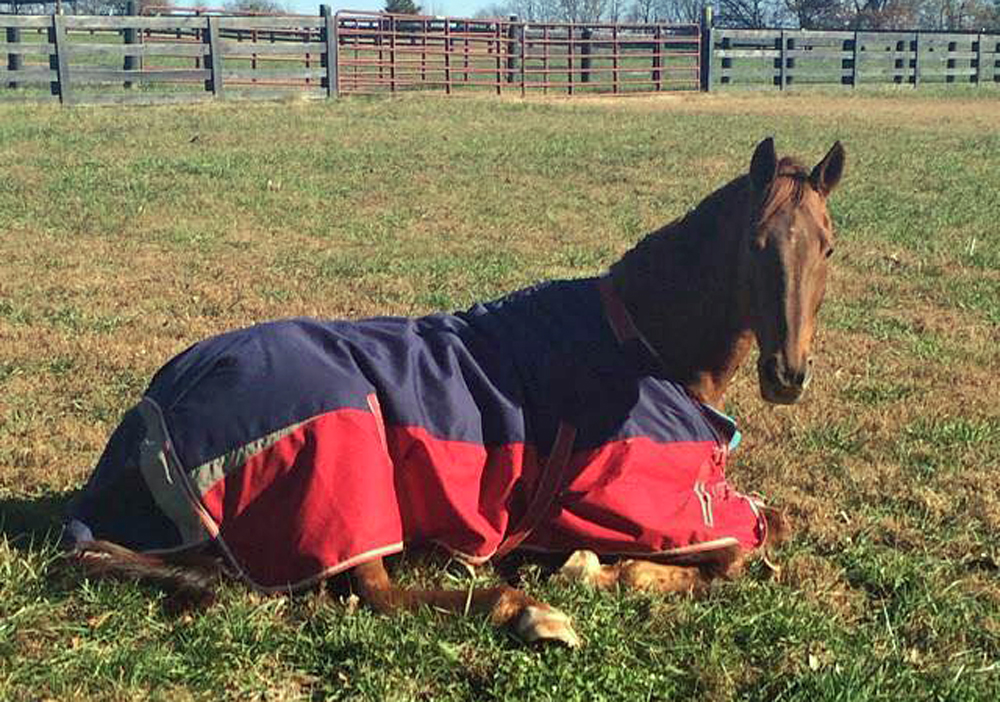 Tate enjoying some "me time" in turnout. Photo courtesy of Meg Kepferle
He likes to be where the action is.

"I remember when we first got him, and I was in England, he kicked his leg through a door and severed his hind extensor tendon, so he was on stall rest for a long time," Halpin recalled. "At William's barn, it's set up so there's a quiet block, there's a block next to the feed room, and we kept moving stalls because he was so unhappy. We ended up putting him in the stall that was next to where the chickens were so he could sit there and watch the chickens come in and out of the barn and go around in their pen, and it would keep him entertained for hours.

"Even when we give him vacation and turn him out for a month or two after a big season, he can't see what's going on in the barn because he wants to be in the barn. You have to hide him off in some corner of the property where there's not stuff going on. He wants to be where the action is. I wouldn't say he's a laidback horse; he likes action, and it makes him happy. He'll jump up and play when you're riding him and show off when you're schooling him, but in the barns, he's always watching. You rarely see him totally ignoring the world. He's an active participant and just thinks he's a person."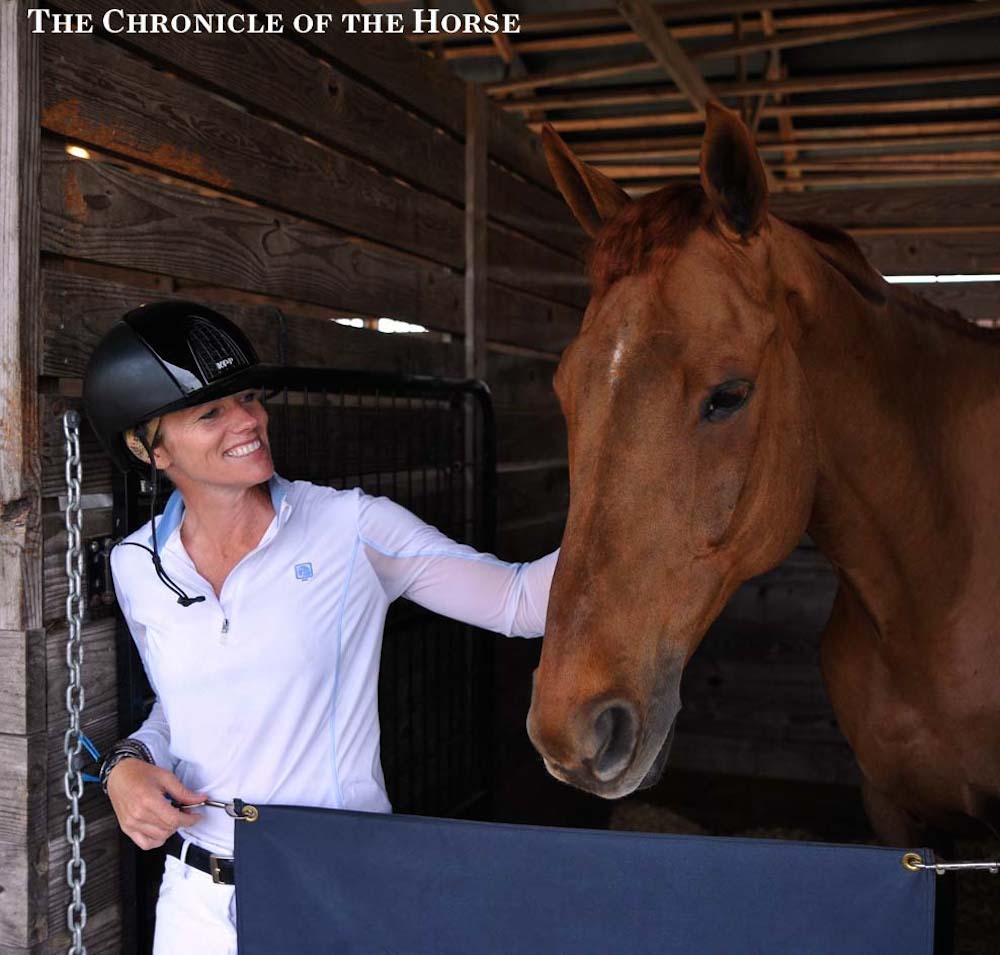 Tate likes to have a front-row view of things. Photo by Lindsay Berreth
Putting a snaffle in his mouth is considered "bitting him up."

"He's always been very light in the contact. I'll jump him around a three-star in a nathe bit," said Halpin. "So many trainers have said, 'OK, it's time to get him in another bit,' but it's not worked every time. He's ended up freaking out about it. He doesn't really like metal, and he has a very sensitive, light mouth, so at this stage, the nathe is the thing to do. I do bit him up for Rolex, I put him in a snaffle just in case at the end of the course he gets a little tired, and I have to pick him up."

He's the definition of a modern event horse.

"He's got high withers and model hips!" Halpin joked. "We have to work consistently through the season on saddle fit. He's all angular. He's a French supermodel.

"He's very modern. He's not that kind of big, super warmblood," she added. "He's really blood. He tries really hard and is super careful and super rangey. His strongest quality is his gallop. He's very careful in the show jumping, but he'll often have an unusual style because he's very aware of his body, and he doesn't have that powerful show jumping jump, but he's very catty and super careful."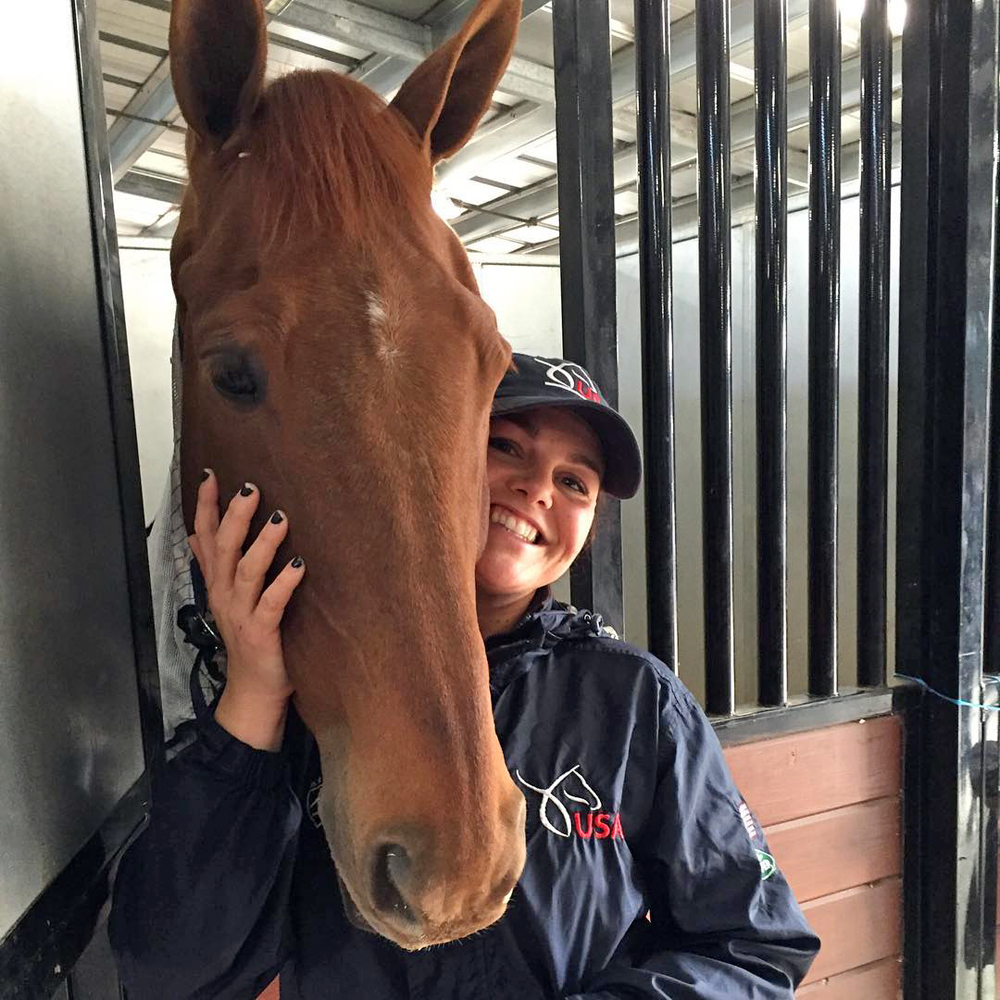 Tate's biggest fan is former groom Meg Kepferle. Photo courtesy of Meg Kepferle