It would be easy to walk by the quiet bay facing the back of his stall and not think twice.
But the moment he walks out of the stall and perks up his ears, you'll be taken aback.
Clark Montgomery's four-star partner and partner for the U.S. eventing team at the Rio Olympic Games, Loughan Glen has the "look of eagles," with a bright, unusually amber-colored eye and a classic build—the perfect modern event horse.
I've spoken with Montgomery over the phone on a regular basis over the last two years as the Chronicle has followed the ups and downs of his partnership with "Glen."
But because Montgomery's been based in England, I've never had the privilege of seeing Glen gallop around the upper levels in person. So I jumped at the chance to visit him while he was based at Mary Ann Ghadban's beautiful farm in Middleburg, Va., before he went on to win the Land Rover Great Meadow International CICO*** and lead the U.S. team to an FEI Nations Cup win on July 9-10.
Montgomery has been partnered with the 13-year-old Irish Sport Horse (Limerick—Tattymacall Mustard, Cut The Mustard), owned by his wife Jessica, Kathryn Kraft and Holly and William Becker, since he the gelding was 5.
He's been based in England since 2013, and over the last 18 months has shown consistently competitive results at the three- and four-star level, which resulted in the pair being named to the U.S. Olympic team.
Glen is a pretty cool customer in the ring and on cross-country, but after chatting with Clark and his groom Sally Robertson, who's cared for Glen on and off since 2010, I realized there's a lot more than meets the eye (including his big, beautiful ones!).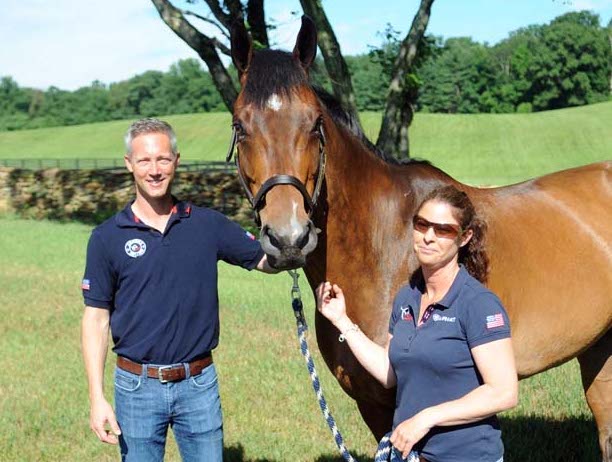 Clark Montgomery (left) and Sally Robertson with Loughan Glen.
"You can't ask for a better horse to look after," said Robertson. "I have to be one of the luckiest grooms. He's the sweetest thing. He really isn't high maintenance at all. He loves his food, loves a little bit of a cuddle, but he's so independent. He doesn't take comfort from other horses. He's a pretty chill dude. He's probably one of the smartest horses I've ever come across.
"His eye—he's just so wise and kind of an old soul."
Here's what you need to know about Loughan Glen…
Be on your guard at all times around Glen."He lures you in to a false sense of security," said Clark. "He acts super laidback, and he is laidback, but the funniest things can set him off. Mostly noises above him or behind him. When he goes into spook mode, he's quite strong and big about it. It's the same on the ground of if you're hacking him. If I'm wearing a jacket, and it gets really windy, and it starts flapping in the wind, he can absolutely piss off with you.

"As a young horse he would buck at the same time, and got me off several times," he added. "Whenever anybody hacks him for the first time, I have to explain all of that to them. He'll lure you into riding him on the buckle, feet out of the stirrups, texting, and then something happens and he is just gone."

Robertson used to hack him but a spooking incident at Fair Hill several years ago caused her to hop off, hand the reins to Clark, and she hasn't been on him since.

"Before that I used to take him on trot sets, and he was wonderful. I'm a chicken anyways, so I hopped off and never hopped back on again!" she said with a laugh.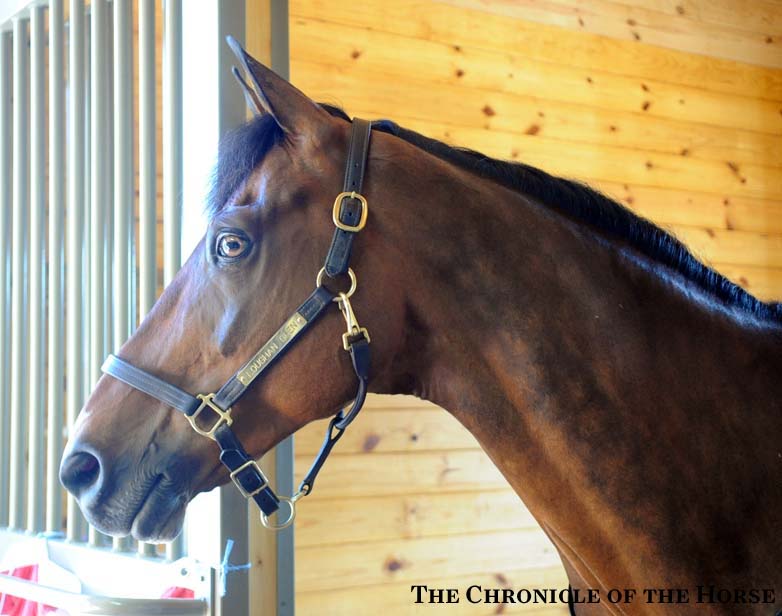 That eye.
Stranger danger. Glen can be suspicious about new people trying to catch him in the field."The funniest thing he's started to do this year is like a stranger danger kind of thing," said Clark. "If he's turned out, and somebody comes to get him that he doesn't know, he pisses off! It's brand new this year."

Clark Montgomery and Loughan Glen.
Glen loves his food. At home in England, he's the first to be fed. "You walk in, and he's going to start tapping his toe against the door to be fed," said Clark. "He's the top dog in the barn."
He loves his turnout. "In the morning he never finishes all of his breakfast. He's like, 'OK, I've had enough of that, get me out,' " said Robertson.
Glen usually goes out after breakfast, then gets ridden about lunchtime, but not before he wears his magnetic blanket. He usually goes back out at 7 p.m."I think he knows he's the top horse," said Clark. "I wouldn't say he ever does anything to be told off about. He knows he's the top horse in our yard, and he gets treated that way. Not in a spoiled way, but in a way that he's well looked after and cared for."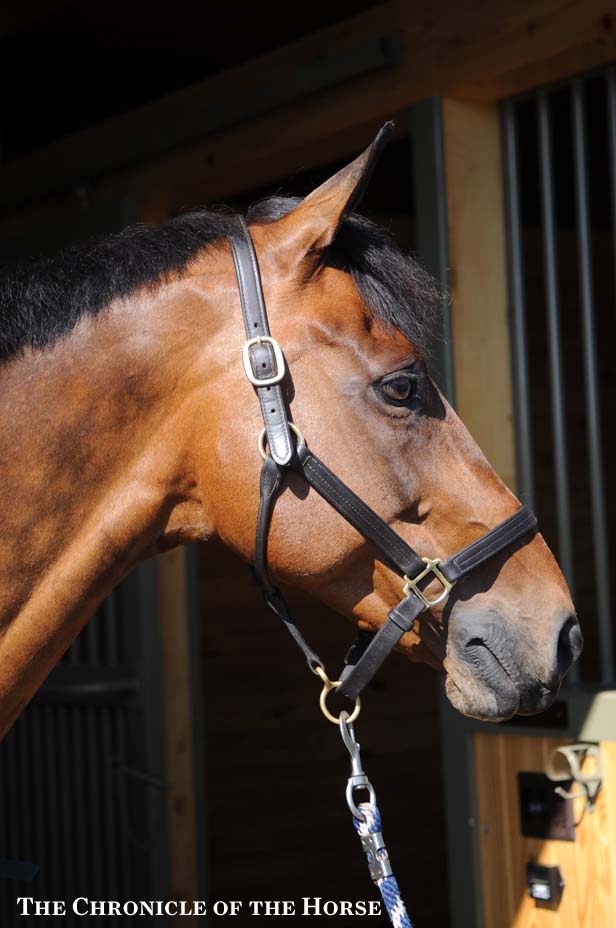 Grooming is OK, but when he turns towards the back of his stall, that's when Robertson knows he's had enough."He likes being groomed but you can't do it for too long, because then he's like, 'No, this is my time and space.' He's one of those horses that I probably groom him four times a day, but not for half an hour each time," she said.
He's an independent guy with no particular horse or human best friend. "He definitely knows who his people are and who he can trust and who will take care of him, but I wouldn't say he has a favorite person," said Clark.Clark's other upper level horse Universe, or "Buzz," is very attached to Glen, but the feeling's not mutual.

"Poor Buzz. Glen could care less if Buzz is there or not," said Clark. "We had another horse next to him that fell in love with him, but he never really noticed her."

He travels well."He understands what's going on, which makes him really trainable and really easy to take on trips like this to the competitions because he doesn't get overwhelmed by any of it," said Clark.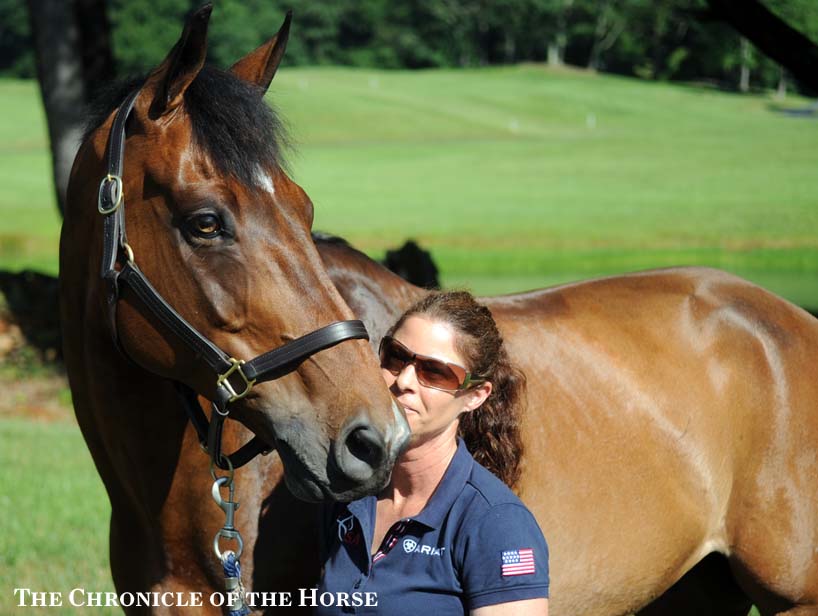 Loughan Glen with groom Sally Robertson.
He has his priorities when he gets to a competition. "When you take him out to go hand grazing at an away show, he makes a beeline for the furthest corner patch of grass he can find, and he doesn't really put his head down, he just struts along, and you go along for the walk with him," said Robertson."Basically he takes you as far away from the stables as you can, so it takes you forever to get him back. You basically look like a Pony Clubber trying to drag him back to the barn! He's done it to Jess before, and she had to entice him back to the barn using carrots."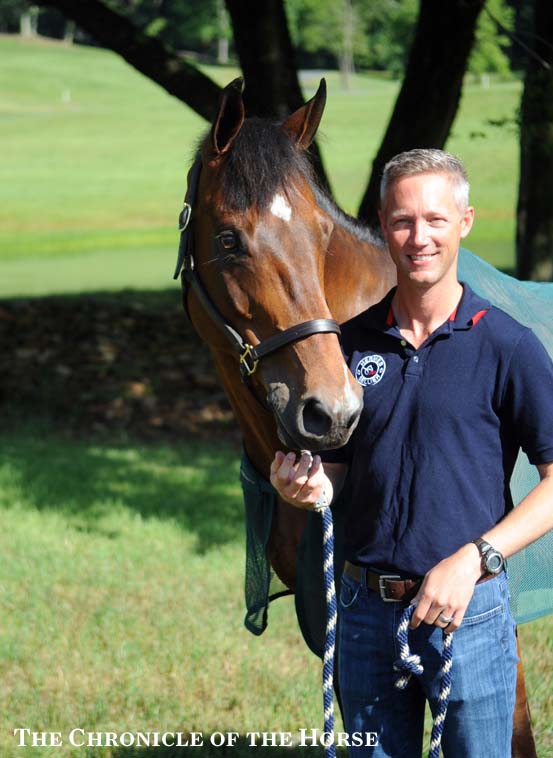 Save