It's a typical story in sports—the star player suffers an injury, so the game trier who usually lingers on the sidelines gets to step up and shine.
When Bloomberg's top mount Juvina, winner of the inaugural Central Park Grand Prix (N.Y.) in 2014, was injured last year, Lilli, a 12-year-old Brandenburg mare (Lefevre—Dayreen, Diamir), stepped up as the top horse in Bloomberg's string, and the bay has not disappointed.
Last winter, the mare won the $127,000 Adequan Grand Prix CSI*** (Fla.), and in the summer, she took Bloomberg to her first Pan American Games (Toronto), contributing to the team bronze-medal effort. She's competed on Nations Cup teams in Dublin (Ireland) and Spruce Meadows (Calgary), and was part of the silver-medal winning team at the $150,000 FEI CSIO**** Nations Cup in Wellington (Fla.) March 4.
In April, Lilli was fourth in the Longines Global Champions Tour of Miami (Fla.) with Bloomberg, and the pretty bay mare also turned in scores of 0 and 4 faults in the U.S. team's Furusiyya FEI Nations Cup effort at Dublin in July.
There's no questioning who the starting quarterback of Bloomberg's string is now; Lilli took over and has never looked back. The Chronicle went behind the stall door with the mare at Bloomberg's winter base at Gotham South in Wellington.
She's a lean, not-so-mean, clear-round jumping machine. Groom Artur Poprawa said he has seen the mare's fitness and physicality improve as she's jumped up to the next level.

"When I put her saddle on, I can feel how fit she is," Poprawa said. "The more grand prixs she jumps, the fitter she becomes. I feel that tacking up, and then she goes clear!"
Lilli's physique is improving with every grand prix she jumps.
She doesn't have the best poker face.

If Lilli is not happy with something, the kind mare won't usually act upon her displeasure, but you can read her face like a book. Her big eyes are very expressive.

"She doesn't like to be bothered in her stall. I can always tell when I'm cleaning her stall and she's inside that she's a little grumpy about it," Poprawa said. "She'll never bite you, but she'll give you a look like she will. If you don't know her well, you might get a little scared, but she won't do anything. She's really very nice and a very sweet horse."

Her eyes don't lie. Lilli is an ace at facial expressions.
A very quiet mare, Poprawa said Lilli perks up when she gets to the show ring. He described the mare as a real trier.

"When she goes to the ring, especially for a night class, you can see her get more excited," he said. "She really wants to be good; she really wants to jump clean. She always tries her hardest and gives her best."
These are a few of her favorite things: paddock time, carrots and apples.

Carrots are among Lilli's favorite snacks.
She's very accepting of other species.

Bloomberg has rescued many animals in need, including her popular pot-bellied pig Wilbur, whom she adopted from a New Jersey shelter after Hurricane Sandy. The newest rescue is a four-month old goat named "Petey," who roams around in Lilli's company without issue. Petey broke his leg after being hit by a car in South Carolina but now lives a happy life at Gotham South.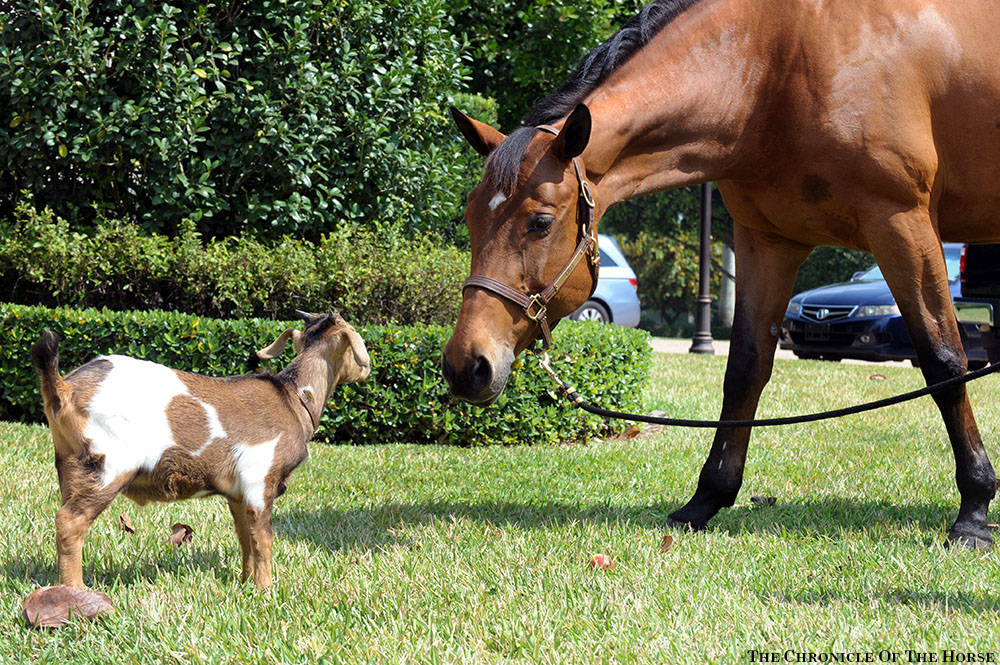 Lilli and Petey the rescue goat
She's a workhorse. Lilli enjoys her job and prefers to get right to the ring; she doesn't particularly like being pampered or spruced up for competition.

"She doesn't really like to be groomed," Poprawa said. "She doesn't like to be brushed, especially by her belly and on her neck. She'll get a little grumpy about it. Clipping is okay; it's just when you curry comb her and put a brush to her belly."

Ice baths are part of her routine. "Before she goes to the ring, I put ice all over her body," said Poprawa. "I'll put ice boots on all four of her legs before a class, and I put ice on her back and put her front feet in ice. It keeps her fresh and improves blood circulation."
She provides Poprawa with a lot of thrills.

"I get over-excited when she's in the ring," he said. "I get so excited when she goes. I cannot stand quietly and I can't take my eyes off her."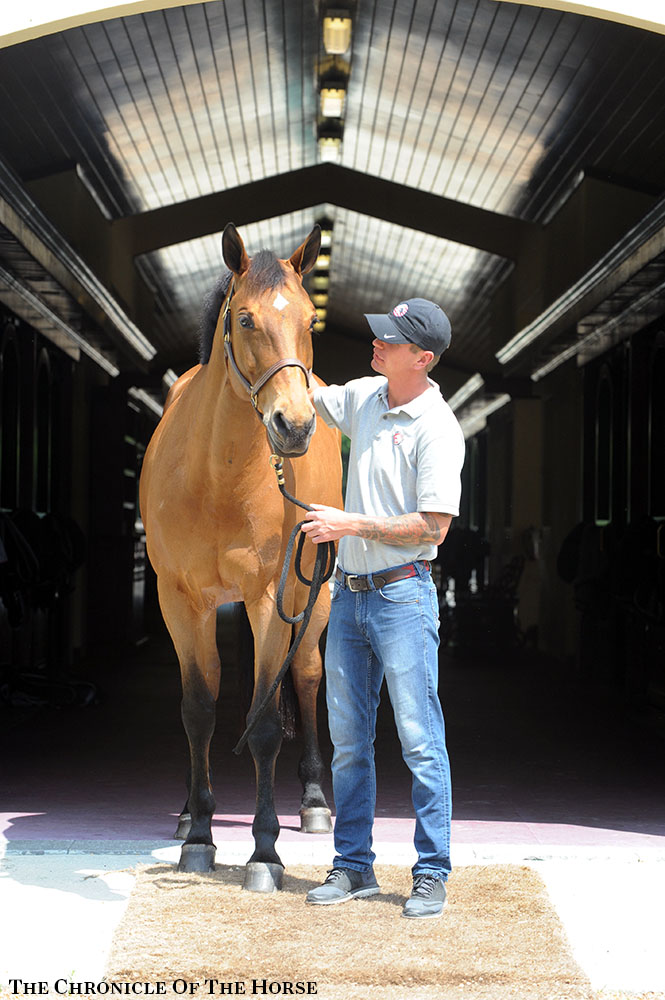 Artur Poprawa and Lilli