Kodachrome got his breakthrough victory on a pretty big stage: With the late Russell Frey riding he won the $50,000 USHJA International Derby at the Winter Equestrian Festival in Wellington (Fla.) in March. Since that day he has yet to finish outside the top 10 in an international derby class.
Most recently, he took an impressive second place in the USHJA International Hunter Derby Championship with Kelley Farmer riding.
The 8-year-old chestnut warmblood gelding will pull on your heartstrings, as he's competing with a guardian angel. His former rider Frey tragically passed away of a heart attack in May. Frey's friend Farmer began riding the horse in July and has emotionally referenced Frey every time she's taken Kodachrome in the ring.
"Russell believed in that horse, and he was right. I just want to do Russell proud by doing the right thing," Farmer said.
Farmer and Kodachrome finished seventh at Chagrin Valley (Ohio) in their first derby together. After that, they turned in memorable handy rounds to finish as runners-up in both the $25,000 derby at the Great Lakes Equestrian Festival (Mich.) and the $100,000 derby at HITS Saugerties (N.Y.). Their USHJA International Hunter Derby Championship red ribbon was their third in a row together.
Kodachrome is a lover in the barn and wants to be the center of attention. Here's everything you need to know about the affectionate chestnut known as "Foster."
Foster loves attention. If you go for a visit, prepared to get up close and personal with the chestnut. He isn't pushy, but he will immediately greet you like a puppy that's been waiting patiently for you at the front door while you've been at work all day.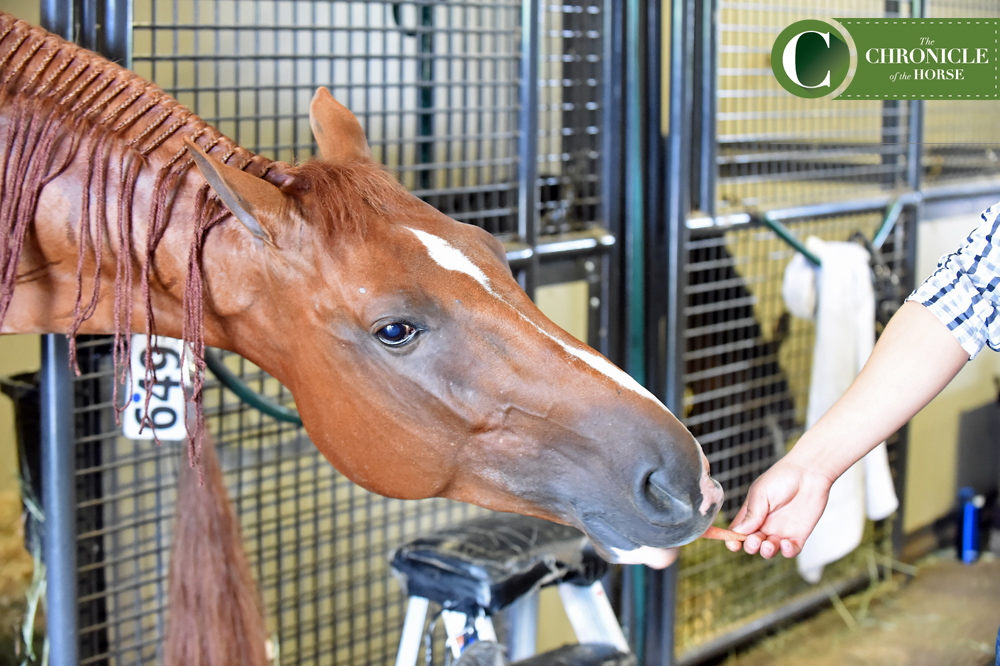 Treat? Foster asks politely. Photo by Kimberly Loushin
"He was a sweetheart from the first day," Farmer said. "Russell spoiled him always. He's always in the barn aisle. He loves people. He loves playing around with them, and the grooms do.

"He's just a good boy, and after a couple weeks in the barn, he was already thinking that everyone is going to give him something and pay attention to him," she added. "We'll be standing at the in-gate, and he'll try to poke his nose at somebody like, 'Do you have a treat?' But he's polite about it."

He's been gifted with a beautiful jump, but he was a little short-changed by the hair gods. Foster's tail is lacking in lusciousness, but that's okay; he gets help in the show ring.

"He has a nice big fake hairpiece!" Farmer said, laughing.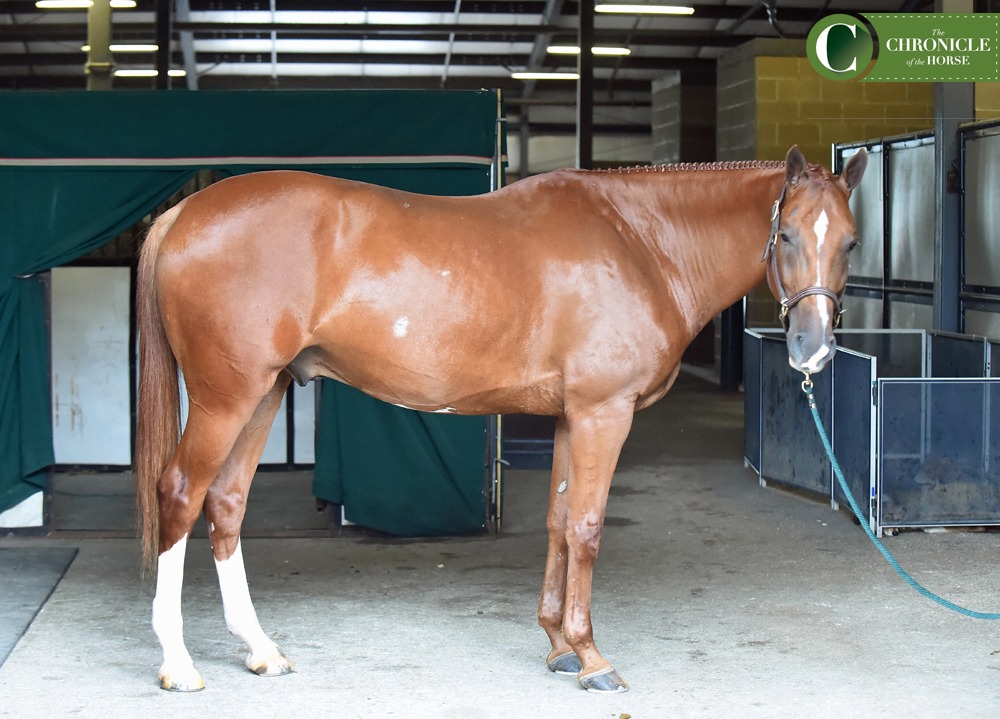 Foster is quite handsome, but a bit challenged in the hair growth department. Photo by Kimberly Loushin
He's inquisitive but as brave as can be. Farmer doesn't hesitate for an instant to take risks in the handy rounds.

"He's aware and he's alert, but he's not spooky," Farmer said. "He's just a really good horse.

"Russell never had to be cautious with him, so I always knew that about him," she added. "I helped Russell out with him, and any time we did a handy, if I did something like an inside turn on one of my horses, Russell always did it on Foster. I knew from helping him that he was very rideable and very handy. I kind of trusted what I knew about the horse, and the more I've ridden him, the more he's light and nice to ride. He's got a beautiful lead change and a fast front end. He'll jump beautifully from anywhere. He can do anything; he doesn't worry if you're sideways [trying to make an inside turn]."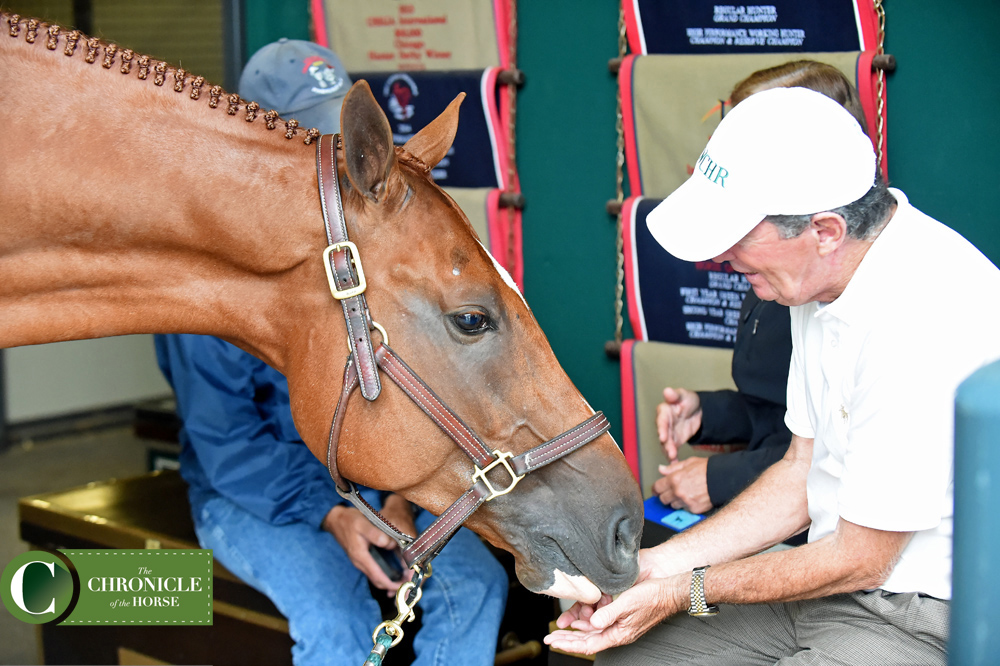 Foster canoodling with Lane Change Farm trainer Larry Glefke. Photo by Kimberly Loushin
He's a relative to several of his Lane Change Farm stablemates, and he shares some traits with them.

"He has the same father as [2016 Winter Equestrian Festival (Fla.) green conformation hunter circuit champion] Clever Conversation does," Farmer said. "I also have a young pre-green horse named Influential that has the same father as well; they're all by Celestial.

"It's funny, because he has a little white spot under his belly," she continued. "Clever is gray, and I had another pre-green horse by Celestial [Truth Be Told], and he's gray and looks a lot like Clever Conversation. But the chestnut one, Influential, has four white socks and a big spot on his belly like Foster, so it's a family trait. We're not usually the kind of people that are that into pedigrees—a good horse is a good horse. We follow it sometimes, but in Europe, they're much more in tune to that than we are in this country. But I have four horses that I love that are all by Celestial—I am a fan of him!"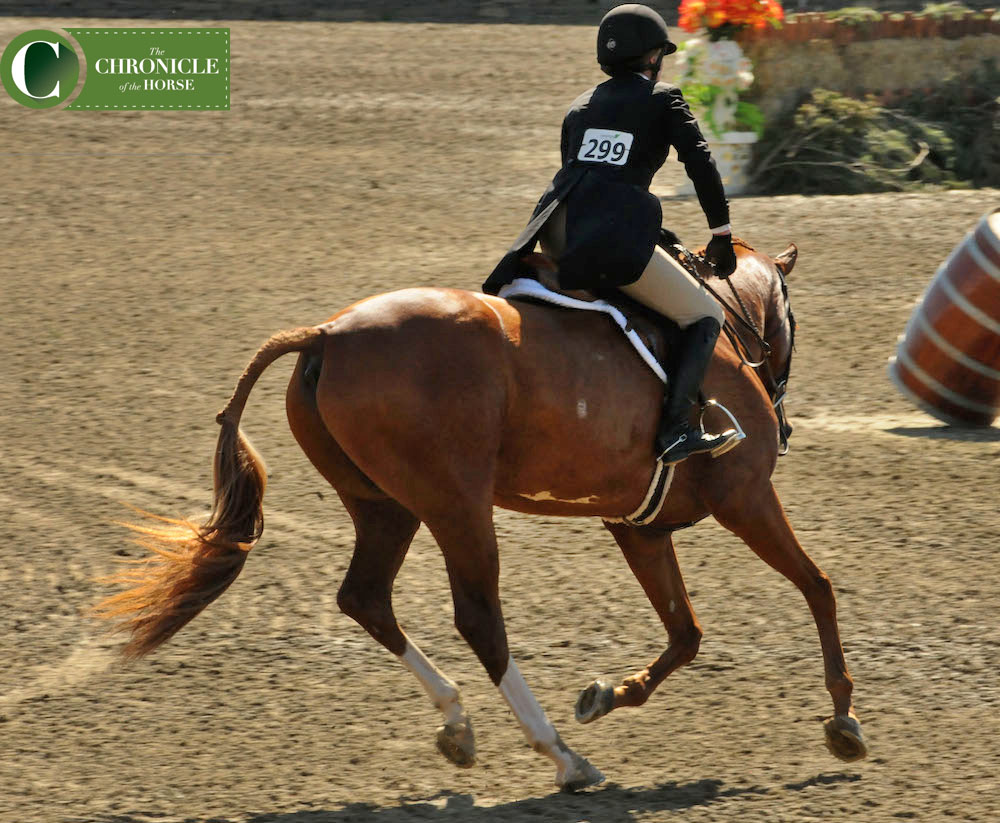 Note the white spot on Foster's belly, a characteristic he shares with another chestnut by Celestial in Farmer's barn. Photo by Catie Staszak
He likes simplicity. He goes in a big D-snaffle and a loose martingale.

"[The first day I showed him], he had just a normal, plain D and a loose martingale, but I wanted a fatter one," Farmer said. "It's almost as fat as a loose-ring. He's really simple."

He has one enemy: another of Farmer's top derby mounts, Baltimore, who defeated Foster in the $100,000 USHJA International Hunter Derby at HITS Saugerties.

"He and Baltimore don't really like each other, but other than that, he's pretty easygoing," Farmer said. "That would be the only thing I would say. It's obvious they don't like each other. You could ride him next to the stallion [It's Me], and he's not fazed, but if you're riding next to Baltimore, you know that they don't like each other. I'm not so sure why, but they don't."

He doesn't mind being a couch potato.

"He's getting stronger and fitter," Farmer said. "He was a little bit out of shape [when he first came to Lane Change], but he's starting to take some of that belly off. The belly was a bit too big, and it looked like he might have a foal when I got him, because he hadn't done much!"

Foster has one other rider: Gremlin, Lane Change Farm's canine mascot.

"He's the only horse that lets Gremlin on his back!" Farmer exclaimed.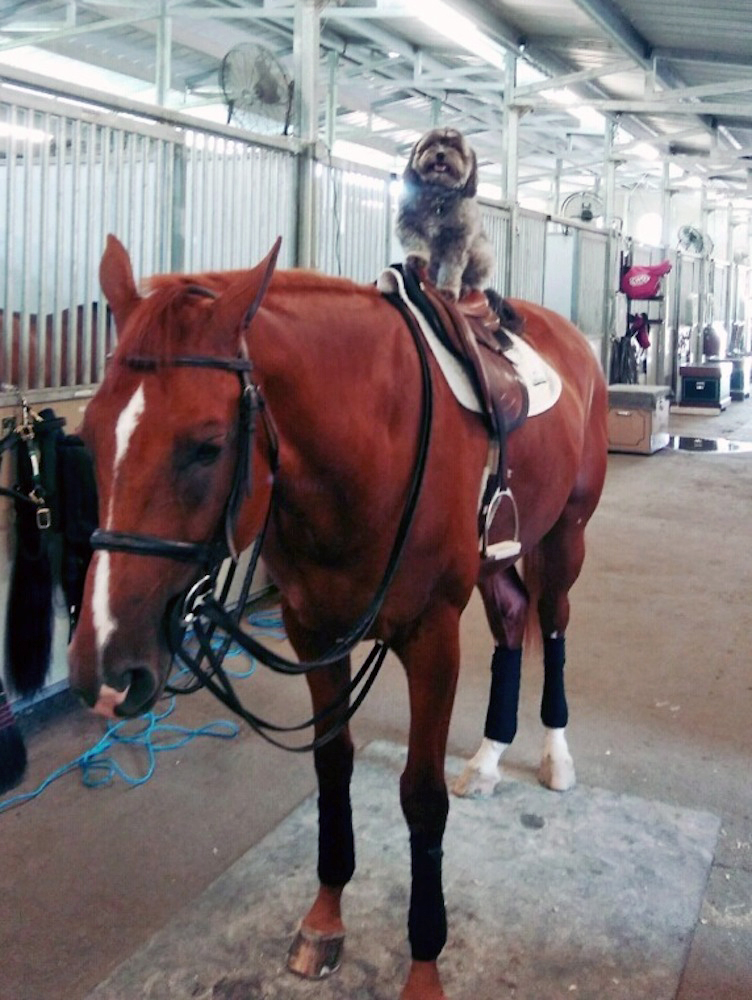 Foster giving Gremlin a ride. Photo courtesy of Kelley Farmer