His name is synonymous with the USHJA International Hunter Derby program. He leads the program's lifetime earnings with $293,451 made in 74 derbies with 30 victories.
He was named the USEF National Horse of the Year in 2012 after he won the USHJA International Hunter Derby Championships (Ky.) that year. He's won the derby at Devon (Pa.) three times (2010, 2011, 2012) and was second in 2008.
Though a dominant derby contender, "Lewis" got his start in the jumper world. Rider Jen Alfano and owner Susie Schoellkopf's SBS Farms Inc., bought the now 14-year-old Hanoverian by White Star as a 4-year-old from Louise Serio.
He got his barn name as a variation of Louise's name. "We couldn't call him Louise because he was a boy, so it became Lewis," Alfano laughed.
Lewis competed in the level 4 jumpers and the 5-year-old jumpers in 2007 and made his hunter debut in July of that year at the Chagrin Valley Hunter Jumper Classic (Ohio) in the first year greens and the regular working hunters. His first derby was at the Ocala Winter Finals (Fla.) in 2008.
Since then Lewis had become both famous and infamous in and out of the ring. To get to know this derby stalwart we went behind the stall door with Lewis and Alfano…
- He may go by Lewis but Denice the Menace might have been a more appropriate moniker.
"Lewis, of the group, is probably the nightmare," said Alfano. "The worst. He's always been like that. I think everybody sort of knows that. Whatever he can do to annoy you, he does—constantly on the ground, on his back. You can't lead him, jog him. He's just a nightmare. Bites, stomps, but we put up with him because he wins all the classes.
"He's definitely aggravating."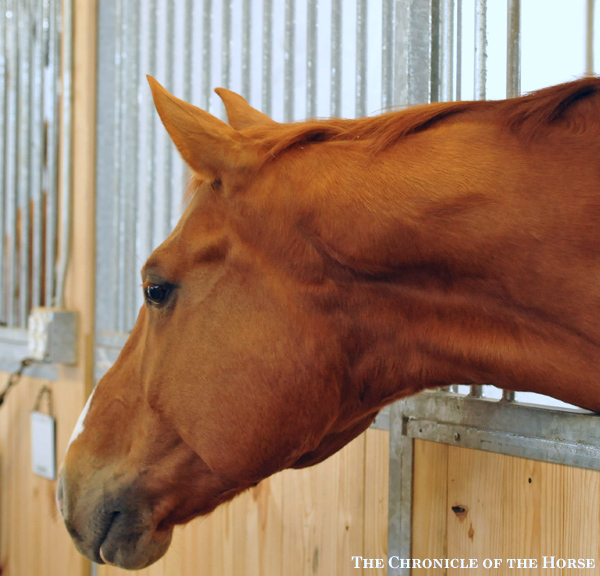 Don't let that innocent face fool you.
-He's like a child that can never stand still. Lewis always has to be doing something.
"He's just one of those horses that's never still. When you're grooming him there's some part of his body that's moving at all times, whether it's his head or his mouth, tail, there's just no part of him that is still at any point when you're trying to work on him or do anything with him," said Alfano.
- He sees dead people, and makes it very clear he wants nothing to do with them.
"He's gotten better with age, but he'll for sure spin around before you even know it's happening and it's mostly at stuff that we don't see, it's stuff that is not visible to the human eye I find, it's just visible to him," said Alfano.
"You could just be walking along and before you know it you're heading the other direction, rapidly, but he's always been like that so we're used to it now."
- Everything is about Lewis all the time.
" I think he really only thinks about himself," said Alfano. "I don't think he gives any thought to other horses. I don't think Lewis gives any thought to any other horses besides himself."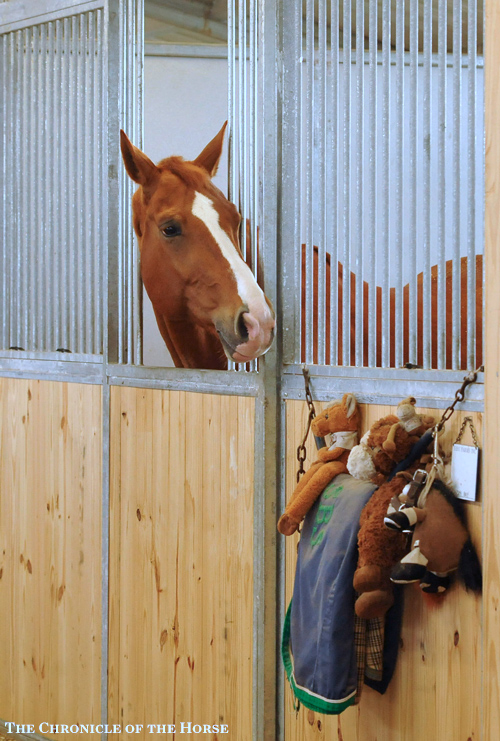 Lewis knows he's hot stuff and let's everybody know that.
- Speaking of it being all about him, Lewis wants to be fed first and let's you know it.
"[He's] the same as he always is. He calls and stomps and kicks at the door—just like he is all the time."
- Lewis travels with his own posse of lookalikes. He's currently up to four.
"He's got his toys on his door because he can't make any other friends, so he brings his own," joked Alfano. "He's got a collection.
"The first person that took care of him, Erin McMurray, stopped at a truck stop getting fuel one day and came out with this chestnut horse with a t-shirt that says "I Love New York" and it was a chestnut horse with a white blaze, and she just put it on his door for whatever reason, and it sort of started a thing. He's got all chestnuts with white blazes on his door."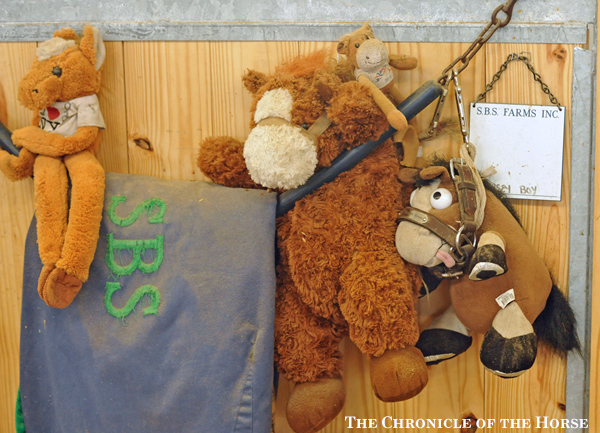 Lewis has his own posse wherever he goes. The horse on the far left was his first minion.
His second horse is a World Equestrian Games horse from when he did a derby demonstration at the 2010 games in Lexington, Ky.
Lewis gets quite curly when he's unclipped is what Alfano jokingly calls "a curly-coated warmblood" so one year when they were competing in Houston the SBS team came across a child's backpack horse with curly hair they felt looked like Lewis.
His last horse is particularly special.
"When he was USEF National Horse of the Year Jess [Litfin] the girl who took care of him at the time went to the dinner, and we were in Louisville, [Ky.] shopping and we walked by a store and there was this horse that was chestnut with a white blaze and that one makes noises and shakes," said Alfano. "We bought that for him there and we had a halter made for it that says USEF Horse of the Year.
"The halter cost way more than the horse did. I had it custom made. It's like a halter for a mini that we had to have cut down and get a nameplate but the halter that we had made for the stuffed animal costs more than the animal."
Even though his stuffed companions may be his only true friends, even they're not safe from Lewis's destructive tendencies—one of them is missing a leg.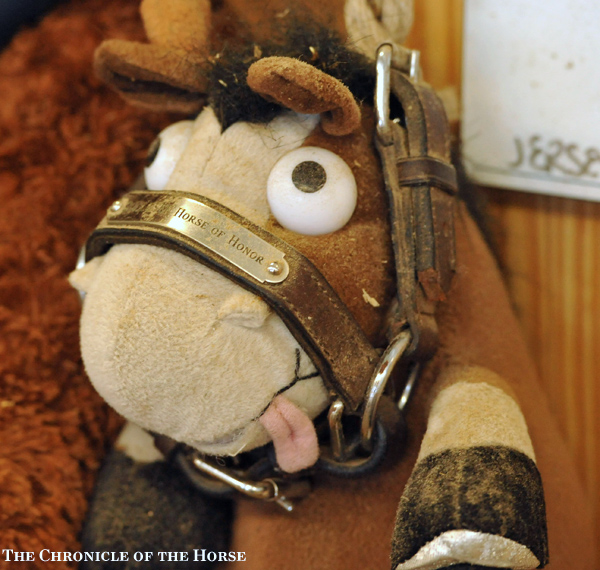 The newest addition to Lewis' door has a custom halter made for his USEF National Horse of the Year honor.
- Don't leave anything near his stall that you don't want destroyed. Destruction is Lewis's middle name. If he's wrapped or wearing a blanket he has to wear a special bib that allows him to eat but prevents him from shredding his clothing.
- He may look cuddly when his hair is grown out, but bring out the curry comb and it's a different story. As he is with everything else, Lewis is a nightmare to groom. He prefers quick sessions to limit the amount of destruction he can cause.
- While he doesn't like much, Lewis loves to horse show.
"He loves to show and besides that….I think he likes to go in classes. He doesn't like to practice and he doesn't like to be groomed and he doesn't really like any of that stuff, but he likes to go in classes. Other than that he's pretty ornery," said Alfano.
- Nobody is safe from Lewis. Alfano shares the riding duties with her working students so everybody gets to join in on the fun.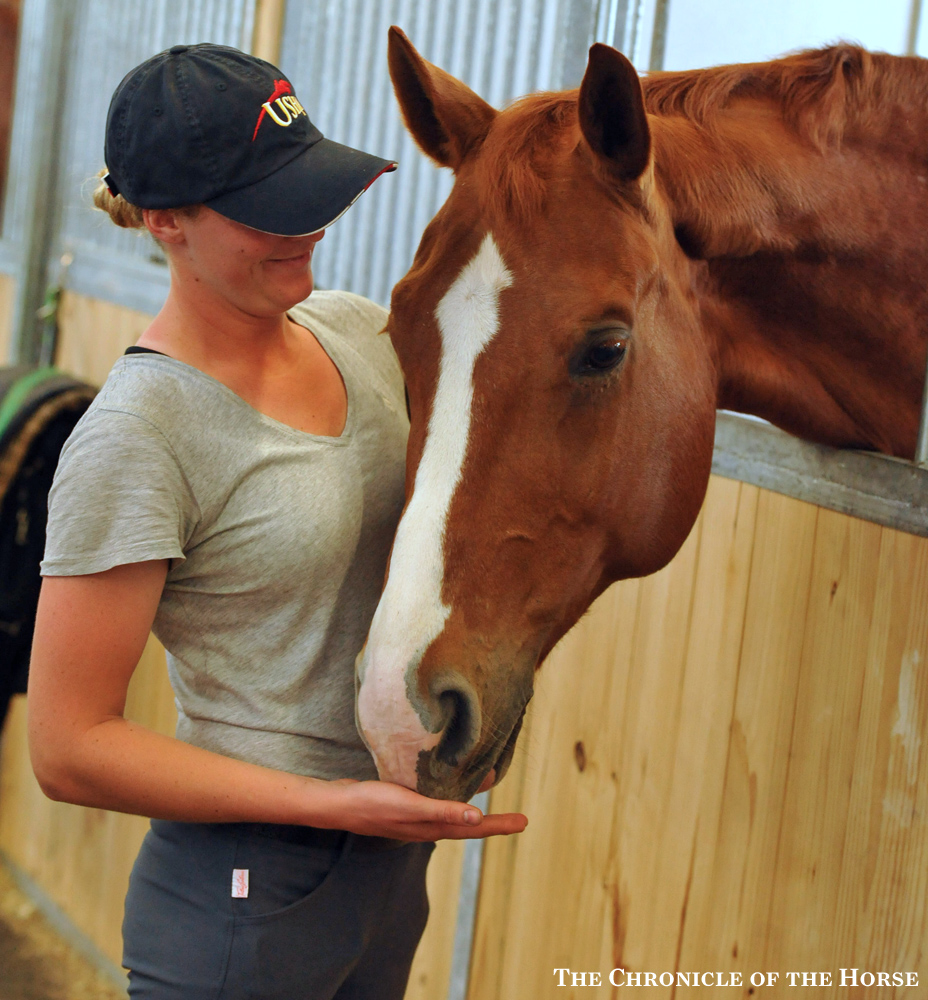 Lewis with SBS Farms team member Hannah Duffy.
- No favorite people for this horse. He has the same personality no matter who you are.
"He's pretty much the same with everybody," said Alfano "I don't think that he has people that he likes more than others. He's just Lewis and he's never changed."