He's got a huge fan club and his very own Facebook page. When news that racehorse trainer Graham Motion was sending a Thoroughbred from his Herringswell Stables to eventing star Phillip Dutton to re-train at the end of 2013, interest in Icabad Crane skyrocketed.
The bay gelding (Jump Start—Adorahy, Rahy) won $585,980 on the track in 33 starts—including placing third in the 2008 Preakness Stakes (Md.)—and retired from running at age 8. And when Icabad Crane won the title of Most Wanted Thoroughbred at the 2014 Retired Racehorse Retraining Project's Thoroughbred Makeover, he became a hero to off-the-track Thoroughbred fans everywhere. Dutton brought "Icabad" up the levels carefully, from beginner novice to training level in 2014, making his preliminary debut in February of 2015. He finished last year with fifth place in the Hagyard Midsouth CCI* (Ky.).
The bay gelding is now 11 and, after the winter spent solidifying his training, is gearing up for the spring season with Dutton.
Here's what you need to know about Icabad Crane:
You can call him Icabad. Not Ichabod, like the character from "The Legend of Sleepy Hollow." There is a Thoroughbred named Ichabod Crane, a 1983 version.
He's famous. Dutton's head groom Emma Ford was amused at a grooming clinic at Dutton's True Prospect Farm (Pa.) last summer. She made sure the four-star headliners at the farm were spiffed up for people to see—Mr. Medicott , Mighty Nice and Fernhill Fugitive. "I didn't even think about Icabad," Ford said. "But at the end of the clinic we let them meet the top horses, and everyone wanted to see him. Nobody was that interested about the top horses. They all wanted to see Icabad Crane.

"We'll go to a show and there are always people who want to see him," Ford continued.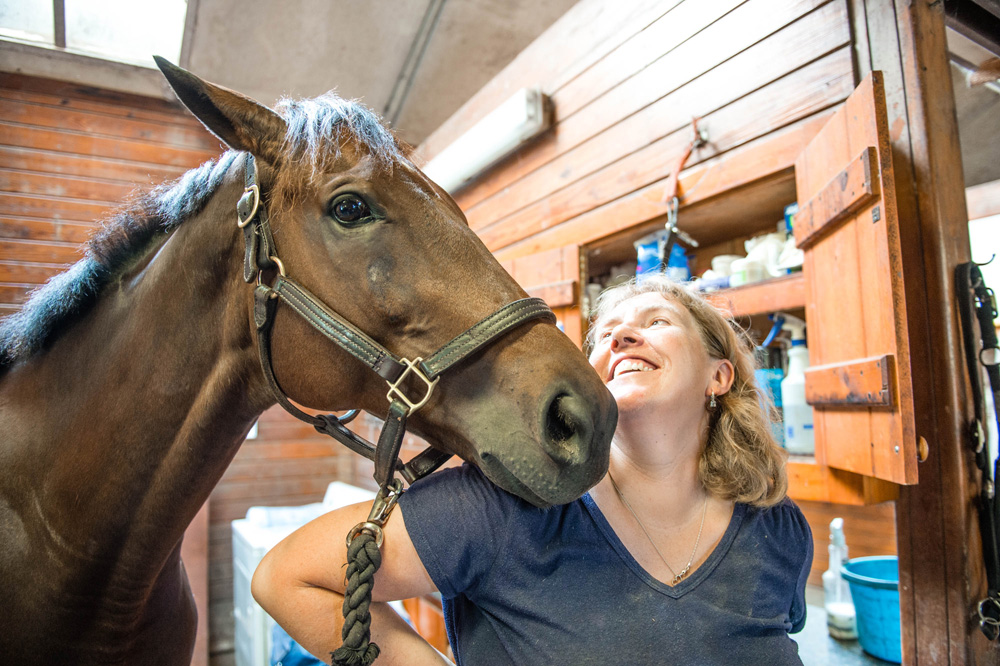 Icabad and Emma Ford.
He didn't catch on to cross-country right away, but it didn't take him long! "The first time Phillip did some banks with Icabad, the horse came back with some scrapes, and I was like what happened here," Ford said. "But by that weekend when he was competing, he had figured it out. The thing that is so special about him is just how he has taken to the sport."
Icabad goes with the flow. "He's easy to deal with," Ford said. "We take him to a show and there is no drama. He stands on the trailer and ties. He's just like, 'Dude, whatever.' At a show if I need to take two out to hand graze at once, I always take him because he will always be fine."
He does have a little bit of an edge, though. "He's normally quite personable—you can go in the stall and cuddle with him—but grooming you need to watch yourself," Ford said. "He took time to come around to the tidying up, doing the ears and mane. The first few times, he was sort of like, 'What? No!' And when you wash him you have to be careful about the hind—he has gotten me once," said Ford.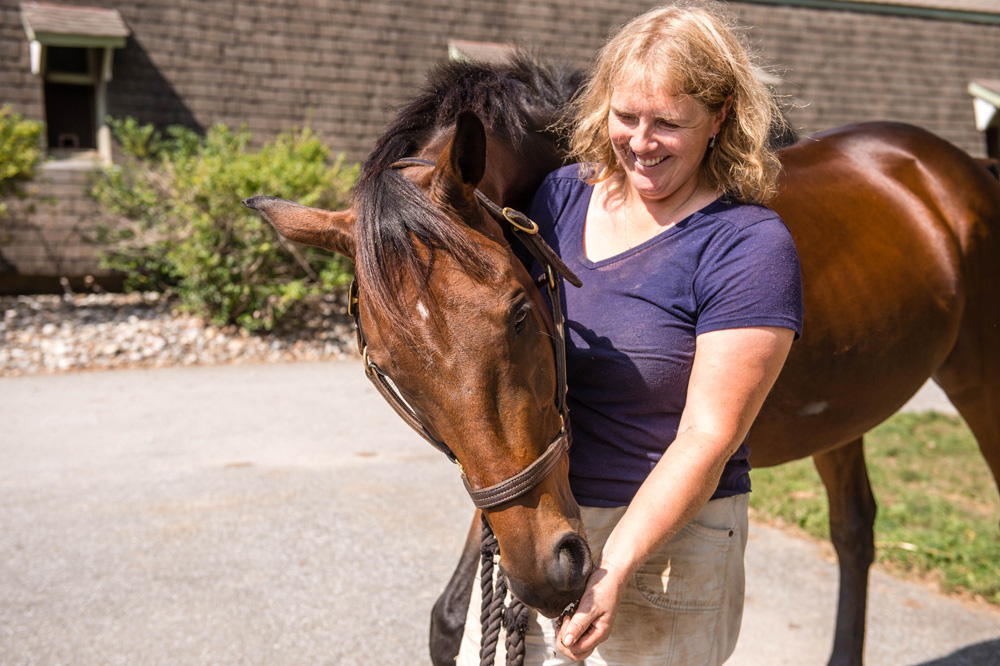 He's not a loner. Icabad likes a friend with him when he goes out in turn-out.
Yes to carrots, NO to peppermints.
He's not afraid to just say "No." "His reaction to things he doesn't like is just NO," Ford said. "But he does figure it out. When they installed the six-horse walker he wanted nothing to do with it. He was totally like, 'Nope, I'm not going in there.' It took a week, but now he walks fine in it in the middle of his space."
He doesn't seem to remember the word "no" when the tack is on, though. "His whole attitude towards training is, you teach me and I'm going to give it a go," said Ford.
He's anything but a wimp. "He's tough horse," Ford said. "If he pulls a shoe, he's still going to do it." And he knows when it's time to shine—when he's in the ring, "he puts on his twinkle toes."