He's the most famous horse in show jumping at the moment. But while Hello Sanctos is freakishly talented and accomplished in the ring, at home he's really pretty normal.
Last month, he awed the world by accomplishing the Rolex Grand Slam after winning the $1.5 Million CP International at Spruce Meadows (Alberta) and he helped Scott Brash win back-to-back Global Champions Tour series titles in 2013 and '14. He's earned more than a million Euros in GCT competition alone. And that's on top of winning team gold in the 2012 London Olympic Games and the 2013 European Championships (Denmark).
When he's not jetting around the world winning all the things, "Sanctos" makes his home at Brash's new West Sussex, England yard. Until March 2015, Brash had been based at his father's very simple and workmanlike farm in Peebles, Scotland, where Brash had grown up.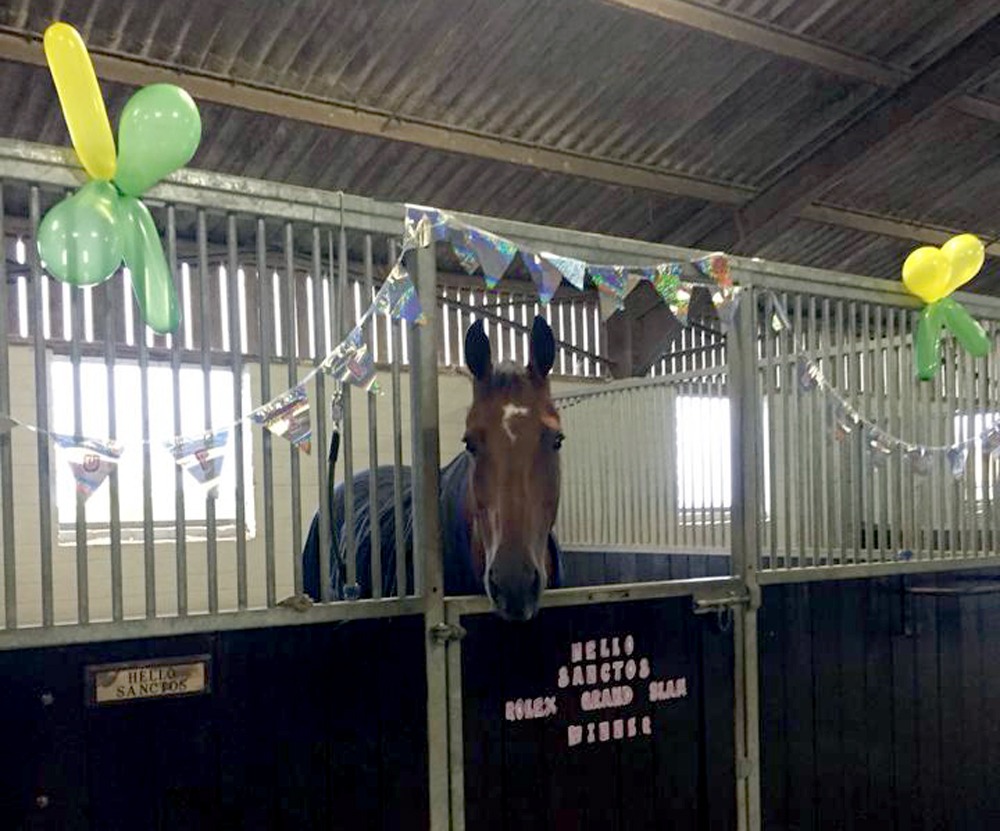 When he got home from Spruce Meadows, Sanctos was greeted with a festively decorated stall.
"It's not flashy; everything is so practical," said Brash's head groom and girlfriend, Hana Colman, who travels all over the world with Sanctos. "I love working on the place. Everything is how it needs to be, but we don't have bling. The horses have big boxes, it's airy, and they can look out. They're really happy there."
Here's what you need to know about Sanctos:
He's very easy to care for. "He's lovely. Everything's simple with him," said Colman. "He's so laidback. I think people don't realize how laidback he is. When we're at a show, I'm pulling him around everywhere leading him. He goes at his own pace."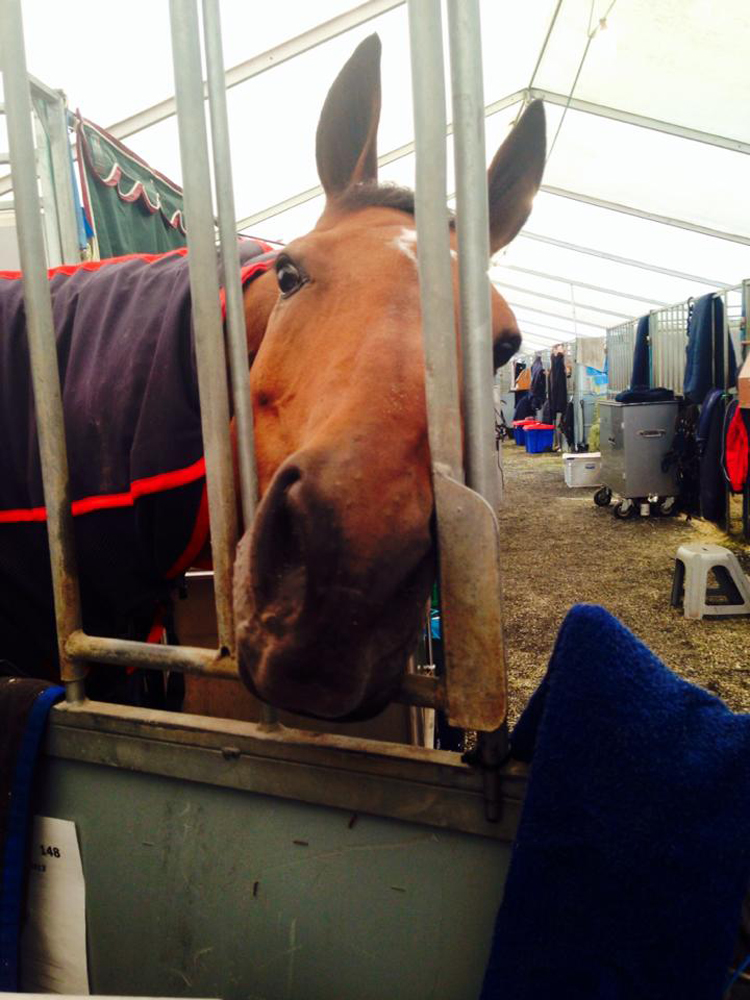 "Yep, that's him," Colman said of this photo of Sanctos. "That's a pretty typical Sanctos pose."
He's a big fan of the great outdoors. "He loves to go to the field. If we're at home, we put him out first and we know we can leave him for five minutes until we get another horse, and vice versa at the end," Colman said. "He'll never run around. I've seen him trot away maybe three times."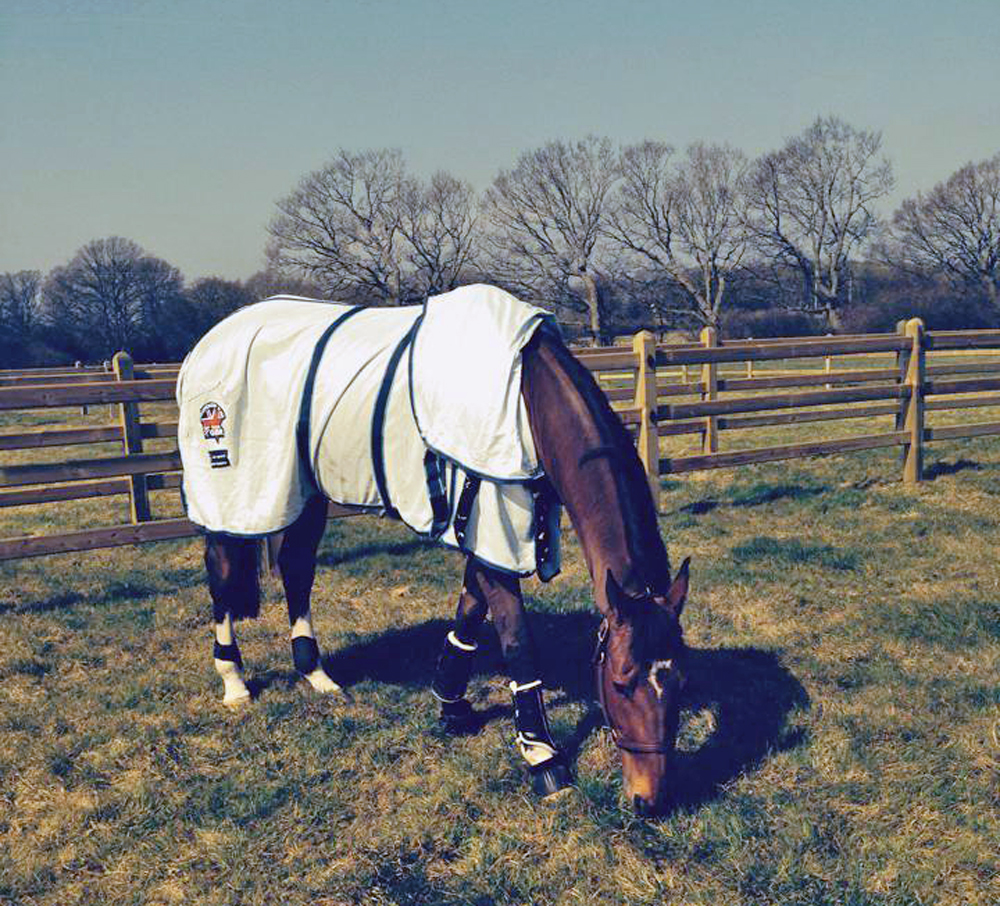 Sanctos grazing in his happy place.
He has plenty of "me" time. In the normal daily routine at Brash's stables, horses are given multiple spans of time with no interference from their human caretakers. "I think, especially when you're at shows, it can get so busy, with 'I can do this.' And if you're there with one horse, for a championship for example, I think you need to leave them alone at times," Colman said.

Sanctos appreciates this quiet time. "He does like his space. He can come across as grumpy in the stable, but that's like his bedroom and you have to respect it," Colman said.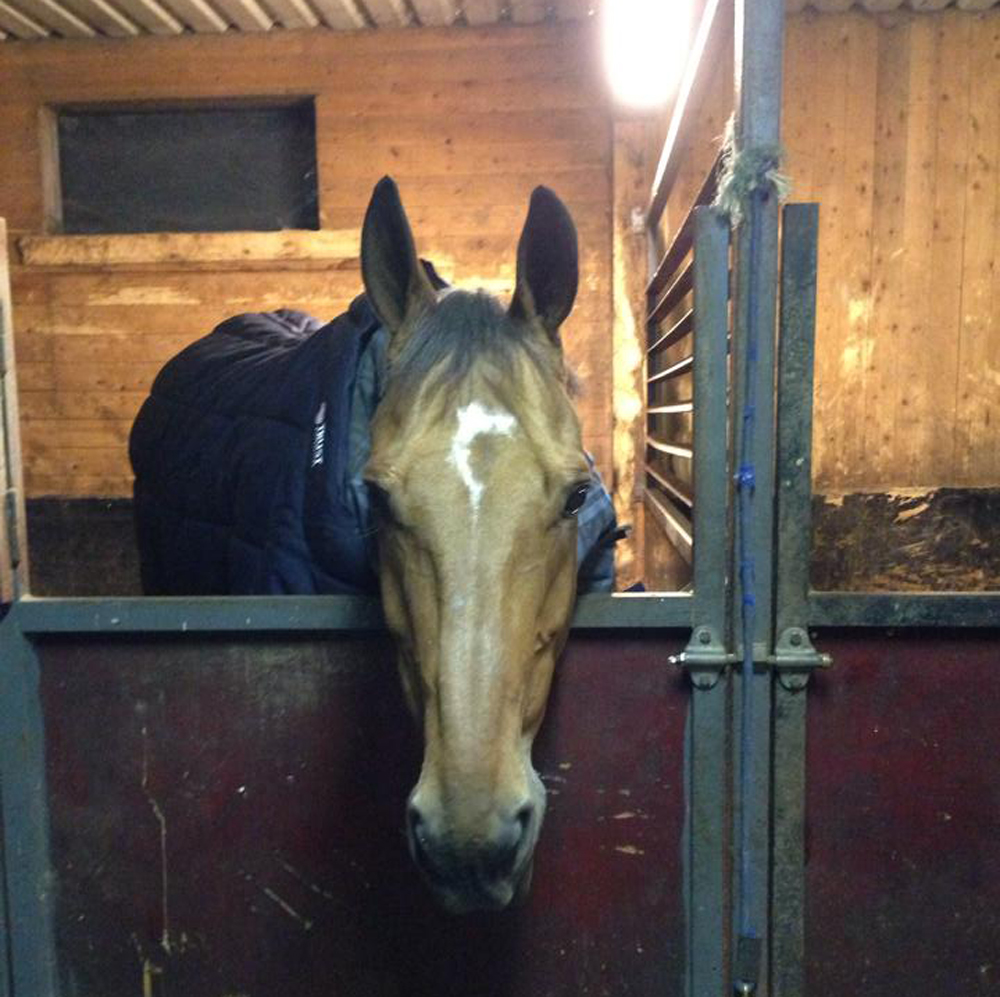 Sanctos gets braided to show, but only on grand prix day. He's started to take the braiding, or "plaiting" as it's called in Great Britain, as a sign of a big day on the schedule. "He gets a bit nervous. His mane's very thin at the end, so I can't plait it all the time, but he starts shaking his head," Colman said. "He knows, I think he knows, that it's an important day when I'm plaiting him."
The only thing Sanctos doesn't like is clipping. "He HATES getting clipped," Colman said. "I try not to do it to him unless I really have to. It depends on what mood he's in, whether I can get it done. He doesn't kick, but he's got very sensitive skin and he goes all tense. It's really the only thing he doesn't like."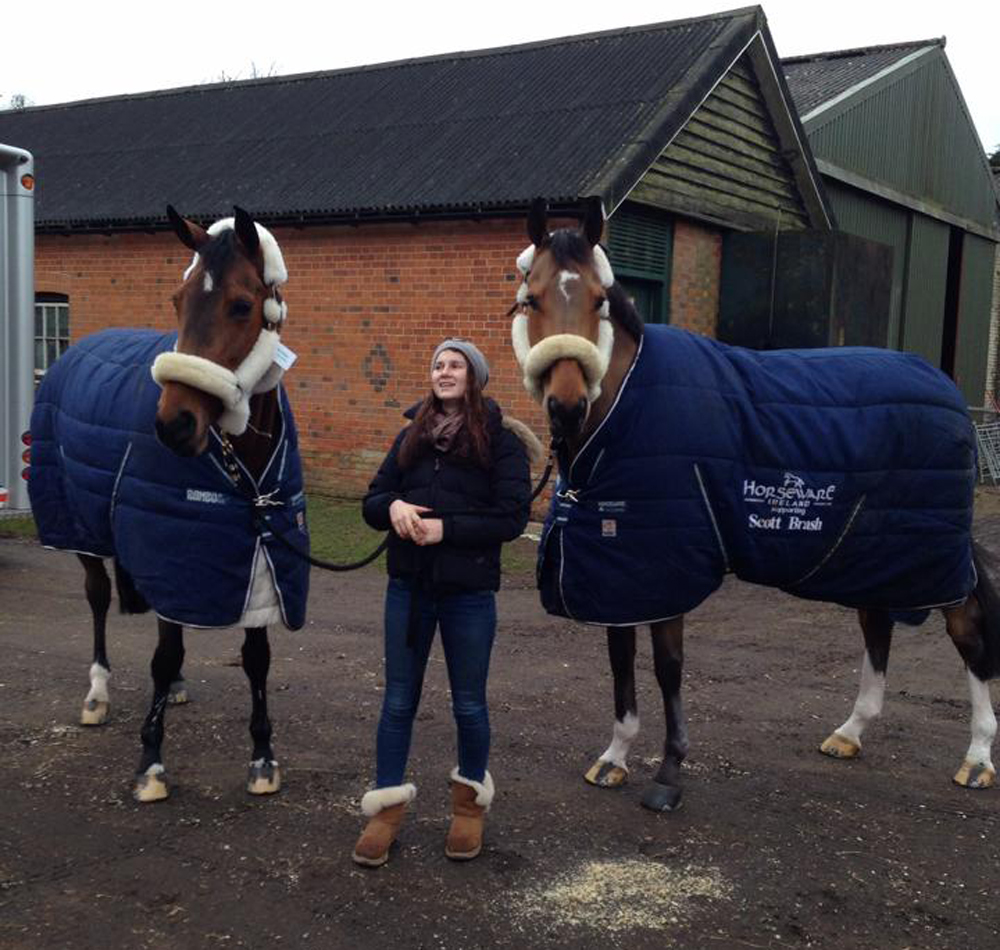 Sanctos (right) in his traveling gear with Coleman and Hello Annie.
Sanctos is a good traveler. Like, think "Up In The Air" kind of professional traveler. "He's the best horse to fly. He loves to drink water and he loves his food," Colman said. "You would know instantly if there was something wrong with him because I've never—touch wood!—had a thought of, 'He's not eating, that's weird.' He'll always eat and drink."

Sanctos snoozing
Except when he's at a show that provides shavings, Sanctos beds down on straw. "Scott's horses have always been on straw. The horses love it. When they get home, they go straight to bed. They're so comfortable," Colman said. "I also think it's good for their stomachs. They can nibble on it a little bit overnight. We do have a few on shavings, the ones who eat straw all the time, but the rest stay on straw."
He's happy to do a little public relations. "At the London GCT, there was a walkway through from the stables to the ring through the park. A little girl asked if she could pet him, and all of a sudden there were 20 or 30 people there, and they were all just standing and looking at him and petting him," Colman said.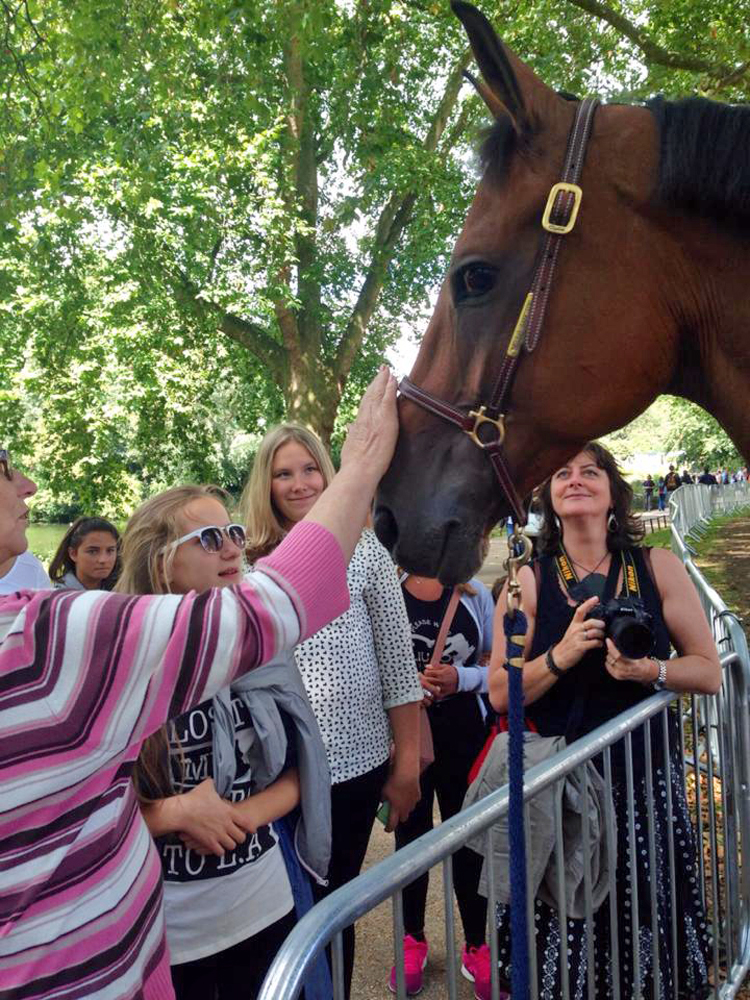 Making friends.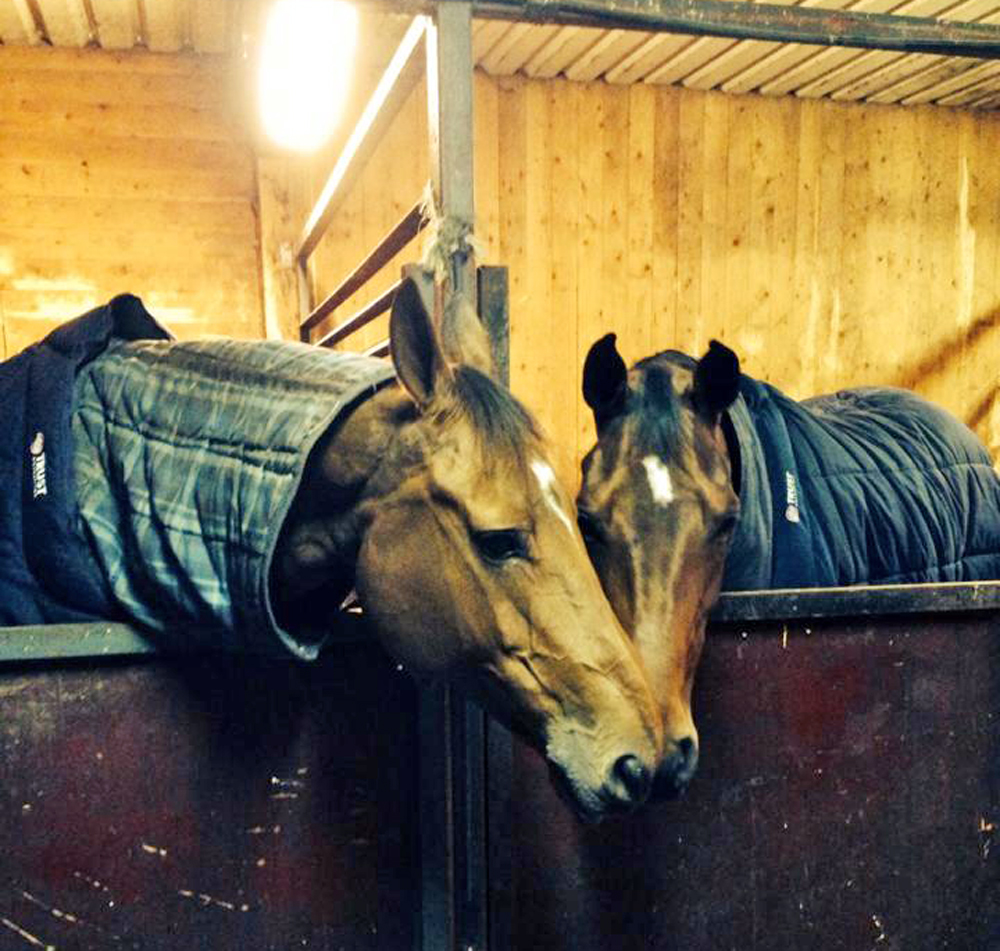 Sanctos is a lover, not a fighter. Here he's canoodling with Hello Annie.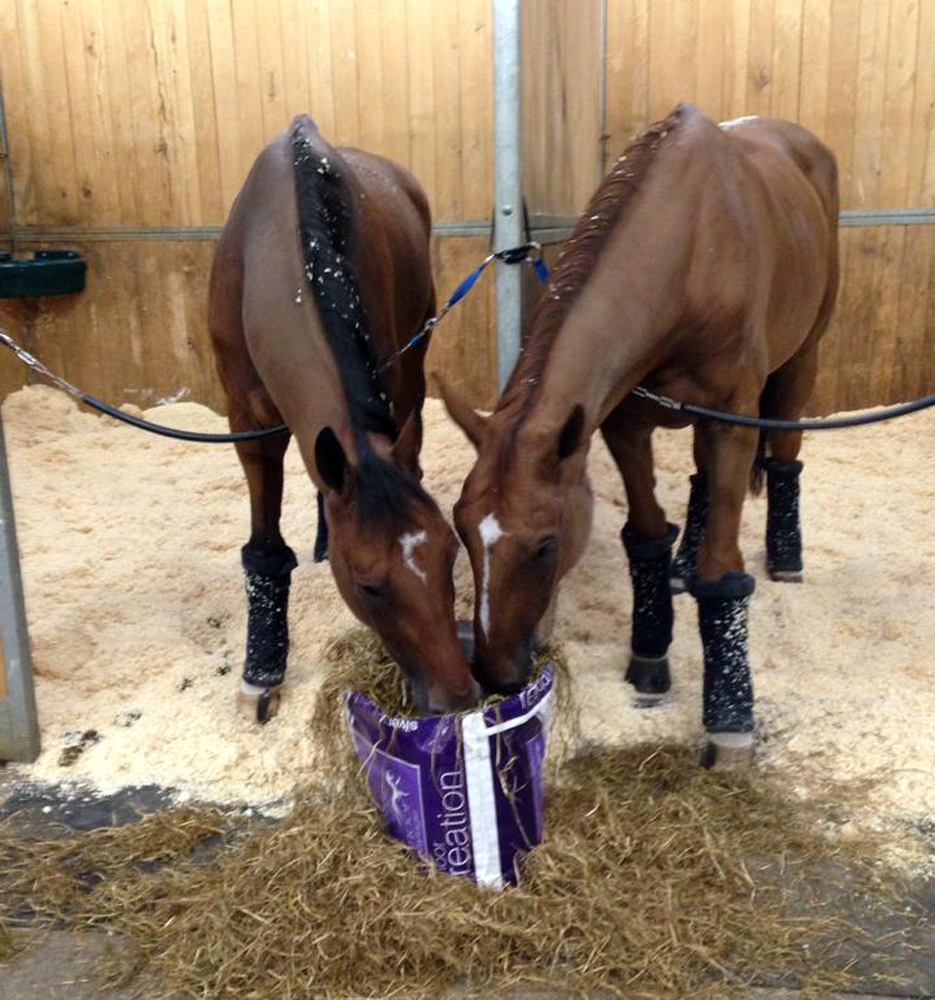 Sanctos doesn't mind doing a little posing for marketing for sponsors. He even shares.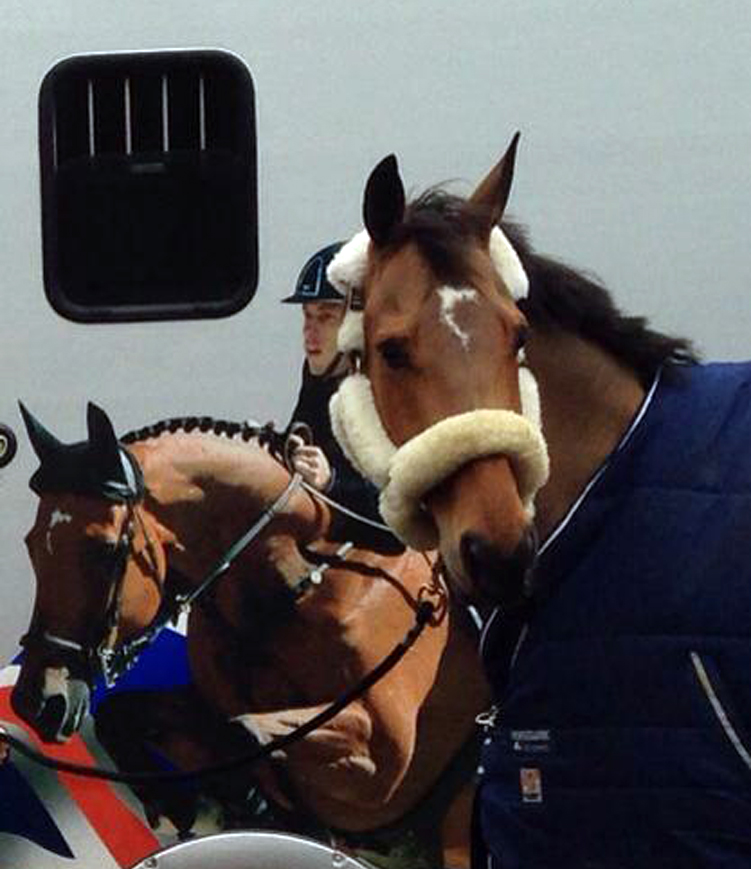 Sanctos gets to ride in a lorry with his own image on it. Now, that's famous.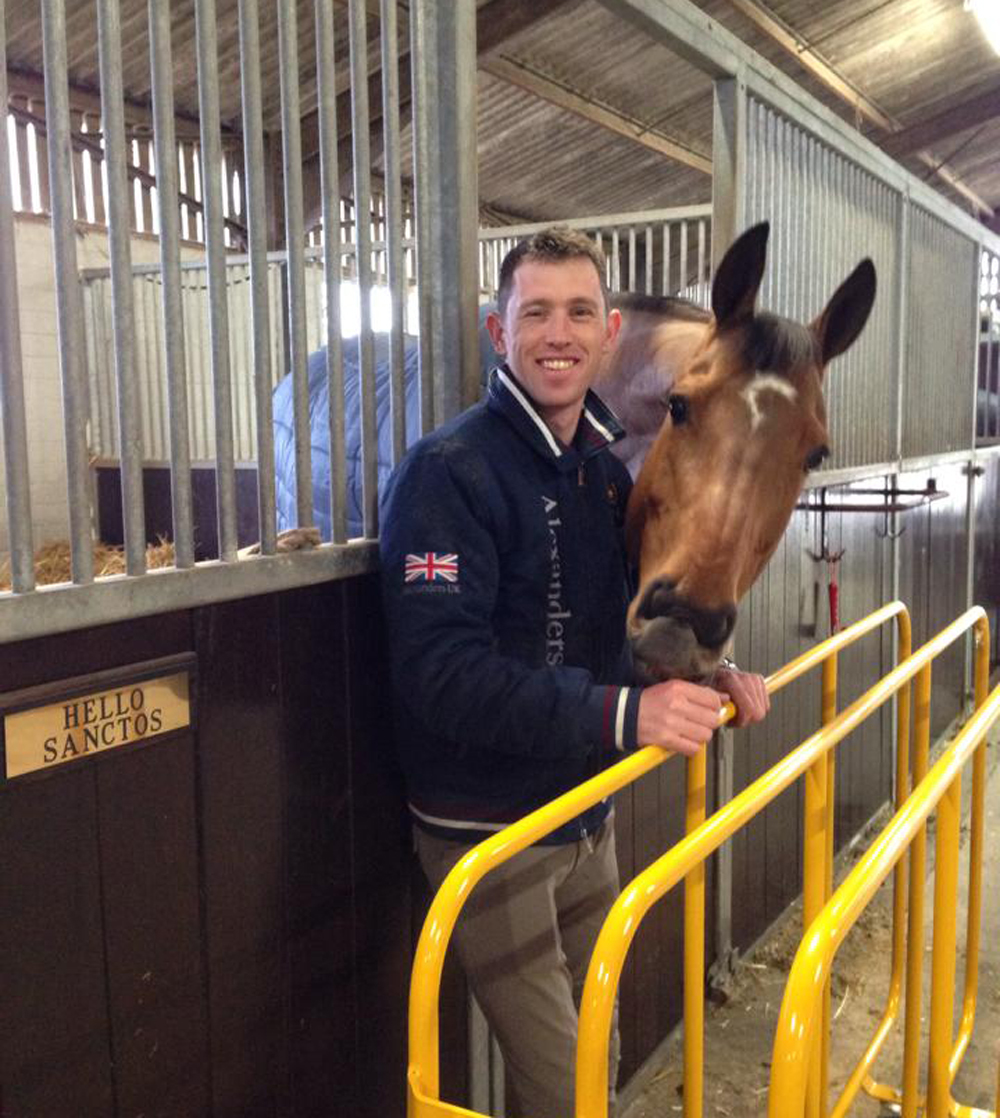 Sanctos and Scott Brash in Brash's new stables in West Sussex, England.