Kristin Hardin is a fixture on the West Coast circuit, making waves with her winning streaks, her decorative tack, and her flying ponytail. In the past few years, Hardin and her longtime partner Bert made a name for themselves as a pair, claiming victory in nine grand prix classes over the course of the 2014 and 2015 seasons.
And although Bert firmly remains Hardin's "heart horse," another one of Hardin's mounts is rising as her next star. Firestone S (Querlybet Hero—Chloe-S, Goodtimes), an 11-year-old Dutch Warmblood gelding, came to Hardin in May 2014.
"He was imported from Europe, and [France-based U.S show jumper] Alice Debany had him as a young horse so I knew he had a really good beginning," Hardin said. "He's a grandson of Baloubet du Rouet, but I had no idea what I was getting."
Firestone's former owner, Nicole Teague, was referred to Hardin through a friend in Canada. And after a year in Hardin's barn, Firestone began to find his winning ways, with his first major grand prix win in the $40,000 Equine Insurance Grand Prix at the HMI Equestrian Classic in July 2015. Recently, Nicolette Hirt has bought Firestone S.
This year looks to be the horse's breakout season with consistent, top placings in grand prix classes that include a win in a $25,000 SmartPak Grand Prix at HITS Thermal and seventh place in the AIG $1 Million Grand Prix (Calif.).
On the road for the majority of the year at competitions, Firestone has continued to build his confidence and momentum, while Hardin has seemingly mastered the art of keeping her grand prix mount happy on the road.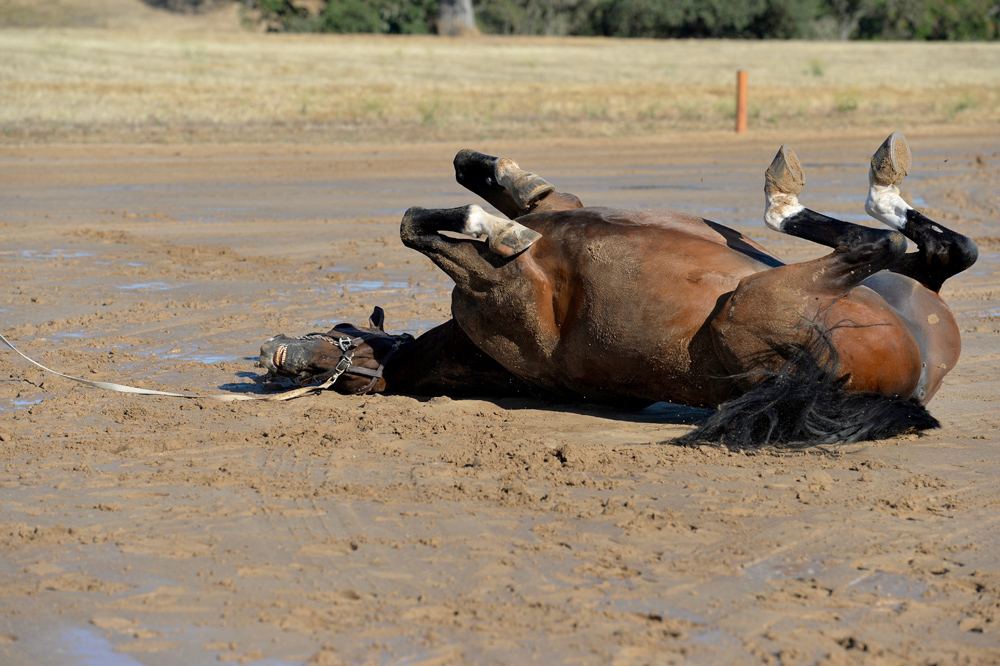 Firestone is definitely allowed to get dirty!
"Part of being a great jumper is for the horses to be confident with themselves," said Hardin. "They can't get in trouble if they crack their backs or have personality, so I try to let them [be themselves] as long as they're safe and as happy as they want to be."
Here's what you need to know about Firestone S:
Hardin knew he was a character from the moment she met him.

"He was bandaged for the haul, and after he was unloaded and in the stall, in two minutes, he had ripped [the bandaging] all off and pieces of bandage were hanging out his mouth," Hardin said. "So I knew he had a lot of personality."

He's a lot to manage and a lot to lead. He likes to play and to rear, but he's much quieter to ride than Hardin was expecting when she first saw him.

"He's not trying to be bad; he's just a giant big kid," said Hardin. "I really have great grooms."

While at shows, Hardin makes sure to let Firestone get out and express himself. Here, Gerry Campos is holding onto him as he gets playful.
Firestone is allowed to express himself in Hardin's program, which includes going out to roll and play with Bert in lunging areas on showgrounds.

"The two of them go out together, roll together, play as much as possible, bite each other, scratch each other," said Hardin.

"He's developed his personality now and carries it with him," she added about Firestone. "It makes him a better athlete. I try to let the horses have as much character as they can. I don't think he was allowed to do that before, but now he can express himself jumping, as well."

At home he lives in a big paddock with extremely high fences because he jumps out of anything at a blink of an eye.

"It's like elephant fencing or giraffe fencing, 12- or 14-feet high," Hardin said. "It's so he can have a big paddock."

He's best friends with Bert. They always ship together, go out and roll in the mornings together, and are next to each other at horse shows. At home, they can see each other, but they can't touch each other.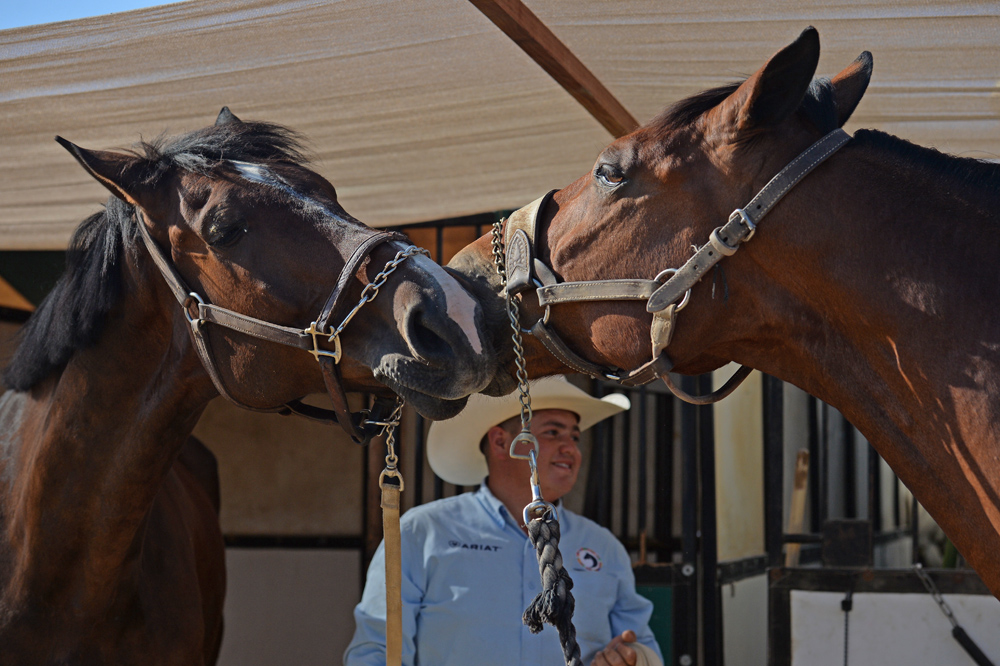 Firestone (left) and Bert say hello as Gerry Campos and Kristin Hardin get ready to take them out to play.
Firestone doesn't really jump at home and goes on the Eurociser twice a day. Hardin also hacks him a little bit at home, but he's not one for trail riding.

"Trail riding him wouldn't be very safe, but he lives outside at home and moves around a lot," Hardin explained.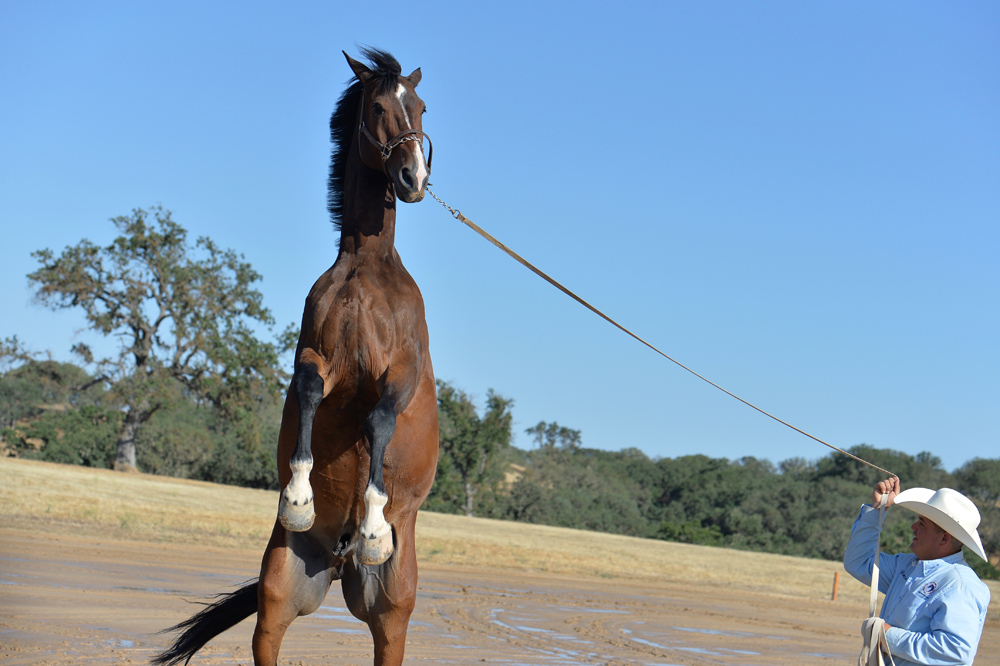 At horse shows, on the days he's not showing, he goes out for a long trot.

"I'm not into high pressure flat work," said Hardin. "[Flatting and hacking] is more to just relax."

He's very friendly, extremely intelligent, very busy, and very mouthy—not to be mean but to be playful, like a giant dog, according to Hardin.
Firestone eats Platinum Performance's Equine Bar two times per day. He also eats alfalfa and oat hay and gets a bran mash every night.

"I monitor how much they drink because once they eat a bar, they tend to go drink water," Hardin said.

"It's a good way to monitor them. Firestone really loves the bars so I can tell if he doesn't feel well—if he doesn't come aggressively to take the bar. It's a good behavioral check."

Hardin rides Firestone in a Western bit, a correction bit that her husband used for roping. Her husband, Cole, is also the farrier and the welder.

"Sometimes, I hack Firestone in a hackamore, but he really likes that bit," Hardin said. "We've had to re-weld it and have added copper to it. He really likes the bit, and we haven't been able to find a new version of it so we keep repairing it."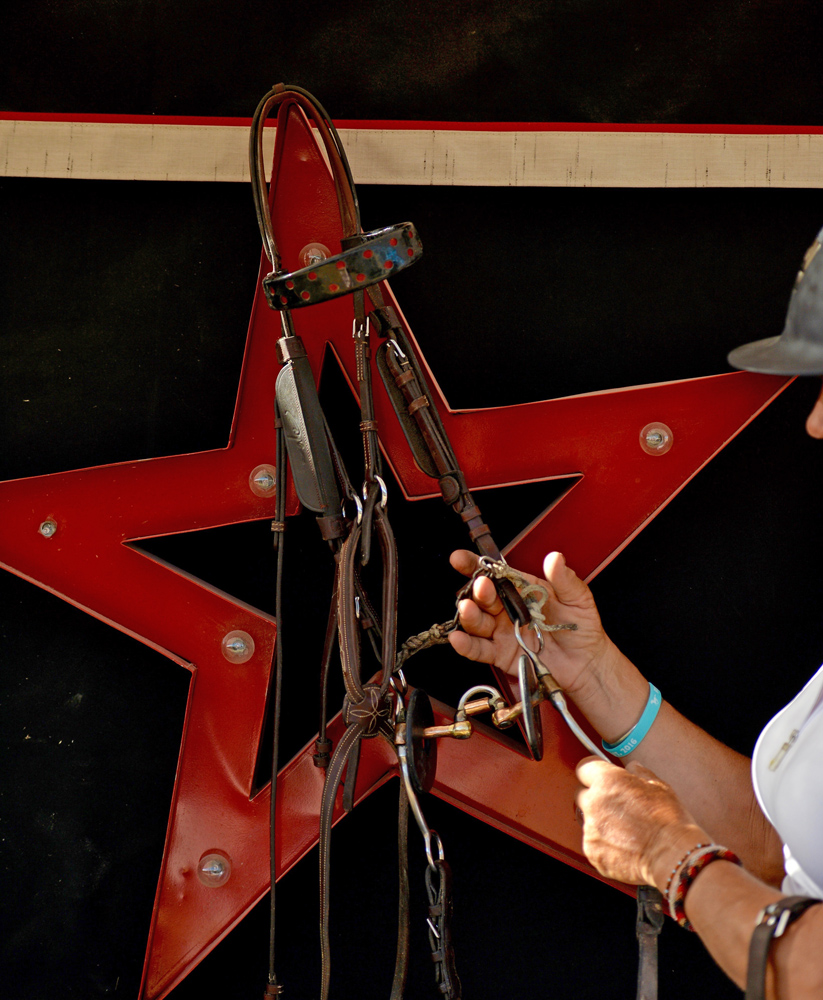 Firestone's bridle is pieced together from various leather parts that Hardin has collected along the way, with a browband made by Freedman's, Martha Stewart's choice for harnesses and tack for her Friesians.
He wears elastic wraps when he jumps. Otherwise, he doesn't wear any kind of bandages at night. And he's rarely ever put in a blanket.
"He gets no maintenance at all," said Hardin. "I could be superstitious, but the more you treat them like they're fragile, the more fragile they become."
Firestone's biggest quirk is bucking when he's jumped a clean round, which prompts Hardin to choose to dismount pretty quickly. She also prefers to get a leg up onto him inside the ring.

"My groom meets him with a platinum bar at the in-gate and when I get off," Hardin said. "[Mounting inside the ring] is by the permission of the judge. But according to the rules, anything before the whistle isn't judged. So it's perfectly legal with permission."
Hardin sees the potential in Firestone to be a championship horse. But she's also not one to think too far ahead.

"I take everything one day at a time because we always have to see how they're doing before you have any plans," Hardin said. "We'll target some bigger classes here and there. It's still only his second year doing grand prix classes so he's still pretty green. I want to keep his confidence up and not get greedy.

"He has it in him to be a championship horse. He's super sound, super good minded, and he tries 100 percent every time he goes into the ring. He's so willing and has huge physical ability—I don't think I've ever felt him to be scoped out anywhere. He's got all the ability in the world. It's just about mileage with him. Every time he goes into the ring, I make sure he has a good experience. Ultimately, he'll be able to jump 1.60-meter courses like nothing when he gets the routine down."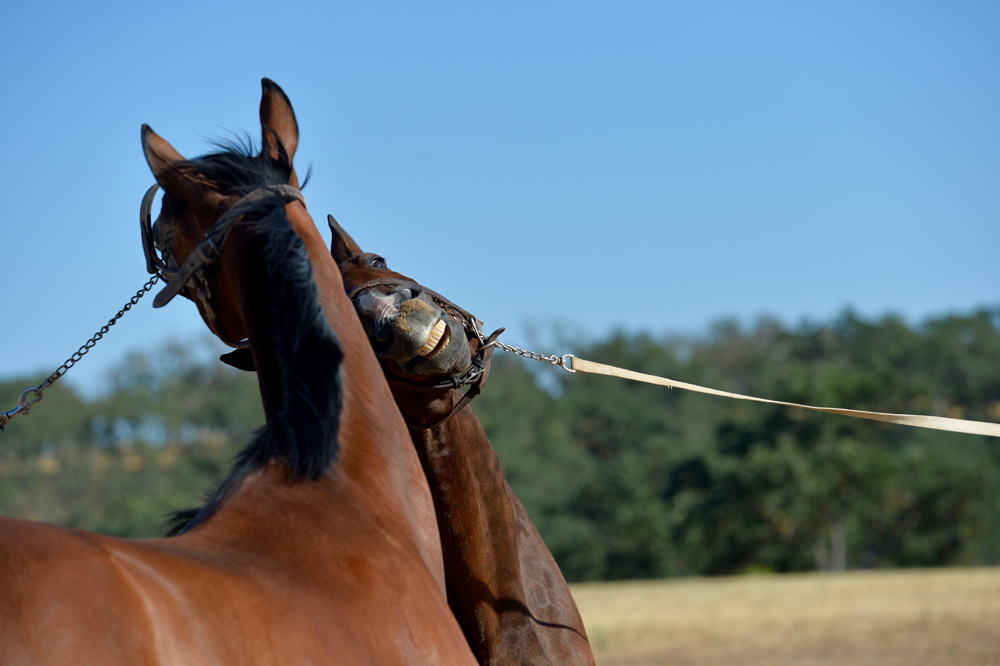 Firestone and Bert at play.