The name suits the mare, because Fine Lady 5 is in fine form.
In 2016 "Lady" carried Canadian team veteran Eric Lamaze to the individual bronze medal at the Rio de Janeiro Olympic Games. The pair followed up their medal finish with triumph in the $320,926 Rolex IJRC Top Ten Final (Switzerland) in December. In 2017 the 14-year-old mare has already notched her first big win of the year, taking the top check in the $130,000 Adequan Grand Prix at the Winter Equestrian Festival (Fla.).
Now Lamaze and Lady are gearing up for the World Cup qualifier at the Palm Beach Masters (Fla.) on Feb. 2-5.
Fine Lady's groom, Bo Vaanholt, noted that when owners Artisan Farms and Torrey Pines Stables bought her in 2014 for Lamaze to ride,Lamaze "thought she would just be a speed horse. He never thought she would be doing everything she's doing now." Lady, a German-bred (Forsyth FRH—Dorina, Drosselklang II), was developed to the 1.50-meter level by German riders Andre Stude and Holger Wulschner and Lamaze took over the reins in May 2014.
We went to Lamaze's Torrey Pines Stables southern base in Wellington, Fla., to go behind the stall door with Fine Lady V:
Lady's day begins with breakfast at 7 a.m., but she doesn't usually finish it."She's not much for breakfast; she'll start it but then halfway she's done, and she'll start eating her hay," Vaanholt said.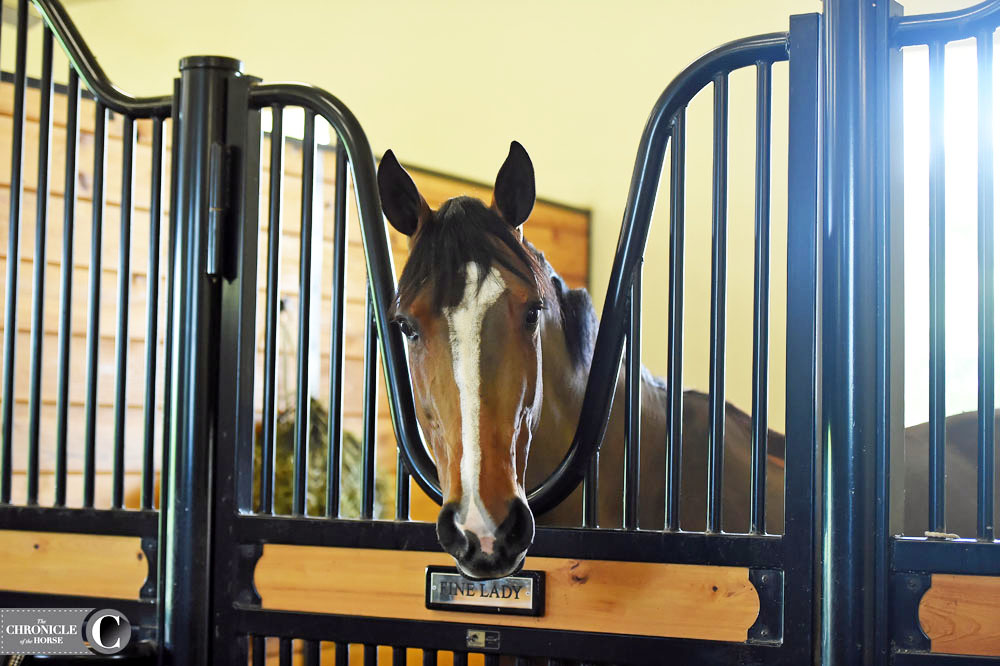 After grain Lady goes out on the hot walker for a morning spin. "When she comes back in from the walker she'll usually finish [her breakfast]."Next on Lady's schedule is usually a hack with Lamaze.  "He usually rides her a lot himself—he really likes her," Vaanholt said.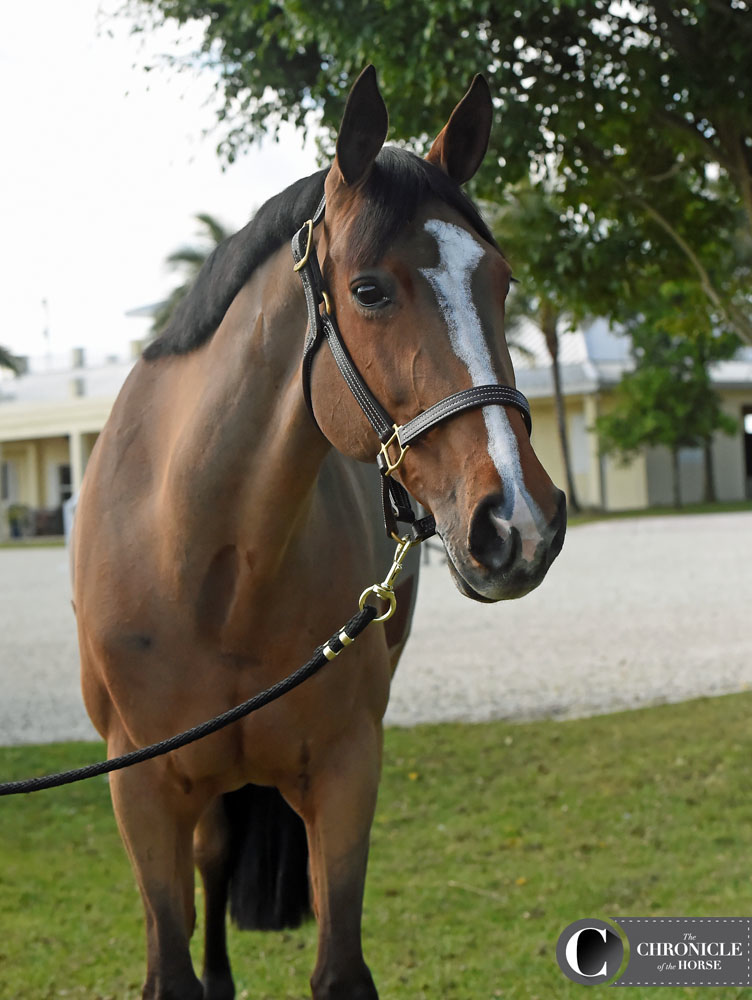 The Lady is a bit of a delicate flower when it comes to food in general."She's a really picky eater, so we make sure she has something to eat all day long," Vaanholt said. "She's one that you really have to keep an eye on, because if she's stressed she'll stop eating, and she's already not a big eater to start with so if she gets stressed she'll eat even less. You kind of know if she's eating well at a show she's feeling good."
And while Lady keeps herself quite clean, she likes to trash her stalls."That's why her hay is in the net, because she'll spread it all over and then she won't eat it," Vaanholt said.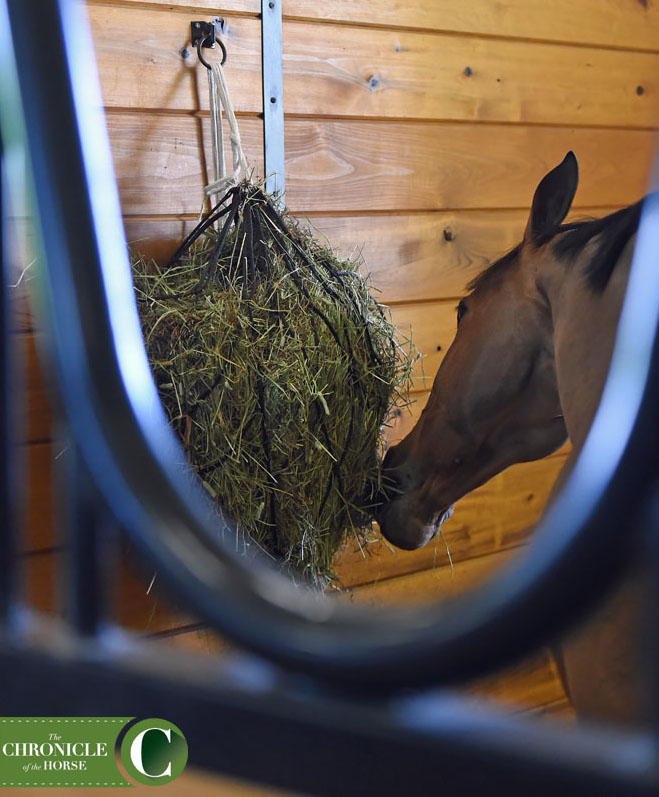 The inside may be messy, but Lady is all about presentation—she keeps the front of her stall neat and tidy. "At the shows she'll have her door open and she doesn't touch anything or pull anything off her stall," Vaanholt said. "With blankets and stuff she's perfect. She would never destroy anything or touch anything."
You would think a Fine Lady would need a lot of beauty sleep, but not this mare—or at least not when her people are around. "She doesn't lay down, not very often," Vaanholt said. "It's rare you catch her sleeping."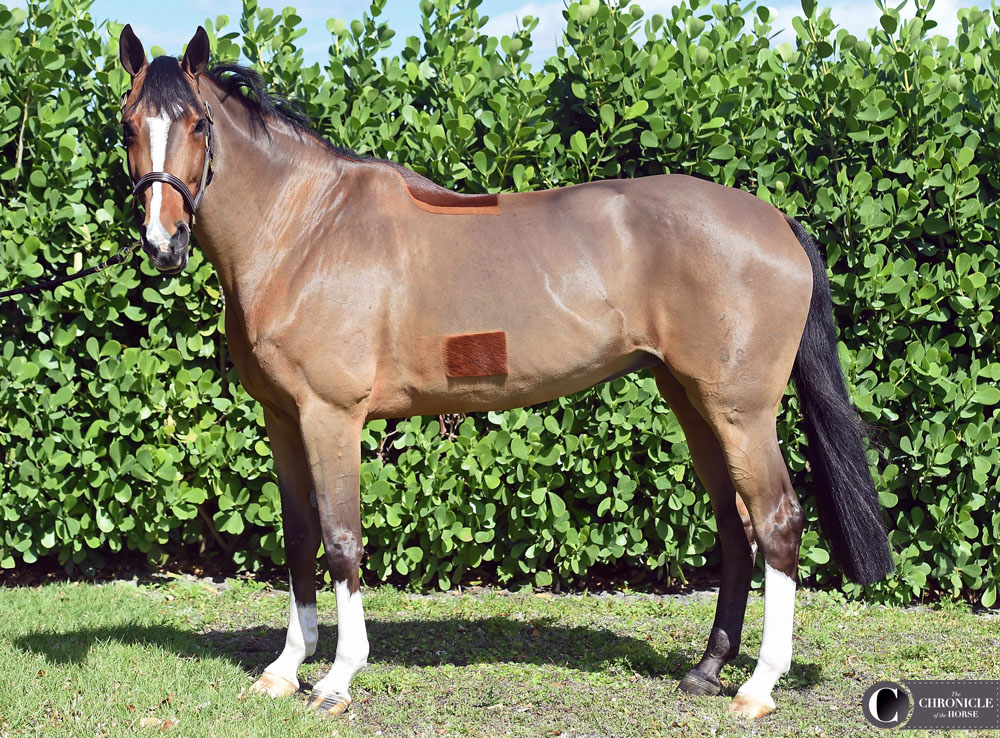 For dessert, Lady treats herself to her two favorite treats."She loves bananas and carrots, those are her favorite things in the world," Vaanholt said. "She loves bananas and carrots any time of the day."
Lady has strong opinions about everything, and that includes where and what grass she eats."When she sees grass, she's like a pony, I just get dragged around," Vaanholt laughed. "She kind of keeps moving until she finds a good spot that she likes. She's very picky."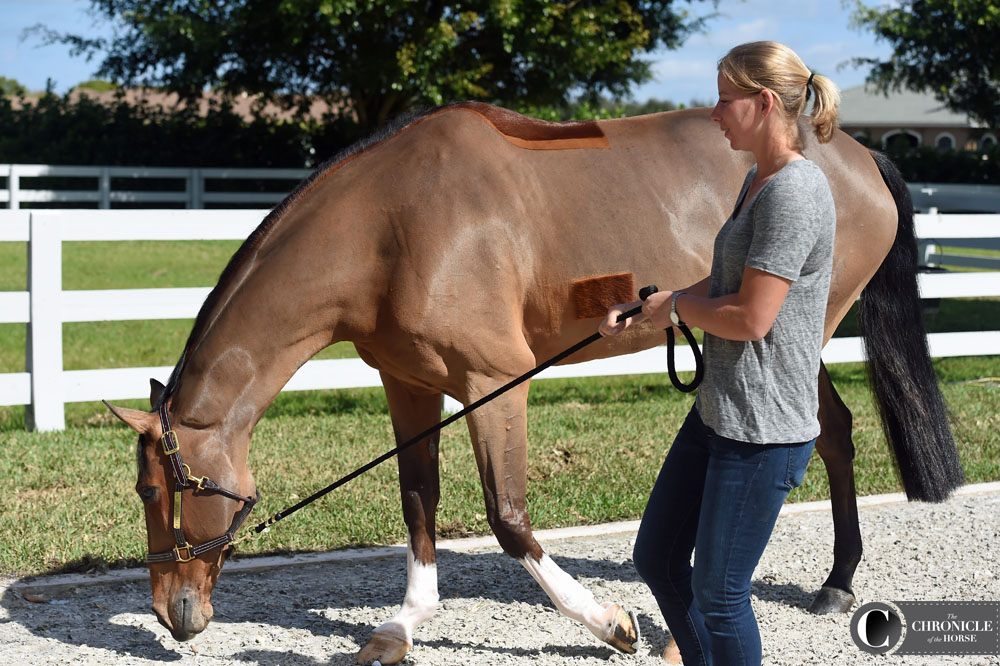 Loud noises set Lady off—it makes for quite a show when she's collecting prizes center ring or when the crowd goes wild for her clean round."Any loud sound she usually freaks out; she goes crazy," Vaanholt said. "She's really cool about a lot of things, like she's not a spooky horse or anything like that, but she really, really hates loud music. So for presentations, or cheering, she gets kind of crazy."

Her objections to strong sonar impressions extend into the barn as well.

"We have to watch out if we're playing music on like the radio, because if it's a little too loud she'll freak out," Vaanholt laughed. "It's funny, she'll be listening to something for like an hour and then she'll just freak out—she jumps around, leaps up and goes completely crazy. We'll just press next and she'll be quiet again. If it has a strong bass she really doesn't like it, and like she doesn't like Michael Jackson."

Even noisy weather events set the Lady off."In our barn in Europe, the roof is quite low, so when it starts raining the sound of the rain will freak her out," Vaanholt said.

But there is one set of tunes Lady can get behind. "When the new Adele album came out we were all fans, so we were playing it all day long, and you could actually play the whole Adele album at full volume and she does not care," Vaanholt said.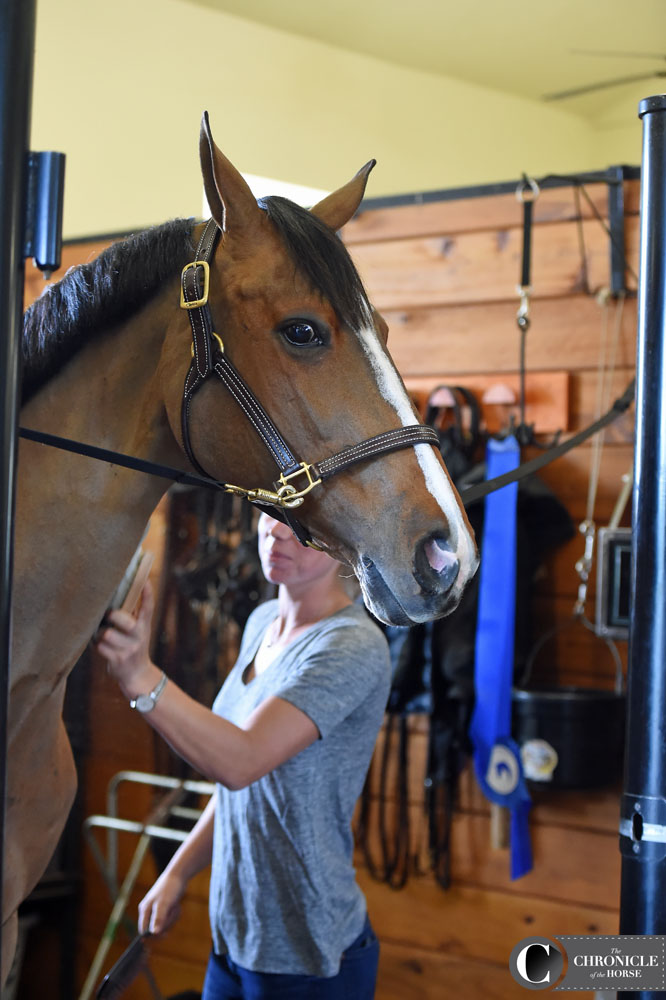 Lady only likes certain music playing in the barn.
Lady likes to dance at inconvenient times. "She's fine when Eric is on her—she jumps around a little bit but she doesn't get really out of control," Vaanholt said. "But then when he gets off, even for us to like take boots off afterwards, it's almost dangerous. She'll just jump around and not pay attention to what she's doing."
The Lady has no interest in making horsey friends, but she does enjoy luring them into biting distance with a friendly face."She'll act really interested in a horse, and be like, 'Hey you're my new friend.' And then after a second her ears go back and she squeals, like, 'Actually no, I don't like you,' " Vaanholt said. "She's the same with people—sometimes people will come and say, 'Oh hi Lady,' and she looks friendly and has her ears up, and then they come to pet her and she just turns her head to the side like, 'No, don't touch me.' "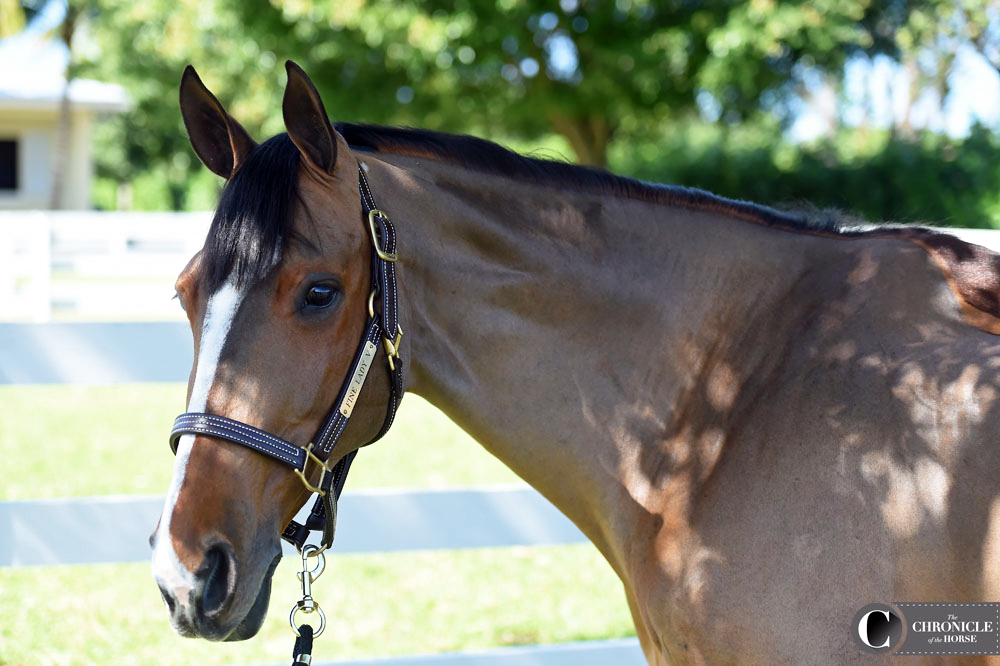 Lady is not a touchy-feel-y mare in general."She's not really one to cuddle a lot or stuff like that," Vaanholt said. "When she wants attention she'll come up to you, but after a couple minutes she will leave and say, 'OK, that's enough.'

"But she likes the attention, like Saturday night [after she won], when we came home she knew she did a good job," Vaanholt said. "She said, 'All the people are here to watch me.' She knows."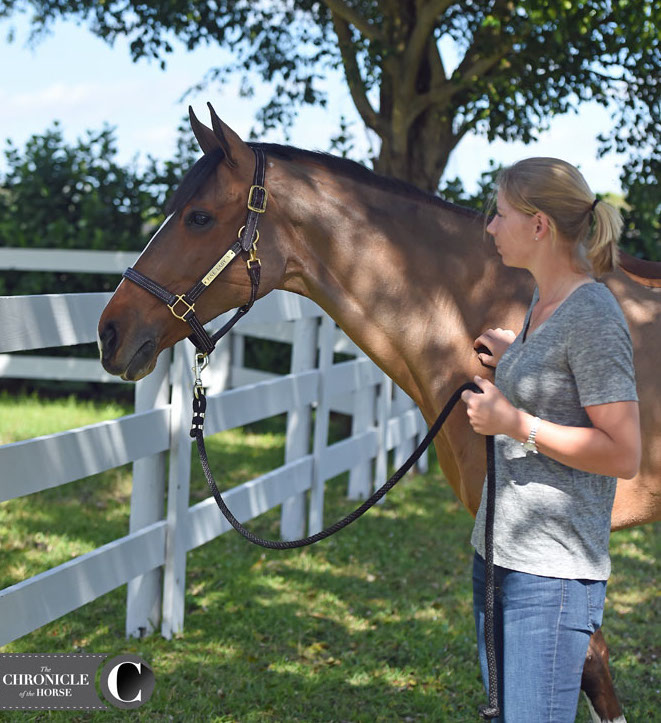 Fine Lady 5 and Bo Vaanholt.