Doktor, Shelly Francis' 12-year-old Oldenburg gelding, may perform like a confident, brave star in the Grand Prix dressage ring, but in reality he's a skittish guy with a bit of a little man's syndrome.
The 16-hand horse (Diamond Hit—Gurena, Renoir I) looks bigger when he goes down centerline, but he was, and remains capable of being, an at-risk runaway. A German emigrant, Doktor was started in his home country. During the process, a dummy was strapped on his back. When the dummy fell off, it spooked him, and he's been nervous ever since.
Francis bought him when he was 6, and, after a year and a half, she had a bad crash on him and broke some ribs. Then he was even more afraid.
"Every time you would move, he would just scoot," she said. "He's never mean. He just gets all lit up and feisty."
The horse pulled a "Runaway Bride" on Francis several times. But, after she and her friend Cherri Reiber did a little old-fashioned western training like gently sacking him out and flapping towels at him, his confidence improved.
"Now, he's very cocky and a little sassy," she said. "He has more confidence in himself, and he's letting his intelligence come out."
Although he is less flighty, he remains feisty—a trait that has served him well. During the 2015 Adequan Global Dressage Festival series in Wellington, Fla., Doktor and Francis scored consistently in the mid-70s, with their top scores in the Grand Prix freestyle.
They also traveled to Europe with a U.S. Equestrian Federation training grant, helping the U.S. team take Nations Cup bronze and placing sixth in the Grand Prix Special in Rotterdam (the Netherlands) and in the top 10 in both the Grand Prix classes at the Aachen CDIO (Germany).
What else didn't you know about Doktor? Find out:
Awards ceremonies mean foam earplugs for Doktor. Francis used to skip the prize-giving astride and, instead, go on foot (or, on occasion, astride a stick horse).

"The clapping used to totally freak him out," she said. "I didn't want him to run off. That running away thing never goes away, but you can keep it at bay a little bit."
Doktor and his groom and friend Carlos Berez.
When he's turned out into the round pen to be long-lined or free longed, he trots around with his head down so low his lip touches the sand.

"He'll trot like that for about 10 or 15 minutes," Francis said. "My vet says it's because he's not lame anywhere, but I think he knows he is just stretching his own neck and back. He stays really, really steady trotting around with his lip skipping in the ground, and his lip gets all white with sand."

He's gentle when accepting his treats. His favorites are Stud Muffins, which his groom, Carlos Berez, dispenses along with lots of carrots and apples. Francis said Berez dotes on the gelding and caters to him.

"I call him mommy's little darling," Francis said of her horse. "He likes attention."

Doktor getting some love and scratches from Berez.
His best friend for traveling is Danilo, Francis' 11-year-old Hanoverian gelding (De Niro—Annabelle, Renoir I). Doktor's girlfriend is the girl next door, Twyla. She's a 4-year-old buckskin mare with zebra stripes down her legs and a dorsal stripe

"He thinks she's cute," Francis said.

He's got a fan club. "All the girls loooove him," Francis said. "They always go, 'He's my favorite. I love Doktor!' He's a girl's horse. Although the guys think he's tough."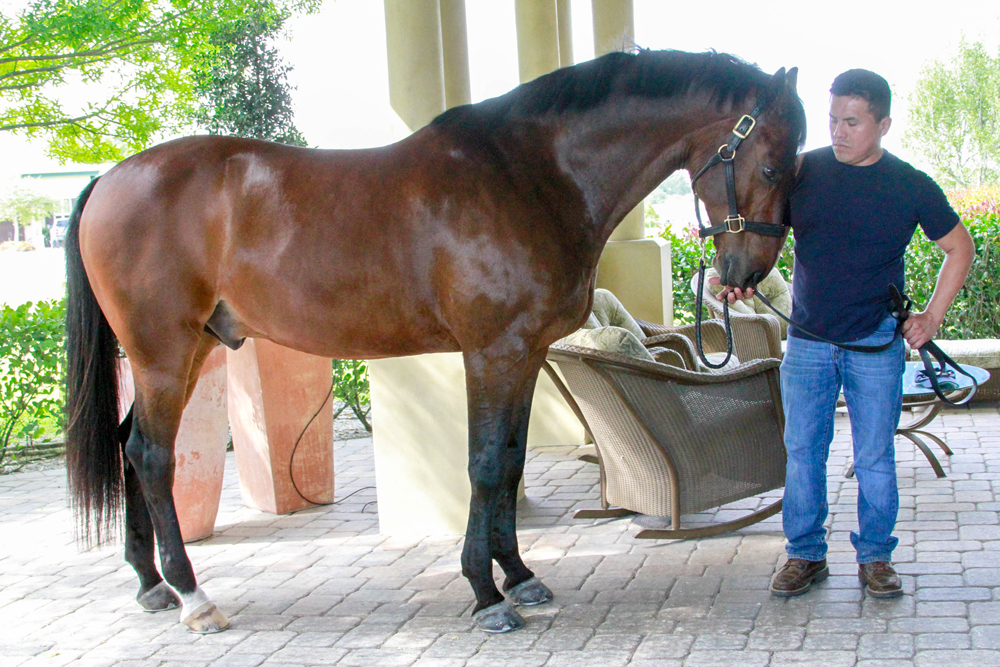 He has a bit of a Napoleon complex. At 16 hands, he's not one of the tallest horses in high-performance dressage, but when he enters the ring he looks way bigger.

"He's just a firm little hunk of beef, ya' know?" Francis said. "He may look chubby, but he's all muscle."

"He might come out calm when he's at home, but once he starts working, he gets very alert and alive," Francis said. "This horse has so much talent, and he gives you so much from this little package. When he comes in the ring he just pumps out and comes off the ground. He's an odd little biscuit."