If you look up the word "winner" in the dictionary, you might just find a photo of Cortes C.
The 13-year-old Belgian Warmblood earned some of the highest honors the sport of show jumping has to offer in 2014, including the Best Horse title at the World Equestrian Games in Normandy, France. With his smooth way of going and signature "cross legged" jumping style, Cortes has perhaps become one of the most popular horses in show jumping.
Longtime groom and Madden's right-hand men, Clark Shipley, says Cortes has come a long way since joining Madden's string in 2011. Here's what you may not know about the 2014 USEF International Horse of the Year:
"He's the friendliest horse you'll ever meet in your life." That's the first thing Shipley will say when describing show jumping's super star."He's all over you at all times, mauling you," Shipley said. "He loves attention. You could pretty much do anything to him. If you walk him around, he mauls every person standing around. He drags you over there. He's always had this personality. He's been friendly from the start."

Cortes 'C' and Clark Shipley
He has his home base at Authentic Stables in Wellington, Fla., or John Madden Sales in Cazenovia, N.Y., completely wired. He knows who's around every corner, and most importantly, where he can find treats. He goes crazy for Lifesavers peppermints and is a frequent visitor to the barn's community "carrot barrel.""If you walk him by the wash stalls, he'll drag you to the carrot barrel, every time he comes in or goes out of the barn," Shipley said, "and when he comes out of the ring, right away he's looking for you. 'Somebody's got to have a treat here, somewhere!'"
He loves his turnout and will jump at the opportunity to get in a good roll in the dirt. Shipley said he enjoys weathering the elements at the Maddens' home base in Cazenovia, N.Y."He likes it there," Shipley said. "Mud, snow, he loves it. All the horses like to be out. We turn them out a lot. Even in Holland—our base in Holland is a partner of John Madden's place—they stay out all day there. They love it."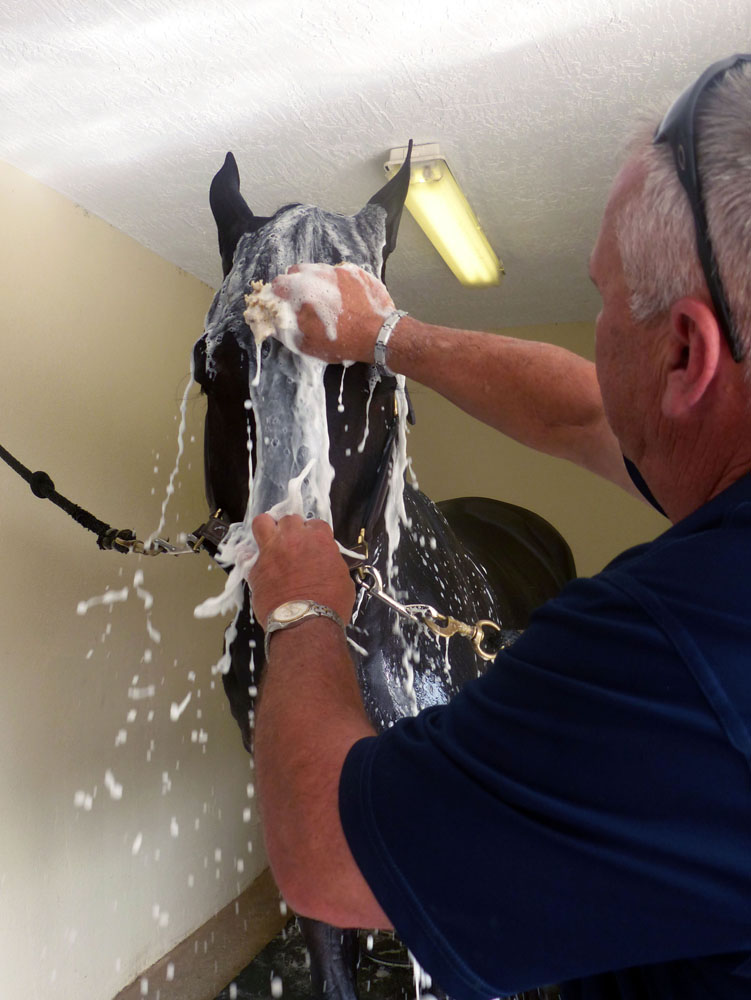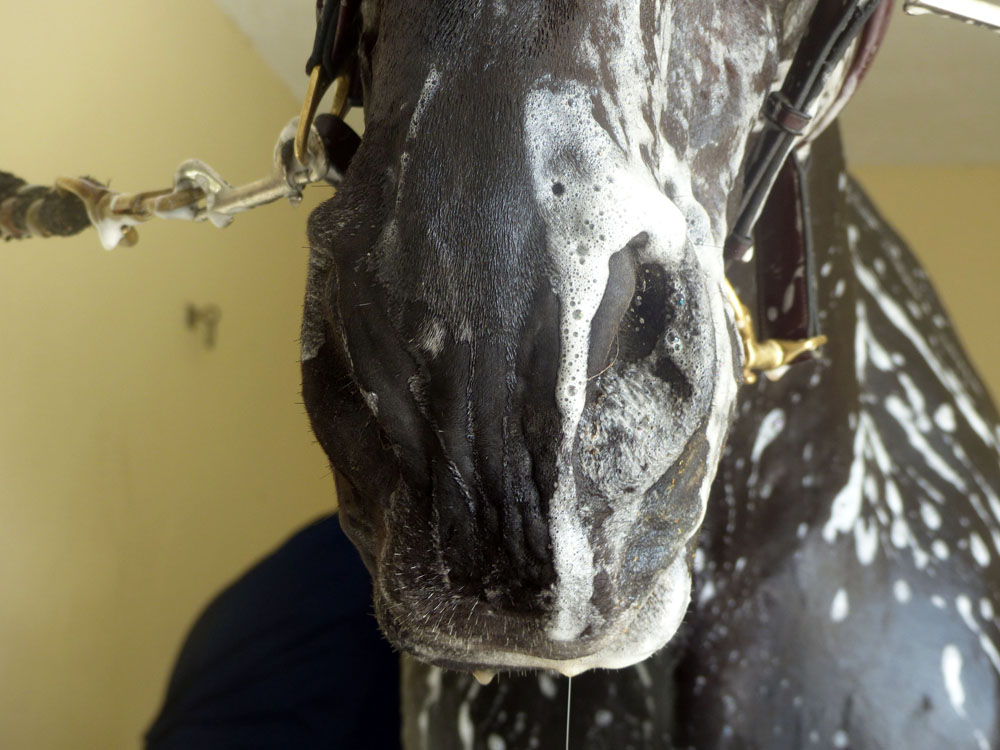 Given his penchant for rolling and gleaming back coat, Cortes is no stranger to a good bath.
He's quite apt to vocalizing his opinions."He's pretty easygoing, until he decides he doesn't like something," Shipley said. "If he doesn't like something, he will let you know, quick. He'll kick at you. He's cow-kicked right over my head!"
He prefers people over his equine counterparts. He'll only tolerate stablemate and fellow USEF International Horse of the Year [in 2013] Simon."Simon can put his head of the stall and it's fine, but anyone else, he attacks," Shipley said. "He's fine around other horses, but he really doesn't need any interaction with them. The worst thing he doesn't like is when horses come up behind him. Sometimes it's treacherous getting him out of the schooling area after a class. Riding around, you're afraid he's going to kick somebody, but normally he's fine."
He's become more than accustomed to the spotlight. It's all in a day's work, really. "He loves the winner's presentations," Shipley said. "At the WEG, the rest of the team's horses had to go out, and they were going crazy, and he was having a nap while I was holding him."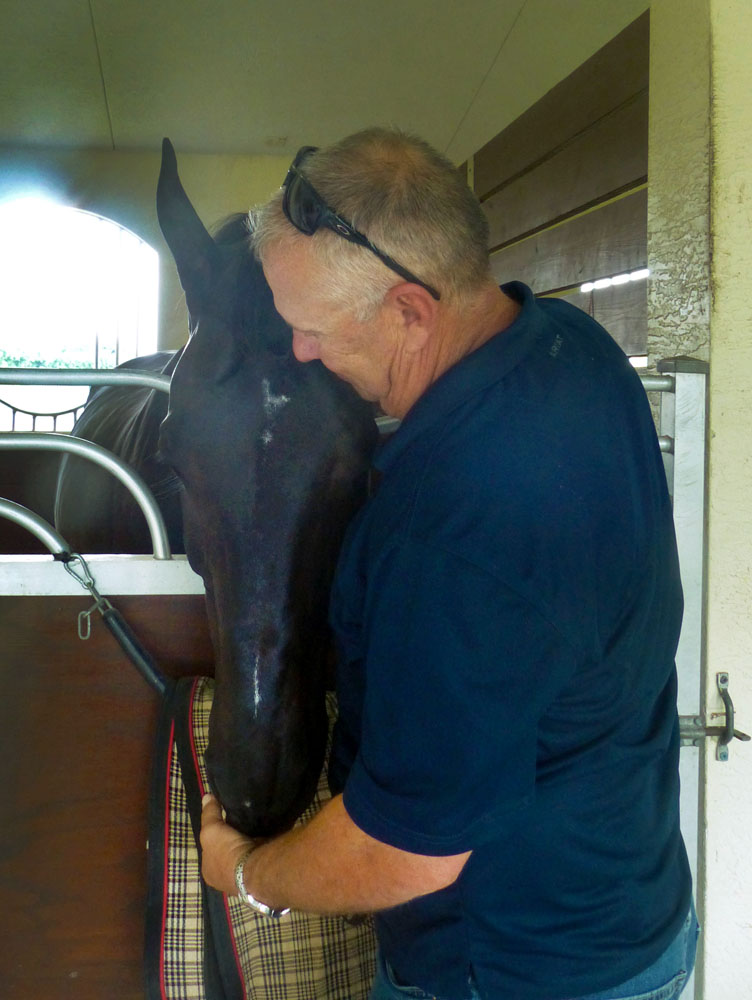 Cortes and Clark Shipley share a quiet moment.
No surprise here: He's massive. However, he's known around the barn as simply, "Tiny.""Clever nicknames, right?" Shipley joked. "Obviously, he's a massive horse. Simon may actually be taller than he is, and people normally don't realize that, just because of the mass of him. When he comes out of the ring, all he wants to do is rub on you with his head, which is the size of some people. It's a wrestling match to keep him off of you."
His length comes in handy, and he's great at stretching. Anyone else remember that reach to clear the final fence and win the $250,000 CP Grand Prix CSI-W at the National Horse Show (Ky.)? Shipley does, and he thought this when the gelding left long:"I hope he makes it!" Shipley recalled. "That was impressive that he stretched and made it. I guess that's the difference between a really good horse and a mediocre horse, stuff like that. It just shows the talent he has. He's pretty unique, with the way he always crosses his legs."
He has a tendency to put his nose where it might not belong."Simon's pretty quiet around the barn, but this one gets in trouble," Shipley said of Cortes. "He's into everything. But he doesn't want any trouble with anything. He doesn't want to be in trouble. He knows when he's in trouble before you even tell him he's in trouble. He'll just hang his head as if to say, 'Oh, sorry.'"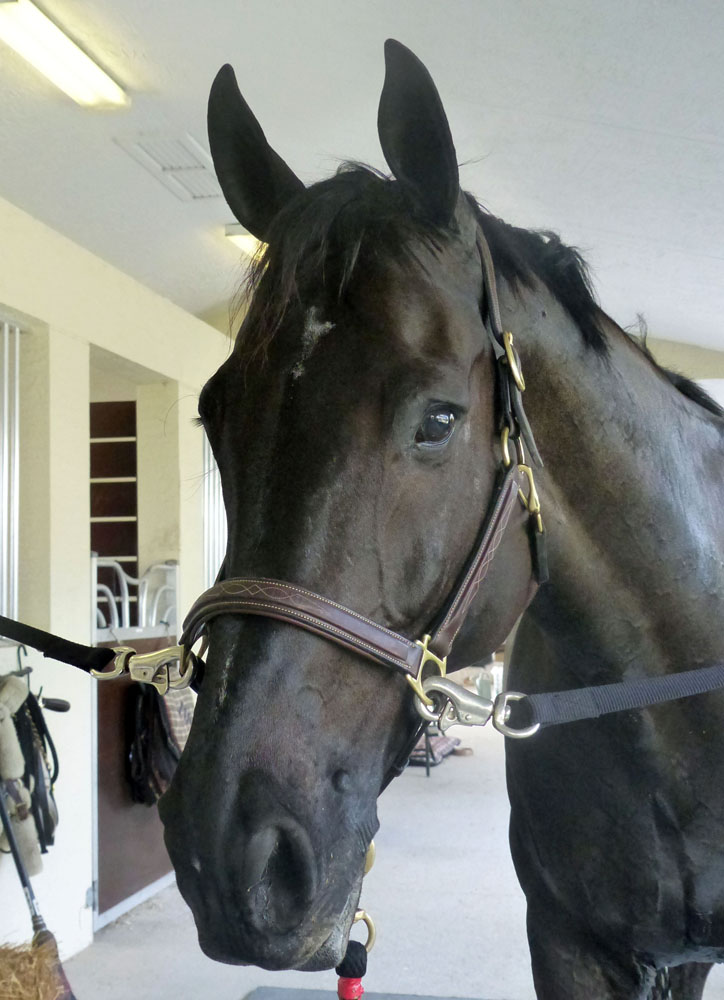 He may be quiet, but he's energetic when it's time to show. He has incredible endurance."He has plenty of energy. He just saves it for when he needs it," Shipley said. "Authentic [Madden's mount for team 2008 Olympic gold and individual bronze as well as team and individual silver at the 2006 WEG] pretty much did the same amount of jumping [as Cortes] when he was in the Final Four at the WEG. Authentic was a hot rod, and he was wiped out. Cortes was just like, 'OK, what's next?' "