By far these are the biggest horses the Chronicle has gone to meet behind stall doors, both in size and fame. Your non-horsey relatives have probably never heard of Beezie Madden or her string of show jumpers, but the Budweiser Clydesdales are a household name.
Be it in their always-popular Super Bowl commercials, appearances in parades or eight-in-hand docking performances, these big beautiful creatures draw plenty of attention acting as the iconic mascots of Anheuser-Busch brewing company.
With the Budweiser Clydesdale's rock star life comes a rock star schedule—the 10 horses comprising each team's hitch (there are three hitches performing across the country) spend 320 days on the road each year, accompanied by a team of grooms dedicated to keeping them looking and driving their best.
While the East Coast Hitch was spending a few days performing at the National Horse Show (Ky.), we went back in the barns to talk to handler Mark Weber about caring for the famed and feathered equine juggernauts.
As a brand ambassador, it's important to always look your best, whether performing for the public or resting in your stall. That's why each Clydesdale on the hitch is outfitted with three red and green sheets and blankets—that's six blankets each!

"We're always rotating one set of sheets through the dry cleaners," Weber said.

Those beautiful white feathers require a lot of maintenance to keep them looking sharp.

"People always ask us how we keep them so white," Weber said. "We wash them every time they come out of their stalls to go work. There's no secret or trick, just a lot of scrubbing."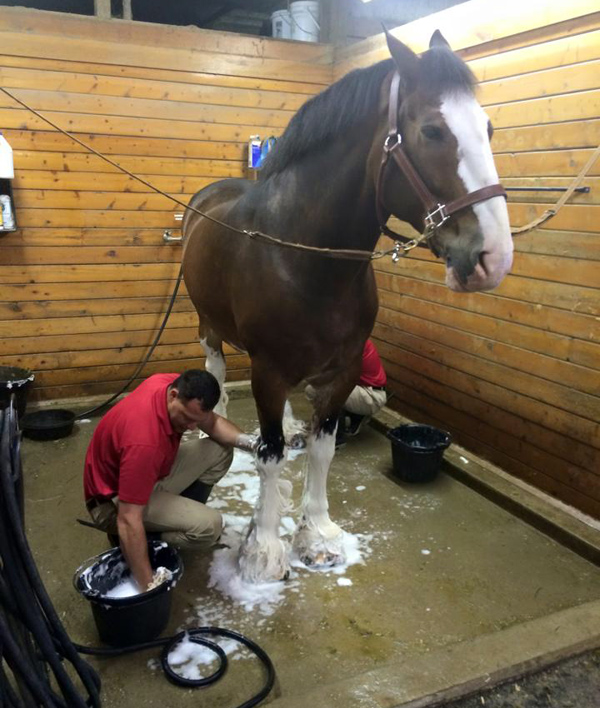 Body clipping is a big part of Weber's work. Each Clyde gets a full body touch-up once a week, as well as ears and whiskers.

"We don't clip their feathers though," Weber clarified. "We want them to have as long of feathers as they can, and when they get long enough they self-pull them out."

Next time you see the hitch, take some extra time to admire the gleaming harness each Clydesdale wears when they perform.

"It takes two of us about 10 hours total to completely clean and polish all the harness," Weber said. "And we do that every time they perform."

When it comes to chowing down, no corners are cut with the Clydesdales. All of the hay the hitch uses throughout the year is provided by the Standlee forage company, and comes from the exact same cutting in the same field in Idaho.

"It's a pretty big field," Weber said with a laugh. "With how much we're on the road, not switching up their hay every time we go somewhere new is really important for their nutrition and their health."

The Clydes also get a helping of Purina grain grain twice a day (Purina sponsors the Clydes), and always have hay in front of them (Weber estimates they go through 50-60 pounds of hay per day, per horse).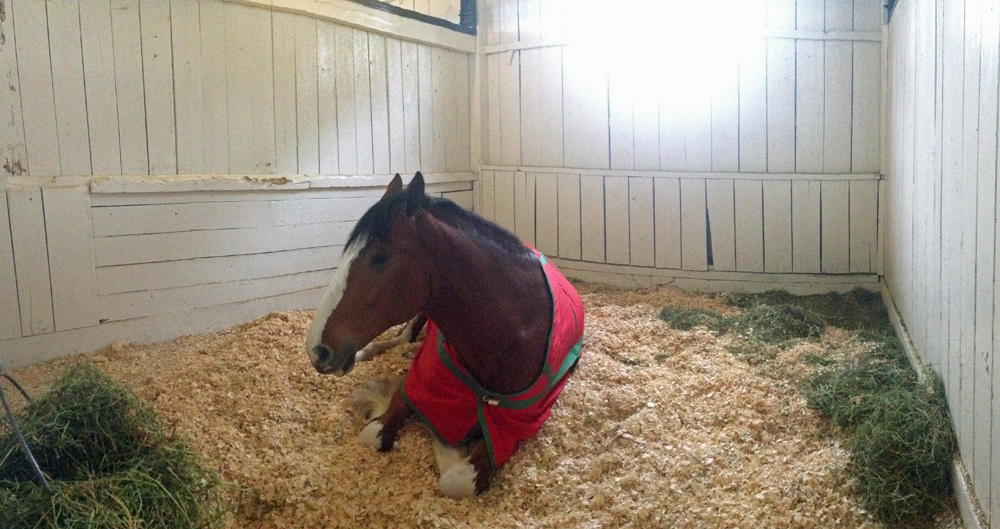 Constant access to hay, a custom blend of shavings and a cozy red blanket are must-haves for every Budweiser Clydesdale's stall.
When it's time to go to sleep after a hard day's work, the Clydesdales aren't bedding down in any old shavings.

"We get a custom blend of pine shavings in different flake sizes from Green Tree," Weber. "We found it gives us the right balance of absorbance and good cushion and support for them."

The maintenance on a Clyde is not unlike the maintenance a top show jumper or hunter gets. A combination of joint injections and chiropractic work are tailored to fit the needs of each individual horse.

"People always say 'They're so spoiled,' but we think they work pretty hard; they're on the road for much of the year, performing and traveling, and we want them to feel their best," Weber said.

Just like a show horse, each Clyde is shod to best fit their particular performance needs, whether that means pads, pours or special shoes. The whole hitch gets special rough metal grips put on the bottom of the shoes to help them keep traction when pulling on pavement or other slick surfaces.

"It's great, because we can get a few resets out of each set of shoes," Weber explained. "They wear down the grips, but leave the shoe intact, so a lot of time we can just add more grips."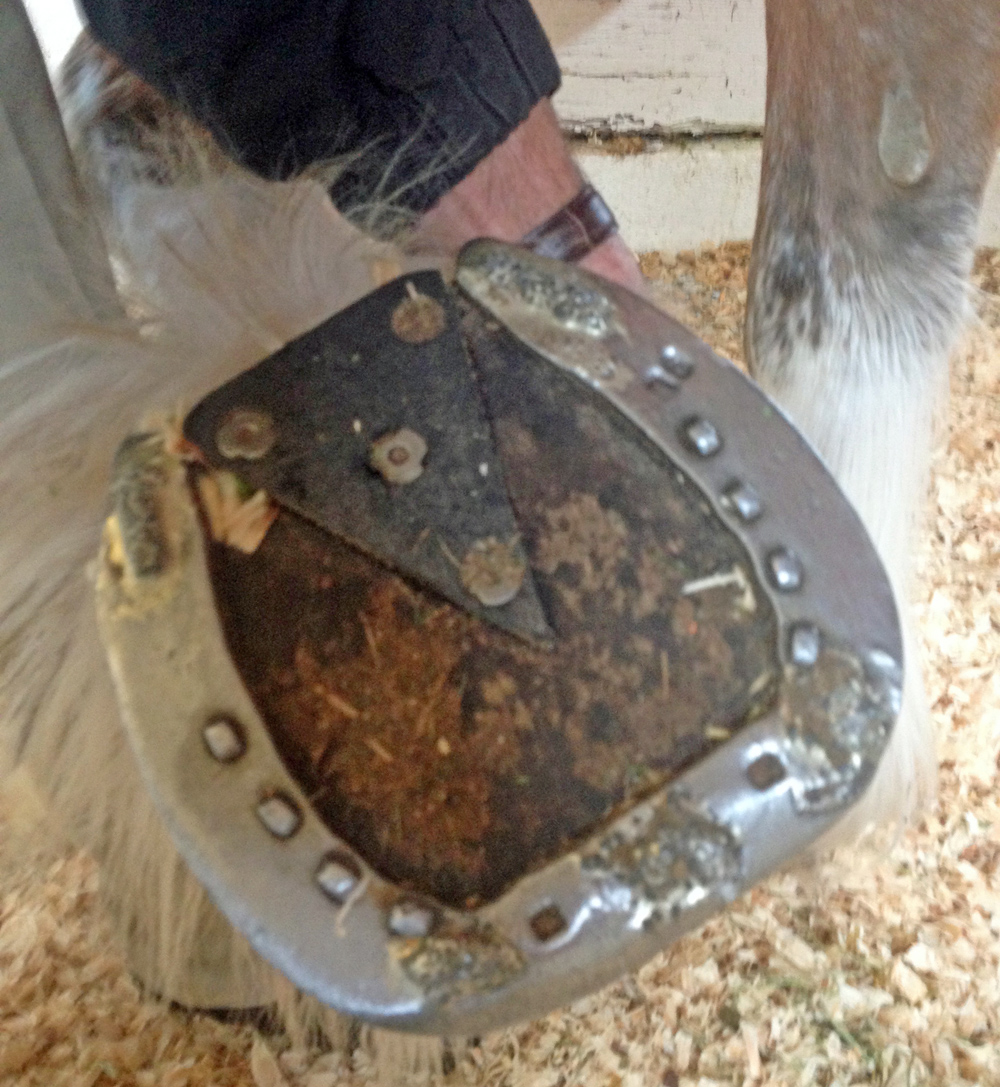 Some serious footwear.
Turnout is not always an option when the Clydesdales are on the road, but they take advantage of it when they can. For example, while at the Kentucky Horse Park for the National Horse Show, the team had access to a few of the large grassy paddocks.

"If we can't get a field, or the place we're performing doesn't really have something like that available, we take them for long hand walks," Weber said. "One of us can walk five of them at a time, we just attach lead rope to halter, lead rope to halter, that way two of us can be walking them while everyone else is cleaning the harness, doing stalls and what not."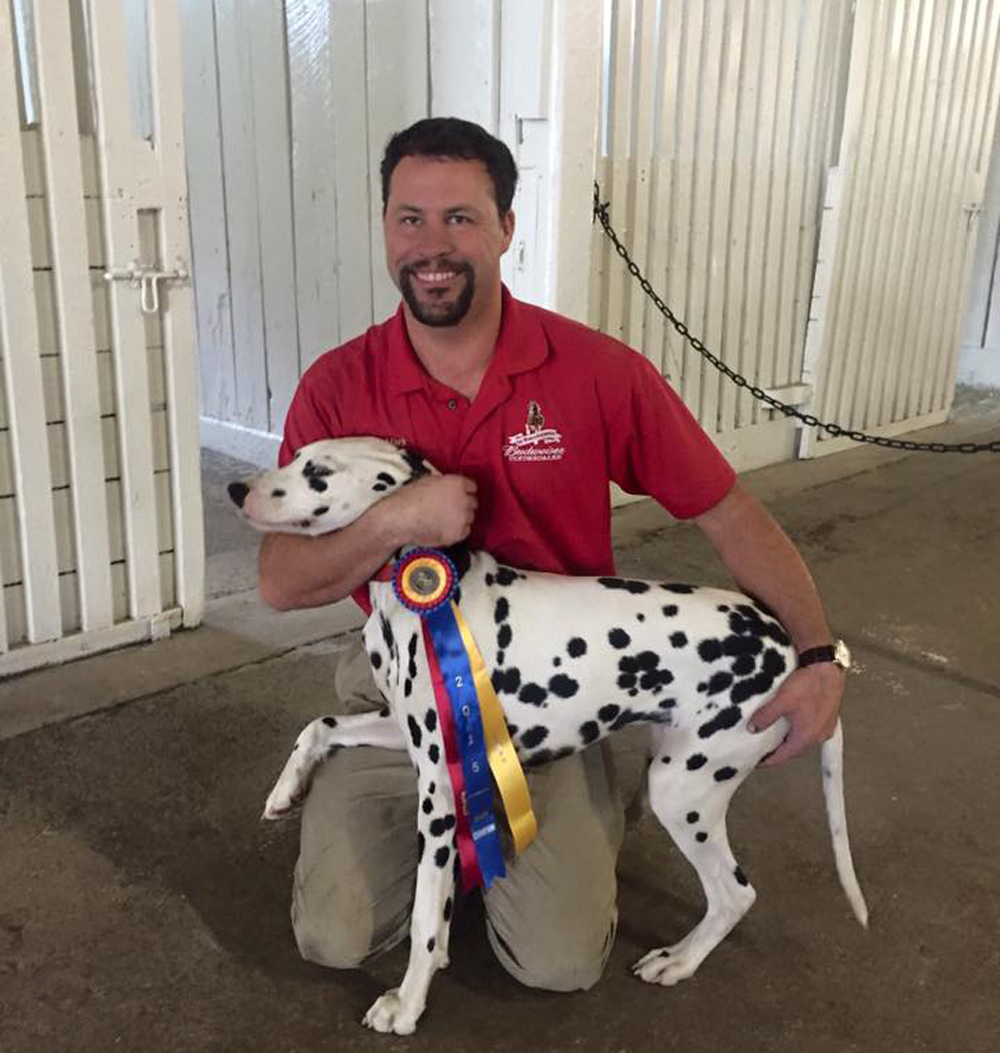 Barley the Dalmatian snagged a champion ribbon while performing with the Clydesdales at the National Horse Show, pictured here with Weber.
A watchful eye is always on the Clydesdales, both human and canine.

"Barley lives in the barn with them all the time, and we have security to make sure no one bothers them at night," Weber explained.

The stalls the hitch uses are also roped off to keep people at a safe distance.

"They're called the gentle giants—they would never intentionally hurt someone, but they're so big if someone were to stick their arm through the stall bars and surprise them they could get hurt," Weber explained. "We also don't feed them treats by hand, because we are out in public so much we don't want them to get mouthy if people are petting them."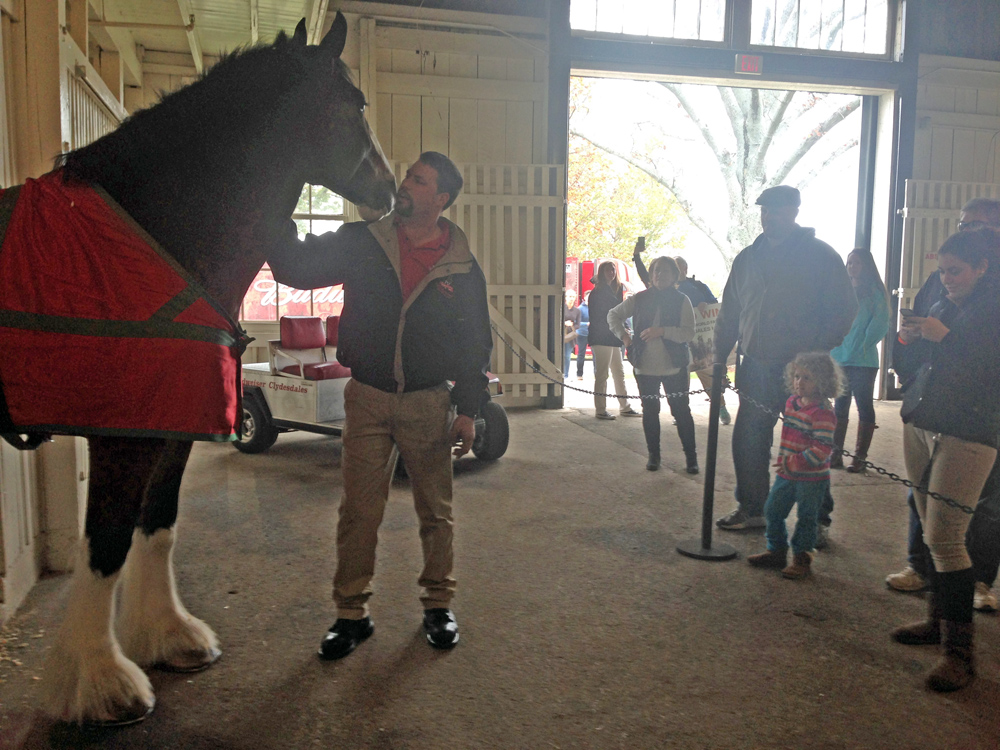 Even though the general public can't walk up to the horses' stalls, the grooms try to make sure everyone gets a chance to get up-close and personal with the Clydesdales.
There might be an occasional exception to the treat rule—Weber can't help but share a snack once in a while with his favorite horse on the hitch, Ivan.

"My other favorite horse, Greg, retired from the hitch last summer, so I had an opening for a new favorite," Weber joked. "Greg used to get blueberry donuts from Dunkin Donuts, but we've found Ivan prefers those croissant-donuts.

"We spend so much time on the road, and over holidays, that sometimes Thanksgiving dinner is sharing a donut with Greg or Ivan at a gas station," Weber said. "That's life on the road."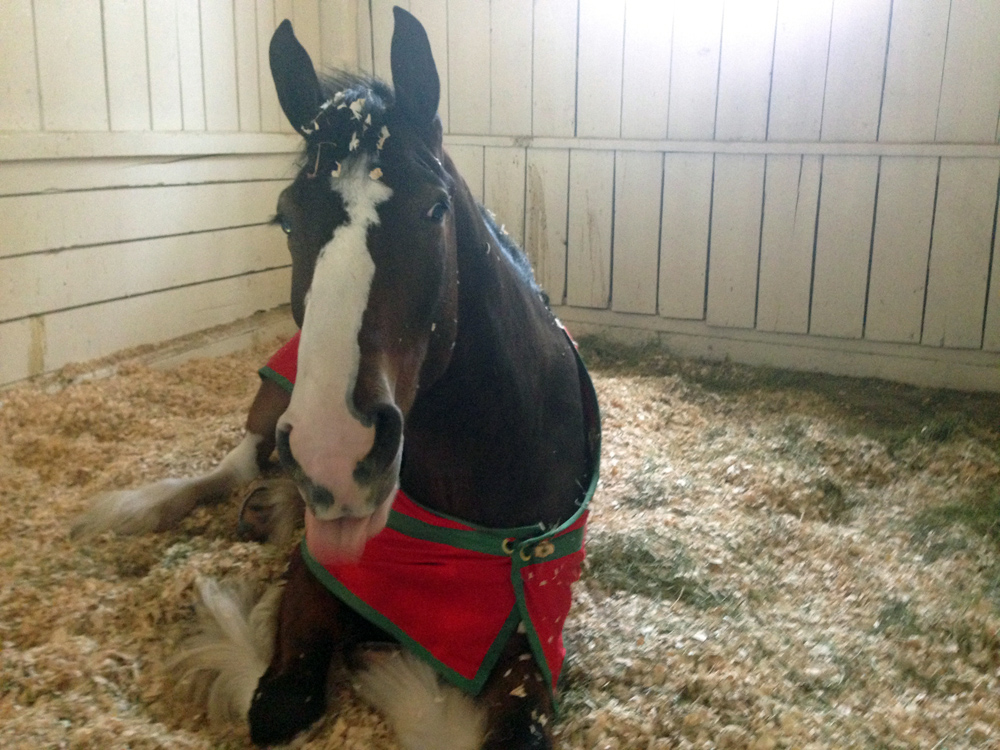 Weber's favorite horse on the hitch is Ivan, pictured here just waking up from a nap in his special shavings.
Ivan worked his way into Weber's heart when he injured his eye, requiring round the clock care from Weber.

"The best we can figure he was admiring his reflection in his water bucket and scraped his eye," Weber said with a laugh. "We have that in common, we both know we're handsome."

Let's not forget about the dog—Barley is ever-present when the horses perform, keeping and eye on their work from his post atop the Studebaker wagon. Always down to earn an extra treat or two, one of Barley's favorite tricks is 'driving' the official Budweiser golf cart.
And finally, the million-dollar question: do those horses ever get a taste of the beer they're representing?

"Unfortunately for the horses, none of them are 21, and Budweiser is best enjoyed responsibly," Weber said.