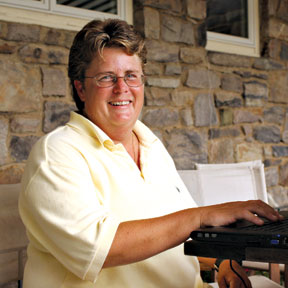 Imagine you have hundreds of event entries spread out on a table in front of you and you have to organize them, assigning each rider ride times that won't ruffle their feathers, making sure the day's schedule will run smoothly, and stabling everyone in stall locations that prevent awkward social encounters back at the barns.
Then, one rider with six horses entered calls and says she has to be finished riding by 3 p.m. Another one
e-mails the day before the event, asking if he can switch divisions. Sound like fun?
Event secretary Mary Coldren said, "Bring it on!"
The unofficial queen of ride-time scheduling, she's the cheerful wizard behind the curtain at many East Coast events, making sure each rider has a workable time schedule and the day goes smoothly.
"I think what Mary brings to the table that has made her so sought-after is her constant calm," said event organizer Johanna Hall Glass. "She deals with emergencies and conflicts in a completely professional way."
Coldren goes out of her way to make sure riders are happy with their entries, and since she's been a fixture at so many events, she's familiar with most of the names and personalities behind the entry forms.
Except for on one memorable occasion.
"I had an entry for a starter horse trials that was on the wait-list for the beginner novice division," Coldren recalled. "The rider called and said that if there was an opening in the novice division, he would take it. Thank goodness I phrased my question, 'Are you sure the horse is ready for it?' Because it turns out that the rider was [Olympic gold medalist] Leslie Law! At that point, he'd just moved here, and he was a new name for me on entry forms!"
Part of Coldren's mastery of ride-time scheduling is her familiarity with the riders.
"You get to know who can do what. I can schedule Sally Cousins on eight horses at a one-day event while someone else can handle only three horses. I know Sally can do a dressage test every 20 minutes and be fine. If I did that to someone with just two horses and no help, it wouldn't work," she said.
"To me, it's like a puzzle. Scheduling makes a lot of people crazy, but I've heard from riders that if they know I'm going to schedule an event, they'll enter more horses because they know I'll make it work. Multiple rides are what make it a challenge. I can schedule an event—figure out which divisions go in which rings, how many are in each division, and the overall schedule—in two or three hours. Then, I'll spend another 10 hours moving all the people with multiple rides around until I get it to work."
Coldren has gotten so good at scheduling that she offers it as a service to events even if she's not their secretary.
Coldren lives in Cochranville, Pa., but spends five months in the winter based in Aiken, S.C. "In order to earn a living in this career, you have to travel," she said.
In addition, she's a U.S. Equestrian Federation licensed technical delegate. Coldren's jobs keep her on the road most weekends of the year.
"It was crazy last spring—there was a six-month period when I was at an event in some capacity for 23 of 26 weekends," Coldren said.
Glass runs three USEA-recognized events each year at her Sporting Days Farm in Aiken, S.C., and depends on Coldren to help them run smoothly.
"In 1992, I ran our first unrecognized horse trials. It was hard because I had to train everybody, but Mary came on board six years ago and it's been easy ever since. It's been nothing but fun," Glass said.
"Between the two of us, we've watched our entries grow, and I have to say that much of it is thanks to Mary. If something requires staying up late to get it done, or making an extra effort, she does it. She'll do whatever needs to get done to accomplish something. And she's very unassuming about it."
It Just Kind Of Happened
When Coldren was growing up, event secretary wasn't the career she dreamed about.

Coldren's mother ran a western lesson program, so she grew up riding western. She entered the pre-vet
program at Penn State University but "after a semester, I decided that I really didn't want to be a vet," she said. Coldren transferred to Harcum College in Bryn Mawr, Pa., and began working toward a breeding and equine business management degree.
"At Harcum, they had a riding program, but you had to pick between the hunter/jumper program and the eventing barn. I, in my infinite wisdom, thought, 'At least the dressage part of eventing does sitting trot with long stirrups. That's closer to western than hunter/jumper.' That's how I got into eventing," Coldren said laughing.
Mary Coldren's 2008 Schedule
Secretary at 11 USEA-recognized events, including the Fair Hill CCI***/CCI** (Md.).
Secretary at four unrecognized
horse trials.
Scheduling ride times for 11 more horse trials.
Technical Delegate at five events.
Stadium jumping judge at three events.
In 2008, Coldren will have scheduled ride times for almost 6,500 rides.
She found her way to the Radnor Hunt Club and worked for Judy Thayer, which led to volunteering for the Radnor Hunt Three-Day Event.
"Judy's barn manager was pregnant and taking some time off, so I took over for her. She never came back to work, and 10 years later, I was still at Radnor," Coldren recalled.
When Thayer left Radnor, Coldren followed her to the Fair Hill International Three-Day in Elkton, Md.
"I was weed-eating jumps and putting flags up, that sort of thing," she said.
"When they decided to do horse trials, they needed a secretary, and I said, 'I could do that.' It wasn't something that I planned to have as a career. I was just doing part-time jobs to pay the bills, bookkeeping and other things. I started with the Fair Hill Horse Trials and then Radnor Pony Club Horse Trials. Then I started doing Surefire [Va.] and Maryland and Sporting Days [S.C.]. It kind of grew on its own. At this point, between working as a technical delegate and secretary, I have no other job. But I definitely work full time!"
Coldren evented herself up to the one-star level, but in 1995, she was diagnosed with multiple sclerosis, which ended her competitive riding career. She occasionally will go for a hack.
"But being a secretary is something I can do whether I have my legs or not," she said.

There's Some Humor Involved
Most of Coldren's job as an event secretary is lots of paperwork. "The volume of paper you have to shuffle
is unbelievable. Even if they're electronic entries, you have to collect Coggins tests and signatures and checks," she said.
This is where her partner Shirley Carpenter is invaluable. When Shirley is not catering one of the competitor parties, she can be found at the computer doing data entry and chasing down missing information.
Coldren's special gift is that she not only does the paperwork so well, but she also has a special flair for personal attention. "The secretary should be there to make it a smooth experience for the competitor. I want people to be comfortable telling me that they have a conflict or that they forgot their boots and desperately need a later dressage time," she said.
She also feels a certain level of responsibility about contributing to the safety of the sport.
"I personally believe that even if it's the night before the event, if a person requests to move down a level, I will always make it happen. If they don't feel comfortable competing at the level they entered, for whatever reason, you need to find a spot for them at the lower level," she said.
"If you say no, they're not going to want to lose that entry fee. They'll go ahead and run at the higher level. And you don't want someone out there who doesn't feel comfortable going out of the start box at that level. I think that comes from my experience as a technical delegate—in the interests of safety, you don't want somebody out there who isn't confident."
Glass believes that Coldren's talent comes from a true love of the sport.
"She has a great attention to detail, and she knows the rules inside and out. She's always helpful and always resourceful—it's that attitude that helps everything," Glass said.
Shuffling stacks of papers has its light-hearted moments as well. Coldren frequently grins as she reads entries. "I have things in a database that carry over from year to year, and there are quite a few horses who get younger every now and then instead of older," she quipped.
"You can learn a lot about a person from an entry form—from the emergency contact person to the last names of the riders and even from the 'stable next to' line. There are times when people will put "stable nowhere near so-and-so," she added with a laugh.

Molly Sorge