Emily Dougherty says turn, and Vivaldi says how sharp. Sometimes, he takes her suggestion a little too seriously.
Two photographers at the Princeton Show Jumping horse show on June 28-July 3 in Skillman, N.J., captured Dougherty and Vivaldi, or "Zander," leaping nearly parallel to a 1.30-meter vertical in a jump-off, showing off an impressive amount of scope, turnability and some serious nerve control on Dougherty's part!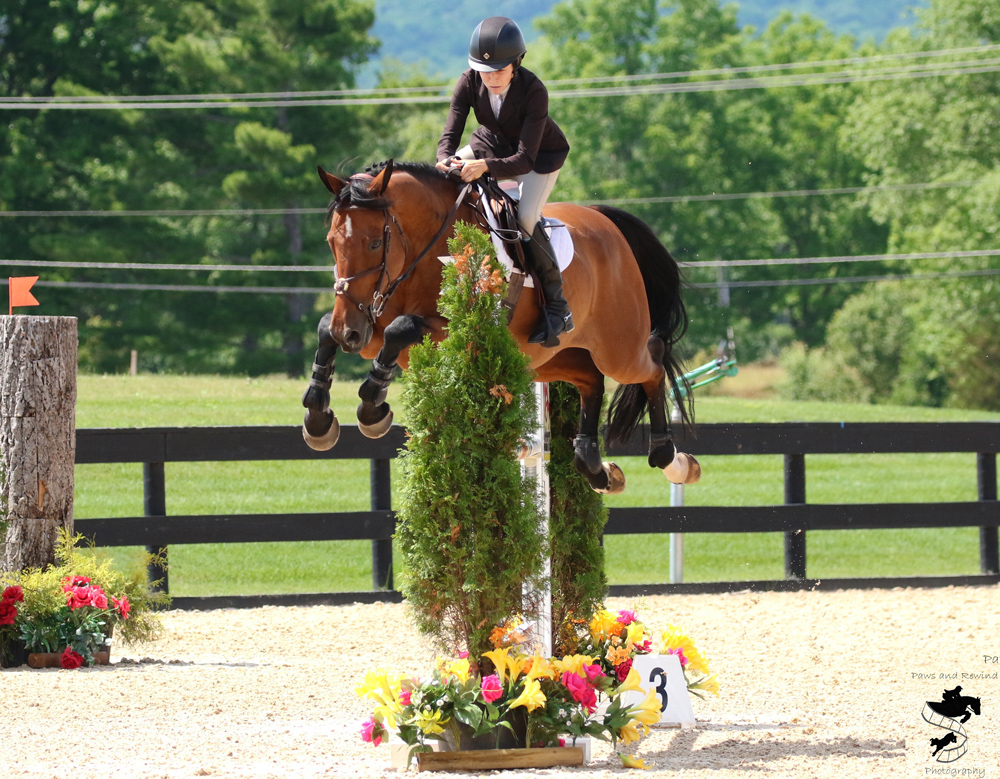 The first view of the slice Dougherty took on the vertical with Vivaldi. Photo by Nicholas Roethke for Paws and Rewind LLC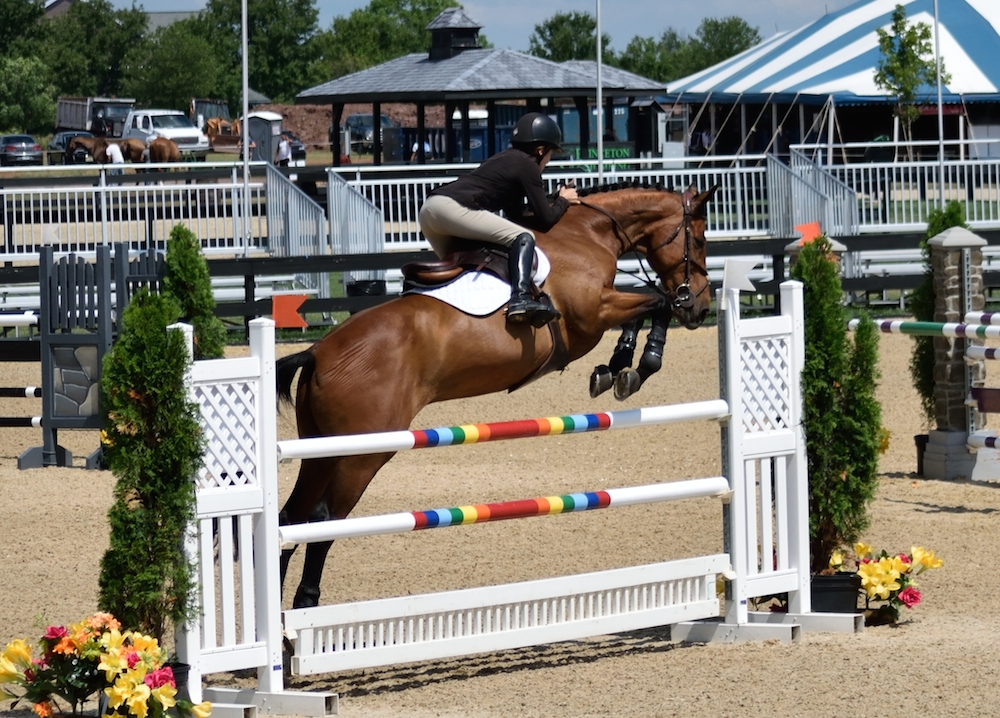 And another view of it. Photo by Chelsea Cusenza
"We came on an angle to that jump, but not nearly that much of one!" Dougherty, 25, said with a laugh.
Dougherty said she has been practicing tight turns with Zander, her 8-year-old Irish Sport Horse, at home in Lansdale, Pa., to help shave seconds off their time in the show ring.
"He's a very scopey and slower moving horse, and he spends a lot of time in the air normally, so we've been working on a lot of serpentine exercises with him," Dougherty said. "He's decided that he loves doing the serpentines, and when he leaves the ground he knows that he's going to turn on landing, and he likes to just turn mid-air."
That's exactly what Zander did in the show ring. Dougherty's friend Chelsea Cusenza and professional photography service Paws And Rewind both captured the impressive feat on camera from different angles.
"I was literally in midair looking at the standard saying, 'I have no idea if this is going to work out,' tucking all my toes in," Dougherty laughed. "The shame of it was we landed, and it rattled me so much that I didn't take advantage of the tighter angle that he put me on. I just cantered a bit and said, 'Well, I guess we can keep going now!' I was kind of convinced we were going to die!
"One of our other friends had gone over to take the video, and that jump happened to be right where we were standing," said Cusenza. "When Emily was doing the jump-off she just came around the corner and sliced it so much more than she did the first time, and the other girl and I just looked at each other and raised our eyebrows and said, 'Whoa!' I showed it to everyone right away—I said, 'I cannot believe this. Look at this photo,' and everyone was just amazed."
Check out the video:
Cusenza posted the photo to her Instagram account, @they_neigh_i_pay, and the photo was so spectacular some thought it might be a fake.
"On Instagram people were like, 'This has to be Photoshopped,' and I said nope, there's a video!" Cusenza said.
All this awe-inspiring media was taken during a 1.30-meter class serving as a warm-up for Dougherty and Zander's debut in the 1.40-meter division, and Dougherty's trainer Evan O'Donnell used it as a good teaching moment for his student.
"The next course we walked for the [1.40-meter welcome stake], and all of the verticals we came to [Evan] emphasized that we might want to stay straight to them," Dougherty said.
Zander and Dougherty have been paired up for five years. The pair first met when Dougherty helped her trainer Kris Moyer break him as a 3-year-old and begin training him.
"Funny story about him, he loves jumping," Dougherty said. "So much so that when he was 5 and went through a temper tantrum phase where he would try to spin out of the ring, the best way to keep him in the ring was to point his eye on another jump, because then he would get excited and want to stay in and do it!"
Dougherty has trained with Moyer and her Legacy Farm in Telford, Pa., for the past decade, with additional help from O'Donnell and his Black River Farm in Ringoes, N.J., in recent months. She hopes Zander will be the horse to help her debut in the biggest jumper classes of her career to date.
"He has literally all the scope in the world. Evan said he's undoubtedly a 1.60-meter horse," Dougherty said. "I had an old horse that was much more of a Thoroughbred-y type so I have to figure out how to trust this one's scope more. I like to keep it a little slower with him, but within the next few years I'd like him to be my move-up horse to all of that stuff, because he's got the best brain in the world."