This photo of McLain Ward giving his sash to Brooke Scalzi after winning the President's Cup CSI-W on Carlos HH at the Washington International Horse Show exploded on the Internet last month, earning more than 13,000 likes and nearly 1,700 shares on the Chronicle's Facebook page to date.
These days many major shows give grand prix riders two sets of ribbons in the awards ceremonies: one to keep, and one to give to a fan. But Washington didn't give away extra rosettes, this year at least. Ward has given away ribbons for years, knowing that he can inspire the next generation with that small gesture.
"The ribbons, for us as riders, mean a little less," said Ward, Brewster, N.Y. "There are a few I keep, but for the most part if I can give them away and give a great memory to a young fan, I'll do that. It's a nice gesture, and I think it's better to them than a T-shirt.
"It's nice to have the fans who genuinely appreciate what you're doing," he continued. "If you can do this well enough that it touches someone watching, that's what sport does. If reaching out like that helps keep someone on the right track or working toward a goal, that's what it's all about."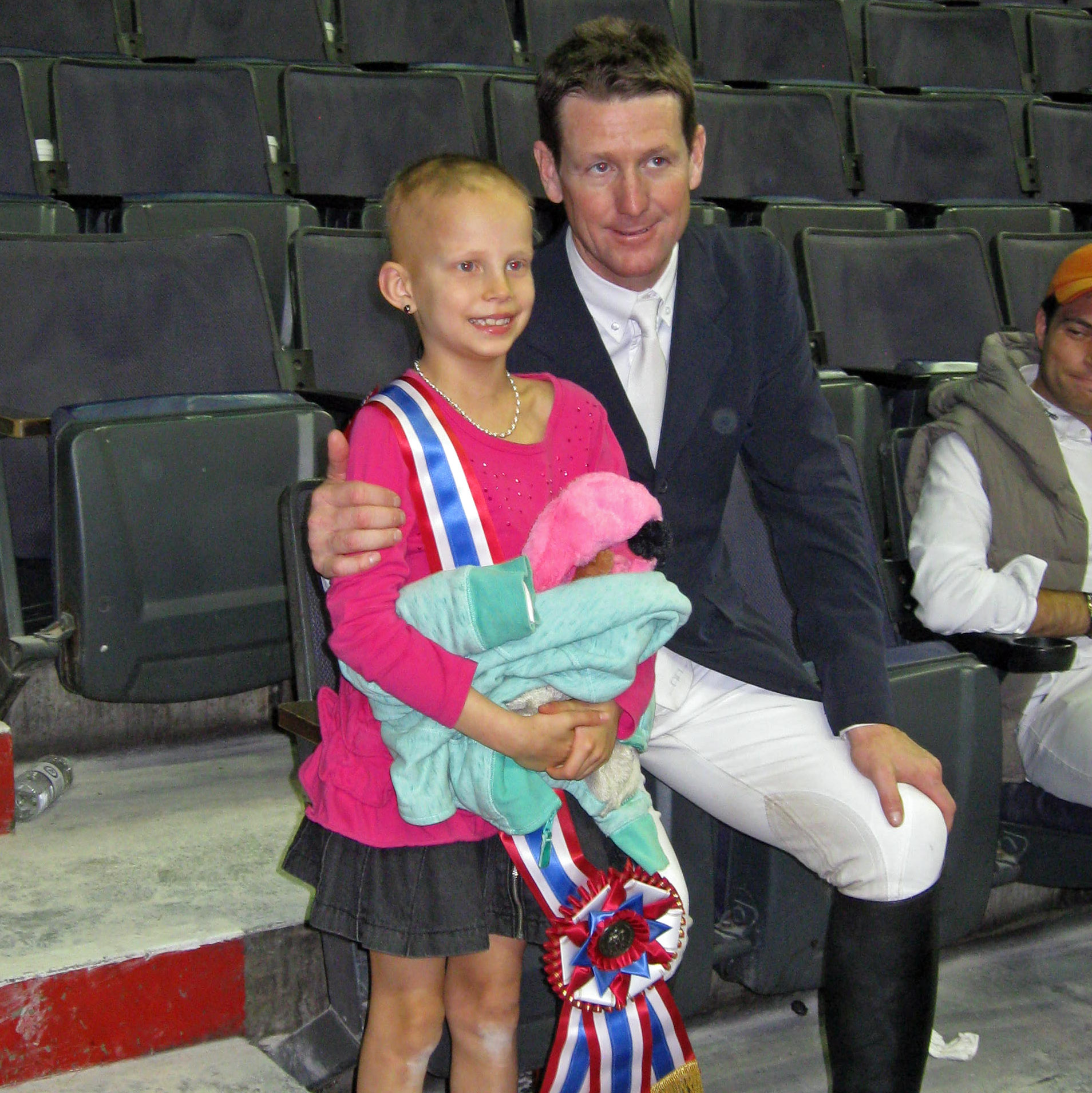 Scalzi, 8, was at the Verizon Center in Washington, D.C., the last time Ward won the President's Cup as well in 2010. She didn't think twice about skipping a friend's birthday party to join her friends from Beyond A Bay Farm to come to the horse show this year. She was ecstatic when Ward pulled up at the end of his victory gallop and put his own sash around her neck. "I was so happy I almost fainted, and I almost cried," said Scalzi, who lives in nearby Clarksville, Md.
Ward had spotted Scalzi earlier in the evening when she'd asked for an autograph.
Scalzi rides alongside her mother Laura Scalzi and her sister Grace Scalzi with trainer Barbie Burns. Seeing Ward give her daughter his ribbon touched Laura in a way she didn't expect.
"As a mom, it was amazing," she said. "The world was just spinning. I was sitting there watching as he came up and talked to her, thinking, this is my daughter talking to McLain Ward! It's an incredibly prestigious event, and it was so incredibly kind of him. I was able to shake his hand and say thank you, this is extraordinary. I couldn't express to him how appreciative I am and what it did for Brooke."
Brooke suffers from an autoimmune disease called alopecia which causes some hair loss, but she's otherwise healthy.
"It gave her such a boost of confidence, feeling good about herself thinking, 'Oh my God, this amazing rider just picked me for this,' " said Laura. "It's just blown my mind that he did this."
Others Chime In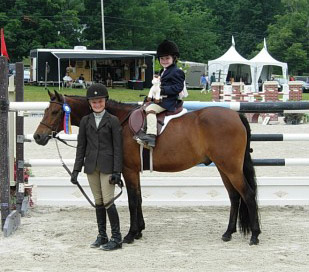 TOP: Kat Dade's most memorable trip to Vermont began with competing in the leadline and ended with catching a ribbon from grand prix winner Jimmy Torano. BOTTOM: Years later Kat Dade and her trainer Gretchen Anderson still think of that day fondly. Photos courtesy of Jessica Dade.
Upon seeing the online response to Ward's kindness on Facebook, others shared their stories of inspiration from years earlier.
Kat Dade, 13, attends plenty of horse shows near her home in Gilmanton, N.H., but her most memorable trip to the Vermont Summer Festival came years earlier.
Dade competed in the leadline competition during the last week of competition, which took place in the grand prix ring just before the $30,000 Mount Equinox Grand Prix. Afterward she watched the class along with her trainer Gretchen Anderson and Anderson's daughter, Hayley Anderson.
After Jimmy Torano won the class on Caldam D'Or and finished the victory gallop, he rode over to the side of the ring and tossed his ribbon down to Dade saying, "Some day you'll get one of your own."
When Hayley and Dade returned the barn, Gretchen saw the ribbon, and said, "We can do better than that." She took Hayley over to Torano's barn, where he was packing up to go home to Mohrsville, Pa. Torano stopped packing to chat with Dade, signing the ribbon and writing down the date and the horse's name.
"I'd never met someone from another barn who'd won a grand prix, let alone a $30,000 class," recalled Dade, who now competes in the children's pony division with Top Secret. "It was incredibly exciting. I have that ribbon up on my bedroom wall with all my ribbons from the current season. That really inspired me to practice hard and become a better rider."
Sydney Fischer was only 7 when she went to the HITS Culpeper (Va.) show to tag along with her aunt, professional horsewoman Sandy Strack, to watch the competition. Strack's friend Peter Pletcher won the $25,000 Pre-Green Championship on Diamond Way, and as he was walking out of the ring he gave Fischer the ribbon. She's kept that ribbon, as well as a poster from Capital Challenge, featuring Pletcher, that he signed for her.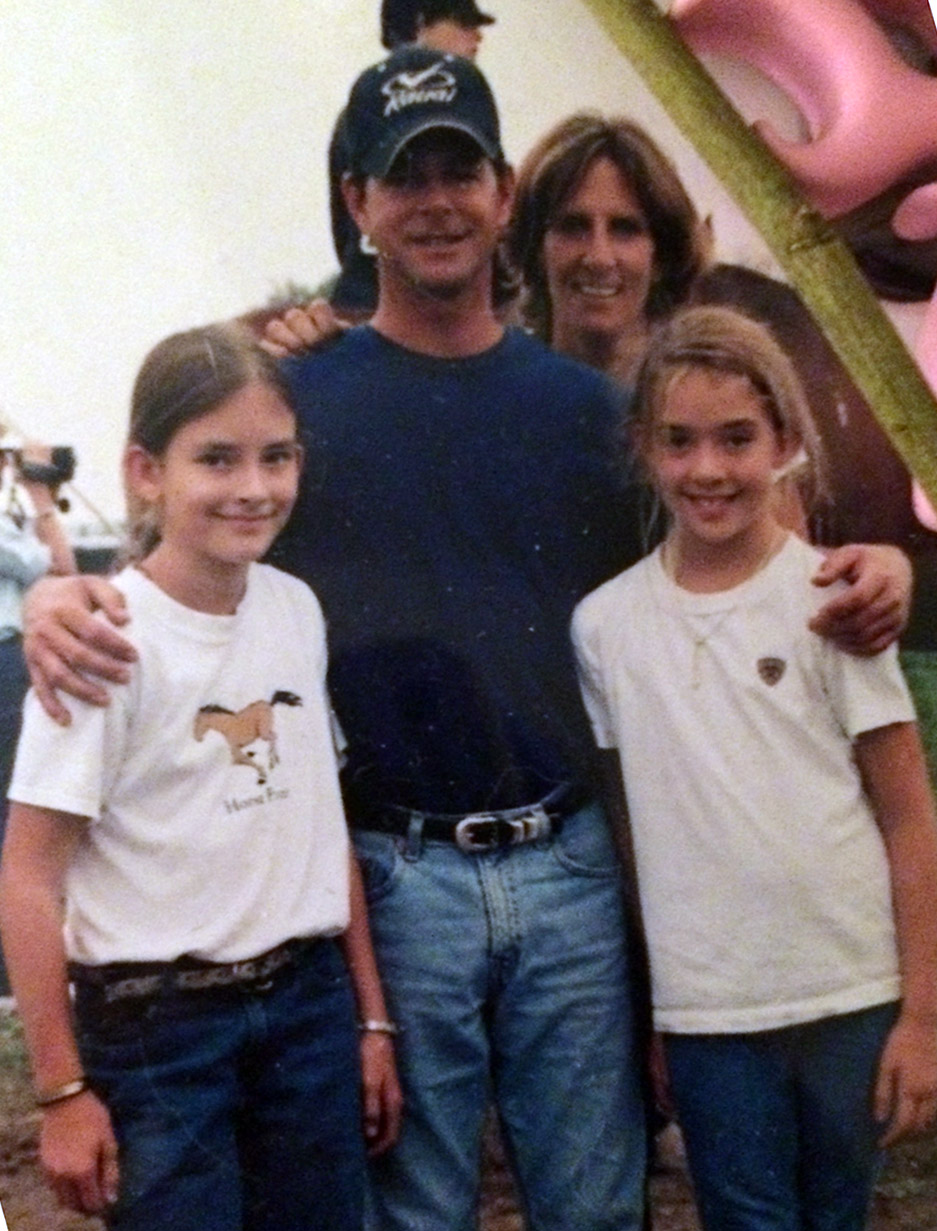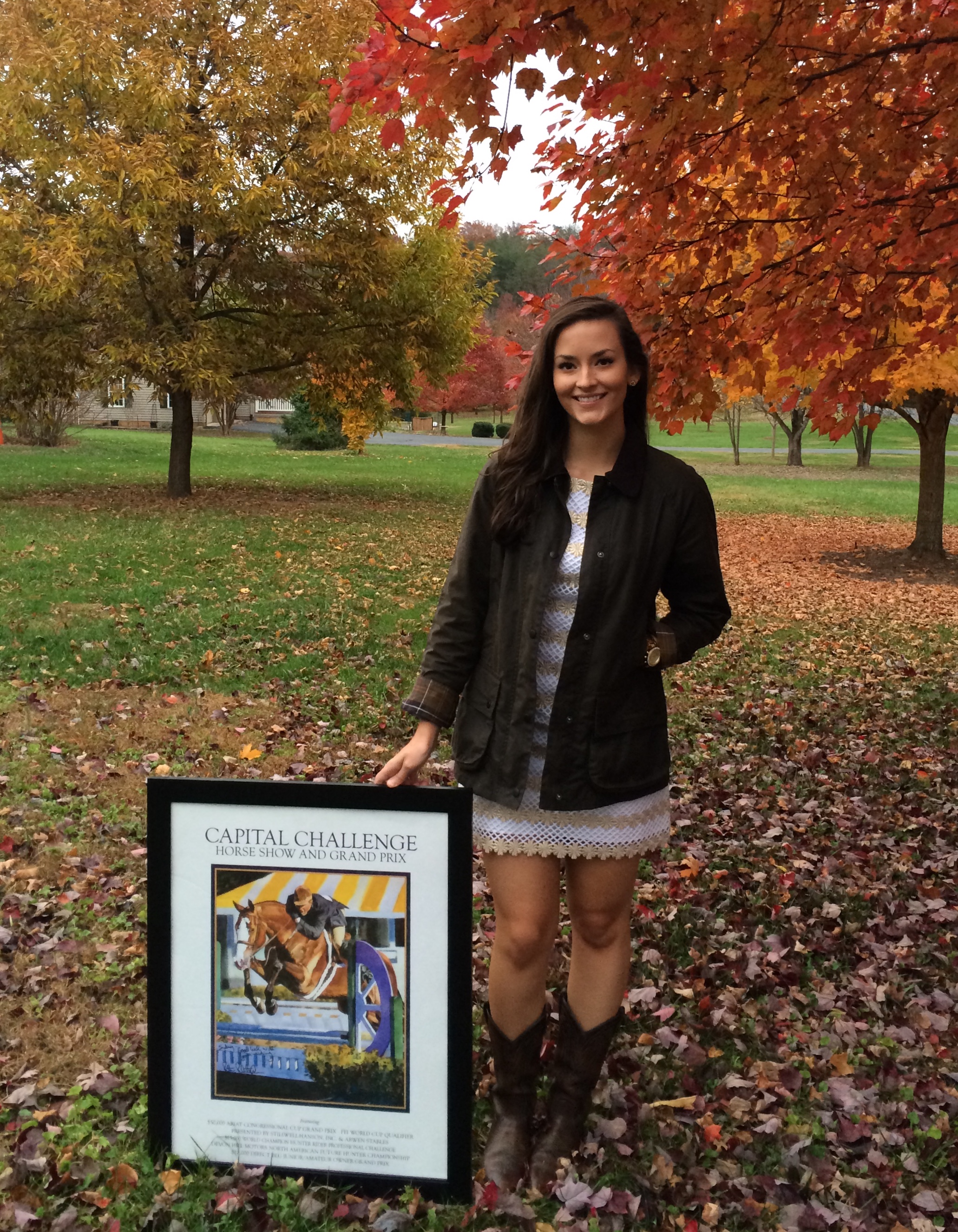 TOP: Sydney Fischer (left) never forgot the day she went to HITS Culpeper along with her cousin Caitlin Turner (right) and aunt Sandy Strack, when Peter Pletcher handed her his ribbon after winning the $25,000 Pre-Green Championship. BOTTOM: Thirteen years later, Fischer has gone on to become an accomplished horseman, but she always kept the ribbon and poster Pletcher gave to her. Photos courtesy of Sydney Fischer.
She had no doubt that gesture started her down a path where she'd never take any opportunity or gift for granted.
"I'd never done a horse show or gotten a ribbon, so it was so special to me," said Fischer, who's 20 now. "Earlier that day my mom and I had been walking around the show, and we passed a trash can and saw a sixth place ribbon. That made me so sad. I was thinking how lucky these people are that they can go to these big shows and do all this. I would have done anything to be able to ride and have a chance to even win a ribbon. That drove home sportsmanship right there."
Fischer eventually took started lessons and became a well-rounded horseman, joining 4-H, competing at USEF-rated shows and hunting with Farmington Hunt (Va.).
"When Peter gave me that ribbon it really showed me how it's supposed to be," she said. "It's not about the ribbon. It's about everything else."