Coach Andrew Lustig and the Savannah College of Art and Design Bees win an impressive fourth title in five years.
In one of their closest victories to date, the Savannah College of Art and Design (Ga.) picked up another team title at the ANRC National Championships, April 19-20, beating the University of Virginia by a mere .12 points for the overall team win.
Eight schools attended the competition, hosted by The University of the South, Sewanee, Tenn., and the weekend was a constant battle between SCAD and UVA riders, who traded top scores in each phase of the four-phase competition.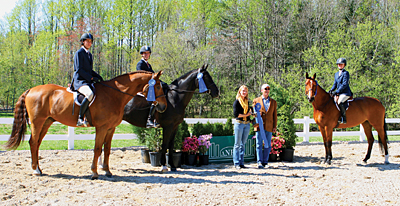 "It really could have gone either way," UVA senior Whitney Roper said. In addition to her second-placed finish with the team, Roper won the overall individual competition.
Winning the hunter trials and hunter seat equitation phases, SCAD's Paul Frederick anchored the team for the win, also picking up the individual reserve championship behind Roper.
"Competing out in the field, it's something you don't see very often," the freshman said of the hunter trials phase, which features an outside course. "It's really nice to get out of the ring and show some galloping across the field."
Riding SCAD'S Art & Design, Frederick said he felt prepared for the competition, especially the final hunter seat equitation phase. "He's just so versatile," he said of the gelding, a former show horse. "He's right on everything you ask. He's there waiting for you, and you can go into the stadium phase and he'll look gorgeous."
Lustig knew the pairing of Frederick and Art & Design would draw attention. "He's a jet black horse, very beautiful with long legs, so with Paul's natural style they really looked good together," he said.
Though he didn't compete regularly in his junior years, Frederick came to SCAD under the recruitment of George Morris. "George noticed him down in Tampa [Fla.] and recommended him to me," Lustig said. "He noticed Paul's natural build for riding and even said he reminded him of [Olympian] Conrad Homfeld's style on a horse."
With junior Meredith Gallagher on Photography and freshman Sebastian Pinzon on Sculpture, Lustig was impressed with his team's diversity this year. "We've rarely had men on our team, so to have two was quite interesting for us," he said. "It's good that there are boys becoming more interested in the sport."
Praising SCAD's equestrian program, Frederick continued, "We're lucky. We have some of the nicest horses I've been on. With the brand new facility and the support we get from the school, it's nice to see everything come together."
Be Prepared
Thrilled to be one of the three riders to represent his school, Frederick and his teammates began practicing after their winter break with each of their respective horses, all while meticulously studying for the written test phase. "We ride different horses all the time, so we really didn't start focusing on just one until we knew who was going," Frederick said.
This year's exam featured questions on equine infectious diseases and the forward seat riding method. With a list of recommended reading in hand, the SCAD team met each week for study sessions and also completed practice tests each week, handed out by coaches Lustig and Ashley Kelly.
"We started studying about a month or two in advance, mainly pages from a veterinary manual," Frederick said.
With the third-highest score, SCAD was poised to remain at the top of the competition from the beginning. Though UVA won the dressage sportif phase, where riders execute tests on the flat, SCAD bounced back to win the final two phases for the overall win.
Going into the final phase, Frederick remembered Lustig's main goal for each of the riders. "Andrew really wants to show off our horses and show ourselves off as riders," Frederick explained. "They've really been helping us think about getting our horses to move forward, getting us to recognize that the jumps will come up if the horse is going forward."
Frederick, who began riding at age 7, appreciates Lustig's approach in his twice-weekly lessons. "He can say things that you know, but he just puts them in a way that makes more sense. It's his whole system," Frederick said. "Everything, from the school to Andrew and Ashley, has come together for us."
Frederick looks forward to the following years competing for SCAD at the ANRC competition. "It's a really good program, and I really liked how you have to direct your horse on the flat and then ride cross-country and hunt jumps off your eye," Frederick said.
Lustig was thrilled with Frederick's performance behind Roper. "It was no insult to us for Paul to be reserve to a national champion like her," he said.
Last-Minute Efforts
Roper, Rumson, N.J., not only scored the highest on the written test, but also won the dressage and hunter seat phases. A tough competitor in the equitation ranks, Roper's college career includes winning the Cacchione Cup in 2007 at the IHSA National Championships, one of the highest achievements for college riders.
Roper's high score in the written phase almost didn't happen, though. "We had the materials to study, and then that Friday before we kind of started panicking about the infectious diseases part," she recalled. "We didn't know what they were going to ask."
Study packets are handed out before the competition, but somehow the UVA team missed the guides. With possible questions from the test, riders without the aid are at a complete disadvantage. "Fortunately we got the study guide about an hour before the exam and having the questions helped us a lot," she said. "We really needed it with the infectious diseases part. The forward seat riding part we hadn't seen before, but it was pretty straightforward."
With her strong test score, Roper helped launch her team to the top. "I just love the team aspect of all of this. It's something bigger than yourself," she said. "I hadn't experienced anything like this before I came to UVA, and it's nice to push yourself in a different way."
Riding with coach Claiborne Bishop, Roper borrowed Bishonen, a horse regularly showed by Bishop's daughter, Marianna Wade, in the amateur-owner ranks. "She was extremely generous to let me ride him. He was a first-year horse last year, so he's still pretty young, but incredible," Roper said.
The striking, bay gelding helped Roper turn in flawless rounds during the competition, though she was particularly proud of his performance in the hunter trials. "He was so brave and willing, really easy-going," she said of the spooky hunt jumps. "He just went around like a pro."
The outside course caused teammate Grace Stuntz's horse, Saving Grace, to spook, but Stuntz's earlier second-placed finish in the dressage phase, and with help from other teammate Kirkland Brown, the trio secured the reserve title without a hitch.
"Kirkland's horse [Quattro] is also young, but he handled the new experience of this competition really well," Roper said. Both Stuntz and Brown regularly compete their horses at A-rated shows when not showing with the school.
Roper, a senior, looks forward to future scholastic endeavors but doesn't discount horses from her life. Set to apply to medical school for 2009, she hopes to continue riding. "Horses will definitely be a part of my life, in some capacity, but I'm not sure in what way yet," she said.
Like Frederick, Roper praises Bishop and The Barracks, Charlottesville, Va., for her successful four years competing at the college level.
"I really liked the team aspect of the ANRC and the IHSA. UVA is a fairly big school, so it was nice to find a group of girls who have a similar passion and make the school feel smaller," she said. "It's been a really wonderful camaraderie I hadn't experienced before."
Beth Johnson