Three generations have now bred and raised quality show ponies in Virginia.

Ever since Eileen Beckman can remember, she's had a soft spot for ponies. Growing up in a decidedly non-horsey family, she never had the chance to share her joy with her family. But Beckman made up for
it by dedicating her life to raising gorgeous ponies alongside her children and grandchildren.
Beckman has been breeding and raising exceptional ponies at Otteridge Farm in Bedford, Va., since the 1970s, and her uncanny eye for horseflesh has guided her throughout her successful breeding and showing career.
Her ponies have won futurities and year-end awards across the East Coast, but her proudest achievement is breeding Otteridge Black Hawk (*Forge Nimbus—Miss Bar Dee), the first pinto pony to win the best young crossbred pony at the Devon Horse Show (Pa.).
An eye for talent runs in the Beckman family, and six years later Randee Beckman repeated her mother's victory, winning the best young pony grand championship with Charlotte (Llanarth Senator—April Dance) in 2004.
These days three generations work together at Otteridge. Eileen's daughter Randee has taken over most of
the day-to-day operations of the farm, along with plenty of help from her daughter Katie Gardner. But 89-year-old Eileen remains intimately involved, coming down to feed every morning and throw hay to the paddocks.
Their many success stories include Otteridge Dreaming Of Blue, Otteridge Dress Blues, Otteridge Black Hawk, Otteridge Pow Wow, Otteridge Foxtrot, Otteridge Up In Lights and Otteridge French Twist.
Eileen's involvement in the pony breeding community extends beyond her own farm too. She's a founding member and past president of the Virginia Pony Breeder's Association, and she serves as the pony breeding chairman on the board of the Virginia Horse Shows Association. The VHSA honored Eileen by inducting her into the Hall of Fame and awarding her the Andrew M. Montgomery Perpetual Memorial Trophy and the Susan H. Hagan Memorial Trophy for outstanding contributions and sportsmanship, camaraderie and fairness.
"Eileen is someone who goes about doing things the right way," said longtime friend Jimmy Lee. "Not just the care and the breeding, but also competing the right way. Our sport is very important to her, the tradition of the sport, and the future of the sport."

A Family Affair
Eileen didn't grow up in a horsey family, but the determined young woman took up riding anyway, eventually saving up enough money to buy a Thoroughbred show hunter named Ramos whom she hunted and showed throughout the 1940s to great success.
She served in the Red Cross during World War II where she met her future husband Carl Beckman. She and her husband spent a few years in Chicago before returning to her native Virginia to raise their two young daughters, Laura and Randee.
Eileen started collecting ponies when she began teaching lessons shortly after returning to Virginia. As her horse business expanded, she decided to try her hand at breeding. She and her husband bought 54 acres at the base of the Peaks of Otter near Lynchburg, Va., and Otteridge Farm was born.
"In the beginning, I really had no idea what I was doing," admitted Eileen. "I would look and see what everyone else was doing and just give it a try. But I think that I've been blessed with a pretty good eye. My husband used to say, 'Eileen you come home with the worst looking things and they turn out just fine.' "
With Eileen's good instincts, plenty of hard work and a little bit of luck, Otteridge Farm thrived. Her daughters learned the ropes on countless green ponies, and each trained an exceptional mount to tremendous success in the pony hunter ring, Laura on Chantilly and Randee on Slipcover.
"Eileen has always bred quality," said Lee. "She's stuck with quality and sold quality for as long as I've known her. Randee and Laura are the same way because they were raised by their mom. They are going to do it the same way because they don't know how not to do it like their mom."
The Next Generation
Laura continued in the horse business on her own, and Randee eventually moved back to the farm and bought some ponies of her own, which also show under the Otteridge farm name. These days Randee works in nearby Lynchburg during the day, running a conference center facility. She juggles the demands of her day job with running the farm by getting up early and going to bed late.
And Randee's 21-year-old daughter is also following in her family's footsteps. Gardner has been raised at Otteridge as much as any of the Beckman ponies. With an easy-going manner around ponies and people, a remarkable capacity for hard work and a head full of pedigrees, Gardner is the perfect heiress to the Otteridge legacy.
"I lean on Katie pretty heavily," said Randee. "She really is my right hand in the barn and the in-house vet. She does all the shots, dewormings and medications. She keeps the charts and records for all the ponies, and don't you dare get a toe out of line when she's around."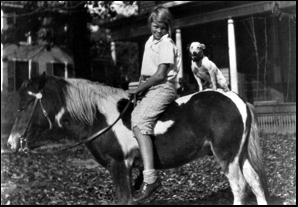 In addition to the daily care of the 17 ponies and splitting foal watch rotations with her mother, Gardner breaks the young ones under the watchful eye of her grandmother and teaches lessons.
As if that wasn't enough, Gardner is finishing her theatre performance degree at Lynchburg College (Va.). She commutes 35 minutes each way twice a day for classes and rehearsals. On the weekends she shows her 10-year-old Thoroughbred Silver Screen in the low hunters under the guidance of Olin and Sally Armstrong.
While Katie took to the ponies at an early age, her brother Will never caught the riding bug. But the 17-year-old has become an invaluable asset to the farm, cheerfully taking over much of the manual labor and stepping in whenever he's needed.
"The two of them are just irreplaceable," said Eileen of her grandchildren. "We couldn't do it if it wasn't a family affair."
Taking Home the Blues
The Beckmans swear by their family approach of raising their ponies, but when it comes to the show ring, they're happy to hand over the reins.
"Working with a professional handler gives a pony an advantage, in my opinion," said Randee. "I love to see owners showing their own ponies, and Lord knows we've done it enough, but we've had the good fortune to have worked with the best in the business. Richard Taylor, Junior Johnson, Billy Howland, Oliver Brown, Kenny Wheeler and Jimmy Lee have all held ponies for us."
Back in 1995, Randee showed the Welsh cross Otteridge Pow Wow (*Forge Nimbus—Miss Bar Dee) as a 2-year-old at Deep Run (Va). The flashy pinto gelding had been picking up blues since he started on the line, but on that afternoon he earned the white ribbon, which seemed too low to Taylor watching from the sidelines.
"I walked up to them and said, 'You should let me show that pony for you at Devon next year so I can win with it,' " recalled Taylor.
Sure enough, under Taylor's careful handling Pow Wow won the 2-year-old pony class at Devon for Otteridge in 1996. Though it wasn't their first Devon win, Eileen had always had a soft spot for black-and-white ponies, so Pow Wow's success tasted especially sweet.
Keen to get ahold of another winning pinto, the Beckmans decided to breed Nimbus back to Miss Bar Dee. "You can tell the superstars from the moment they get here," said Randee. "They're just different. That foal, Otteridge Black Hawk, was just gorgeous from the start."
Once again the Beckmans turned to Taylor to show their black-and-white pony, and once again Taylor held a gorgeous Otteridge pony to earn top honors at Devon. Otteridge Black Hawk earned the best young crossbred pony accolades as a 2-year-old, the first pinto pony ever to do so, and fulfilling Eileen's lifelong dream of breeding the best pony in the country.
Taylor brought Otteridge its next Devon grand champion young pony, this time 2-year-old Charlotte. Randee bought the pony from Stacey Schaefer, and the stunning gray continued to pick up blues on the line until she was sold to Courtney Beatty this fall as a top large pony prospect.
Raising The Bar
Randee keeps a close eye on the pony hunter ring to watch her former ponies and see how the sport is progressing, but she stays true to her own tried-and-true recipe for success: researching pedigrees.
"I totally agree with Denny Emerson who put it perfectly: 'pedigree breeds performance,' " said Randee. "It's so true. If you look at the lines that have been proven over the years and you select carefully, you simply can't go wrong."
Even as imported warmbloods grow in popularity in the performance ring, Randee knows that her ponies will stay at the top of the divisions.
"We have so much quality here in this country, and especially in Virginia," she said. "The Welsh ponies and Welsh crosses coming out of this state really are and have become the standard for the industry for a long time, and I don't see that changing."
The Beckmans don't stand any stallions at Otteridge, and they're extremely selective about who they will use.
"First and foremost I look for disposition in a stallion," said Eileen. "If you don't have disposition you may as well forget it. After all, a child is going to be handling this animal. It's so obvious, but it's true."
That's one of the recurring themes in the Otteridge philosophy: raising children's ponies. An ill-tempered but gorgeous pony has no place in the Otteridge breeding program, and Randee and Katie go to great pains to childproof the foals. They handle the babies daily from birth, and before long Katie's young students help with the foals. With no more than four ponies born a year, each animal is guaranteed plenty of personal attention.
"Everyone always comments on how gentle our ponies are, and it's absolutely paramount to us," said Randee. "It makes a difference that they're raised in a family atmosphere by women and children. Our ponies come with the Otteridge seal of approval!"
The Next Generation
Eileen and Randee have high hopes for another top pony through the Forge Nimbus line. When Nimbus died last year, the Beckmans bred one of his daughters, Otteridge Safari, (*Forge Nimbus—Savannah), producing a darling brown-and-white colt named Otteridge Congo (Meadow Brook's Special Edition —Otteridge Safari). Eileen has a soft spot for the pinto weanling, and she hopes that he'll live up to the standard of her other Forge Nimbus progeny.
The latest stellar Otteridge prospect is Otteridge Foxtrot (Farnley Prelude—Hidden Creek's Elfin) a head-turning 4-year-old, Welsh pony so impressive from birth that the Beckmans decided to break their own rule and keep him intact.
Though the Beckmans have since sold Foxtrot to Scott Canard, they have a weanling by him—Otteridge Square Dance (Otteridge Foxtrot—Otteridge Square Peg)—and the 12 7⁄8-hand gray has been bred to several other Otteridge mares this season as well as dozens of other ponies.
As this year's weanlings fill out, and the broodmares start to swell, Eileen has spent her first fall away from the farm in 40 years. A broken hip landed her in a rehabilitation facility for a few months, but even a
serious injury can't keep her mind away from the barn. She's constantly calling her daughter and granddaughter to check in on the ponies, and her biggest annoyance during her recovery is not being able to watch the foals' progress.
"They weaned Congo when I wasn't there," she said sadly. "I can't wait to get down there and see how he's looking."