Lexington, Ky.—Sept. 5
Gerlinde Beckers wasn't exactly confident heading into the Rolex Stadium today for her show jumping round in the beginner novice master amateur championship at the U.S. Eventing Association American Eventing Championships.
An FEI-level dressage rider, she picked up eventing a few years ago and brought Roscommon Fagan, a 17-year-old Connemara gelding (Balius Malachi—Lasrachai's Blue Oak Dunlaith), to compete this weekend.
"I never have a clear round, I always have a rail. I just figured it was coming!" she said.
Lying in fourth after cross-country, the pair kept all the poles in the cups to move up to win.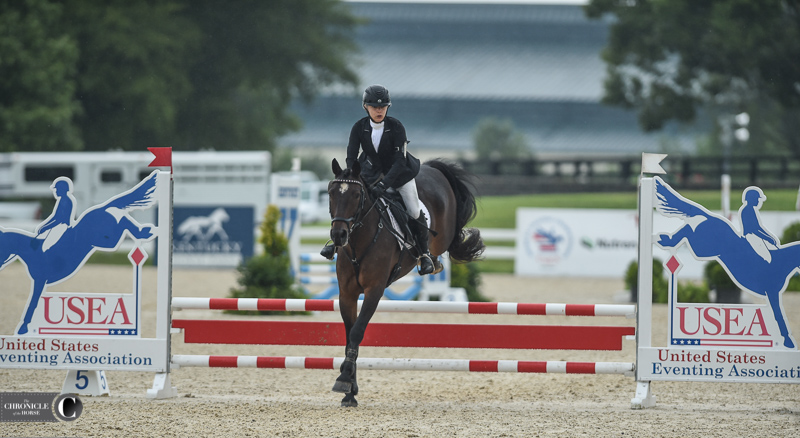 "I'm thankful to be here," she said. "I'm from south Louisiana. We were hit by a category 4 hurricane. My people came early, and I stayed with my farm and my horses. I left and didn't know if I was going to get out because the trees were blocking. It was awful. I'm just thankful to be here. My daughters are here. My older daughter [Kalie Beckers finished third in the beginner novice horse championship], my younger daughter was my groom all weekend, and she's not a horse person. My team is at home filling generators and keeping horses cool."
Gerlinde made a last-minute decision to come on Wednesday after the roads near her farm were clear enough and she was able to find diesel for her truck.
"Fagan," who's 14.3 hands, had been backed but hadn't been ridden in years when Gerlinde got him four years ago. His breeder wanted him to have a forever home.
"I took him because I have a farm, and I felt bad," said Gerlinde. "He had not done anything in his entire life. Nothing. It's been uphill, but I love him. He has such a personality. He thought this [trophy] should have been filled with Paddock Cakes. He's got a heart of gold."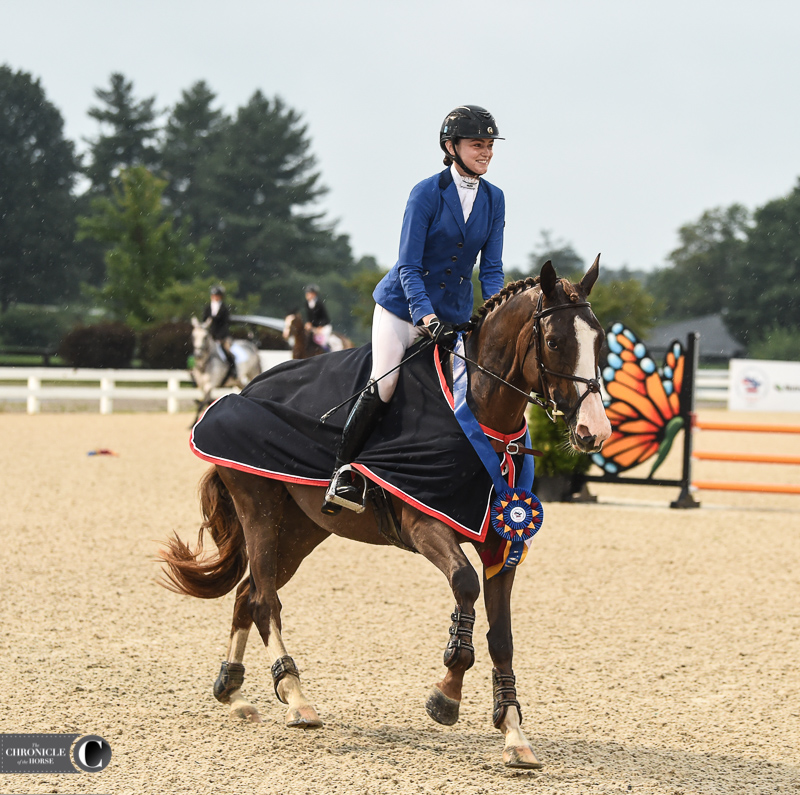 In only her fourth event ever, Marisol carried Kristine Burgess to the beginner novice horse championship this morning.
The 5-year-old Trakehner mare will be a mount for Burgess' mother, Lianne Burgess, who also competed this weekend on a different horse.
"It was kind of an unknown coming here," said Kristine, 23. "All of her other shows have been no atmosphere, and she's been great at them, but I just had no idea how she would be at something with this much atmosphere. But she just took it on, and I'm so proud of how she handled every scary situation. I'm really happy with her."
Kristine is a student at the University of Minnesota and is also a budding professional, coaching riders and starting young horses.
"I train a lot of young horses, and they've all been very feral, so I feel lucky to have one that's kind of level-headed! It makes it fun for me," she said. "I always say if she was the first young horse that I got to train I would think I was the best trainer in the world, because she's amazing. She's level-headed about everything, and she's so willing to try to do the right thing all the time. I always say her job is to see the jump and jump the jump, and she's got that down now. It's really fun to able to keep training her."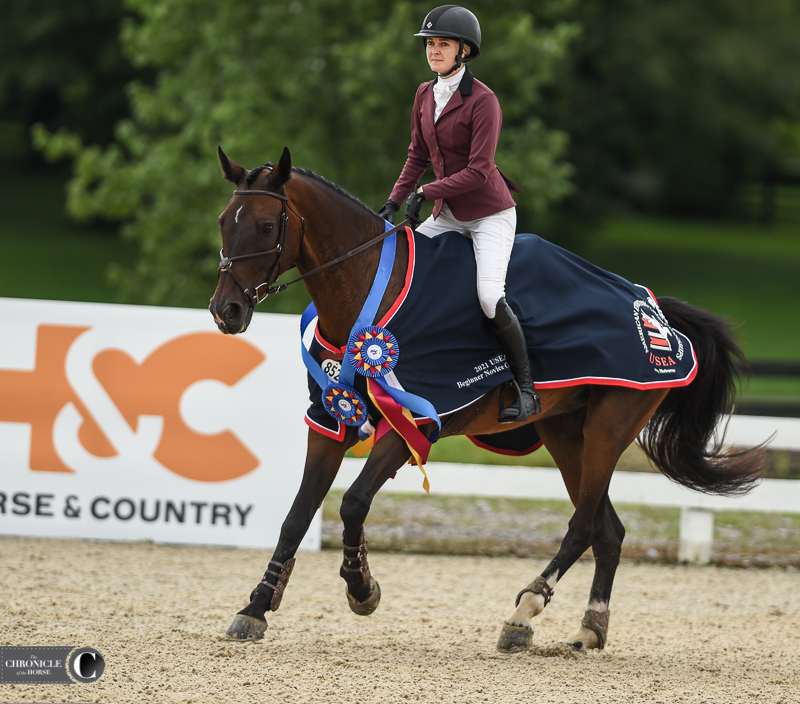 Cami Pease and Vibrant have won the last seven horse trials they've completed, and they continued their winning streak today at the AEC, winning the beginner novice amateur championship.
Pease won the same championship at the AEC in 2018 in Colorado. She's had the 21-year-old Belgian Warmblood gelding (Orlando—Fatima Van De Heffenk) for 10 years, since she was in college.
They started in the equitation division until Vibrant injured his stifle. Pease, 30, thought it would be the end of his riding career, but he rehabbed well, and when she moved to Washington D.C. for a job, she ended up at an eventing barn and took up the sport.
"I just thought it would be something fun to do. I didn't really know how well he would take to it," she said. "We did our first beginner novice in 2017, and he's been great. He's 21, and beginner novice is where he's comfortable now, so that's where we are. He still enjoys working, and he's happy to be out here."
Pease lives and works in D.C. at a government accountability office.
"I'm never going to have another horse like 'Cal' I don't think," she said. "We're not moving up. This is kind of the end. It's nice to have something that feels special for people who are never going to Land Rover. This is kind of our thing. It's nice to have a big event where they treat the beginner novice people like their own people and not as an afterthought. They design the tracks for beginner novice, which I appreciate. They treat you like important adults, which is very nice!"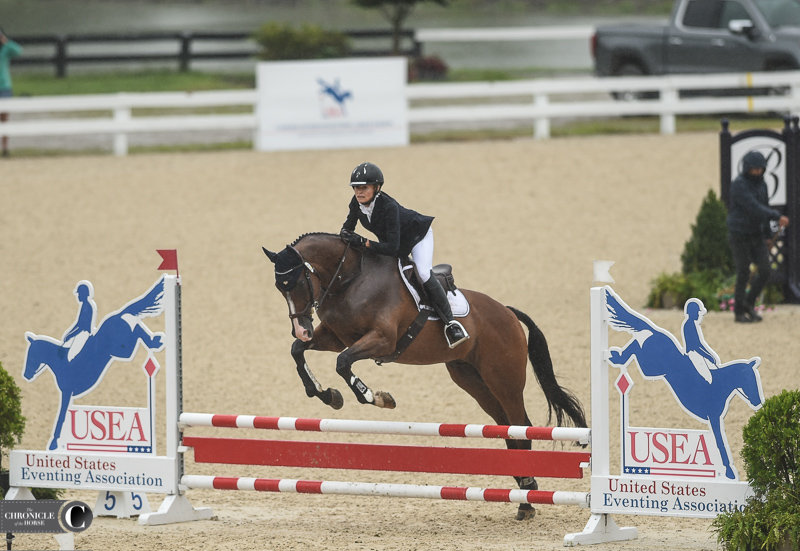 Leigh Wood made her first AEC count, winning the beginner novice rider championship with her 16-year-old Thoroughbred gelding Dollar Mountain (Forestry—Formal Tango).
Wood, Purcellville, Virginia, got "Parker" eight years ago after her former horse had to be retired with a career-ending injury. Parker is a warhorse with over 40 starts on the track.
"He's been an amazing partner. He's my best friend and my buddy and my dream horse," she said. "He goes to work. Whatever phase we go to, he just goes right to work. I have tried and had this on my bucket list for years. I have worked for this. Every we've had something until this—a fractured coffin bone, last year was cancelled. It's just been an amazing, wonderful experience."
Wood was a flight attendant for American Airlines for 23 years, and the upcoming 20th anniversary of September 11 is on her mind.
"I had very dear friends on Flight 77. One of them was a fellow equestrian," she said.  "She rides with me all the time now. Her picture is in my tack trunk. Her name's Jennifer Lewis. I call my horse Parker Lewis, that's his barn name."
Full results I Live Stream I COTH's Coverage I Schedule I Course Maps
2021 AEC - Sunday
Lindsay Berreth / Sep 5, 2021 3:15 pm