When you imagine the Summer Olympics, what sports come to mind? It's fun to watch the world's best athletes compete in outdoor sports like surfing, beach volleyball and track, with the sun shining bright on beautiful—usually hot—cities.
It's not surprising that when Summer Olympics host cities are chosen, the effect of their July and August weather on equestrian disciplines doesn't top the International Olympic Committee's list of considerations. Riders, veterinarians and officials from around the world have had to work hard to make sure equine athletes are able to perform their best and be as comfortable as possible in often-challenging heat and humidity, especially during the past 30 years.
At the 1992 Barcelona Olympics, the equestrian disciplines got a chance to be featured on television around the world. Scenes of horses struggling in the Spanish heat during the eventing competition didn't reflect well on horse sports.
As a result, sport-specific research intensified, and changes were made to the format of the equestrian disciplines. While the significance of heat acclimatization previously had been well-researched in human athletes, that knowledge hadn't been applied to horses.
Before 1992, only a handful of scientific papers had been published about heat management in horses; between 1993 and 1996, more than 50 new studies were added.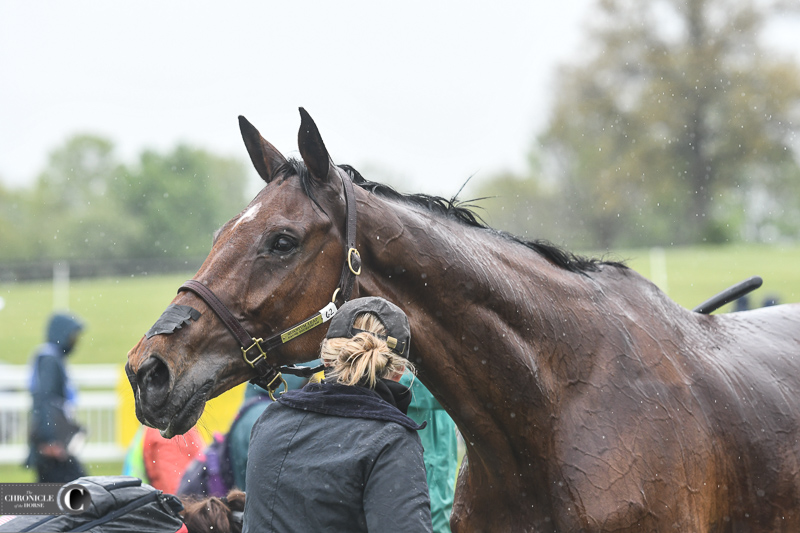 The topics included electrolyte supplementation, anhidrosis, acclimatization, nutrition, the effects of long-distance travel, cooling techniques, how to accurately measure thermal environmental stress, and how horses respond to exercise in hot and humid conditions.
The Fédération Equestre Internationale conducted the most well-known study on the effects of heat and humidity on horses before the 1996 Atlanta Games, where temperatures were expected to soar.
As a result of the FEI's study, changes were implemented for Atlanta, including shifting start times to early morning and finishing by late morning; the addition of a 10-minute mandatory halt between Phases A (roads and tracks) and B (steeplechase); a reduced distance for Phase D (cross-country); and an extended 10-minute box between Phases C (roads and tracks) and D.
Rapid-cooling techniques were used to help dissipate heat. As a result, there were no cases of heat stroke, heat exhaustion or anhidrosis (lack of sweating) reported during the Atlanta Games.
More recently, Dr. David Marlin, who has been involved with studies for the FEI since Atlanta, Dr. Marth Misheff and Dr. Peter Whitehead have studied horses and heat. In their research for the FEI, they say the key to helping horses handle heat is acclimatizing them by exercising in hotter weather, scheduling training sessions in the hottest part of the day, traveling to hotter climates before a competition, training at home with the horse wearing a blanket (though this method has not been formally studied) or training on a treadmill in a heated room.
When cooling a horse, applying cold water is key, but they say there is no advantage to applying it in specific areas, like large muscle groups.
New Formats, New Challenges
In 2002, the International Olympic Committee proposed further changes to eventing based on recommendations put forward by the FEI. At the 2004 Athens Olympics, eventing ran for the first time in a short format, with no roads and tracks or steeplechase. Those changes were not specifically made to address equine welfare concerns or any heat studies, but rather to reduce the cost and amount of land needed to host the eventing competition.
Even with the shift to short-format eventing, horse welfare continues to be a concern, particularly in hot summer climates like Tokyo, host city of this year's Olympic Games. While the eventing endurance day is shorter now, it poses new challenges due to other changes in the sport.
Modern Olympic cross-country courses have more fences placed over a shorter distance, while the technicality of dressage and show jumping phases has increased. Specifically, dressage and show jumping will be at the five-star level while cross-country will be at the four-star level. Horses and riders in contention for individual medals will participate in a second round of show jumping on the final day of competition to determine medal placings.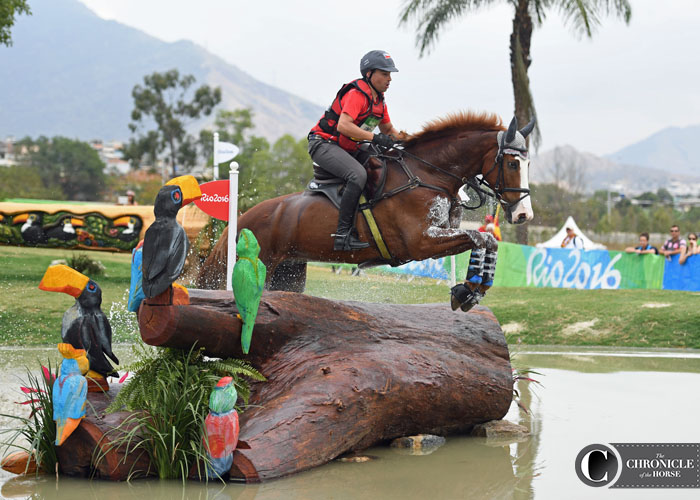 Temperatures in Tokyo are expected to be in the mid- to upper-80s with high humidity during the Games. A horse monitoring study, conducted during the Ready Steady Tokyo Test Event in August 2019, found that conditions are likely to be hotter than the 1996 Atlanta Olympic Games. As a result of the study, Derek di Grazia's cross-country course was shortened from the normal championship distance of 5,700 meters and approximately 10 minutes to 4,500 meters over an 8-minute track.
Horses at the test event were monitored via rectal temperature monitors and with sensors that measured travel and stable activity, as well as thermal comfort. Saddle-clip sensors monitored gait, speed and distance, and heart-rate monitors were used before and during the competition.
"We've been to multiple championships with the hot weather on the longer [cross-country] distance, and [with] the management of the horses pre- and after the events, I don't see our horses being at risk. For an 8-minute track, it should be fine," U.S. Eventing Team Chef d'Equipe Erik Duvander said. "Shorter warm-ups—they'll be pretty much warmed up as soon as we take them out! You've just got to play the game; it's not the first time we've been to a warmer climate."
Acclimatizing From Home
"It's going to be very intense, but from our perspective, our horses train in heat and humidity all the time, so it could potentially be an advantage for us," said Jenni Autry, the U.S. Equestrian Federation's managing director of eventing.
U.S. Olympic Eventing Team riders and riders who were short-listed for the team competed at a mandatory outing at Great Meadow (Virginia) on July 1-2, where temperatures and humidity were expected to be similar to Tokyo. They did a dressage test, then a shortened cross-country course in the heat of the day on the first day of competition, and show jumped on the second day.
Olympic eventing dressage will run in the morning and evening, and show jumping will be in the late afternoon, with the final medal round under the lights to avoid the worst of the heat.
Cross-country will be run from early morning until just before noon.
Competition will run in the evening for the other equestrian disciplines of dressage and show jumping, as well as para-dressage, which will be held Aug. 24-Sept. 5 at the Paralympics.  Horses in those sports are often of heavier build, and selectors have been watching carefully to take into account how they deal with the heat during Olympic observation events.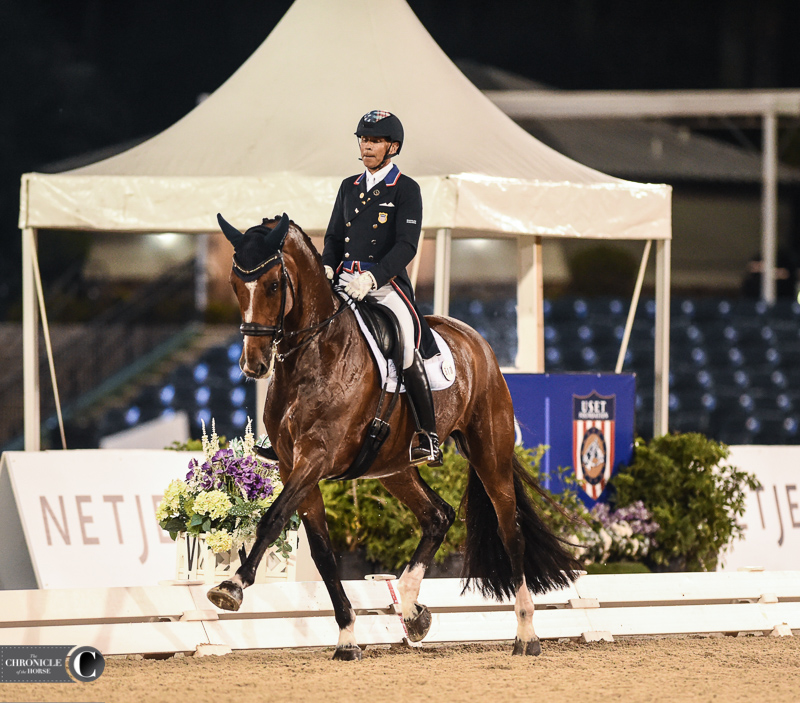 Short-listed dressage riders were able to compete in Tokyo-like weather during their mandatory observation event, held June 9-11 in Wellington, Florida, to take advantage of the area's summer heat and humidity. They rode between 8 and 11 p.m.
U.S. Dressage Team Chef d'Equipe Debbie McDonald said it was the smartest thing they could have done.
"I don't think that any other country has been able to duplicate what we have. Hopefully, when we get there it's going to pay off," she said. "But either way, it was good for these riders to feel what the horses were like in this environment, and we had heat. We had pretty close to what we'll get."
Similarly, para-dressage held its final observation event June 18-20, riding at night under the lights for two out of three days in the North Carolina heat and humidity at Tryon International Equestrian Center.
Most riders and officials feel that the heat won't be the most stressful thing to deal with during the games. The travel to Tokyo is extensive, and for many countries it includes a flight or drive to Aachen, Germany, a quarantine, and then another flight to Tokyo. Horses will have several days to acclimatize at the venue once they reach Japan. Like humans, horses also experience "jet lag" from time-zone changes, so the extra time to adjust will be beneficial.
The stabling and an indoor arena at Equestrian Park in Setagaya City, Tokyo,  are air conditioned, so horses will be able to spend much of their non-competition time out of the heat.