Elkton, Md.—Oct 14
Tim Price wouldn't put a horse on a plane from his home base in England if he didn't think he had a serious shot at winning, so despite not having much competition experience with Coup De Coeur Dudevin, he packed his things and headed to the Maryland 5 Star for the horse's five-star debut.
At the end of dressage on Friday, New Zealand's Price and "Joker" weren't quite able to overtake leaders Woods Baughman and C'est La Vie 135 (27.2), but they slotted into a close second place on 27.4.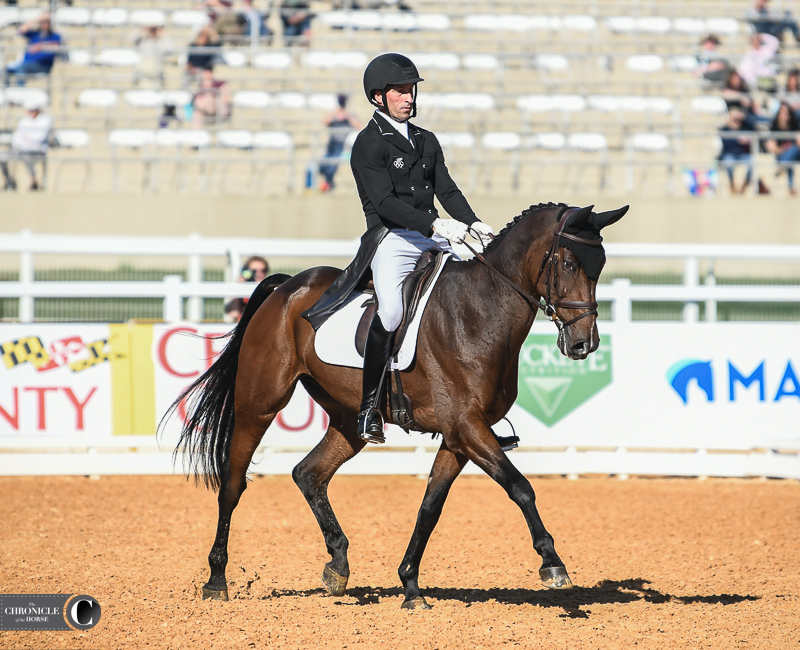 "I've taken a leap of faith because he is very short on experience, but what he has done, he's done extremely well," Price said. "He churns along in the gallop and loves a big fence and just has a smile on his face. It's my job to just give him a good experience around the course so I can maintain that enjoyment factor and the way he goes about it, and hopefully he's fit enough to do the job. I'm very happy with him today, and I just want a nice, experience-building weekend, and we'll see where that leaves us at the end."
Joker was bred by his owner Jean-Louis Stauffer. He started his international eventing career with Australian rider Chris Burton, and when Burton chose to start show jumping full-time, he came to Tim and wife Jonelle Price's stable in 2021.
With Jonelle, the 10-year-old Selle Français (Top Gun Semilly—Tiebreak Combehory, Leprince Des Bois) gelding moved up to advanced, then Tim took on the ride this spring. They finished second at the Millstreet CCI4*-L (Ireland) in June, in the horse's only four-star long appearance.
"He's just got so much power," said Tim. "She just found it quite difficult to contain the power. She's small, so she just got thrown around a little bit. She just didn't feel totally at home with him, so she very reluctantly suggested he come my way because she knows he's going to be a five-star horse."
Joker was Tim's second choice for the FEI World Eventing Championship (Italy), but he ultimately took Falco.
"This is a great second choice," he said of the Maryland 5 Star. "It's a big deal to put a horse on a plane and bring them over. There is a more local option, but I believe in the horse a lot, and we believe in his ability, and it's fun to come over here. Give me half a reason to be here, and I'll come."
Tim came to Maryland last year and finished third with Xavier Faer. He's pleased with the changes to Ian Stark's course and is excited to tackle it Saturday.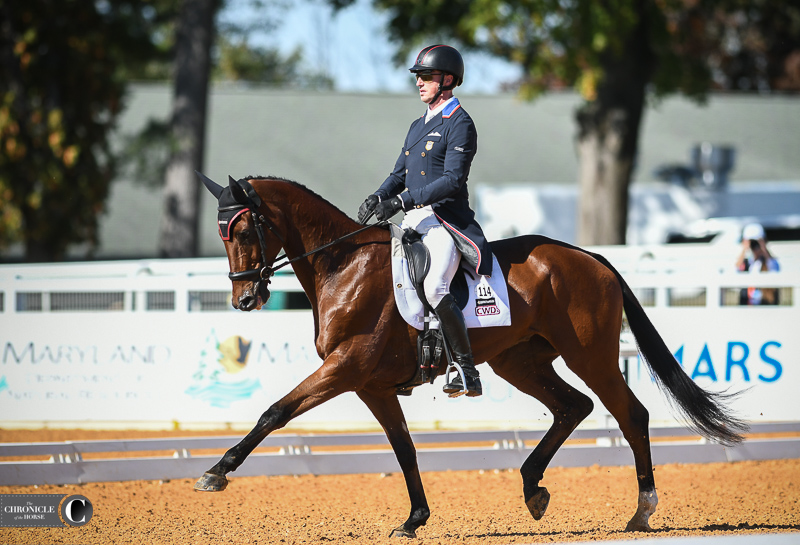 "I think he's honed in on the areas that needed a bit of a change up," he said. "I think it's worth it [to move the start and finish] because of the way the energy requirements round the course work now—I think it's got a much better balance. To get up to 8 or 9 minutes at the last water jump is really going to test how well we've done conserving our horse's energy until that point. It's big, it's serious; the ground I think will probably give way a bit more this time. It think that will be energy-sapping.
"He doesn't muck about, does he, Scotty?" Price asked rhetorically, referring to Stark by the Scotsman's nickname. "Decent questions, and always questions we haven't quite seen before. It's just his own brand of cross-country design, and that's very exciting. It brings the best out of us horses and riders."
Allie Knowles and Katherine O'Brien's Morswood landed in third place Friday with a 28.8. They finished 11thin the five-star last year.
"I'm really happy with it," she said of her test with the 14-year-old Irish Sport Horse gelding (Ricardo—Princess In Arms, Present Arms). "He's been getting stronger over the last 12 months. He was excellent last year, and he came back a more mature, stronger horse today. He gave it his all. This wouldn't be his favorite phase. He's very good at it, but he can be nervous. I was happy he held it together today and behaved, because he's a bit excited."
The top 10 shuffled quite a bit on the second day of dressage, with Doug Payne and Quantum Leap moving into seventh (29.5). Buck Davidson and Carlevo and Hannah Sue Hollberg (née Burnett) on Harbour Pilot are tied for eighth (29.8), and Great Britain's Oliver Townend and As Is are in 10th (29.9).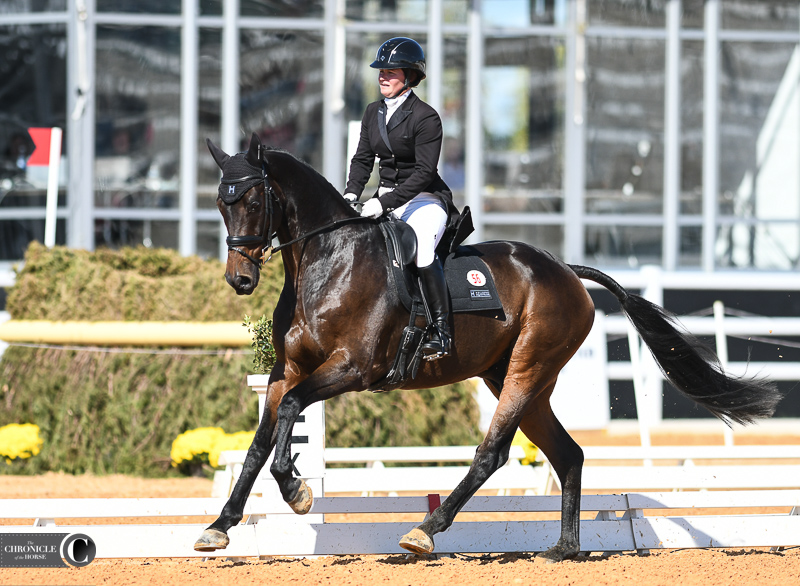 Hollberg brought two horses to Maryland this week, and she's started off on a strong note with both.
She took over the lead in the CCI3*-L on the final day of dressage, scoring a 26.0 with Christa Schmidt's Capitol HIM.
Then she cantered down centerline with her longtime partner, Jacqueline Mars' 19-year-old Harbour Pilot, to earn their equal eighth-place spot in the CCI5*-L.
"This will be his last event, so I've been trying not to cry all day," she said. "He's so special to me, and I just love him. He's like my best friend. It will be really hard not to have him at events anymore."
Capitol HIM, a 15-year-old Holsteiner gelding (Con Air 7—O-Heraldika, Heraldik) was found by Karen O'Connor for Schmidt in Germany.
"She rode him for a little while, but he can be a bit hot and he's horse shy," she said. "I was lucky enough to take over the ride a few years ago. He's like a big teddy bear. He's the sweetest horse in the world, and he's Harbour Pilot's best friend. They turn out together. He's the boss, which is so funny because he's scared of other horses when I'm riding him. He's got such a cool confidence, and he loves his job, and he'll do anything for me."
Hollberg and "Chito" started the Land Rover Kentucky Three-Day Event in April, but a rider fall on cross-country ended their weekend. Hollberg brought him to Maryland for a confidence-boosting run in the three-star.
"He used to get a bit more nervous in atmosphere like this, but he's actually gotten so much better to the point where I can ride him even stronger with more atmosphere," she said of her dressage ride. "I'm just learning what makes him shine, whereas before I would get a little tentative. The stronger I ride now to go for better marks, the better he goes. He definitely showed that today. I could keep asking for more, which is so nice and rare I think in this kind of atmosphere."
Cross-country for the CCI3*-L will begin at 9:32 a.m. Saturday, followed by the CCI5*-L at 2:06 p.m.
Check out what you need to know here.
COTH's Coverage I Results I Schedule
We're on site all week to bring you news, photos and interviews from the country's second five-star event. Check back at coth.com all weekend and be sure to pick up the Nov. 7 print edition of The Chronicle of the Horse for more.