Mill Spring, N.C.—Oct. 10 
The scores were tight heading into the final round of the Neue Schule/USEF Junior Jumper National Championship, with the top four places separated by less than a rail. With the pressure on, second-ranked Violet Lindemann Barnett and Picobello Choppin PC put in a flawless round, and when top-ranked Caelinn Leahy and Dymendy faulted twice, Barnett moved up to the highest step of the podium.
Mimi Gochman on Celina BH claimed silver, while Emma Seving and Brighton Bay put in a clear tonight to move up from sixth to bronze.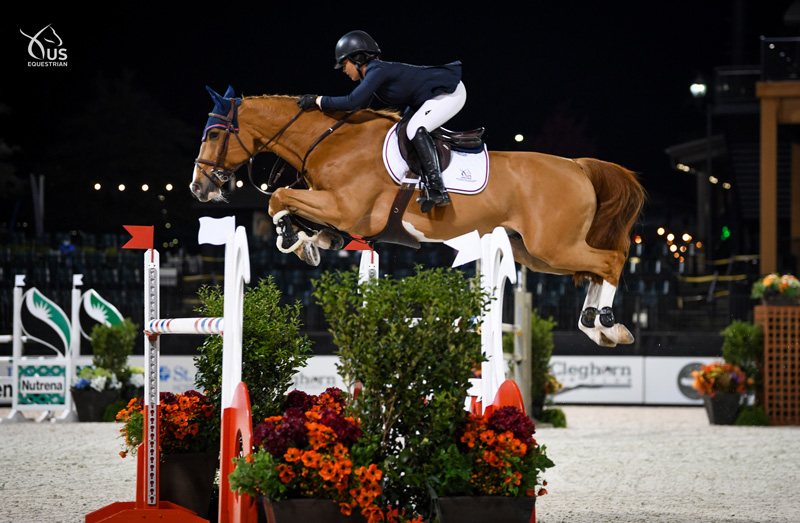 "I was sitting in silver wanted to have a nice consistent clear round," said Barnett. "When I walked the course I thought it was technical but very fair and actually really good for my horse, so I was really excited to jump it."
Molly Ashe-Cawley rode the 12-year-old Belgian Sporthorse (Mozart des Hayettes—Evita vh Appelsvoordehof, Diamant de Semilly) until a year and a half ago when she handed the reins over to Barnett.
"I actually had never jumped a 1.40-meter [track] when I got him," she said. "I did my first high classics; this is actually my first Prix des States so he's really taken me around a lot of big firsts for me.
"He is the most special horse," she added. "He has the biggest personality. He's always so hungry; he eats everything. He's like a little garbage can. We love him and he's definitely a barn favorite."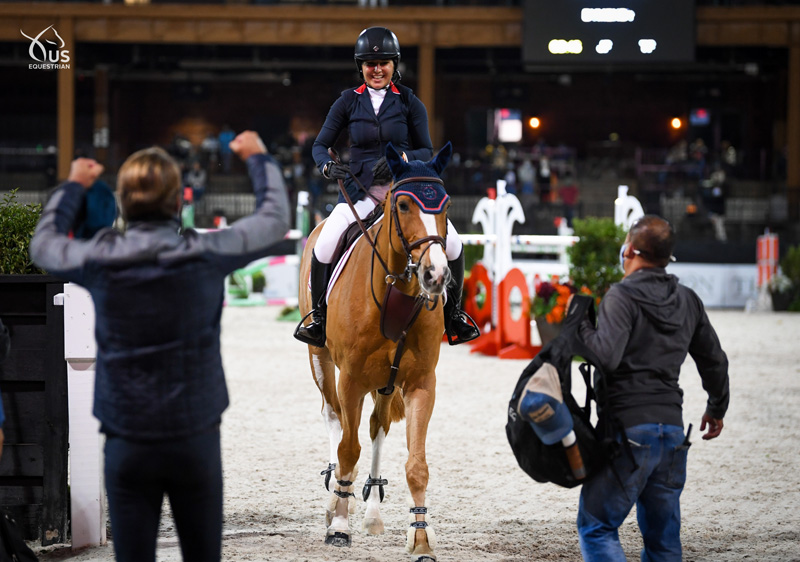 It was Barnett's second medal of the week, as she and "Chops" kept a clean sheet over two rounds in yesterday's Prix des States competition, anchoring the Zone 10 squad to bronze.
"I love being on a team," said the 18-year-old. "Team competitions are actually my favorite. I've never competed for my zone, Zone 10, before, so it was really nice to compete with kids I grew up with and my best friends."
While she's aging out of the juniors this year, Barnett has no plans to hang up her hard hat.
"Short term I'd love to step up to the two-star and three-star level next season, and long term I'd love to jump on a senior Nations Cup team and keep enjoying the horses and keep learning," she said.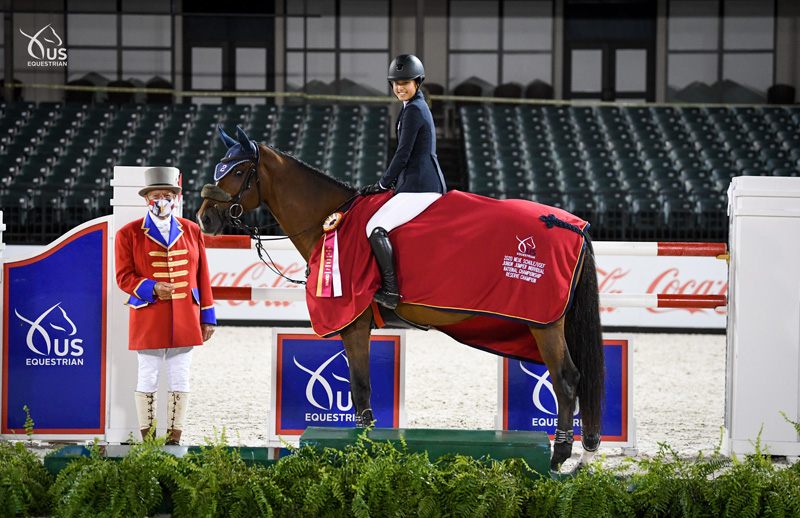 For full results click here. 
Be sure you're following The Chronicle of the Horse on Instagram, Facebook and Twitter @chronofhorse.
Get a full analysis of the Dover Saddlery/USEF Medal Final in the Nov. 9 issue of The Chronicle of the Horse magazine.