When it came time to pick out a pony for her daughter Bailey, Susie Lones knew exactly what breed she wanted to look at—Arabians.
Having grown up with an Arabian, the breed has a special place in Susie's heart.  She found the right fit in Hearts Adrift, a purebred chestnut mare who took Bailey through the short-stirrup. But a tendon injury sidelined "Sunny's" show career, so Susie kept her eye out for another potential partner for her daughter.
She found that pony in Raindrops On Roses HL, a 7-year-old Half Arabian (Rodeo Road—Classy). When Susie came across the ad for the then 4-year-old mare, "Rosie" had been living in a teenager's backyard and was recently started under saddle.
"I bought her sight unseen from a cellphone video in [the teenager's] backyard because I thought she was cute and [Bailey's] other one was injured," said Susie. "I thought it was a good project at the time. She just turned out to be spectacular for us anyway."
It wasn't always an easy road to Pony Finals though. Since they purchased Rosie, the gray mare has never had a professional on her back, and while Susie occasional hops aboard, Bailey has put in a majority of the work.
"It's been a long journey," said Bailey, 12. "It's been hard, and it's been fun."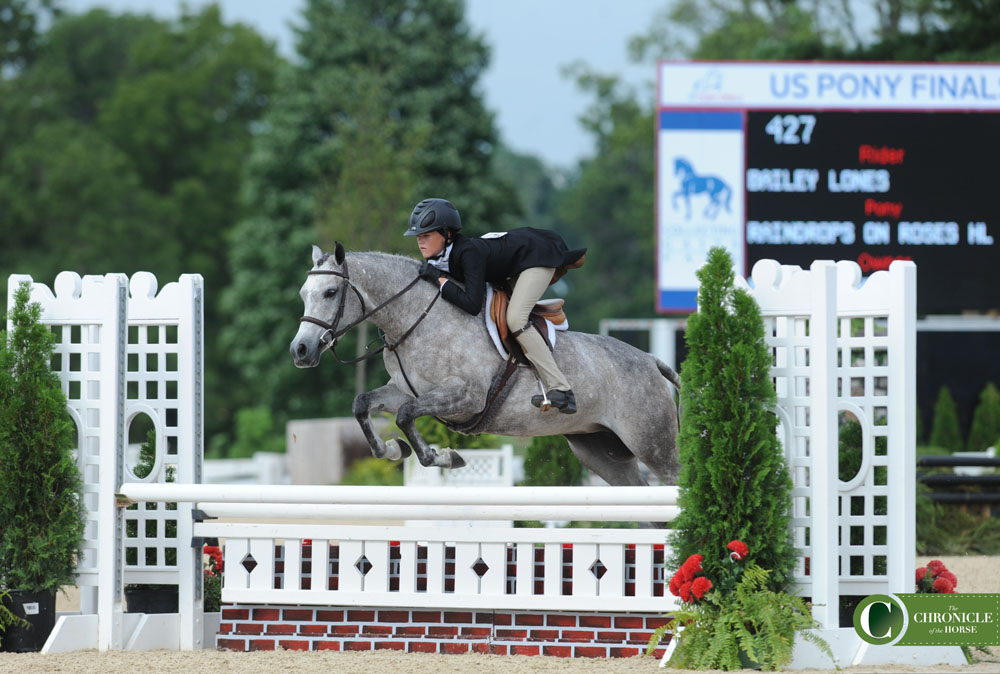 Bailey Lones has put a ton of work into "Rosie" to get her to Pony Finals.
The Loneses keep Rosie at home in Lenoir City, Tenn., meeting up with trainer Chloe Desjarlais for lessons and shows. Bailey is in charge of all of Rosie's daily needs.
"She cleans her stall; she feeds her. She wraps her; she grooms her," said Susie. "She does all the work. She knows everything about the pony and can tell you everything about her pony and everything that goes on with the pony."
At home, Bailey enjoys playing with Rosie out in the fields and she frequently goes on trail rides, including one of Rosie's favorite activities, swimming. In addition to riding in the hunters Bailey has taken dressage lessons on Rosie with Grand Prix rider Jim Kofford.
"It's fun," said Bailey. "It's good stuff to learn."
Though this is her first U.S. Pony Finals Bailey is no stranger to the pressure of a national championship. She's attended the 2015 Youth National Arabian and Half-Arabian Championship Horse Show, where she took home the championship in the sport horse under saddle, 13 and under and was reserve champion in the sport horse in hand, mares. She also attended Sport Horse Nationals where she and Rosie took home four top 10 finishes.
"I was just amazed," said Susie. "We went with low expectations, kind of like we are here, and came out really well, so we're hoping it goes the same way."
The Loneses set their sights on Pony Finals last year after they realized Sport Horse Nationals was just too far away to be a reasonable trip. They regularly split their time between the Arabian and the hunter/jumper circuit, so adding another championship to their resume seemed like a logical next step.
In their first attempt at qualifying, the RMI Tri-State March (Tenn.) they look home the reserve to make the cut.
"I'm mostly just excited about getting to watch my friends and getting to go to the different clinics, and showing of course," said Bailey. "I want to just have fun."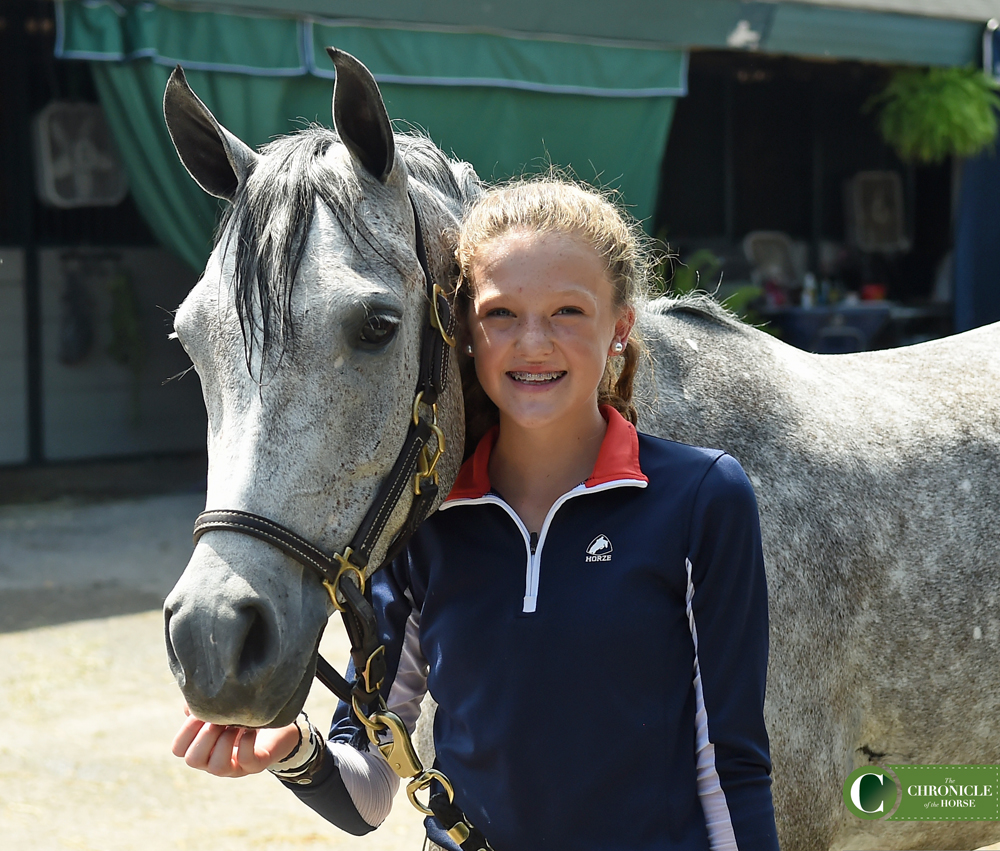 Bailey Lones and Rosie.

So regardless of whether or not they leave Kentucky with one of the coveted ribbons, the Loneses know they've found a special pony in Rosie.
"I love her because she's been very good," said Susie. "I don't have to worry about Bailey at all. I send her out by herself to do whatever, walk around or ride her and that makes me happy as a mom to be able to do this."
Stay tuned to www.coth.com for all the news from U.S. Pony Finals. Read all about Baylee McKeever who has some big fans watch from Rio, Riley Hogan who made her way to Kentucky via the hunt field and the division winners.