It's been a very busy couple of days at Badminton! We started out with a plan for photographing on cross-country day, but that plan went out the window when the forecast decided to be bright and sunny.
Most people seemed to walk the course from the first fence to the last fence, but we went a little backwards, so with tens of thousands of people, it made for some serious maneuvering with our camera gear.
It was what the English were calling a "hot day," with a high of 66. I had to laugh as it's been about 90 degrees at home in Virginia, but I definitely worked up a sweat walking nearly 15,000 steps and more than 6 miles. I didn't think I'd need to wear sunscreen, but I'm really glad I packed it.
The ground was quite soft and holding, and riders were worried about going later in the day and zapping their horse's energy. As predicted, no one made the time, but Jonelle Price and Classic Moet zipped around just 1 second over.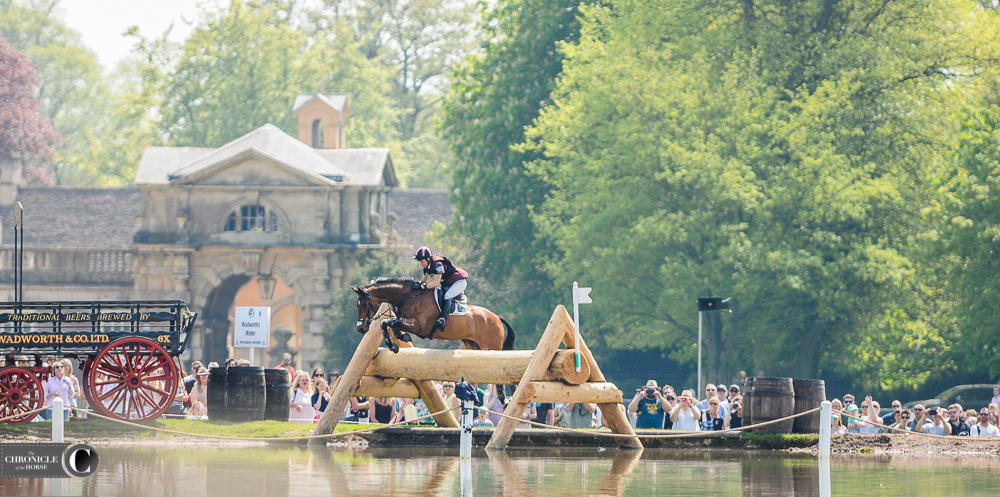 As a photographer I was a bit frustrated with shooting into the sun a lot. Being unfamiliar with the course, it was tough to balance seeing what I wanted to see and finding the right light without missing the people I wanted to see.
Media are allowed inside the ropes, which was super helpful and appreciated, and the spectators and jump judges were all very willing to let us slip through when needed.
Speaking of jump judges, they were all decked out in tweed, and the men had bowler hats! Love it.
Badminton fashion is a hot topic, and from what I could tell, white jeans, a striped Joules top and country boots were the go-to for women, but I did see lots of tweed as well.
There was a huge lakeside bar for the public, and that had a great view of the main field in front of the house and the two water jumps in the lake. I think that's also where a lot of the non-horsey people went to hang out!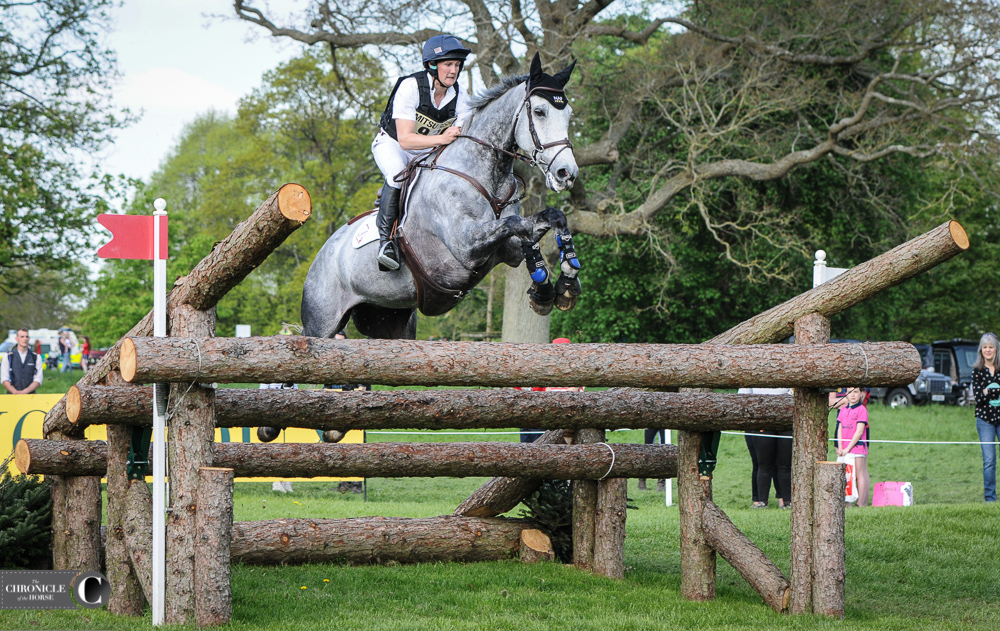 I made my way to the huge new Devoucoux Quad Bar. From the backside there was a bit of a drop, and it seriously looked like it belonged on a grand prix jumper course.
I finally made my way to the famous Vicarage Vee at the end of the day and saw Mark Todd expertly guide Kiltubrid Rhapsody over it. The horses definitely looked a bit puzzled as they came to it, but it seemed to ride fairly well.
We were so happy to see Lauren Kieffer and Veronica have a great ride through the Lake and finish well, but we were also bummed to hear that Will Coleman retired on course, and Madeline Backus fell. Thankfully everyone is OK, but it was still a bummer for America.
Overall it was a busy, exhausting day and a real test for horses and riders (as well as photographers!), but we fell into bed happy and exhilarated.
Check out some of my photos here.
This morning we were up bright and early to get to the final horse inspection. Held right in front of the house, it's quite a sight, with temporary stands set up for spectators, and the ropes lined five deep with people.
It was sad that Andrew Nicholson's great Nereo, last year's winner, was withdrawn in the holding box, but he got a nice send-off when Andrew led him around the arena before show jumping.
The crowd was quite knowledgeable, murmuring when they thought a horse looked off, laughing at the various antics thrown by the more exuberant horses, and clapping for everyone. The ground jury even got a round of applause when they were announced.
We spent the rest of the morning doing a little more shopping, and I feel like we covered everything we needed to (or what my wallet could handle). I picked up an awesome belt in my cross-country colors, some clotted cream fudge, a Mother's Day gift and some Joules striped tops. I couldn't pass up a 3 for 2 deal!
For show jumping, photographers are assigned a pen inside or outside the ring. I got the lucky draw to be inside the ring but not in the best spot lighting-wise. Walking into the middle of the stadium when the stands were full was a dream come true. To be so close to the horses and experience the silence when each one was jumping was really chilling.
I was sharing a pen with a few other photographers, including the legendary Bob Langrish. I used to line my bedroom wall with posters of his photos from Horse Illustrated. He told me he'd been coming to Badminton since 1975!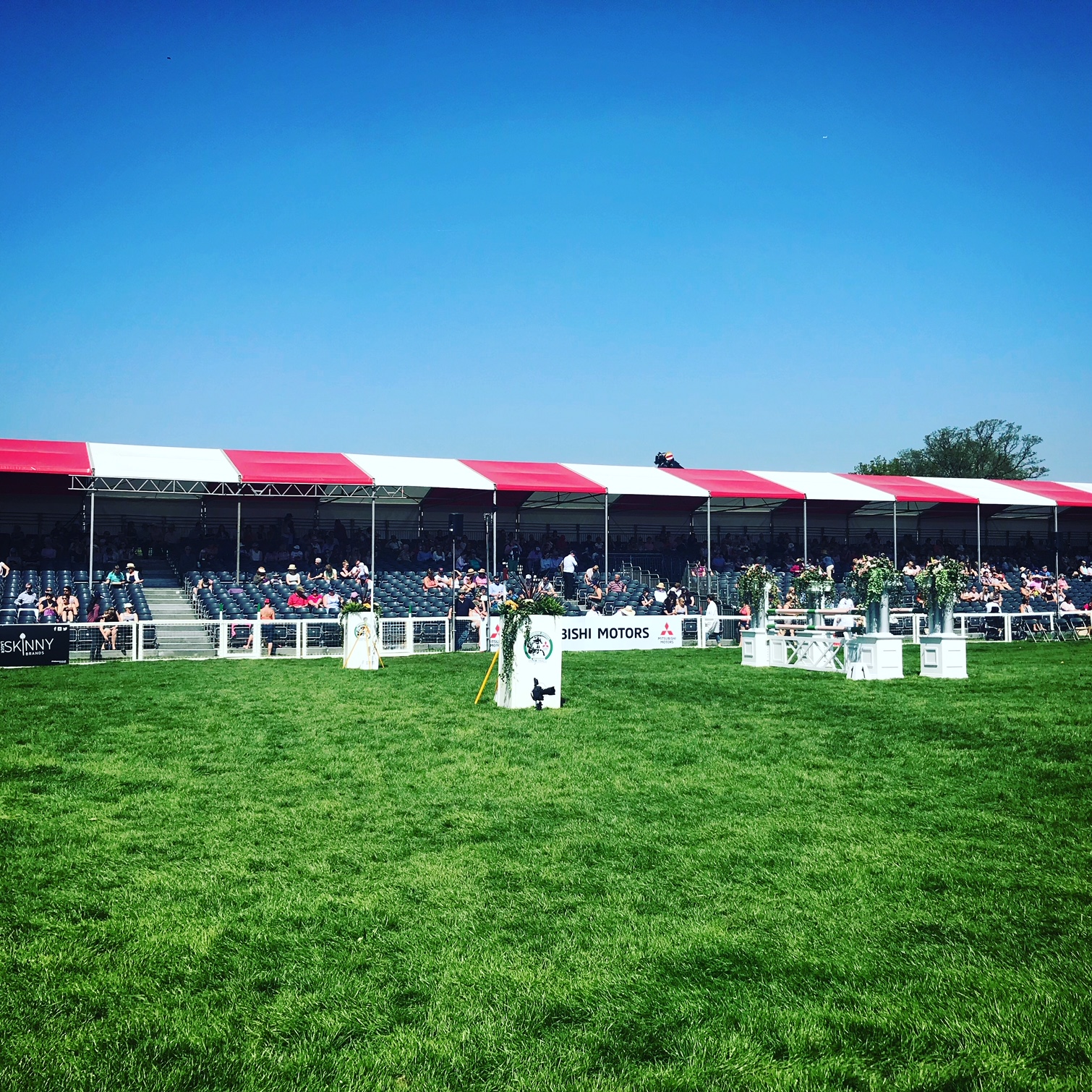 As we moved into the top 10, my heart started racing a bit. You could hear a pin drop during each round, and the standings started shuffling. When someone had a clear round, the crowd absolutely roared.
When Oliver Townend dropped two rails on Ballaghmor Class, he moved into second with Cooley SRS, but Jonelle could afford one rail and still win. Her horse has a bit of an unorthodox style and doesn't usually show jump clear, so I was a little worried.
I'm pretty sure Classic Moet tapped every rail. Being so close in the center of the ring, I could see them bouncing and rocking in the cups, but they all stayed up, and she won! The first woman to win Badminton in 11 years, and on a mare to boot.
It would have been nice to see Oliver get the Grand Slam and witness that bit of history, but this was such a sweet win for Jonelle, who took some time off last year to have a baby with her husband Tim. It's a great story, and I'm so happy I was able to be here to witness it.
We're headed back to London tonight to catch our flights in the morning, and we've got hard drives full of awesome moments, suitcases stuffed with souvenirs and memories to cherish forever.
Until next time Badminton!