Competing at USEF Pony Finals had been a goal for Anya Vasko since the 17-year-old started competing in the medium-stirrup division at Colorado Hunter Jumper Association in 2017. The Fort Collins, Colorado, native had been taking lessons since age 6 and, as she started getting good show results with her large pony, her goal seemed to be drawing within reach. But when the pony developed lameness issues, Vasko and her family realized he wouldn't be able to campaign toward Pony Finals, and worried she might not be able to, either.
"I wanted to give Anya the opportunity to fulfill her goal of qualifying for Pony Finals, so we started looking for another pony," said her mother, Karen Vasko. "The most important part about riding for Anya is the relationship that she has with the horse or pony she is riding. "
In April 2019, Anya's Interscholastic Equestrian Association trainer Molly Brame offered Anya the ride on Tiny Dancer, a 12.1-hand green small pony owned by breeder Pat Cantwell. The pony, nicknamed "Missy," wasn't working out well in the lesson program Brame runs with Margot Nacey at Gargot Farms in Berthoud, Colorado.
"Missy was a lovely pony, and I used her for some walk/trot lessons and longe line lessons. But she had a big jump, and the little lesson kids had trouble staying with that, so I was trying to find a more experienced student who would ride her well," Brame said.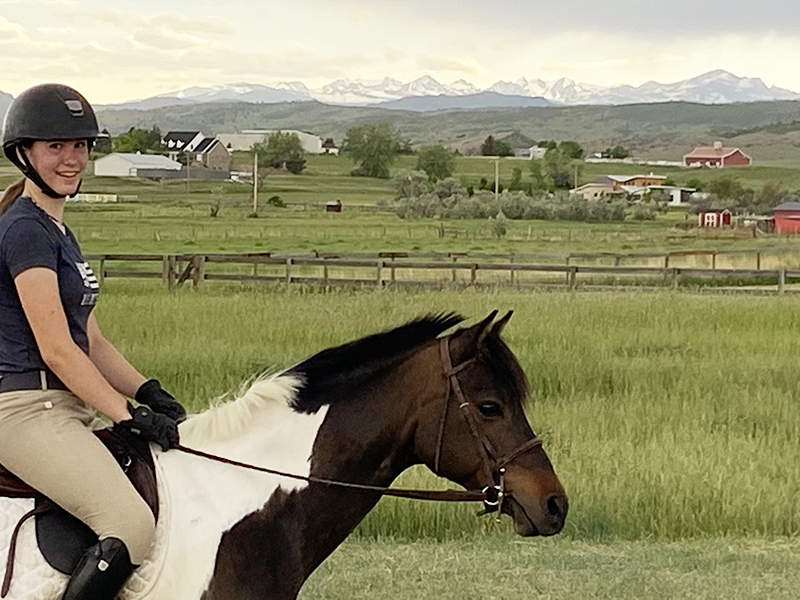 It was clear to Brame that Missy, too, was picky about who rode her. "I had another student with a lot of accolades and championships that I thought, experience-wise, would be perfect for Missy, and they did not get along," Brame said. "But when I put Anya on Missy, they clicked immediately. The rest is history."
Anya, 17, remembers every detail of her first ride on Missy:
"She pulled every trick in the book the first time I rode her," Anya said with a laugh. "I was laughing the whole time as she was bucking. She was so much fun, even if she was being a little naughty. But, she is super sweet on the ground! After that first ride, I feel like we reached a mutual understanding and our relationship grew from there."
The Vasko family decided to lease Missy from Cantwell, Erie, Colorado, who bred Missy (Gayfield's Say What?!?—Que Pasa, Hidden Creek's Rain Fox) and her siblings for their kind temperaments.
"I've watched a lot of cranky ponies with little kids at horse shows, and I thought, 'I can do better,' " Cantwell said. "That's how I got into breeding ponies."
Although Missy was a little green, Anya was not fazed.
"I could always trust Missy to figure things out," she said. "She's a quick learner—she would go into focus mode and tune right into me. On the ground, you can walk right up to her and hug her; she looks at you with those beautiful eyes and your heart melts."
The pair started off competing at local schooling shows to get mileage under their belts. Anya hoped to qualify for Pony Finals in 2020, but COVID-19 changed that. Many local and national shows were canceled, and on top of those, three other events that Anya was working toward were canceled: the 2020 IEA Nationals at the Los Angeles Equestrian Center (California) her high school band festival at Carnegie Hall in New York City and then Pony Finals.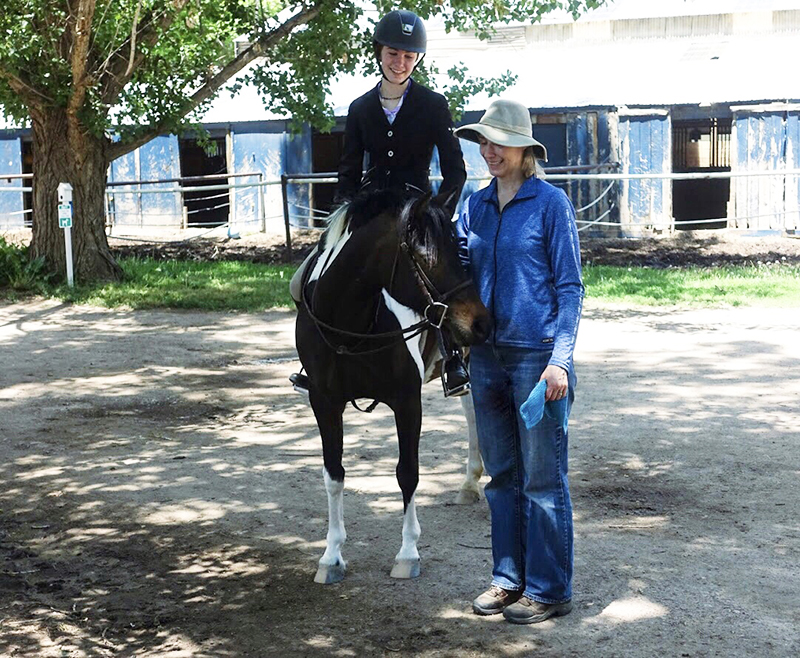 "[2020] was such a disappointing year for Anya," Karen said. "It was just one thing after another."
But nothing quite prepared the Vaskos for what was to come: in late September 2020, Missy colicked.
"Missy never had a health or soundness issue ever," Brame said. "I knew when my ranch foreman told me she wasn't eating that it was a bad sign."
Gargot Farms is 30 minutes from the Vaskos' house, and Anya and Karen arrived at the barn as fast as they could. "When we got there, I knew Missy wasn't OK. Her eyes were dull, and she wasn't interested in food at all," Anya said.
Time was of the essence, and Karen ran to grab one of the farm's horse trailers.
"Thankfully, I know how to drive stick shift because the 1980s manual farm truck was attached to the two-horse trailer!" she said. "I was in shock; I couldn't believe this was happening. But I also thought, 'Well, let's do this.' "
They loaded Missy onto the trailer and began the 40-minute drive to Colorado State University's Veterinary Teaching Hospital in Fort Collins.
Once there, the veterinarians did a quick evaluation and determined Missy would need surgery. Anya called Cantwell and begged her to do the surgery for Missy.
"The thought of losing Missy scared me the most," Anya said. "I wasn't thinking about the trivial things, like not being able to ride her. I was thinking about the relationship we have together and how I wanted to keep that going."
Cantwell was on board and they rushed Missy into the operating room.
"First, you worry about the animal because she's in pain," Karen said. "But one of my other thoughts was, 'Is my child going to make it if something happens to Missy during surgery?' "
Around 11:30 p.m., the vets emerged from surgery with good news: Missy was in recovery, and they were able to correct a twisted intestine and pass the impaction. However, the location of the impaction was unusual, in the upper part of her small intestine.
"It was so nerve-wracking, waiting to hear from them," Karen said. "I felt nothing but relief when they told us she was going to be OK."
Missy spent a week in the clinic so the vets could monitor her as they slowly restarted her food.
"We couldn't go visit because of COVID rules, and that was the hardest part," Karen said. "They would call me with daily updates, and I could hear Missy whinnying for food behind them on the phone. They would laugh and say, 'She's very bright!' "
Once Missy was released from the clinic, she returned to Cantwell's farm in Erie for stall rest. Her farm was about an hour away from the Vaskos' house, which made it difficult for them to visit often.
"It was an intense part of my school year, so I couldn't see her as much as I normally do," Anya explained. "But Pat sent us a lot of updates, which helped a lot."
When Missy arrived back at Gargot Farms in late November to start rehabbing, Brame worked closely with the vet to create a solid rehabilitation schedule. Anya and Brame shared the responsibility of the rehab riding.
"I arranged the feed schedule so she could have several small meals throughout the day," Brame said. "When Missy started tack-walking, we were strict about how many minutes she was doing that for. Then, when it was safe to, we started adding in hill work, poles and riding with the Equicore Complete Equiband System to build her core again."
By February 2021, 14-year-old Missy was ready to get back in the show ring, and the team headed to the Sahuaro Classic Horse Show in Tucson, Arizona, to start qualifying for Pony Finals.
"We were a little stressed about her getting sick on the way there, but Missy was fine," Karen said. "Missy is so adaptable at horse shows; she never cares where we take her!"
The climate was much warmer in Arizona, but the temperature difference did not seem to bother Missy. She and Anya won two of the green pony hunter over fences classes and the hack, which gave them the division championship and qualified them for Pony Finals.
"Having the pressure off so early in the show year was a game-changer," Karen said. "Anya was able to relax and enjoy the rest of the shows."
Throughout the spring and early summer, the pair competed at three more A shows. When at home, they went back to basics on the flat with Brame before they headed to Lexington, Kentucky, for Pony Finals—a first for both of them—in August.
Brame was unable to attend Pony Finals due to a planned family vacation, so Karen asked a friend, trainer Suzanne Cox Griffin, to step in and train Anya at Pony Finals. Once in Kentucky, Anya and Karen groomed and cared for Missy themselves, renting an RV in the campground so they could be close to the barns to do night checks and all her daily care.
Anya had high hopes of Missy placing well once the competition started. But after the small green pony hunter model and hack classes, the pair were sitting 38th out of 46 ponies. Karen knew Anya was getting discouraged.
"I just kept reminding her to enjoy the experience," Karen said. "But I could tell she was very stressed warming up in the schooling ring."
However, when the pair entered the Rolex arena for their over fences class, it was their time to shine.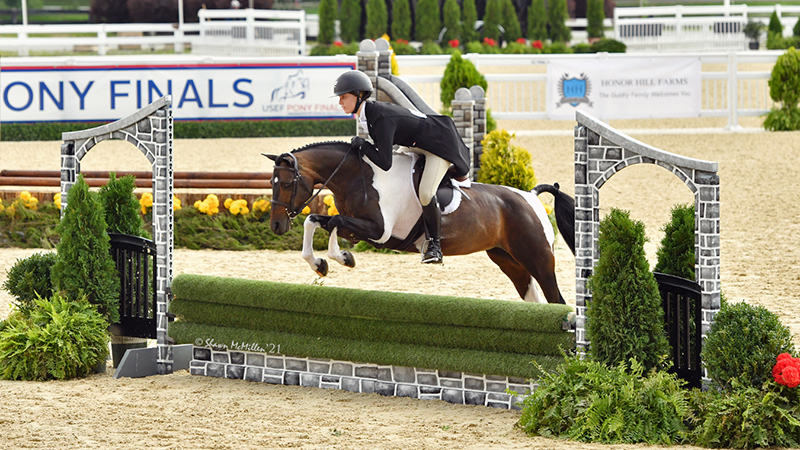 "As I watched her go, I was becoming more nervous with every jump because each one was so perfect," Karen said. "I wanted her to do well. Everyone was whooping and clapping when she finished—I had tears running down my face."
With combined over fences score of 243.85, the pair remained at the top of the leaderboard for over an hour.
"Sue was sitting with me and kiddingly said, 'You know, I'm not dressed to go in the ring!' " Karen recalled. "When your child can deal with the stress and have one of the best rides of her life, it's an incredible feeling."
Anya and Missy finished the class in seventh place, lifting them to an eighth-place overall finish in their division. Not only did the pair claim two ribbons at Pony Finals, but Missy also won the High Score Welsh—Small Green Pony award.
"It was an absolutely incredible experience," Anya said. "That was the best over fences round I've ever had! Everyone kept telling me I had the biggest smile on my face."
When Brame heard the good news, she was thrilled for the pair. "Even now, I get choked up about it; it was well-deserved," she said. "Anya is a hard-working kid, and it was so nice that she got rewarded for it. They overcame so many things to get to Pony Finals. It was a bit of a fairy tale."
Although Cantwell was unable to attend Pony Finals in person, she cannot say enough positive things about Anya and Missy's relationship. "In the over fences round at Pony Finals, Missy's ears kept going forward and back as they went around the course," Cantwell said. "Then when they would jump, Missy's ears would go straight forward. She was listening to Anya every step of the way. It just shows how strong their partnership is."
Shortly after Pony Finals, Missy went on trial to a barn in Pennsylvania and eventually was purchased by another family. Anya, who is a senior in high school and still trains with Brame, now is focused on the upcoming 2022 Zone 8, Region 1 IEA Regionals, to be held in February in Firestone, Colorado. But she still thinks of Missy often.
"I'm sad that she's gone and I don't get to see her every day," Anya said. "But it's a similar barn to Gargot Farms, and it's good fit for her. They will keep her for the rest of her life. They send updates too, which helps!"
---
Do you know a horse or rider who returned to the competition ring after what should have been a life-threatening or career-ending injury or illness? Email Kimberly at kloushin@coth.com with their story.