When she arrived in Santa Fe, New Mexico, three years ago, Michele Morseth had two goals: donning her first shadbelly and putting chemotherapy behind her.
She and her Clydesdale-Quarter Horse cross Ben Macdhui had spent the past seven years training up the levels while Morseth underwent treatment for metastatic breast cancer in Orono, Maine. When Morseth's husband, cardiothoracic surgeon Mark Lupinetti, took a job in the arid Southwest, Morseth showed no evidence of disease. After one more unrelated surgery, this time on her knee, she felt ready to hit the ground running with "Bugsie."
But the 16.3-hand gelding just didn't feel quite sound.
"It took about five months to get a diagnosis," Morseth said. "I finally took him to get an MRI. They had to file down his foot to get it through the cuff. He totally maxed out the machine."
The scan, performed by Dr. Fabio Aristizabal, DVM, MS, Diplomate ACVS Equine Surgery, at Cave Creek Equine, found three areas of concern: desmitis of the left front medial and lateral collateral ligaments of the coffin join; desmitis of the left front medial and lateral oblique distal sesamoidean ligaments (ODSL); and mild osteoarthritis of the left front fetlock joint.
Aristizabal treated Bugsie with stem cells and IRAP and put the gelding on six weeks of stall rest. Morseth worried when he started losing muscle, so she found a facility with an equine swimming pool. With clearance from her veterinarian, she moved Bugsie there for six months.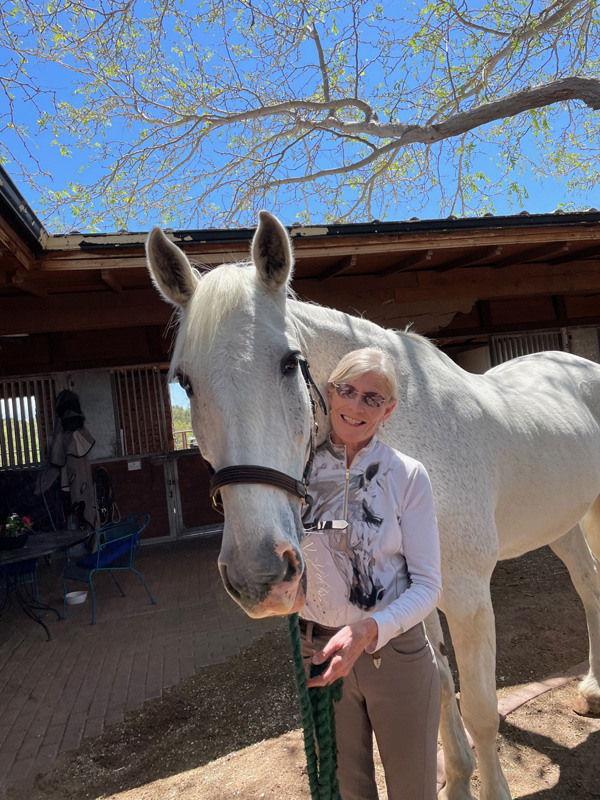 He came home sound and fit, and Morseth slowly brought him back into work.
"About five months after I started riding him again, I felt him take a bad step, and he was lame again," Morseth said. "The vet looked at him and said it looked like it was the same ODSL. At that point, he said, 'Honestly, he's probably never going to be sound again.' "
The Accidental Dressage Horse
Morseth grew up in Eugene, Oregon, in the 1960s, dreaming of a career in horses. After moving onto a three-acre lot, her parents bought her and her sister a pair of ponies for $150, paid in $10 monthly installments.
By the early 1980s, she had her first professional riding job, working for a dressage trainer in Michigan.
"I was well trained—he taught me really correctly—but it was a pretty terrible experience otherwise," Morseth said. "I didn't ride for a long time after that."
Morseth moved to Sisters, Oregon, and began working as a certified practitioner of the Feldenkrais method, a practice focused on health through mindful movement. She decided to get back into riding in the mid-2000s, but she wasn't eager to re-enter competitive circuits. That is why she bought Bugsie, a 2-year-old draft cross who seemed as far removed from upper-level dressage as she could get.
"I really like going up in the mountains, and I thought he'd be a good trail horse," she remembered. "Early on, I realized he was really loose. I would pick up his leg to clean his foot, and it would feel like his leg wasn't even attached to his body. When we started riding, he was like a wooden rollercoaster—wobbly and loose all over. I thought, 'This horse needs dressage.' "
With dressage fundamentals, Bugsie's canter became balanced, and his lanky frame grew muscular. Morseth took lessons with nearby jumper trainer Jeff Cook.
"I thought it would be good for Bugsie athletically when he was younger, and Jeff is really good with flat work, too. I lived just down the road from him. Bugsie would have been a great jumper, but not me; I couldn't do that with him. Jeff really helped us a lot laying a foundation for dressage, though."
With time, Morseth found her way back to the show ring.
"I think his looseness really helped," Morseth said. "Even though he has a big frame, he's really very light. And he's super trainable. He has a really good mind."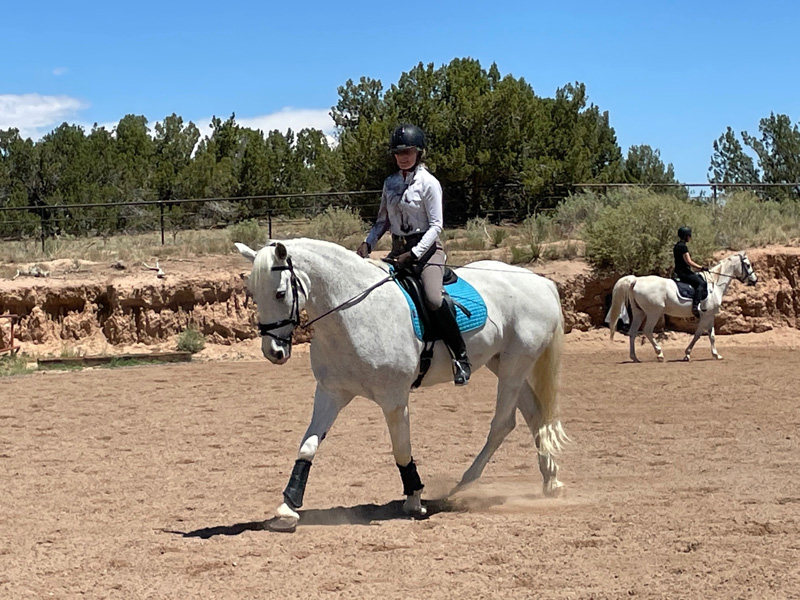 Morseth was diagnosed with breast cancer in 2012. She had a mastectomy and emerged with a good prognosis. In 2013, Morseth and her husband moved to Maine. The following year her new oncologist requested a full body scan, which revealed liver metastasis from the original cancer.
She started chemotherapy in the spring. That summer, she and Bugsie earned the final score for her USDF bronze medal.
"I rode all the way through the chemotherapy," she said. "I was lucky. I had a really good horse. I had a horse that was really kind. Even if I could just walk, if I could get a saddle on him and climb up on him, I could ride."
Long, Slow Road
When Bugsie suffered his first injury, Morseth was determined to be his rock, just as he had been hers. After he reinjured his oblique sesamoid ligament in May 2019, she refused to give up hope.
For six months, she and Bugsie walked, first in the arena, then the trails around the farm where she boarded.
He got stronger but didn't come sound.
"I hadn't been happy with Bugsie's shoeing for a while, and we'd actually pulled his shoes to try that," Morseth said. "But he wasn't very comfortable like that, either. I ended up moving him to a place owned by a veterinarian, Doug Thal [DVM, DABVP], and he told me, 'I think with the right shoes, he might be sounder.' "
Under Thal's guidance, Morseth tried a variety of farriers and shoes on Bugsie. She had his feet X-rayed and consulted a podiatrist. By summer, Bugsie had started to improve, with farrier Brad Dirickson working on his feet and Thal coordinating his treatment.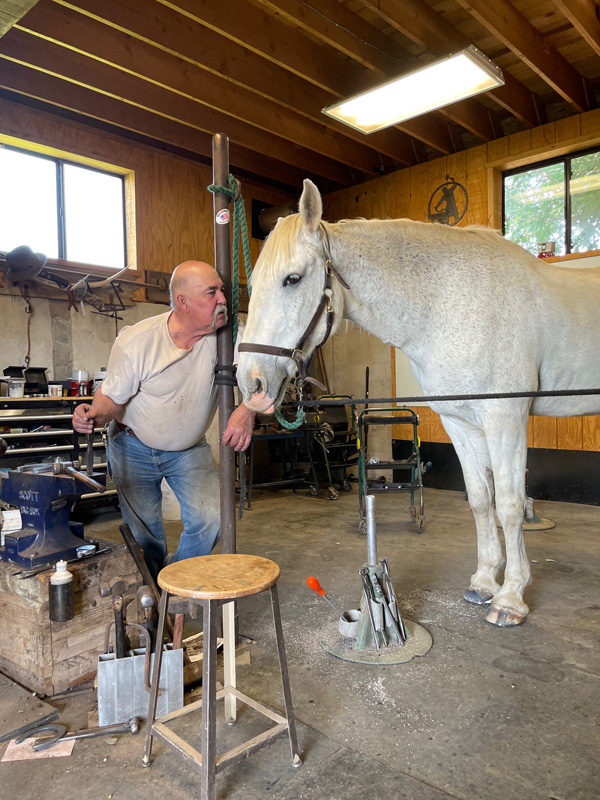 All the while, Morseth continued her daily treks with Bugsie, now on the hills around Thal's facility.
"I think the gentle, rolling hills really helped with his recovery," Morseth said. "We put him in Avanti shoes, and our farrier is just really good at seeing what's going on. Dr. Thal always knows who to call, who to send images [to], who to talk to. I know he's talked to multiple people about Bugsie."
At end of the summer, Morseth and Bugsie ventured out at a trot. By mid-fall, they had resumed light arena work.
Last year, they were back to practicing FEI movements.
"I was amazed at how easy it was for him to get back to that level of performance," Morseth said. "I remember what it was like helping him get his canter under control as a young horse and how long it took for him to get the strength to really sit. He still remembered all of that."
Morseth doesn't take anything for granted, in her health or Bugsie's. Her cancer requires monthly injections of monoclonal antibodies to inhibit regrowth. For Bugsie, she remains religious about a daily dose of hill training, usually for a half-hour before arena work, and prescribes three days of ground poles and cavaletti work each week.
"I'm really careful about how much work he does," Morseth said. "My lessons are about 30 minutes, and when I ride on my own, I really try to limit myself to 20 or 30 minutes of dressage work. My job is to keep him sound and keep him from injuring his leg again. He gets turned out with a friend still, and they play really hard, but I'm not going to take that away from him!"
Morseth has never lived close enough to dressage meccas to have a consistent trainer. Since moving to New Mexico, she works with Nicole Thuengen-Salwender and takes clinics with trainers like Lilo Fore whenever she can get to them.
"A few times I've gone to lessons and people are like, 'Why are you doing dressage with that horse?' " Morseth said. "But once they watch him move, they realize he's athletic, and he has a good mind, and he's just good at it. For the most part, people are really very welcoming."
Morseth and Bugsie debuted at Prix St. Georges this year but missed the mark to earn the last two scores for Morseth's USDF silver medal. This summer, they'll try again and perhaps perform their first freestyle.
After the past seven years, every ride is its own victory dance.
"I remember when Dr. Thal first saw Bugsie and looked at his X-rays, he said, 'It'll be a minor miracle if you're ever able to ride this horse again,' " Morseth said. "Last summer I said, 'Hey, Dr. Thal? I think we have our miracle.' "
---
Do you know a horse or rider who returned to the competition ring after what should have been a life-threatening or career-ending injury or illness? Email Kimberly at kloushin@coth.com with their story.