For nearly 13 years, Lily Capone has made it clear that nothing will keep her away from horses. She had to be pried off after her first pony ride at age 2. As a preschooler, Capone was found hiding in the stall of a draft horse named Hagen, the largest horse in the county, at the Gloucester County 4-H Fair (New Jersey). Today, the 15-year-old from Sea Isle City, New Jersey, is an avid equitation rider with aspirations to compete in the 3'6" medals.
But at birth, Capone was diagnosed with a genetic disorder called Marfan syndrome, which produces a range of symptoms affecting the connective tissues of the body. People with Marfan tend to be extremely tall, and the condition can lead to serious defects in the heart valves and vessels.
Marfan syndrome is why Capone is currently 6'1", wears glasses to correct her extreme nearsightedness, and has an aortic aneurysm that will eventually require open heart surgery. When she was 10, Capone was diagnosed with Marfan-induced scoliosis that caused chronic pain.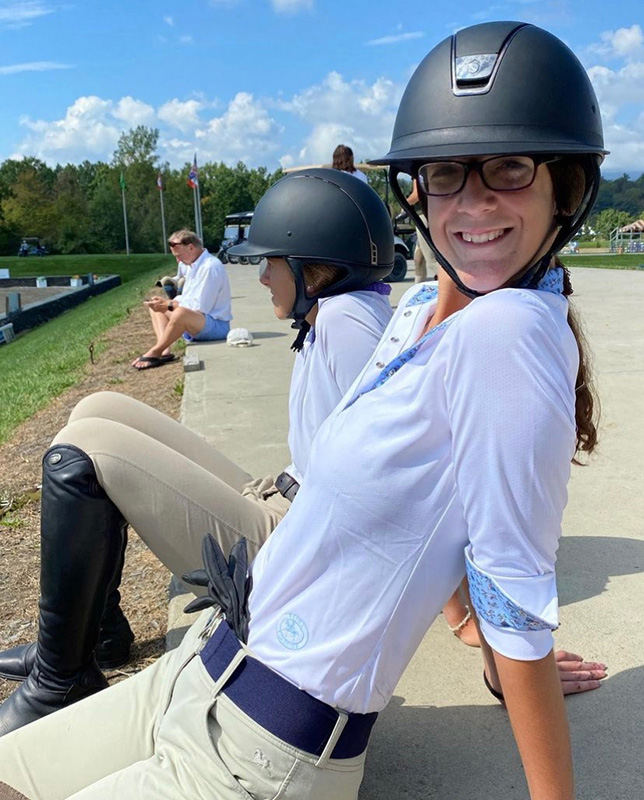 But by 2018, Capone's scoliosis had progressed significantly. Her spine had curved into an "S" shape and was beginning to crush her lung. When doctors said she needed major surgery to straighten her spine, 13-year-old Capone did not take the news well.
"They told me I needed surgery, and I was like no, no, I need to ride," Capone said. "I told them, 'I haven't been able to do everything I want to do in this sport; it's not fair.'"
Capone's doctor and mother, Melissa Capone, helped her to understand that without surgery, the curvature of her spine would crush her rib cage, ultimately compromising vital internal organs. But they did agree to a compromise: The surgery date was deferred until after Lily competed at the 2019 Interscholastic Equestrian Association National Championships in Harrisburg, Pennsylvania.
"Scoliosis is common with Marfan because you grow at such a fast rate the spine doesn't know what to do with itself," Lily said. "Before surgery, I used to have this pain in the upper right side of my back. When the spine curves, the body remolds the ribs so it can fit everything. My rib would stick out, my shoulder would stick out. I had a lot of pain, and it hurt to breathe."
"When Lily was riding with the scoliosis, she would ride with such pain, and nobody would even know it," Melissa said. "As soon as she would get off, she would ask for the Motrin. One shoulder blade protruded so much, but she made it to IEA Nationals, and she finished fourth in the nation in her group.
"That's the thing about Lily: You are not going to tell her, when it comes to the horses, no," Melissa continued. "She will not be physically restricted, in any way, shape or form. She will make it happen."
On July 1, 2019, Lily had surgery, which left her with a scar running from her neck to the top of her buttocks and two titanium rods secured with 38 bolts and screws in her back. During her recovery, Lily begged to be taken to the barn, even when she could barely walk. She was back in the saddle just four weeks post-op.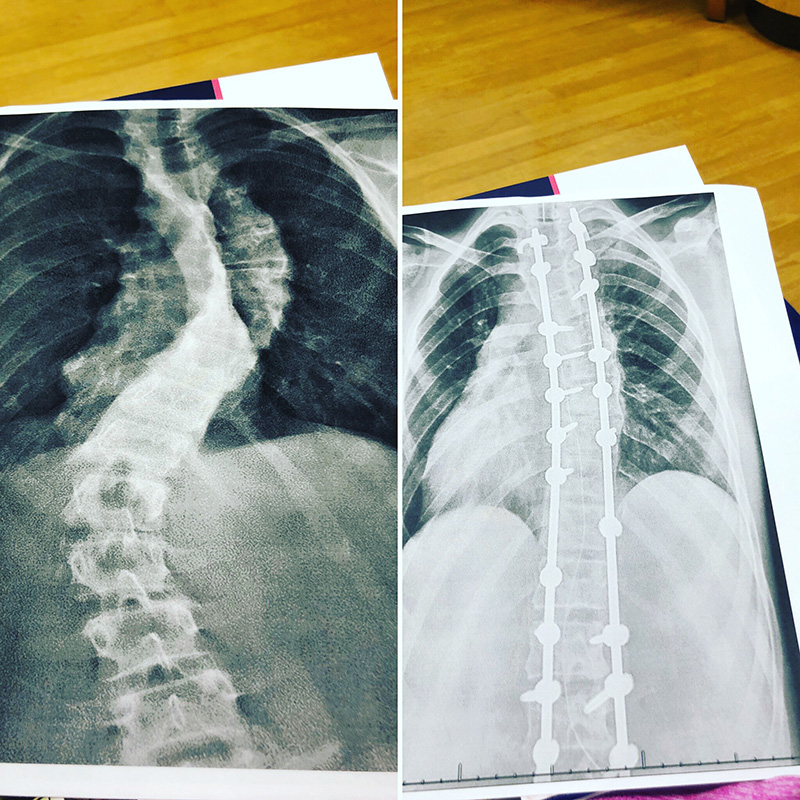 The surgery added 3 inches to Lily's height and left her unable to slouch her shoulders. She admits that at times, she is still self-conscious about this, and some of her peers even tease her about her stature.
"I call it the pencil position," Lily said. "I watch the riders that win the [equitation] finals, and they all look so relaxed and soft. You see their backs going with the horse. But I can't do that. You learn how to compensate."
By 2020, Lily finally felt as if she was learning to manage her new body in the saddle. At the same time she was adjusting to a new ride, a dark bay Dutch Warmblood mare named Winnie. At times her new mount could be opinionated, even throwing a buck.
One day in November, Lily was warming up Winnie at a home show when she started to feel her heart racing. Suddenly she couldn't see clearly or breathe. She left the ring and dismounted, saying, "Mom, there's something wrong."
"I'm freezing, but it is 90 degrees out," Lily said. "My heart's still racing, and I am sort of turning green, but I was like, 'I don't feel that bad; I'll be fine.' My trainer wanted me to go to the ER, but I was so stubborn. I thought I just had an anxiety attack because I didn't want the mare to buck me off."
Lily went home to recover, but by the time they left the show, her heartbeat felt normal. At home, they checked her blood pressure and used a pulse oximeter to monitor her vitals. They wondered if her blood sugar had gotten too low, or if her nerves had gotten the best of her. A precautionary doctor's visit the next week revealed nothing notable, and Lily resumed her regular riding schedule.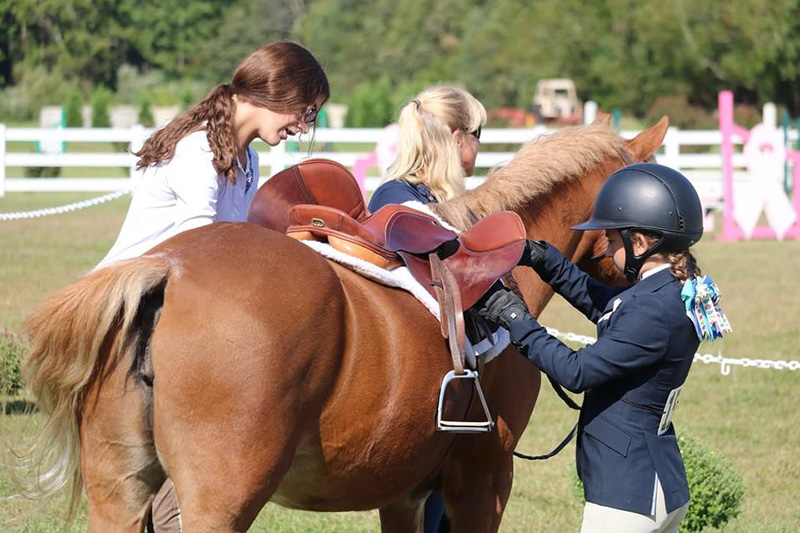 "A few weeks later, I was in a lesson, and I was a little nervous because I was really hoping she wasn't going to try to buck me off," Lily said. "And I went back into the heart racing, couldn't breathe, couldn't see thing. I felt like my heart was jumping out of my chest."
This time, Lily's heart rate stayed elevated, going as high as 238 beats per minute. A neighbor, who is a charge nurse at the local emergency room, came by to check Lily's symptoms. He told them to get her to the ER right away, while he called ahead.
What followed were perhaps the scariest 24 hours of Lily's life.
"They laid me down and hooked all these things to me, and the doctors are asking for all these things," says Lily. "I thought, 'This is like a "Grey's Anatomy" TV show.' It was terrifying. There were lots of people running around. They kept telling me to breathe, but I couldn't breathe."
After two hours, Lily's heart rate stabilized, and she was transferred to the Children's Hospital of Philadelphia. There, she underwent a battery of tests including an EKG, an ultrasound and an electrocardiogram. The next morning, a specialist diagnosed Lily with Wolff-Parkinson-White syndrome with ventricular tachycardia—a congenital abnormality of the heart that results in unusual electrical impulses. It is unrelated to Marfan syndrome.
"They were shocked," Melissa said of the diagnosis. "Usually, Marfan patients don't get these splinter-off diseases."
January 2021 found 14-year-old Lily once again undergoing major surgery—this time on her heart. Surgeons spent seven hours performing an ablation, a procedure that uses small burns or freezes to cause scarring on the heart and break up the electrical signals triggering Lily's abnormal heartbeats. She rested for two weeks, but it wasn't long after that Lily was back in the saddle again.
While Lily's brother has had to give up contact sports due to Marfan syndrome, Lily's doctors have been supportive of her riding.
"I used to walk with pigeon toes, and the doctor said to fix it would take ballet or riding or braces," she said. "The riding helped fix that."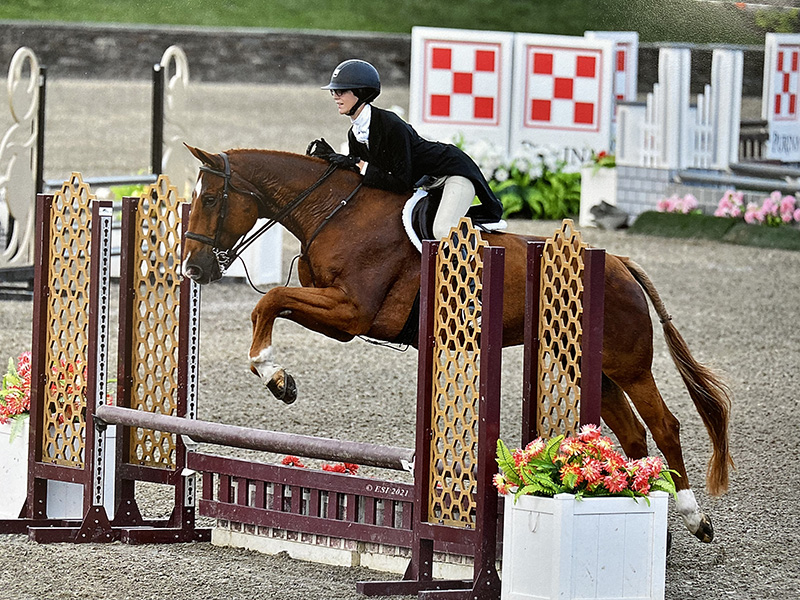 Lily now leases a 17-hand gelding named Devito, who she plans to compete in the 3' equitation classes this season.
"My trainers are probably going to laugh at me, but I want to do the [Taylor Harris Insurance Services National Children's Medal Finals] at Capital Challenge [Maryland]," Lily said. "I've always wanted to do that."
Ultimately, she hopes to turn pro and run a program focused on starting children at leadline and taking them as far as they want to go. Lily's younger sister, Regan, is also a rider, and the sisters dream of going into business together.
"She's a whopping 4'7″ ," Lily said with a laugh. "I'm too tall to ride the ponies, so I'm really hoping she stays small. It is very weird we are related!"
Having watched her daughter push through so many obstacles to pursue her riding, Melissa believes that anything is possible.
"Lily is very stubborn," Melissa said. "You don't usually see people so strong willed. She doesn't give in to anything. Her mental strength is stronger than her physical pain."
---
Do you know a horse or rider who returned to the competition ring after what should have been a life-threatening or career-ending injury or illness? Email Kimberly at kloushin@coth.com with their story.