At first glance, Boucherom might get overlooked as a top 1.50-meter horse.
Although the 16-year-old Dutch Warmblood (UT Liekt Goed—Ufama SR, Quick Star) jumps in excellent form, at 15.2 hands she's smaller than most of her competition—and a chestnut mare.
"She's got a lot of blood. She's sensitive, and she's very particular about her rider," her owner, professional rider Trent McGee, acknowledged with a laugh. McGee's family bought the mare for him when he was riding her as a junior, after she failed to stir much interest as a sales horse. "But I think where a lot of people weren't initially interested in her, all we saw were the amazing qualities she possesses."
Known as "Pony" around the barn, the mare competed several years with Olympian Lucy Davis, who brought up her to the 1.50-meter level. In 2018, Davis called up her former trainer Archie Cox, of Brookway Stables in Lake View Terrace, California, to ask him to sell her. He enlisted professional rider Karli Postel (now Schroeder) to pilot the mare.
Postel and Pony won a 1.20-meter class together when she tried the mare at HITS Saugerties (New York) that September, so Pony shipped to California.
But several weeks after the mare arrived, Cox noticed something wasn't right. "She was being extremely quiet when she was getting ridden, which is not normal for her," Cox said. "She's usually very spicy, so I was a little suspicious."
After discovering Pony had a temperature, Cox immediately called their veterinarian, who recommended Pony come to Humphrey, Giacopuzzi & Associates Equine Hospital in Somis, California. Tests revealed Pony had developed salmonella, a bacterial infection that affects a horse's gut and can cause horses to experience severe diarrhea and shock due to the inflammation. Horses can develop salmonella from ingesting feed, grass or water contaminated with the bacteria.
Salmonella treatment for horses typically includes intravenous fluids, antibiotics and non-steroidal anti-inflammatories, which work together to replace fluids lost to diarrhea, control infection and manage signs of shock.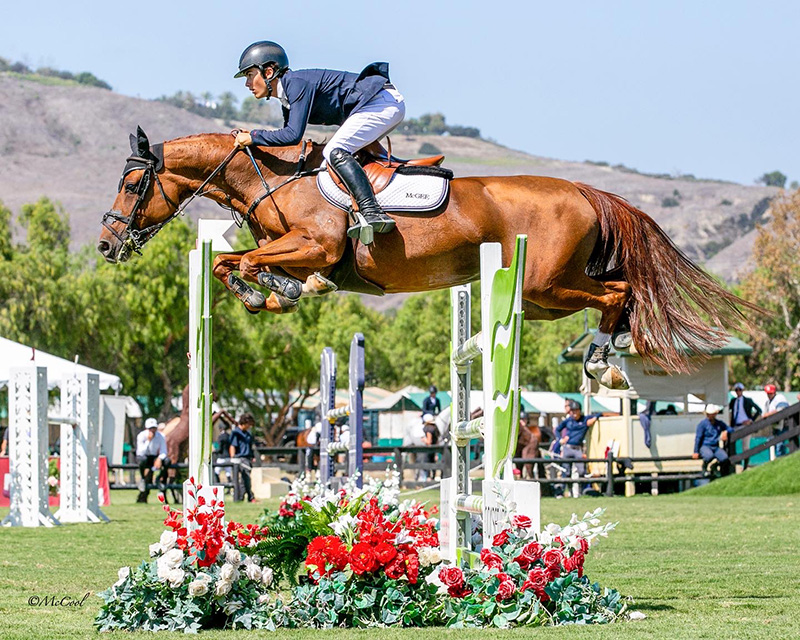 Pony's case of salmonella was severe, and the veterinarians gave her a 30% chance of survival.
"There were a lot of real, serious questions being presented once the vets determined Pony had salmonella," Cox said, which were complicated by the fact that Pony's insurance maxed out during treatment. "The vets point-blank gave the Davises two options: Did they want to put Pony down, or did they want to fund and go all the way with Pony's recovery?
"It's scary for any horse owner to get that call," he added. "But they did the right thing, and their response was, 'Of course we're going to pay for Pony to get better.' "
Pony spent a month at the clinic under the watchful eyes of the veterinarians and vet techs. "Her recovery took a bit, but Pony is 100% a fighter," Cox said. "As soon as she felt good again, Pony was right back to being her spicy self."
When Pony left the clinic, she went to Kelly Davis' property in Los Angeles, to begin rehabbing. For the next several months, Postel's aunt Kathy Megla got the mare fit enough to begin jumping again. Pony then returned to Cox to begin showing again and, hopefully, get sold.
In February 2019, Cox brought Pony to Desert Circuit in Thermal, California, and put Postel back in the irons. McGee had joined the Brookway team as a working student earlier that month and was thrilled to discover Pony in the barn. He'd been a fan of hers since watching Lucy compete her.
"I remember my very first horse show with Archie: I went to the warm-up ring to watch the horse go with Karli," said McGee, Granada Hills, California. "I knew that Pony was everything that I wanted in a horse. She really fascinated me."
As the Thermal circuit went on, Cox grew frustrated with the lack of interest in Pony.
"I was having zero luck selling her with a professional showing her," he said. "She's a very particular horse, and I needed another idea. So I called Lucy and said, 'I have a young man who is a working student, and he's small in size, so he would fit her.' Lucy's response was, 'Go for it!' "
McGee was speechless at first.
"You can imagine my excitement at hearing that," he said. "I had absolutely no idea or expectation that something like that would ever happen."
In April 2019, McGee competed Pony for the first time at the Temecula Valley Premier (California). He showed her in the low junior jumpers and won two classes by a significant margin.
"I kept saying to Trent, 'You don't have to go fast!'" Cox recalled with a laugh, "And he said, 'I'm not trying to! It doesn't feel like I'm going fast!' It wasn't scary at all; Pony is just one of the fastest horses I've ever seen."
For McGee, the whole experience was a dream fulfilled.
"When I found out I was going to be able to ride her, it was a fairy-tale type of moment for me," he said. "Historically I have always worked well with mares, so watching Pony, her technique, and the way she went, I loved everything about it. We clicked immediately."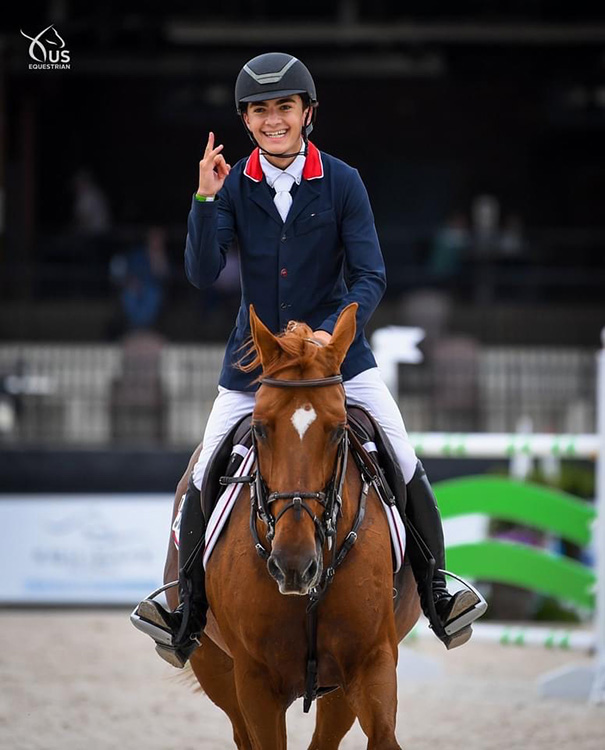 In June 2019, Pony finally sold. McGee's parents purchased her for their son.
"It all happened so fast, and before I knew it, it was a done deal," McGee said. "I didn't fully process the whole thing until a few weeks later. Lucy is a rider I have always looked up to. Having that initial opportunity of riding one of Lucy's horses and then that developing into owning one of her horses, it was pretty spectacular."
Over the past three years, McGee and Pony have moved up the ranks together from the low juniors to the highs as well as national grand prix classes. They have won four national grand prix classes together. Their first win was the Sunshine Grand Prix at the 2020 West Palms Welcome Back 2 (California), and they added three more to their tally in 2022.
Prior to showing Pony, McGee had only shown up to 1.15-meter jumpers. "It's been a process and learning, but she's taken me that far," said McGee, 21, who is now Cox's assistant trainer. "She's completely changed my career, and she's the most influential horse I've ever ridden."
McGee loves Pony's spitfire attitude in the ring but appreciates her sweet nature on the ground.
"I would say she has two different sides of her," he said. "On the ground, she is extremely sweet and loves attention. She has the first stall in the barn, so whenever anyone passes by, she loves to stick her head out and look for attention. She's normally very quiet on the ground, but when you get on her, it's a different story. She goes into a completely different mode; it's game on when you get to the first jump. She's extremely competitive. She loves her job, and is quite fiery, even when flatting her. And I think that's what I love about her the most, she kicks into a different gear come that time, and it's pretty remarkable to see."
One of McGee's favorite memories with Pony was competing on the Zone 10 Prix Des States team at the 2020 Pennsylvania National, which was held at the Tryon Equestrian Center in Mill Spring, North Carolina, during the COVID-19 quarantines. "I was shooting for Prix Des States and [FEI North American Youth Championships] that year, but Young Riders was canceled," McGee said. "Zone 10 was in the medal hunt in Round 2, and we ended up jumping off for the bronze medal. … At that time you had to choose one horse-rider combination to jump off. Pony and I were chosen, and we beat the time that was set before us. That clinched the bronze medal for Zone 10. That was an extremely proud moment for us."
McGee is elated Pony has had a chance to showcase her talents, and that he was able to be a part of her journey. "She's earned the respect of people across the country now, and she has a huge fan base," McGee said. "People always come up to me at the shows to see her; she's a fan favorite. All of our hard work has paid off; she's getting the respect she deserves as a top-level horse now."
Going into 2023, McGee has a different plan for his faithful partner. "She is going to turn 17 this year, and she's had plenty of miles and experience," he said. "Realistically, Pony has done everything that we have asked of her, and I take pride in her being so fit, sound and healthy. This will be her last competition year. It would make me the happiest person alive to see her have the amazing retirement that she deserves."
---
Do you know a horse or rider who returned to the competition ring after what should have been a life-threatening or career-ending injury or illness? Email Kimberly at kloushin@coth.com with their story.