By almost any standards, amateur rider John Tyson and his Thoroughbred gelding, Jack Reacher, had a fairy-tale show season in 2021.
The pair entered their first U.S. Equestrian Federation dressage competition in late August, and with only a handful of classes under their belt, they won the young rider/senior training level reserve championship at the Col. Bengt Ljungquist Memorial Championships (North Carolina) in early October. Later that month they finished fifth in the training level adult amateur Region 1 Championships held in Lexington, Virginia. Their score of 70.94% earned a wildcard invitation to the U.S. Dressage Finals in Lexington, Kentucky, in November, where they scored a 70.86% to win The Jockey Club's Thoroughbred Incentive Program Award for best-scoring Thoroughbred in an adult amateur division.
But just six months prior to their first trip down centerline, Tyson wondered if the 14-year-old gelding (In Excess—Tuff Justice, Dance Brightly) would ever be sound again. He'd been out of the ring for almost two years, first due to a suspensory injury and then because of a life-threatening coffin bone infection. In early 2021, Tyson, 34, of Southern Pines, North Carolina, was simply hoping his horse would be comfortable enough to retire to pasture.
"We all wondered if Jack would have a full recovery," Tyson said. "I distinctly remember sitting down in the barn and having a conversation with him one day after flushing out his hoof and repacking it. I said, 'You know, I would really like us to be able to ride again one day. But if you would rather retire, that is OK also.' "
From the beginning, Tyson and "Jack" have enjoyed an unlikely partnership with a series of ups and downs. Tyson met Jack on a horse-shopping trip in fall 2016, and felt an immediate connection to the 15.3-hand CANTER Mid-Atlantic alum. Tyson had only been riding for six months when he started looking for an event horse.
"We had looked at a few others, but when I saw Jack—I just knew he was the one," Tyson said.
In hindsight, Tyson admits that Jack, who had competed through training level with Andrew McConnon, was perhaps not the perfect fit for a green rider. Once he got Jack home, he realized he had much left to learn.
"Being a beginner rider on a performance horse has a lot of challenges," Tyson said. "I didn't have all the refined aids and techniques for riding a Thoroughbred. There would be times I'd get run away with, and I lost a lot of confidence. But I kept sticking with it. I wanted it to work out, and I wanted to learn how to communicate with him."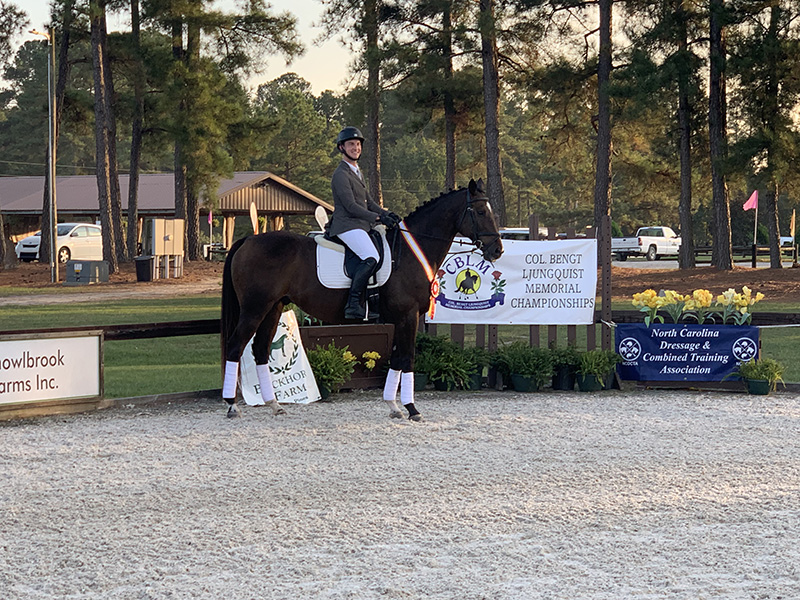 Despite the challenges, Tyson and Jack completed several starter events. But in 2019, Jack became highly resistant about entering the arena, even running backwards after being mounted. Intimidated by the horse's behavior, Tyson sent Jack away for professional training.
"I thought it was behavior, strictly," said Tyson. "Not knowing the ins and outs of horse behavior, I didn't know it could be an injury. Now, I'm a big believer that bad behavior is almost always pain related. They can't speak to us in English and say, 'Hey, my leg hurts, or my back hurts.' "
While with the trainer, Jack went lame, and veterinary evaluation revealed tears in both the medial and lateral lower branches of his left front suspensory. They treated him with stem cell therapy and stall rest, but Jack didn't take to the arrangement well.
"He was a dragon," Tyson said with a laugh. "He used to rear a lot. When you're cooped up in that small of an area, you just have so much you want to get out."
Eventually, Tyson decided the kinder option was to turn him out and give him extended time to recover. He found Jack a big pasture, pulled his shoes and gave him time to heal.
By fall 2020, Jack was jogging sound in hand, but on the October day Tyson planned to begin rehabilitation under saddle, Jack was lame again—now on his right front. Based on the heat and sudden onset, they assumed Jack had developed an abscess.
"I've seen abscesses present where the foot's hot and the leg is swollen, but they all blow," Tyson said. "This did not."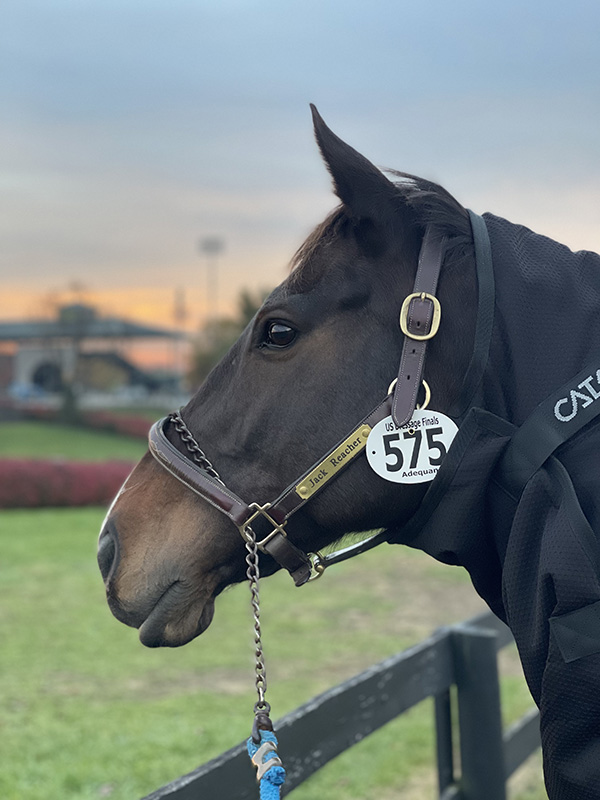 For nearly three weeks, Tyson soaked and packed Jack's hoof. Some days were better, some worse, but overall, the abscess didn't seem to be resolving. Jack was started on antibiotics, but one day, he laid down and refused to get up.
"I was pulling on the lead rope trying to get him up," Tyson said. "He hopped up, but he was three legged and pulled back down. That was really hard to see."
With help, Tyson kept Jack standing. Dr. Kate Workman took X-rays of the hoof, which revealed a huge shadow on the coffin bone. Workman looked at Tyson and delivered grim news: The coffin bone was infected, and given the scope, Jack's odds of recovery were 50-50.
"She said, 'Your options are put him down or have surgery, and we need to move ASAP,' " Tyson remembered. "I was on the verge of just giving up. The first person I had called was the vet, and then the second was his trainer Lauren O'Brien. She immediately said, 'Go for the surgery; he's going to make a recovery.' I was hoping and trying to have faith that everything was going to work out.
"He's a strong-minded horse with a great work ethic and gives his best to me," Tyson continued, getting choked up. "I felt that I owed him that chance, and I was willing to do whatever needed to be done."
At Workman's clinic, Denali Equine in Carthage, North Carolina, Jack received antibiotic leg perfusions, which concentrate treatment on the area of infection. A week later, Dr. Jose Castro, DVM, DACVS-LA, DABVP-Equine, CVA-Equine, of Davie County Large Animal Hospital in Mocksville, North Carolina, performed standing surgery, entering through the sole and curetting out the infected area.
"[Jack's] body had encapsulated the infection," Tyson said. "After the surgery, he went in a hospital plate and had to have daily flushes of that area. But the hoof had to be kept completely dry. So, we had to flush with iodine, pack it, put on a hospital plate, and then I wrapped it with Elastikon, Vetrap and duct tape. I was extreme—nothing was getting in that hole!"
After four months of flushing and rewrapping, the hoof slowly began to heal. In late February 2021, Workman gave the green light for Jack to begin mounted rehab while still wearing the hospital plate. After a lot of walking, Tyson introduced trotting in 15-second increments.
Tyson panicked when Jack's first, short trots didn't feel totally sound.
"The foot was going through a lot of remodeling, and Dr. Workman said, 'If you had a hole in your foot, how would you feel?' " Tyson recalled. "She had positive feedback, and her hopes were high. We did all the things we could, and then we slowly got him back to work."
With time, Jack's gait evened out. Once the horse was up to three minutes of trotting, Tyson added long-lining to his routine, which allowed Jack to build muscle without a rider to disrupt his balance. Later, he long-lined Jack over cavaletti. But Tyson never considered jumping Jack again, despite a follow-up ultrasound that showed the suspensory injury was completely healed.
"I've been cautious," he said. "I told myself, 'Preserve his body,' and made the decision to find a dressage teacher and stick with dressage."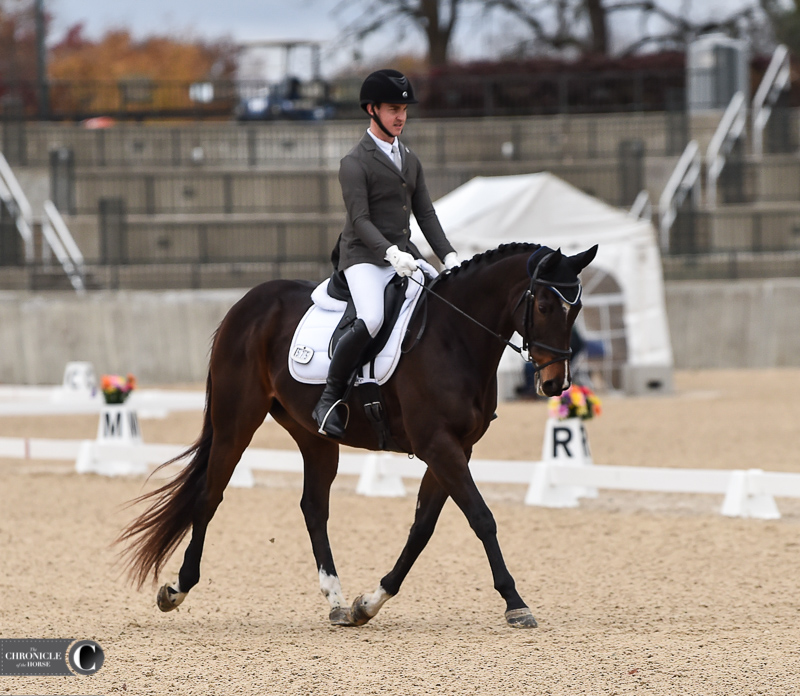 A mutual friend introduced Tyson to Heather Mehal, a U.S. Dressage Federation gold medalist and trainer in Aberdeen, North Carolina.
"I knew with him coming back to work I needed help, and I needed to get better," Tyson said. "I met Heather, and I told her my horse just overcame surgery and is healing, and we're up to only like 30 seconds of cantering in both directions. She said, 'OK, come over for a lesson.' "
By mid-summer, Tyson evenly split Jack's schools between work under saddle and work on the long lines, with an occasional hack thrown in. One day, Mehal suggested that Tyson enter Jack in the War Horse Event Series of schooling shows at the Carolina Horse Park.
"At first I was reluctant and said, 'I guess we can try it,' " Tyson said. "I hadn't been in a show environment in so long, and my nerves are extreme under pressure."
When they ended up first and second in their two tests, with excellent scores and positive judge comments, it encouraged Tyson to go to more schooling shows and eventually try the rated arena.
"He's a great mover, but he's a Thoroughbred," Tyson said. "To be in a field of predominantly warmbloods, it's challenging. I'm a perfectionist, and there are so many people out there with nice horses and that are amazing riders. I had no expectations, honestly. My goals were to stay in the ring and memorize the test. To finally reach a place where we were cool and collected in a show environment and doing well—it was a wonderful feeling."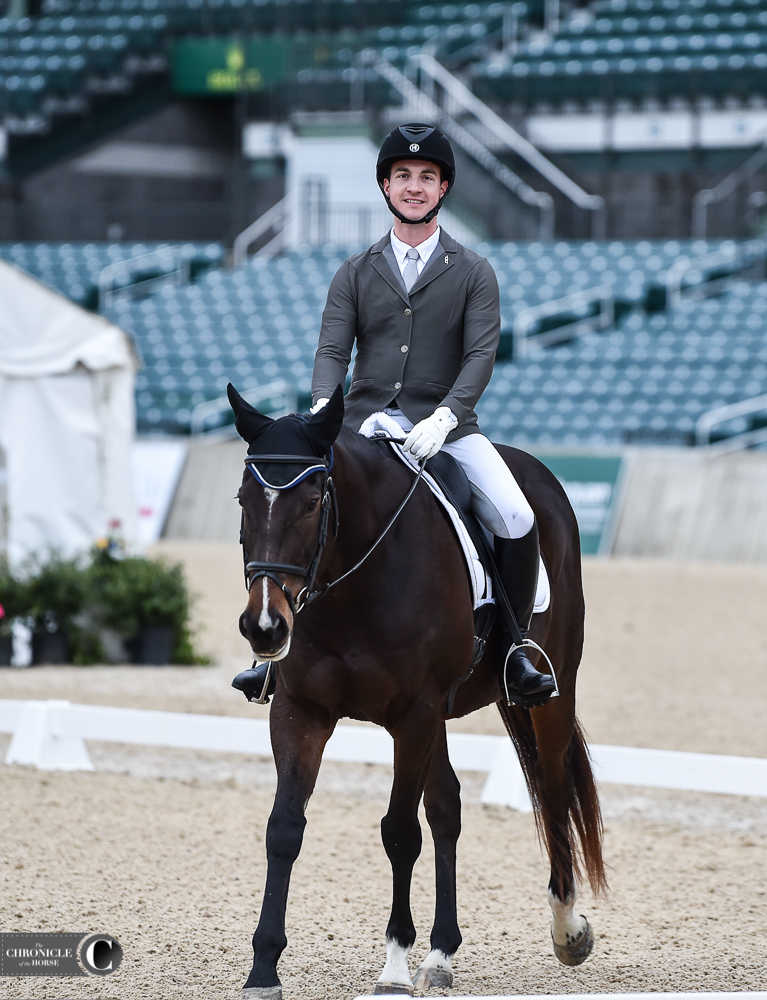 He ended his first season of dressage competition riding in the Rolex Stadium at U.S. Dressage Finals.
"It was amazing," Tyson said. "I couldn't believe it; it was like I was in another world. It's something you watch on the screen—people riding in Rolex Stadium. And there we were, actually riding in the Rolex Stadium. I was very pleased with his performance."
After Finals, aside from a few trail rides and long-lining sessions, Tyson gave Jack the winter off and has only just recently begun preparations for the 2022 season. He hopes to make his first level debut, and while he would like to return to the Regional Championships, Tyson doesn't plan to maintain a grueling show schedule.
"I direct music at a church and teach piano on the side, so I have to be really strategic about which shows I do and how many Sundays I take off," he said. "Ideally, we get our qualifying scores, and then I do a lot of homework and lessons and work at home. As a show is coming up, we'll make an outing to something local, just so I can get nervous again and have to deal with the pressure."
After the adversity they've faced, Tyson believes their partnership is stronger.
"I don't know if he was communicating that he really didn't want to jump anymore," Tyson said. "He's flourished with dressage. It's made all the difference. It's almost like he knew what we both went through, him physically and me mentally, and he was thankful I was there to take care of him. I feel, in a way, he was trying to give back to me, because our journey has been a rollercoaster.
"My trainer has pushed us and has been there every step of the way," Tyson continued. "All the times I second-guessed myself she was there to put things into perspective. We wouldn't be here if it wasn't for all the people that help him feel his best and all the trainers along the way. Jack Reacher is the horse of a lifetime, and I'm grateful he owns me."
---
Do you know a horse or rider who returned to the competition ring after what should have been a life-threatening or career-ending injury or illness? Email Kimberly at kloushin@coth.com with their story.