By the time Rachel Galambos finished her cross-country run at the 2017 USEA American Eventing Championships (North Carolina) on HS Wolf, she knew something was off with the gelding.
The next few months would take her on a roller coaster ride to discover exactly what was wrong and lead her down a path of misdiagnoses and questioning whether she was doing the right thing for her horse.
Galambos bred "Wolf," a Hungarian Warmblood-Thoroughbred cross (HS Warado—Colonel's Daughter), in 2008 when she was in college.
"It was total blind luck that I ended up with a horse as nice as Wolf," she said. "I just grabbed a mare that seemed like she would do and bred her to a local warmblood stallion and ended up with a great horse."
Galambos was one of those kids who did everything herself. She had no formal trainer and worked her way up the eventing ranks with Wolf, learning together as they went.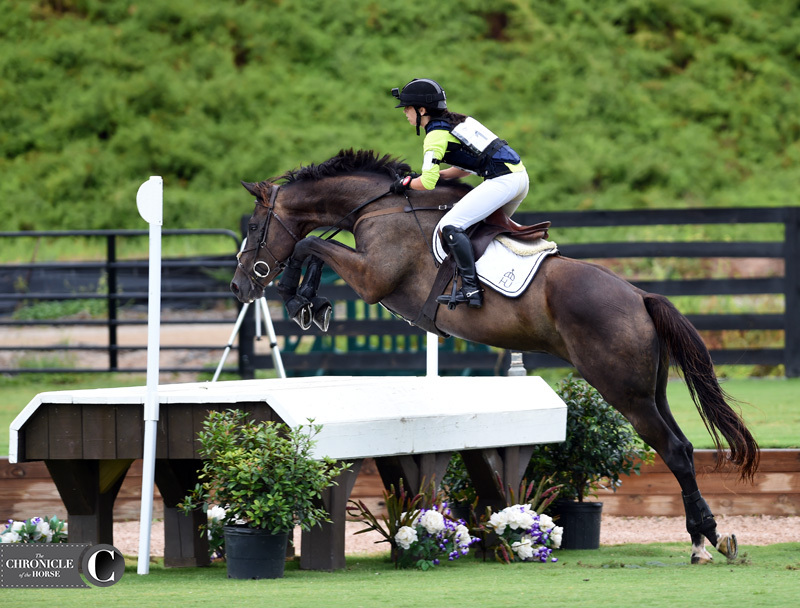 Wolf was a horse who always delivered, so when he wasn't himself in Tryon, Galambos searched for answers. Several veterinarians evaluated him and couldn't find anything concrete, but Galambos felt her horse had a neurological deficit. When the neurological tests came back normal, the veterinarians suggested she inject his stifles.
She asked about the possibility of equine protozoal myeloencephalitis (EPM), a serious, parasite-borne disease that attacks a horse's central nervous system, leading to an array of symptoms that can range from loss of coordination (ataxia) to muscle weakness to seizures or paralysis. None of the veterinarians saw a reason to test for it when Wolf presented normally on the neurologic tests.
Galambos faced the frustrating experience of having a horse with no detectable lameness, but who still felt different.
"He was just not the same horse that I'd known his entire life," she said.
Galambos found the wait-and-see approach exasperating. Soon after, her gut feeling manifested into something tangible when Wolf became severely ataxic.
"He could not turn to the left all of the sudden, so he would make these huge approaches to the pasture gate so he could make a big sweeping right hand turn. He couldn't even trot," she said.
She took him to a local university veterinary school, where radiographs of his neck indicated he could have Wobblers Syndrome and would require surgery. Still, she pushed to test for EPM, which came back positive. She began treatment, but as is common of the disease, Wolf looked worse before he improved.
"He looked like a sick horse," she said. "He lost so much muscle and topline."
Wolf grew progressively more unsteady on his feet, and Galambos wondered on many occasions whether she should euthanize him.
"He just looked so bad," she said. "I wondered if what I was doing was fair to him."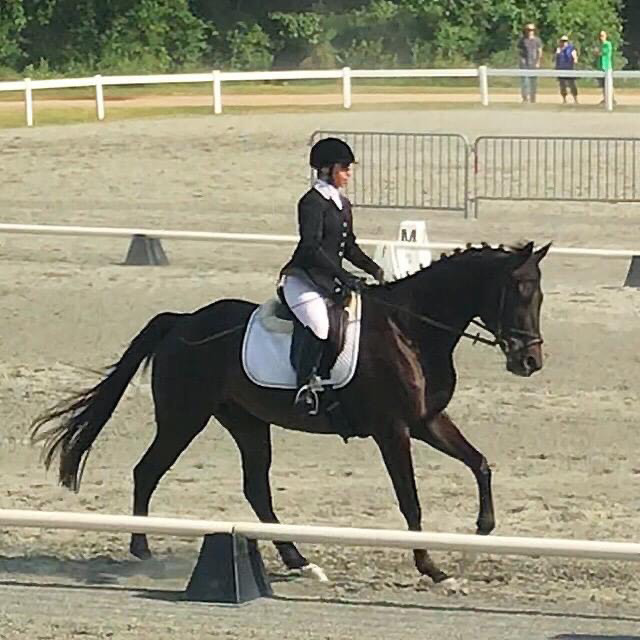 She added bodywork to his treatment protocol, and slowly Wolf improved.
"There came a time when it was time to get on and ride so we could get him stronger, but I just couldn't do it," she said. "It was so depressing sitting on my horse who felt so completely different."
Working with veterinarians, nutritionists and body workers Galambos developed a program for Wolf and let one of her students at her Bunn, North Carolina-based program start riding him, hoping it might help him recover enough to be pasture sound.
Wolf surprised them all by improving enough to head to a dressage show 11 months after the initial diagnosis, winning two training level tests at the Capital Dressage Classic (North Carolina) with Emily Iannuzzi. That fall, he headed to local-rated jumper shows with student Katie Downey, progressing from 2′ to 1.10-meter classes.
"Every time I think we've hit a plateau with his recovery, he proves me wrong and looks even better," Galambos said.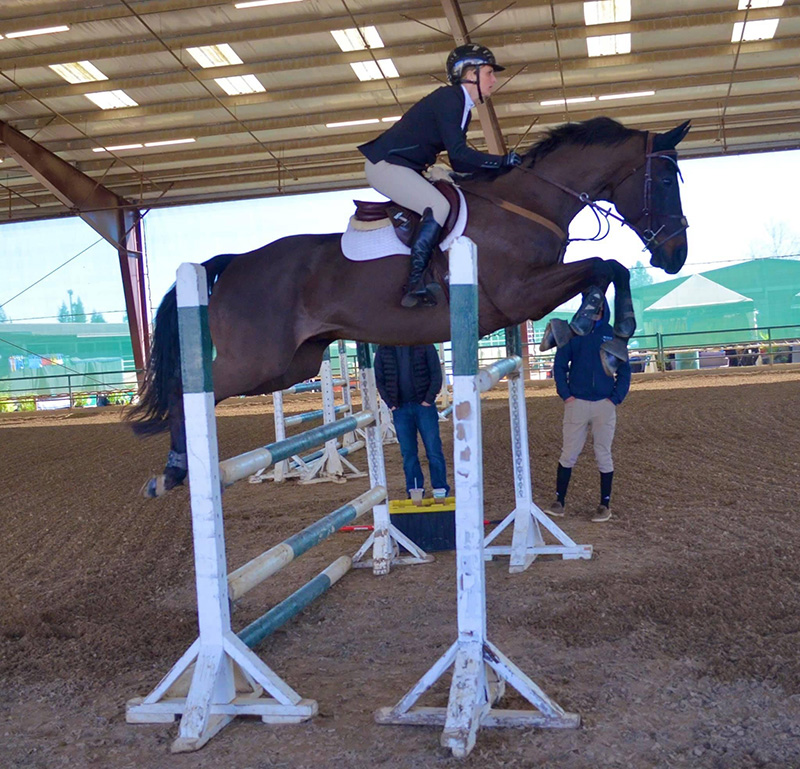 In the midst of Wolf's recovery, Galambos and her partner Kellen Brady moved from North Carolina to Oregon, where they set up a hunter/jumper training and sales barn. There, Wolf continued as a specialized upper-level lesson horse. Erin Danielson started competing him in in the child/adult jumpers in 2021, and they were third in the classic at their last recognized competition in October. Brady hopes to ride him in a welcome stake in 2022.
"It's been four years [since his diagnosis], and he's still in the process of recovering," Galambos said. "He's not the same as he was, and probably won't ever be, but I cannot believe how much he did recover."
---
Do you know a horse or rider who returned to the competition ring after what should have been a life-threatening or career-ending injury or illness? Email Kimberly at kloushin@coth.com with their story.